EXPLORING GUATAPÉ – COLOMBIA'S MOST COLOURFUL PUEBLO
EXPLORING GUATAPÉ – COLOMBIA'S MOST COLOURFUL PUEBLO
In a country famed for its colourful pueblos, Colombia's Guatapé is probably the granddaddy of them all.
Blessed with a winning combination of extravagantly coloured buildings set amongst a breathtaking landscape of lush hills and a labyrinthine lake, it's a traveller's dream. And, just two hours by bus from Medellín, it's now firmly established as a day-trip destination.
But we reckon that to do the place justice you really ought to spend at least one night there. After all, it's easy to get to and there's the added advantage of experiencing its main attractions before the aforementioned day-trippers arrive. And they will.
So grab an overnight bag, get your camera fully charged, and jump on the earliest Medellín to Guatapé bus you can find.
And here's what we suggest you do when you get there…
Guatapé's Plaza de Zocalos
Contents
This page contains affiliate links. To help us maintain our site we work with a number of partners who we've personally used and can recommend to our readers. If you decide to purchase any products through the links on this page, we'll receive a small commission at no extra cost to you.
Wander around the colourful streets
We thought that Jardín had its fair share of colour, but Guatapé's streets just take it to another level.
As you wander around it seems as if each building is a perfectly formed work of art. And, judging by the riot of colour on display, someone in town is making an absolute killing with pots of paint.
Indeed, whereas part of Jardín's charm is its slightly grungy approach to maintenance, it's a different story here. We lost count of the number of people we saw brushing an extra coat of paint to a less-than-perfectly finished wall, railing or door frame. A cynic might suggest that's because the town's inhabitants know a good tourist opportunity when they see one.
But we'd like to think it's just the continuation of a tradition going back well over a century.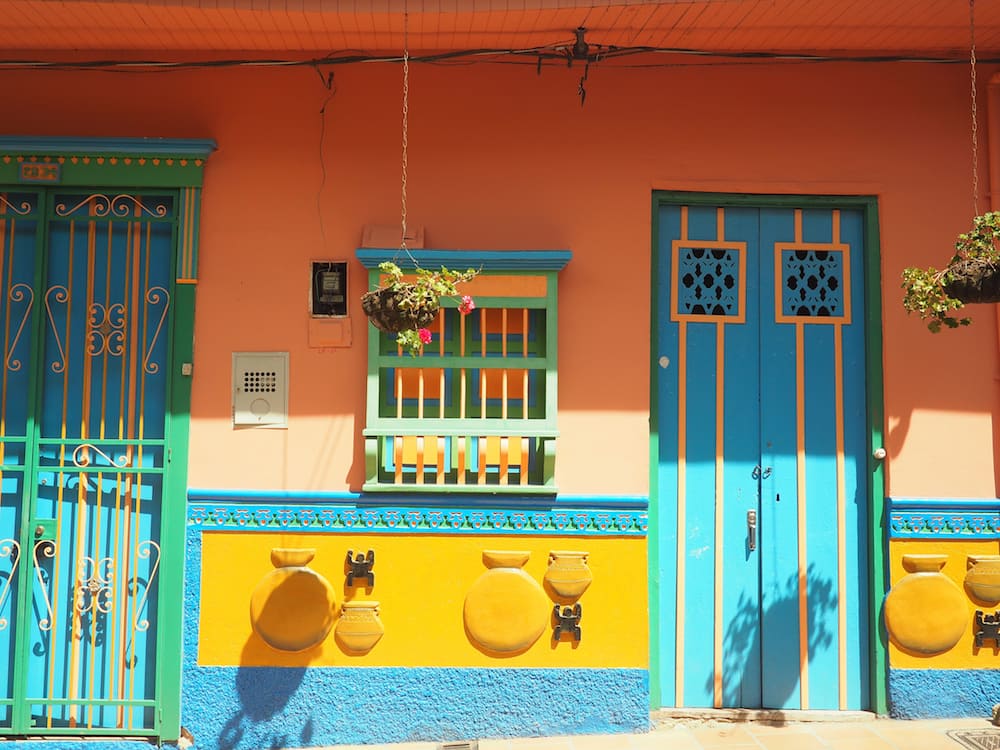 You can easily spend half-a-day just losing yourself in Guatapé's streets and side-streets, some of which come complete with gorgeous cobblestones.
But make sure you also find your way to Plaza de Zocalos with its cafés, boutique shops and, of course, immaculately maintained facades. If anywhere in Guatapé has been manufactured with tourists in mind, it's here. But it stills feels like it belongs.
And, just as in Jardín, everything eventually leads to the main plaza, with its church, cafés, restaurants and bars.
Unique to Guatapé, each building is adorned by a painted panel called a zocalo. And figuring out their meaning is a wonderful way of learning about the town and its residents.
For instance, many depict scenes of farming, reflecting the agricultural heritage of the town. So, plenty of sheep, donkeys and…er…zebras.
Some advertise products sold by the building's owner, past and present – loaves of bread on the bakery, for instance.
Meanwhile, others reflect people's beliefs. And a few are just plain bizarre. But it's a tradition that's been proudly maintained throughout the decades.
So, if you're ready to play the Decipher-The-Zocalo game, here's a few to get you started….
OK, we're going to say this belongs to a local removal firm. Probably completely wide of the mark but it does seem to be a slight improvement on the people we used when we moved house a few years back.
Much easier this. And the answer was a bit of a giveaway to us as inside the building it was emblazoned on were a group of local men drinking beer, shooting pool and cheerfully playing cards.
So, a couple of priests, an urn with a voting slip and a painting of the Virgin Mary.
No idea.
We struggled with this one. We really did.
The Consultono Odontologico is clearly a dental consultant. And that guy in the middle looks like he could be the dentist in question. But quite why the guy on the left is daydreaming about a sheep is anybody's guess.
Climb the monolithic El Peñón de Guatapé
A stroll around Guatapé's vibrant streets is a good enough reason for visiting on its own.
But wait a minute, there's still plenty more to see. However, to do so, you'll need to clamber up the 650-step staircase of El Peñón de Guatapé ("The Rock of Guatapé"), a curious slab of rock just outside of town, which dominates the landscape. From the top, you'll be treated to an incredible view of the El Peñól-Guatapé reservoir.
Created in the late 1970s after a new dam flooded the surrounding countryside, what were previously hillsides are now islands separated from each other by the twisting watery fingers of the reservoir. It's a beguiling sight. Perhaps not quite The Best View In The World as the welcome sign brags, but well worth the effort nonetheless.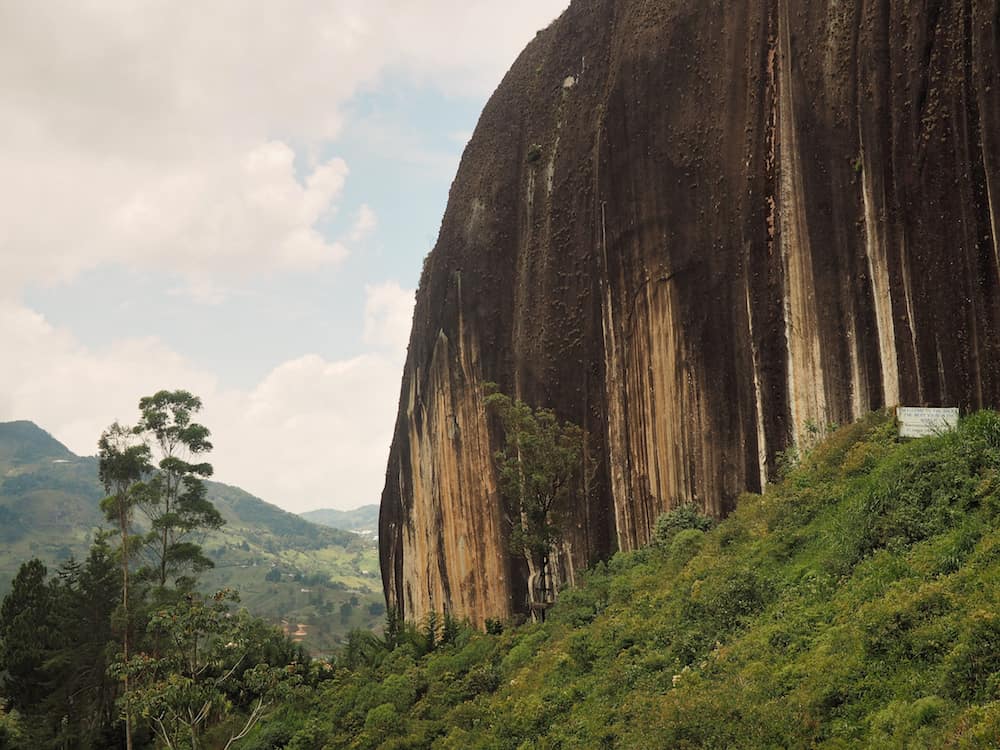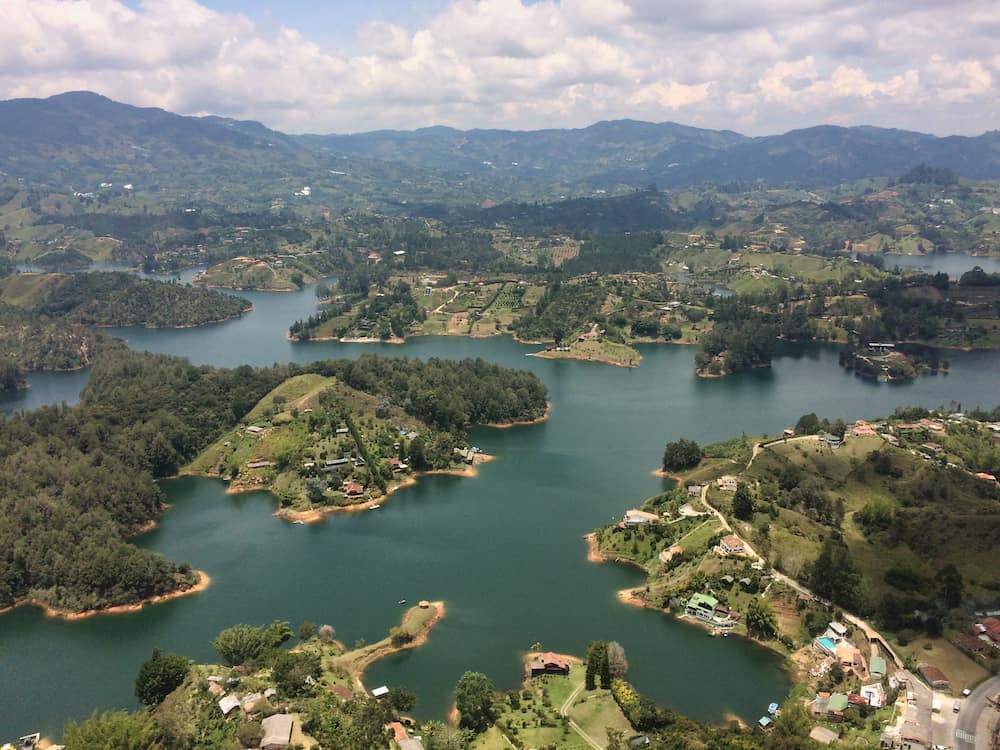 By the way, the rock is also known as La Piedra de El Peñól ("The Stone of El Peñol") which reflects on the decades-long dispute between Guatapé and its neighbouring town, El Peñól, over who actually "owns" it.
The route back to Guatapé (45 minutes by foot, 10 minutes by tuk-tuk) includes the best views of "The Rock" and the mighty 650-step staircase which clings to the vertical rock face.
Sip coffee and feast on cinnamon rolls
There's no shortage of places to eat in Guatapé. And a lakeside walk will inevitably include an eager waiter waving a menu at you.
But we've got a couple of recommendations you shouldn't miss.
Firstly, when we're exploring a country we normally like to experiment with the local food. And Colombia's no different. But when there's a restaurant nearby offering authentic Thai food for a great price we just can't resist.
And the Thai Terrace restaurant, on the top floor of the Lake View Hostel, produces possibly the best Thai food we've had outside of Thailand. In fact, we loved it so much we went back the following night.
Believe me, the ubiquitous Pad Thai was sublime.
Secondly, when you've made your way to the Plaza de Zocalos, don't be surprised if a sudden waft of freshly baked dough mixed with the unmistakable smell of cinnamon hits you like a sledgehammer. That'll be because the Venezualan/Colombian-owned Pizzeria Papi & Pepin has just brought out another tray of hot caramel-topped cinnamon rolls to its street-side serving counter.
Totally irresistible and perfect with a strong Colombian coffee.
We stayed at the Oak Tree Hostel just outside of town and can recommend it if you'd prefer to stay away from the noise of the centre. But there are cheaper options in town, too.
One of the most popular is the Lake View Hostel (of Thai Terrace restaurant fame) and justifiably so judging by how we were treated on our two visits to eat there.
Getting to and from Guatapé
Catch a bus from Medellín's Terminal del Norte station direct to Guatapé. They run every 30 minutes starting at 05:30 and cost 14,000 COP for the two-hour journey.
And, if like us, you're planning to head to the airport after your visit, you should buy a ticket at Guatape's bus station for Guarne (destination Medellín) and ask the driver to drop you off at the intersection for the airport (which is before you reach Guarne – just over an hour from Guatape). From there you cross over to the filter lane for the airport road and flag down a passing airport shuttle or taxi.
Simple!
What did you think? Have you been to Guatapé?  Or perhaps you're thinking of visiting there in the near future? Either way, we'd love to hear from you so please add your comments below.

Download our GPS-guided travel app to explore the places featured in this post.
To help us maintain our site we work with a number of partners who we've personally used and can recommend to our readers. If you decide to purchase any products through the following links, we'll receive a small commission at no extra cost to you. Thank you for your support!
Hi, we're Ian and Nicky, an English couple on a voyage of discovery around the world, and this blog is designed to reflect what we see, think and do. Actually, we'd like to think it also provides information, entertainment and inspiration for other "mature" travellers, too. So please feel free to pour yourself a glass of something suitably chilled and take a look around.