EXPLORE NEW ZEALAND'S SOUTH ISLAND – OTAGO AND FIORDLAND
In this special series of posts, we present our ultimate guide to exploring New Zealand's incredible South Island. You'll discover the route we took, along with our recommendations for campsites, things to do, walks and even our favourite wines.
Here in Part Four, we explore the Otago region by returning to the east coast and continuing southwards to The Catlins before looping back up to Milford Sound and the Southern Lakes.
Contents
Oamaru
The Catlins
Fiordland National Park
Queenstown
Wanaka
Where we stayed
Subscribe to our newsletter
Submit a comment
This page contains affiliate links. To help us maintain our site we work with a number of partners who we've personally used and can recommend to our readers. If you decide to purchase any products through the links on this page, we'll receive a small commission at no extra cost to you.
After leaving our idyllic campsite at Lake Ohau we had two choices for making our way down to the south coast. Either head down National Highway (NH) 8 through Cromwell (where we could sample some of the famed Pinot Noir wines) and then carry on down to Balclutha – or take a left at Omarama on the NH83 to Oamaru and then pick up the NH1 coast road down through Dunedin. In the end, we tried to combine the two by doubling back from Cromwell to Oamaru via Palmerston.
If you really want to get into some wine tastings then it's worth heading to Cromwell, which includes a lovely section of road over the Lindis Pass. For instance, you can try four of five wines at wineries such as Mt Difficulty for around NZ$10 and then decide on whether you fancy a bottle or two to buy – but they don't come cheap. They say it's also a great place for lunch but, unfortunately (like a lot of things in New Zealand) our budget didn't stretch that far.
With hindsight, we would have taken the second option and gone straight to Oamaru. Probably our favourite town in all of New Zealand.
The town is almost a perfectly preserved Victorian open-air museum, reflecting its heyday as a 19th-Century port and refrigerated meat shipping hub. As it grew steadily wealthier, beautiful limestone buildings were erected over a relatively short period of time, until the inevitable downturn-in-fortunes arrived and the town flirted with bankruptcy and ruin at the turn of the 20th-Century. Nowadays, it's become something of a magnet for creative thinkers and the town is a joy to visit, not only for its architectural delights and bohemian culture but also for its resident colony of blue penguins.
Take, for example, the quirky (and brilliant) Steampunk HQ. A veritable treasure trove of sculptures, steam-driven machines and visual curiosities that are something of a cross between HG Wells and Mad Max. Spread over three floors and an outside area at the rear it's a unique place that'll appeal to anyone who can identify with the bizarre and the surreal. Just like us.
And don't miss The Portal, accessed through a door that most other people who were there at the time seemed to either ignore or just not notice. Once you enter you'll find yourself in a small room with a glass floor, hundreds of mirrors and a light show supported by an ambient soundtrack. It's other-worldly and a complete chill-out zone if you have the time to linger long enough.
Once you've had your fill of the odd, strange and downright weird, head along to the Victorian Precinct where you can easily spend an afternoon wandering around the historic buildings that now serve as galleries, shops, cafes, and bars. Impossible to resist for us was The New Zealand Whisky Collection, a tiny lounge offering tastings of New Zealand's finest single malts. Unfortunately, the price of a bottle to purchase was enough to cause acute watering of the eyes so we had to make do with the four measures in the NZ$25 tasting. A shame really because they were excellent.
Mind you, a few tots of whisky warmed us up for negotiating the rest of the Victorian Precinct area, including galleries with such diverse displays as penny-farthings, carousel horses and…ahem…circus clown props.
At the excellent i-Site, you can book an evening to watch a colony of blue penguins come ashore from a day's hunting, but as we headed south on SH1 we found a quieter site at Katiki Point. Not as many penguins here but we did get to see a moulting baby yellow-eyed penguin and, of course, plenty of seals basking on the beach below.
Close by are the famous Moeraki Boulders, but to see these properly you really need to be there at low tide – which we weren't. They're supposed to be one of New Zealand's top attractions. But they're just a bunch of spherical stones on a beach at the end of the day. Maybe we missed something really special. But then again…
Not wishing to mull over our boulder-free episode, we spent the afternoon driving south to the furthermost point in the globe from the place we used to call home. The Catlins is renowned as an area full of outstanding beauty and plenty of wildlife. And with no land separating it from the Antarctic ice-mass it's also notable for some pretty changeable weather. As we discovered!
But it does have a campsite with another absolutely stunning pitch. Puraukanui Bay is another standard Department of Conservation (DOC) site, costing NZ$6 per person. Most people set up near to the beach, but we continued up the hill beyond and on to a single pitch looking out over the cliffs. It would be fair to say that it got more than a little breezy up there but with a bit of strategic positioning we managed to buffer ourselves from it and enjoyed another table-with-a-view.
There are plenty of walking opportunities in the area, including some easy ones to a range of waterfalls – our favourites being the impressive Purakaunui Falls and McLean's Falls.
And there's perhaps the most famous of the tourist sites in these parts – Nugget Point, with its lighthouse, penguin and seal colonies – and of course its rocky off-shore "nuggets".
Further along the coast, it's also worth stopping overnight at the wind-swept Curio Bay Holiday Park campsite, if only to be able to watch more yellow-eyed penguins as they come ashore, and the pod of rare Hector's Dolphins which can be regularly seen frolicking about in the bay.
Departing The Catlins for Fiordland involves returning to the Southern Scenic Route, which, as its name implies, is a scenic drive from Dunedin on the coast, through the lowlands of the south and back up to the Southern Lakes at Queenstown.
Probably the area of New Zealand that we were most anxious to see, Fiordland is an area of impossibly picturesque landscapes – serene lakes, ice-capped mountains, and fiords of strikingly blue water surrounded by huge cliffs and monstrous waterfalls. We'd heard the hype – and, in our opinion, it was well justified.
Our first point of call was Manapouri, which serves as the access point for cruising (or kayaking) along Doubtful Sound. In the end, we decided not to do the cruise as we couldn't justify the expense (over NZ$400 each, including an overnight on the boat) but we'd heard nothing but positives from others who'd been.
Instead, we took the opportunity to spend some time recharging our electronic gear and catching up with our online commitments at the wifi reliable Possum Lodge & Holiday Park.
From Manapouri, it's a gorgeous drive through Te Anau all the way to Milford Sound. In fact, it would be a mistake to do the journey and not stop off en-route to at least one of the many natural attractions on offer. Better still, there are yet more simple DOC campsites with the sort of BBQ-friendly million-dollar views that just beg to be visited.
Milford Sound is probably New Zealand's most famous tourist destination, and it's not hard to see why. We loved it so much we actually went twice, which you can read about in our post on the not-to-be-forgotten scenic flight from Wanaka. They say it can be just as magnificent when the weather is truly awful – but we weren't prepared to hang around to find out and managed to find two days to see it when the weather was forecasted to be glorious. And it truly was. Don't miss it.
The incomparable beauty of Milford Sound
Once you've had your feast of Milford's beauty you should then make sure you take a look at what else is on offer around the Te-Anau Highway – unless of course, you've already done so. For instance, at the Te Anau-facing entrance to the Homer Tunnel (just before Milford Sound) there's a nature walk that leads up to an almighty waterfall. You can see the waterfall from the road, and most tourists just pull over on the lay-by to take photos before moving on. Wrong decision. Just stroll along the track for as long as you're comfortable – it gets more difficult the nearer you get to the waterfall – and you'll find yourself all alone in some of the most stunningly raw scenery imaginable.
Or, just further along the highway back towards Te Anau, you could spend a couple of hours walking along the Gertrude Valley Track, which is actually the first part of the longer and more difficult Gertrude Saddle Route. You'll need to be prepared to take your shoes off and wade knee-deep through one or two ice-cold, yet incredibly clear streams but you'll be rewarded with an exhilarating walk that encapsulates New Zealand at its gob-smacking best.
And, if we were to recommend a third stop it would be for the Key Summit Track, which is a four-hour return trek on the first leg of the famous Routeburn Track. The nature walk at the top provides you with 360-degree views of some of Fiordland's highest peaks.
Why rush away from Milford Sound when you've got this to explore?
Once you've made your way back at Te Anau, take SH94 and connect to SH6 via SH97, following it all the way to Queenstown, New Zealand's self-styled Number One visitor destination. The town is most definitely an adventure junkie's wet dream – and during high season gets packed to the rafters with backpackers eager to jump out of aeroplanes, throw themselves off a ledge on a piece of elasticated rope or merely fly 400 meters above the town on an elasticated swing.
It's possible to spend an entire year's wages on the many attractions on offer – but we satisfied ourselves with the relative calm of a jet boat ride on the upper section of the Shotover River with Skipper Canyon Jet. In fact, the mini-bus journey there, along the infamous Skipper Road, was arguably just as much a white-knuckle ride as the jet boat itself.
Less-heralded, yet just as rewarding is the drive along The Remarkables Road, which winds its way up through the mountain range of the same name up to a ski-lodge car park. You'll need a clear day for it but the scenery, overlooking Queenstown, just takes your breath away.
But what LITERALLY takes your breath away is the walk up from the car park to the Shadow Basin Lookout. It's not well-signposted but you take a right turn onto a ski-field road just behind the ski-lodge and you then just follow it right up to the top of the ski lift. The lookout is a further few hundred metres climb on but it's well worth it! From there you can see not only Lake Wakatipu but the peaks of Fjordland in the distance, too.
Just outside Queenstown, on the road to Glenorchy, we pulled off onto Moke Lake Road and booked into Moke Lake campsite, which turned out to be another DOC gem. Apart from having access to a beautiful two-hour walk around the perimeter of the lake we also awoke to a gorgeous mist-shrouded morning which slowly lifted to reveal yet another landscape of rugged mountains, green farmland, and blue skies.
There's no doubting that Queenstown has a sublime setting and there's enough to do here for a month if you have the spending power of a small country and/or are not interested in going anywhere else. But, neither of these applied to us so we decided to move on after two or three days, over to Queenstown's "sister" lakeside resort, Wanaka.
The Crown Range Road from Queenstown to Wanaka provides another of those New Zealand journeys through wonderful scenery and an atmospheric ex gold-mining town. The area turns into a full-blown skiing destination during the winter months, but during the summer the historic Cardrona is the main draw. And, in particular, it's pub – the Cardrona Hotel – which is said to be the most photographed pub in New Zealand. And you do indeed get a sense of travelling back in time as you approach its suitably wood-panelled facade.
On the basis that it would be just too rude to not have a least one drink – particularly if there's a designated driver on hand – we spent an extremely pleasant hour or so in the bar.
A couple of hundred metres further on we came across the infamous "bra fence" which has been courting controversy for over two decades. For some unknown reason, people began placing bras on the fence at the side of the main road, to the point where there were literally hundreds of them dangling, to the consternation of some who thought it an eyesore or even insulting to certain cultures. It's recently been moved to a side-road and re-branded as Bradrona, where its obvious curiosity for passers-by helps it to raise money for breast cancer. A victory for ingenuity, we say!
Wanaka, itself is another stunning lakeside town, although on a much smaller and laid-back scale than Queenstown. There's still plenty of action for the adrenaline-junkies but it's not so in-your-face. We actually preferred it that way.
It was from here that we took the scenic flight to Milford Sound, but there are plenty of other, less-expensive ways to enjoy the area. For instance, as film-lovers, we took the opportunity to go and see a movie at the iconic and tiny Cinema Paradiso, with its comfy sofas, craft beer, home-made muffins and ice cream. If only all cinemas were like this!
And, for the record, we watched The Revenant.
Obviously, there are plenty of walking opportunities around the town and the wider Aspiring National Park, including the fabulous Rob Roy Glacier Track and Iron Mountain (which is not really a mountain, more of a hill with panoramic views over Wanaka and beyond).
And there's a track around Lake Wanaka itself, which can also include some wine-tasting at the lakeside Rippon Vineyard. Of course, you can always make the short trip over to Cromwell for some more wine-tasting if you hadn't already done so.
If the weather is kind, Wanaka is the perfect place to just unwind for a few days before you head on up the west coast towards the Fox and Franz Josef glaciers – where the weather is notoriously fickle. And, in our fifth and final instalment of this series, we do indeed battle the elements (and the sandflies) as we head back north along the Great Coast Road before traversing across Arthur's Pass to Christchurch.
View of Lake Wanaka from Iron Mountain
Here's where we stayed on our route from Lake Ohau to Wanaka…
Trotter's Gorge (DOC), near Palmerston (1 night)
Purakaunui Bay (DOC), Purakaunui Bay (1 night) – recommended
Curio Bay Holiday Park, Curio Bay (1 night)
Possum Lodge & Holiday Park, Manapouri (3 nights)
Mackay Creek (DOC), Te Anau-Milford Highway (1 night) – recommended
Upper Eglinton (DOC), Te Anau-Milford Highway (1 night) – recommended
Mokes Lake (DOC), near Queenstown (2 nights) – recommended
Albert Town Campground, Wanaka (2 nights)
Luggate Cricket Club Campground, Wanaka (1 night)
Wanaka Kiwi Holiday Park, Wanaka (1 night)
What did you think? Have you been to any of the places we've covered? Or do you have any recommendations of your own you'd like to share? Either way, we'd love to hear from you so please add your comments below.
To help us maintain our site we work with a number of partners who we've personally used and can recommend to our readers. If you decide to purchase any products through the following links, we'll receive a small commission at no extra cost to you. Thank you for your support!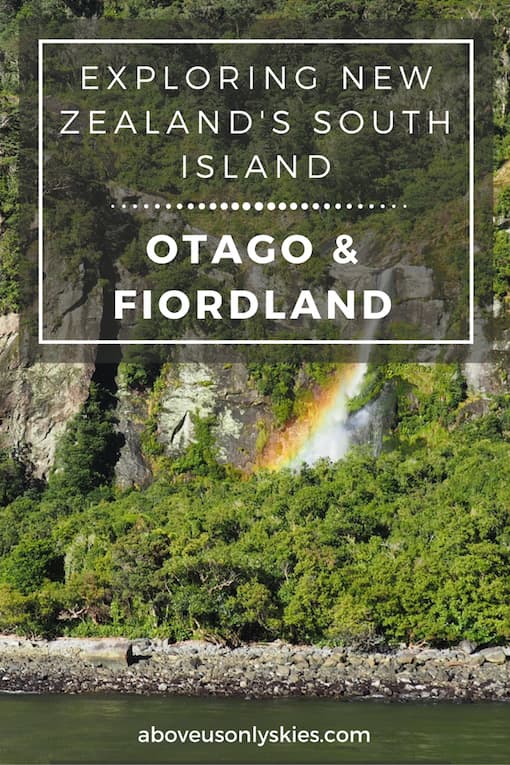 Hi, we're Ian and Nicky, an English couple on a voyage of discovery around the world, and this blog is designed to reflect what we see, think and do. Actually, we'd like to think it also provides information, entertainment and inspiration for other "mature" travellers, too. So please feel free to pour yourself a glass of something suitably chilled and take a look around.