7 OF THE MOST BEAUTIFUL HERITAGE TOWNS IN COLOMBIA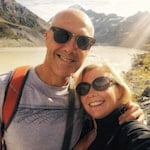 ​The Pueblos Patrimonio is a group of 17 heritage towns in Colombia created, in conjunction with UNESCO, to showcase the culture, history and architecture of the country's best small towns and villages.
They're loosely connected with each other via a Heritage Trail, which loops in a horseshoe shape between the country's Caribbean coast and Medellín via the mountainous regions of Santander and Boyaca. It's a great way to explore some of the less-travelled parts of the country. And more often than not, the towns boast some superb natural attractions on their doorstep, too.
You can easily spend the better half of a month visiting them all. But, more realistically, a two-to-three-week trip would give you enough time to see the best of them. Especially if you hire a car.
We've highlighted seven which we feel you shouldn't miss. Not only will you experience the thrill of staying in beautifully preserved colonial-era towns, but you'll travel through some of the most stunning landscapes in South America.
Mompox
Barichara
La Playa de Belén
Monguí
Villa de Leyva
Jardín
Salamina
A once-thriving transportation hub for merchants during the 17th and 18th Centuries, Santa Cruz de Mompox (or Mompós) was a jewel in the crown of Colombian colonial settlements established by the Spanish Conquistadors.
Dripping with glorious colonial architecture and home to skilled artisans producing fine filigree gold and silver jewellery, it was second only to Cartegena in strategic importance within Colombia.
And then everything fell apart when the surrounding River Magdalena silted up, leaving the town effectively marooned on an island in low-lying wetlands for over a hundred years.
But it's that period of isolation that makes it such an enchanting place to visit for the increasing numbers of domestic and foreign tourists who make the effort to get there. The beautiful buildings – including some stunning churches – remain intact. As do the jewellers.
Indeed, a morning walk along the riverside Albarrada is as close as you might get to wandering through a Spanish colonial town as it was some 400 years ago. And, in addition to the beautifully maintained high-ceiling buildings and the fine workmanship of the unique ironwork grills that adorn each window, you might also catch a glimpse of the occasional egret, iguana or red howler monkey that likes to call this place home.
For a fabulous afternoon diversion, you can catch a boat trip up the Magadalena River to Pijaño Swamp. Along the way you'll pass dozens of local fishermen casting their nets into the river. But the big pay off is the almost balletic display of hundreds (thousands?) of white herons taking flight around you as your boat quietly makes its way along the narrower stretches of the river. Its quite a sight. And one that shouldn't be missed.
As a bonus, the tour returns to Mompox at sunset just in time for the subtle street lighting to show off the town's architectural treasures once again. After which, we'd head straight for Cafe 1700 on the Albarrada for a table with a view and a spot of people-watching while you sip a coffee or a beer.
Accommodation
Upmarket:
Hotel Portal de la Marquesa
– situated on the Albarrada in one of towns most iconic buildings.
Mid-price: La Casa Amarilla – one of the first guest houses to emerge in Mompox as tourism has developed over the past decade. And still the town's most popular choice.
Budget: Cafe Mompox – comfortable, if basic high-ceilinged rooms in a courtyard setting. We stayed here and can recommend it.
How to get there
There are direct buses (5 hours) from Cartegena and Santa Marta on the Caribbean coast.
However, arriving from the south (via Bucaramanga) is an altogether different proposition. Firstly, you'll need to make your way to Aguachica and catch a bus from there to El Banco. From there, a further bus will take you to Mompox on roads that can best be described as "agricultural". And, trying to establish a timetable is a fruitless exercise. In fact, you may even want to consider a shared taxi for this final leg.
Find out more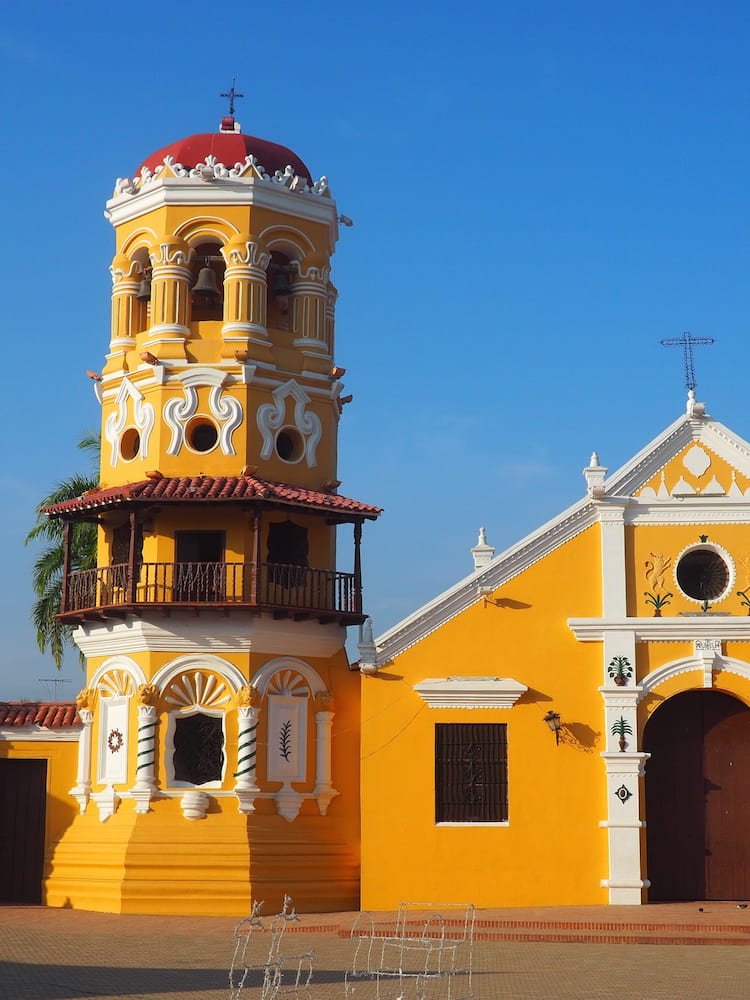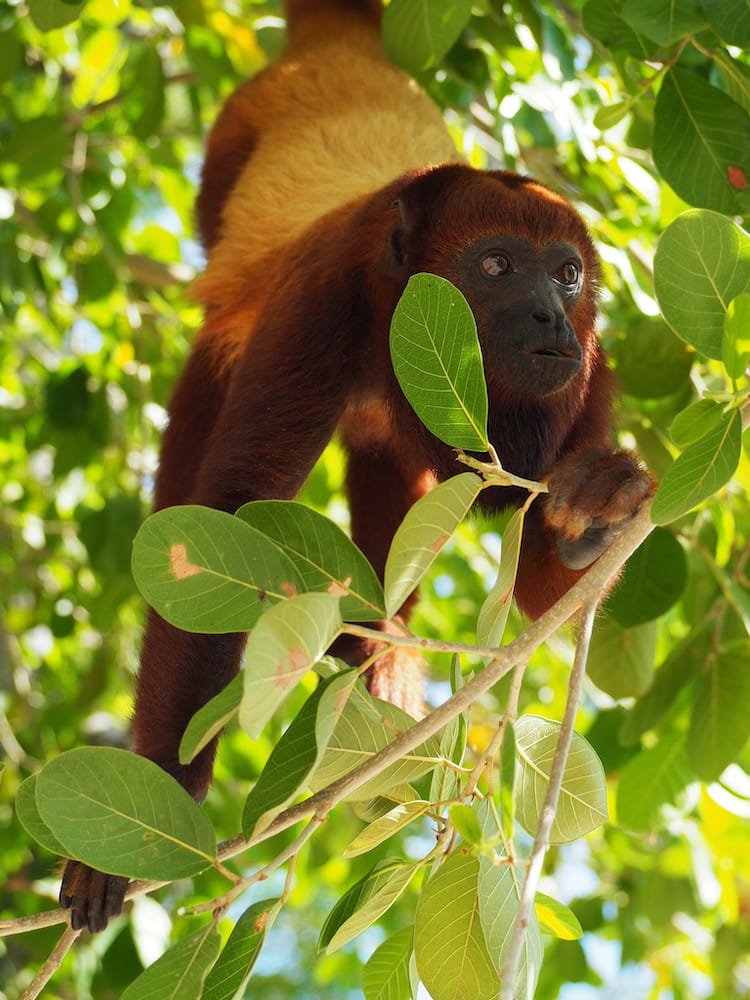 Red Howler Monkey on Albarrada
White heron in Pijaño Swamp
You won't find the sleepy mountain village of La Playa de Belén on many travel itineraries. And not just because of its remoteness.  Situated in the Norte de Santander region bordering Venezuela, it's a premier region for coca cultivation and carries a warning from the British Foreign & Commonwealth Office advising "against all but essential travel".
Nevertheless, our visit there was a serene experience. Unlike the minibus journey through the mountains which featured a driver seemingly hell-bent on breaking his own personal best time.
With just three cobbled streets to its name, a single (if spectacular) church and rows of single-storey whitewashed houses resplendent in their white, red and brown colour scheme, it's a lovely place to wander around. And the locals will be more than glad to see you.
But perhaps the biggest draw for coming here is the chance to explore, with a guide, the surrounding Área Natural Única Los Estoraques. It's a bizarre world of soaring pinnacles and caves carved out over time from granite, sandstone and sedimentary rock. And when you've got the place to yourself, like we had, the utter weirdness of the landscape and total silence around you makes for an uplifting experience.
Back in town, head to El Portal for an authentic two-course menu del dias lunch.
Accommodation
Mid-price: Finca Casa Real
– situated just a short walk from the top end of town, with great views of Los Estoraques, this lovely finca comes highly recommended. Owner Carolina will also book your hiking guide for you.
How to get there
From the north, catch a bus or minivan from Aguachica to Ocaña (90 minutes) with
Cootransunidos,
and then connect with a minibus to La Playa de Belén (45 minutes). If you're staying at Finca Casa Real, Carolina can arrange to pick you up in Ocaña instead.
From the south, you can catch a bus direct from Bucaramanga to Ocaña.
Find out more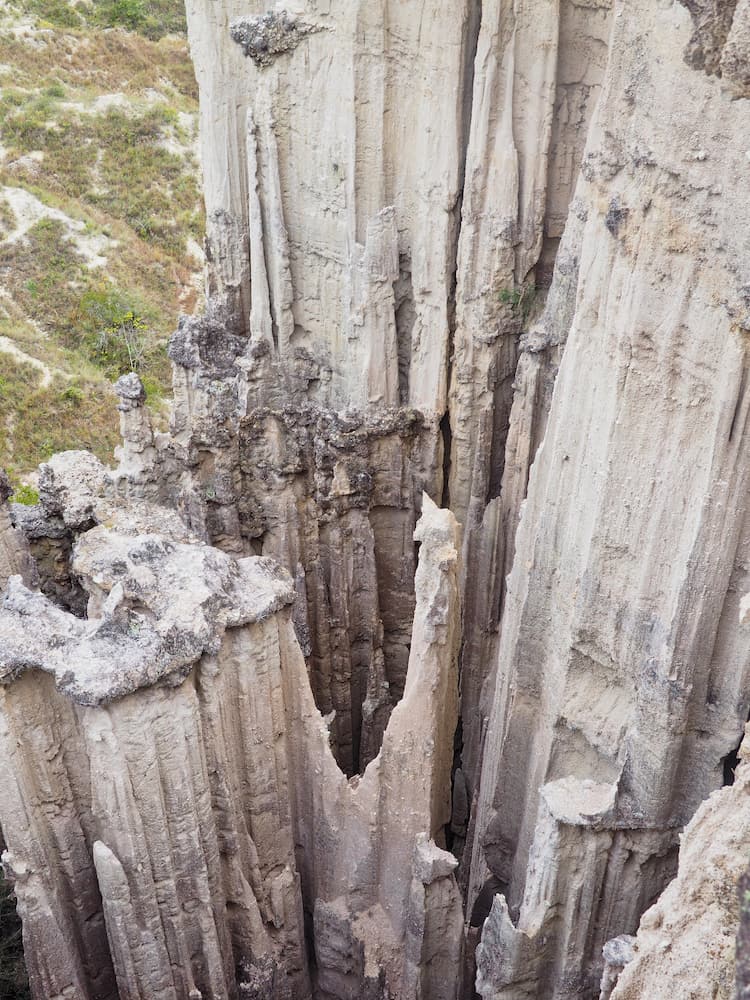 Pinnacles in Los Estoraques
Perhaps our favourite of all the heritage towns in Colombia, Barichara is a feast for the eyes no matter where you view it from.
With its whitewashed walls and red rooftops, the town enjoys a dramatic location perched on the edge of a steep-sided canyon. Its buildings and cobbled streets are meticulously maintained and are built from local gold-coloured stone which casts a warm glow in the late-afternoon sun.
However, it's far from being an undiscovered gem. A favourite haunt of artesans, stonemasons and artists, it has attracted well-heeled domestic tourists and art lovers for many a year. Not to mention foodies who descend on the town's restaurants to sample such local delicacies as fillet steak smothered in a lip-smacking sauce of toasted ants.
But don't come here without exploring the spectacular countryside surrounding it. One of the easiest and most popular hikes is along the ancient Camino Real, which leads down through the canyon to the tiny village of Guane. From where you can catch the bus for the 20-minute journey back up to Barichara.
Further afield, Chicamocha Canyon is the world's second-deepest and features a 6.5-kilometre cable car across it.
And nearby San Gil is recognised as the country's adventure capital. From there, we can throughly recommend whitewater rafting along the Suaraz River with Colombia Rafting.
Accommodation
Mid-price: Casa Mahanaim
– lovingly created finca in the hills above the town, this was our favourite place to stay in Colombia. Built over five years using local materials, the whole place is a work of art and a credit to owners, Henry and Lina. Indeed, it's a destination in its own right and only enhances the experience of visiting Barichara. Just bear in mind that it's a steep and rough moto taxi ride up from the centre of town with your bags!
How to get there
From Bucaramanga it's a three-hour bus journey to San Gil via Chicamocha Canyon. And, of course, the usual caveats about Colombian bus drivers apply!
From San Gil, it's a further 45-minute bus journey to Barichara.
Cobbled street in Barichara
View of the canyon from El Camino Real
Like La Playa de Belén, Monguí feels like something of an outpost, hidden away from international tourism high up in the Colombian mountains. Indeed, it involves a similar mountainous bus journey to get there. Its buildings feature their own unique colour scheme – this time white, red and green. And the town again sits alongside some fantastic hiking.
At an altitude of 2,900 metres (9,500 feet) it's a place that needs time to acclimatise. Which will give you the opportunity to wander the cobbled streets and think about buying one or two of its iconic products – handmade ponchos and footballs. Indeed, the fábricas de balones (ball factories) that dot the town are responsible for 25% of the nation's footballs over the past 80 years.
And make sure you take a wander over the Puerto Real de Calicanto. A national monument, it's a bridge that was built from lime, sand, molasses, beef and blood. Something that's not likely to catch on back home, we reckon.
The temperatures at this altitude can dip very close to freezing at night. Hence the roaring trade of ponchos. But, to escape the cold, we can strongly suggest a visit to La Gloria Café for a limonada de coco (coconut and lime smoothie) or a lovingly-prepared coffee. All in a gorgeous little cafe with retro-art decoration and friendly staff.
And, once you've acclimatised, book yourself on to a guided hike up to the wetlands of the Páramo de Ocetá. It's a 15-kilometre loop trail to an altitude of 3,900 metres (12,800 feet) featuring ancient sites of the indigenous Muisca people and fields of incredible plants known as frailejónes ("big monks"). It's tough going in parts but you'll be hard pushed to find a more diverse and unique landscape to hike through.
Accommodation
We'll be honest, we didn't strike it lucky with our Monguí choice. That's not to say that the
Monguií Plaza Hotel
isn't a lovely colonial building, situated right on the corner of the main square. It is. But we just found the place somewhat charmless, the service poor and the room over-priced. That said, it does get rave reviews on Trip Advisor and other sites, so what do we know?
How to get there
From Bogotá, it's a four-to-five-hour bus journey to Sogamoso. From where it's a further 40-minute bus journey to Monguí.
From San Gil in the north, it's five hours by bus to Tunja followed by a 90-minute journey to Sogamoso. We believe you can also get a direct bus to Sogamosa from San Gil.
An elderly lady crosses the main square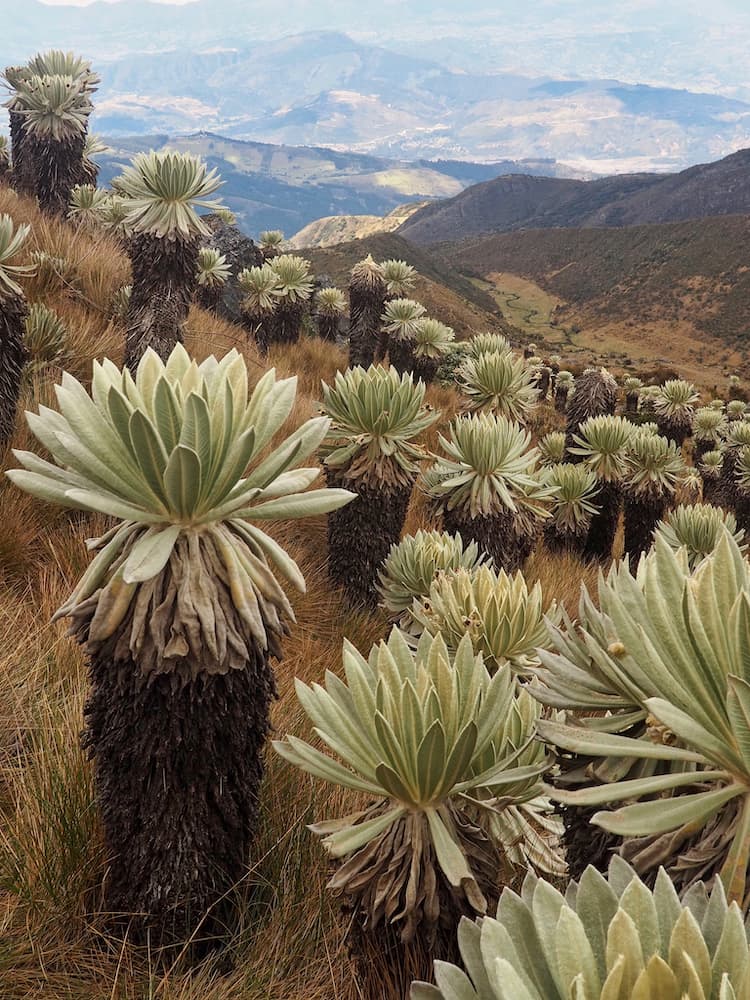 Frailejónes in the Páramo de Ocetá
Without doubt the most commercialised of the towns featured here, Villa de Leyva is nevertheless a must-visit on the Heritage Trail.
Boasting the largest main square in Colombia (and said to be the largest cobbled square in South America), a stroll around town feels like a walk around an open-air museum.
Its centrepiece is the magnificent Iglesia de Nuestra Senora del Rosario, a church that stretches almost the whole length of one side of the square. And, at night, the whole square comes alive as locals and tourists alike congregate on the steps to chat and drink coffee. Especially at weekends and public holidays when the whole place can become a heaving throng of day and weekend-trippers from Bogotá.
You'll be spoilt for choice when it comes to places to eat and sleep. Although prices are higher than elsewhere because of the demand.
Nearby attractions include Casa Terracota, a bizzarely designed house built from terracota that doubles as the world's largest piece of pottery. You can wander through each of the rooms, along with the crowds, before heading further down the road to the Museum of Paleontology. There you'll find impressive fossils, skeletons and bones of some of the large dinosaurs discovered in these parts.
And, across the road, the Museo el Fósil is actually built around the last resting place of the near-complete fossilised remains of a Kronosaurus (sort of a "dino-crocodile").
Meanwhile, if things weren't already bizarre enough for you, you could take another trip to a nearby field where 109 large penises carved from pink sandstone stand to attention.
Or you might just decide that's a step too far.
Accommodation
As we've mentioned, there's plenty of choice in town. We chose the budget option by staying at an Airbnb on the one of the quieter side streets. And, for a room in a lovely old colonial house just five minutes from the main square, it turned out to be a good choice.
How to get there
From Bogotá, there are direct buses with Reina or Valle de Tenza (three to four hours).
Alternatively, you can get a bus to Tunja (two hours) and connect with a minivan onwards to Villa de Leyva.
If you're arriving from the north (or from Monguí if you're following our itinerary) you'll also need to get to Tunja first (direct buses from Bucaramanga and Sogamosa).
Plaza Mayor, Villa de Leyva
Dinosaur fossil at the Museum of Palaeontology
Iglesia de Nuestra Señora del Rosario
Salamina is another heritage town in Colombia that takes some effort to get to. But, as we've already discovered, good things come to those who are prepared to "go the extra mile".
Situated in the very northern corner of Colombia's Zone Cafeteria (or "coffee zone") it shares some similarities with the area's premier tourist destination to the south, Salento. Both have a lovely colonial centre and have a strong coffee culture. And both serve as a gateway to the amazing landscapes of the wax palms.
However, whereas Salento and the Cocora Valley attract tourist crowds from around the world, Salamina and the Samaria Valley see barely a fraction. Take a guess which of the two we prefer.
Situated at the top of a deep valley, it's a proper working town rather than one that's set up for tourism. In fact, international tourists are still treated with some curiosity. We were frequently stopped by locals who wanted to welcome us to Salamina!
The local food is an absolute must-try. Especially the Huevos al Vapor – eggs and butter frothed together with an espresso maker and served in a coffee cup. Simple but delicious. Followed by La Macana, a kind of creamy bread pudding consisting of milk, butter, sugar, salt crackers and cinnamon. Once again blitzed through an espresso maker, naturally. You won't find better examples than at La Casa de Lola García.
And then there's the Samaria Valley. An early-morning 90-minute bus journey to the hamlet of San Felix is followed by an easy walk into the valley, where fields of the spindly Quindío Wax Palm, the national tree of Colombia, await. Reaching up to 45 metres (150 feet) in height, they're quite a sight.
At the end of the trail you can take a tour of Finca Mirador de la Samaria before enjoying a trucha (trout) lunch and returning to San Felix.
Accommodation
Whilst there are plenty of budget options in town, we can highly recommend staying at an Airbnb guest house we found a few kilometres along the road to San Felix.
Alto Bonito is a rustic cottage owned by local photographer, chef and allround raconteur, Martin. You'll be sharing the grounds with his six rescue dogs. And it probably won't be to everyone's taste. But we absolutely loved it.
Not only that but Martin gave us a personally guided tour around Salamina, stopping off at his favourite eating places. Which is a bonus in our books!
How to get there
From Bogotá, it's a long bus journey (eight hours) to Manizales from where you can catch a further bus to Salamina (three hours). However, the journey is a spectacular one. If you don't want to make the journey in one stretch you might also want to consider stopping over in Honda, another Heritage Town half-way between Bogotá and Manizales. 
Arriving from Medellín, it's a seven-hour journey, much of it on gravel road (direction Manizales).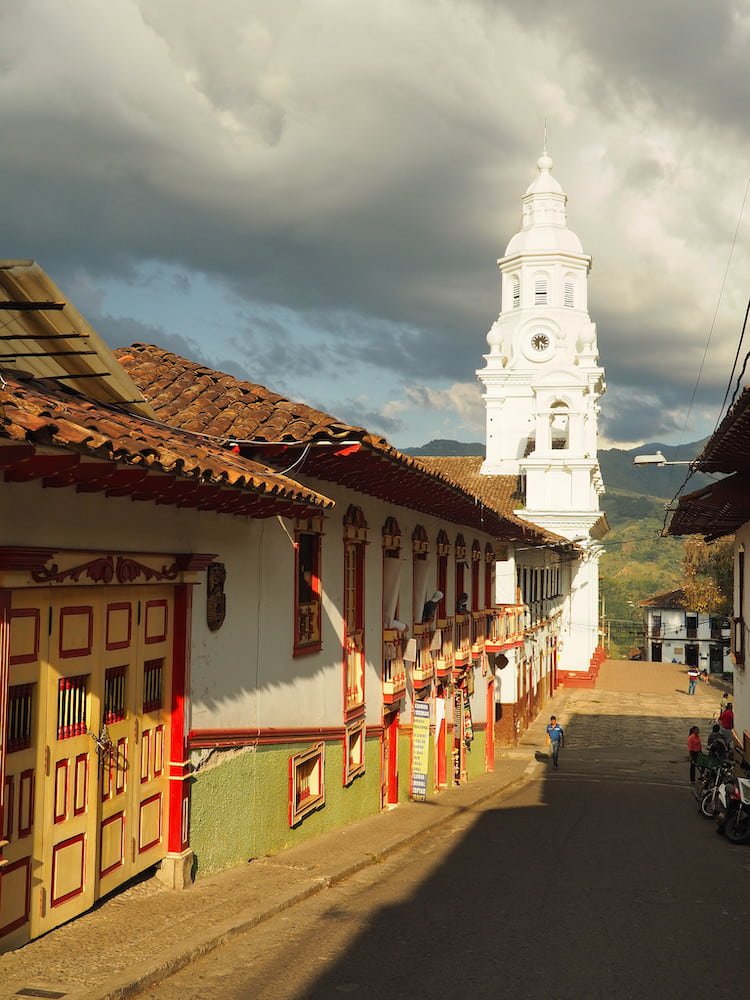 Wax palms in the Samaria Valley
Our seventh and final recommendation, Jardín is just three or four hours from Medellín. As such, it's becoming a popular weekend escape from the city. But whilst it's not exactly overrun with tourists, it's no longer hidden from the main gringo trail.
As with our other featured towns in Colombia, it's the central plaza where much of the activity takes place. Only this time, it comes alive at weekends as cowboys and cowgirls on horseback trot into town.
It can be best enjoyed by simply pulling up a brightly coloured chair at one of the bars or cafes that surround the plaza and just watching the world go by with a beer or coffee. Whilst, of course, listening for the clop of horse hoofs on cobblestone as another cowboy or two pulls up beside you.
Once again there are plenty of brightly coloured houses to enjoy. This time in the local paisa style. And, as always, there are plenty of good walks to be had in the surrounding countryside.
For instance, there's a two-to-three-hour round trip to Mirador Cristo Rey, culminating in an elevated view of the town from beside a Christ statue.
And the Camino de la Herrara trail connects with a rickety cable car that whisks you above the tree line to and from town. It's nothing more than a wooden box attached to a couple of steel cables, really. Which, of course, makes it more fun.
Accommodation
We once again chose to stay just outside of town rather than on the main square. And Hosteria El Paraiso, with its stunning red, yellow and blue colour scheme and landscaped gardens, turned out to be a great choice. It's just a 10-minute walk from the plaza. And, although the rooms are simply furnished, our stay there was a comfortable one.
How to get there
Regular daily buses ply the route between Jardín and Medellín's Terminal del Sur. The two main operators are Rapido Ochoa and Experso Brasilia. And, because of the nature of the terrain, the scheduled three hour travel time should be taken with a a pinch of salt. Allow four or even five hours, depending on the state of any roadworks.
Typical painted house in Jardín
View of Jardín from Cerro Cristo Rey trail
Start of the Camino de la Herrara trail
Related articles
…or visit our Colombia page.
What did you think? Have you been to any of the heritage towns we've featured? Do you have any recommendations to add? Or perhaps you've been to one of Colombia's other heritage towns? Either way, we'd love to hear from you so please add your comments below.
Hi, we're Ian and Nicky, an English couple on a voyage of discovery around the world, and this blog is designed to reflect what we see, think and do. Actually, we'd like to think it also provides information, entertainment and inspiration for other "mature" travellers, too. So please feel free to pour yourself a glass of something suitably chilled and take a look around.
HOW TO SPEND THE PERFECT WEEKEND IN JARDIN, COLOMBIA
SEARCHING FOR THE LOST WATERFALLS OF BOQUETE
AUTHENTIC BALI AND HOW TO AVOID THE CROWDS
THE BLAZING AUTUMN COLOURS OF THE FRENCH PYRENEES