In Part One of our House Sitting For Beginners guide, we looked at the concept of house sitting and how you can determine if it's something that might suit you. And, in Part Two, we covered the steps you should take to find and book your first assignment.
Here, in our third and final chapter, we look at how to handle your first assignment and offer house sitting tips to build yourself a reputation as the perfect housesitter.
It's quite simple really. Hosts are looking for two things from their house sitters. Trust and reliability. They need to feel that both their pets and their home are in good hands while they're spending time away.
The fact that you've arrived for your first assignment suggests that you've already managed to convince your hosts that they can trust and rely on you. Much in the same way that you might convince an employer to hire you.
But, as in a "real" job, the proof is in the eating of the pudding, as someone famously said. It's what you do while you're there that will determine how successful you are. And if you put in the extra effort you'll reap the benefits with repeat assignments, referrals, testimonials and indeed, friendships.
In fact, the old adage that "the more you put into it, the more you'll get out of it" most definitely applies.
Nicky with Marjie, Dordogne, France
Contents
This page contains affiliate links. To help us maintain our site we work with a number of partners who we've personally used and can recommend to our readers. If you decide to purchase any products through the links on this page, we'll receive a small commission at no extra cost to you.
As we mentioned in Part Two, hosts are normally keen to meet you beforehand. And, in our experience, that means arriving a day, or even several days before the sit is due to start.
It's a good idea for a number of reasons. Firstly, it's an opportunity to be shown around the house, get to know the pets' routine and establish a good rapport with your hosts.
Secondly, you'll have the chance to ask any questions you might have, although some hosts will provide a pack with all the information you'll need, including any routine household tasks.
And thirdly, it's an opportunity to orientate yourself with the area – the supermarkets, the vet, the hardware store, the best restaurants etc.
In addition, we suggest considering the following:
Establish how you would get to the vet in an emergency
For instance, if you don't have your own transport how would you respond in the event of an emergency? Is there someone who might take you?
Make a fuss of the pets (where appropriate)
It might be a stressful time for a pet when it realises that its owner has seemingly abandoned it. So you can make life a lot easier for yourself (and the pet) by bonding with it as quickly as possible. For instance, we looked after a dog who suffers from separation anxiety, so we made sure we were constant companions with him even before our hosts left. As a result, we had a smooth transition without any anxiety issues.
Familiarise yourself with the quirks of the house
Learn from our mistake when we accidentally locked ourselves out on the first day of a sit as we didn't know that the kitchen door locked itself when closed from the outside.
Establish regularity of contact
Just as it's important to maintain contact in the lead up to the assignment, it's also a good idea to maintain that contact during the sit. The frequency varies from host to host and of course depending on the length of the sit. But it doesn't hurt to give your hosts an occasional update on how their pets are doing and on anything else they might need to know about the house.
Establish when they will be returning so that you can prepare
You'll be expected to make sure the house is at least as clean and tidy as it was when you arrived. So don't get caught short and make sure you know not only the date of their return, but at what time, too.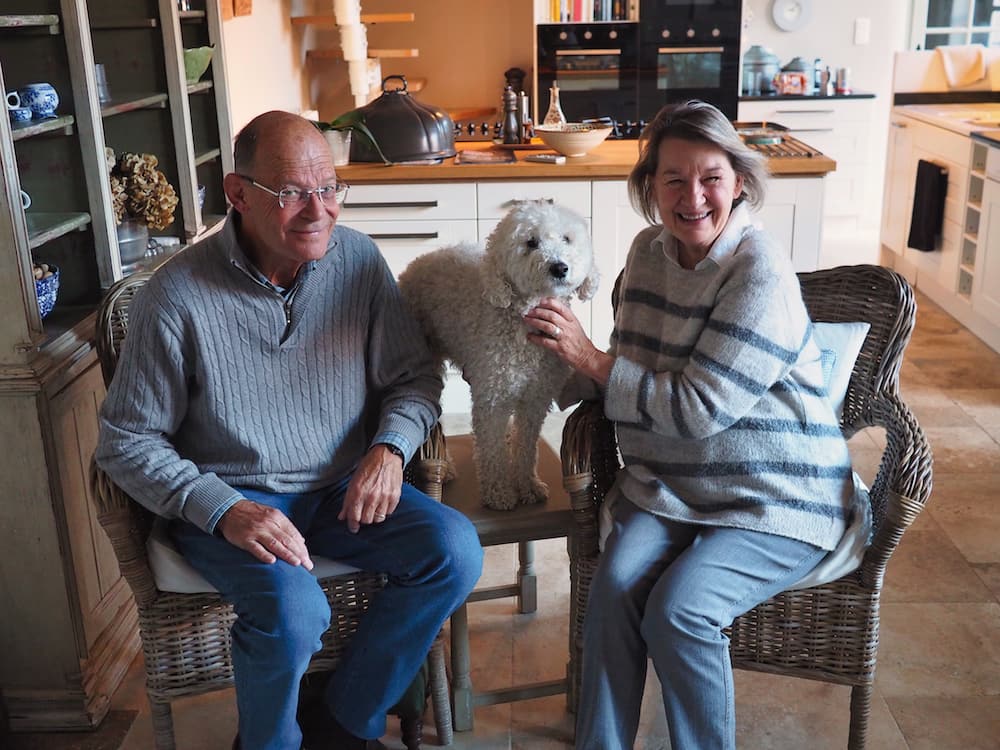 Our hosts and Bertie in Tarn, France
The two golden rules are that you should treat the house with the same respect that you would your own and that you provide as much care and attention to the pets as they would expect from their owners. And that's really all that most hosts require.
Of course, as long as you've done that, you're free to enjoy the house and the surrounding area. However, it would also pay to be aware of the following:
Keep to the pets' routine
Pets like routine. It reassures them and, in turn, makes the job of looking after them so much easier. So make sure your host runs through it with you. Stick to it and don't change the routine to suit you.
Replace anything that you break
Although many hosts are fairly relaxed about the occasional broken wine glass, we've always felt obliged to replace anything that we've accidentally broken or damaged. In fact, on longer sits we've gone as far as to buy ourselves items such as cheap glasses and tea towels from the outset.
Make yourself known to the neighbours
They can be your best friends if things do go wrong. And you'll never know when you might need them.
Be aware of your utility usage
For the vast majority of housesits, the hosts will not expect you to contribute towards the utility bills. But it's only right that, in return, you keep your usage to sensible levels. Which normally means switching off heating, lighting etc when it's not needed. 
Nicky with Bertie, Tarn, France
On many sits, it's possible to leave before the hosts actually arrive back, although usually, that means earlier on the same day.
But we'd strongly recommend trying to be there to welcome the hosts home and complete a proper "handover' at the end of the assignment. It's a perfect opportunity to show your professionalism as a house sitter and to ask for a testimonial on your online profile. It may also help you to get a repeat assignment.
In fact, some hosts are happy for you to stay on for a day or so to allow you to explore the surrounding area without constraint, too. Perks of the job, if you like.
So what can you do to make the handover as smooth as possible?
Make sure the house and garden are immaculate
Your aim is to show that you've cared about the home. So allow enough time to get everything prepared in time for their arrival back.
Make sure the pets are ready on the day to hand over
Exercise the dog as per the routine, clean the litter tray, clear out the parrot cage etc
Make a list of things to report on
Any pet issues, broken or damaged items, phone calls received etc.
Prepare a meal
This is something we've always made a point of doing but we can understand why it wouldn't suit everybody. But, as a gesture of thanks to our hosts for entrusting us with their home and pets, we find it's a great way of completing the assignment and leaving on a positive note. And not least because it's just an enjoyable thing to do.
Our grand house sit in Tarn, France
As you can see, it's not rocket science. Much of it is just common sense, good communication and being as personable as you possibly can.
So now, having completed your first assignment you'll no doubt quickly decide if house sitting is something you'd like to do again. If indeed it is then, armed with your first assignment under your belt and hopefully a sparkling testimonial to go with it, you'll be ready to begin your search for the next one with renewed vigour.
Just remember, by treating your second assignment as you did your first, you'll again focus on ways to make an impression.
You'll need to learn from your mistakes. You'll want to strive to get better. And, if you do, you'll start to build a reputation as a skilled and reliable sitter.
After all, reputation counts for a lot and it's what'll help you to stand out from the crowd.
Our Chinese Geese, Loire-Atlantique, France
What did you think? Have you considered house sitting? Or perhaps you're thinking of trying it out in the near future? Either way, we'd love to hear from you so please add your comments below.
To help us maintain our site we work with a number of partners who we've personally used and can recommend to our readers. If you decide to purchase any products through the following links, we'll receive a small commission at no extra cost to you. Thank you for your support!
Hi, we're Ian and Nicky, an English couple on a voyage of discovery around the world, and this blog is designed to reflect what we see, think and do. Actually, we'd like to think it also provides information, entertainment and inspiration for other "mature" travellers, too. So please feel free to pour yourself a glass of something suitably chilled and take a look around.