REFLECTIONS ON SRINAGAR AND THE BEAUTIFUL KASHMIR VALLEY
"The yeti girl's feet were covered in dark, bristly hair and were turned backwards, unlike a human's."
So began the tale we were about to be told of how yetis (and in particular, certain female yetis) would steal the husbands of nomadic Himalayan women and imprison them back at their mountain caves, where they would be forced to father their children.
I say "tale" but our Kashmiri trekking guide and the two nomadic men he was translating for were deadly serious and insisted that every word was true.
And, to be fair, as we sat with Kalik (our guide) and our two nomadic guests on a hillside in the remote and beautiful Kashmir Valley mountains, it was hard not to get wrapped up in the whole sordid story.
In fact, visiting Kashmir was something that Nicky had wanted to do since she backpacked around India in the early 90's. Back then the state was completely off-limits to foreign tourists because of the ongoing hostilities between India and Pakistan over territory rights. And, if you listen to the British Foreign Office, you're best advised not to travel there today, either.
But we'd heard that, although there can still be skirmishes and strikes in the state's capital, Srinagar, there are plenty of reasons for foreigners to explore the region for themselves. Not least the fabulous Kashmir Valley – nicknamed "India's Switzerland" – and Srinagar itself. After all, it's one of the prime summer holiday destinations for domestic tourists from Delhi, Mumbai and further afield.
Our flight to there from Delhi was a relatively short one but it came with a spectacular bonus as we flew by the majestic snow-peaked Western Himalayas just before descending into Srinagar. It was as far removed from the sand and dust of Rajasthan as it could possibly be.
A reasonably good view from my window seat
An afternoon with the King of Kashmir
We'd booked to stay in Srinagar on one of Dal Lake's iconic houseboats – remnants from when the city was used by the British Raj as a summer retreat from the sweltering heat of Delhi. And, in the same vein, we also booked a lake tour on board one of Kashmir's other icons – the shikara – a wooden boat used for transportation and fishing, amongst other things.
Kind of a Kashmiri version of a Venetian gondola ride, we didn't really have high expectations, other than it seemed like an interesting enough thing to spend an hour or two doing. But, after four hours of being paddled around the lake by the self-proclaimed New King of Kashmir, we felt we'd been lucky enough to experience something pretty special.
During mid-afternoon, The King paddled us across from the lakeside perimeter to where most of the houseboats were stationed. To be honest, some were in better condition than others. But there was no doubting their reflective beauty as they swayed calmly in the dark blue lake water.
This was very much the tourist end of the lake, though. Beyond the houseboats, the floating restaurants, and the inevitable hawkers was an altogether different world. A world of patchwork water-lilies carpeting the lake. Of fishermen balanced on the end of their tiny boats patiently waiting for a catch. Of beautiful floating villages and vegetable gardens. And the sight and sounds of eagles, herons, and kingfishers as we weaved our way around them.
Thrilling, not in the sense of experiencing the rush of a "white knuckle ride", but one of observing and being immersed in a way of life that hasn't changed for generations.
And, in the hands of our expert "driver", the only sounds we heard were the calls of the birds and the gentle lapping of the water as paddle brushed lake.
It's not just fish that's caught from the lake either. The vegetation that blankets the lake floor is harvested for use as fertiliser. And we watched as dozens of "farmers" skilfully pulled mounds of it from beneath with their paddles.
The brackish water of the lake also revealed another of its secrets in quite spectacular fashion as the late afternoon sun began to descend, creating gorgeous reflections of the surrounding foliage, villages, houseboats and the Himalayan foothills behind.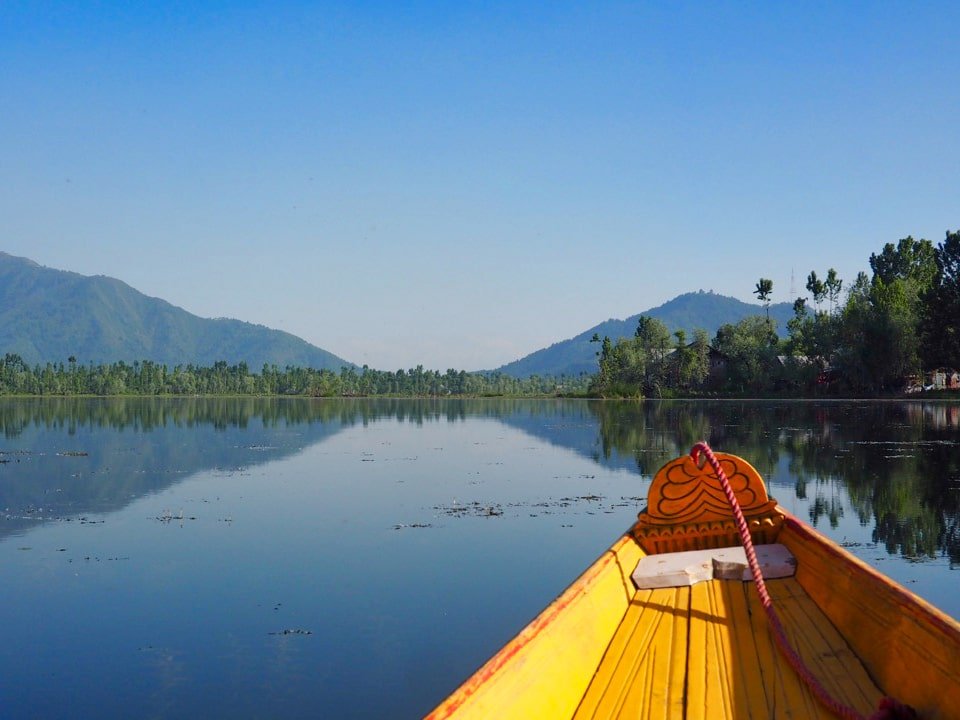 As the light began to fade we returned back through the water-lilies towards the houseboats. But not before passing a floating bazaar of inevitable carpet, craft and trinket shops. We politely declined the invitation to look around. Approaching in the opposite direction were dozens of shikaras filled with Indian families and couples. It was the time of day for them to take their own short, early evening jaunt on the lake.
And finally, as the New King of Kashmir docked in again at the lakeshore he beamed at us and asked us if we'd been happy with his tour.  After the most relaxing four hours of our entire Big Trip, we just smiled back at him with appreciative nods.
In a land where tipping from foreigners is expected, irrespective of service, this time, it was fully merited. All hail to the King!!
One of the lake's many houseboats
Trekking in the Kashmir Valley
And, as sure as night follows day, we wasted no time in swapping an idyllic and peaceful afternoon for three days of energy-sapping trekking in the glorious Kashmir Valley.
Unlike our trek in Nepal, there were no such luxuries as guesthouses. This time, we were camping at 3000 metres. But joining us was a three-man-team and an entourage of six ponies carrying tents and supplies. In fact, it felt more like an expedition than a simple trek.
After a two-hour taxi journey to the village of Naranag, we began a pretty gruelling three-hour ascent up through thick forest until we came to our base camp for the next two nights. "Spectacular" doesn't even begin to describe the panorama that lay in front of us. Snow-capped mountains and glaciers peered over the dark green treeline in front of us. And even higher peaks loomed over to our left.
When I describe our accommodation as "camping", it wasn't exactly a hardship for us in terms of creature comforts. Our tent had a beautiful Kashmiri designed interior and came complete with traditional wool shepherd cloaks.  And we needed them to keep us warm when the sun went down.
We had our own cook who turned out to be a genius with a two-burner gas stove. He'd bought a box of fresh ingredients along the way, too – some of which were requested by us. In fact, he served up some of the best food we had in all our time in India. Special mention for the aubergine curry that might just go down as one of our all-time favourite Indian dishes.
Kalik would also knock up some great pre-dinner chai for us. We'd drink it while sat on blankets, watching our ponies enjoying some well-deserved grazing time.
We were also joined by a couple of Kashmiri shepherds and a flock of sheep which ran into the hundreds. Though we were blissfully unaware of what a relatively calm and quiet night we were in for compared to what was to follow 24 hours later.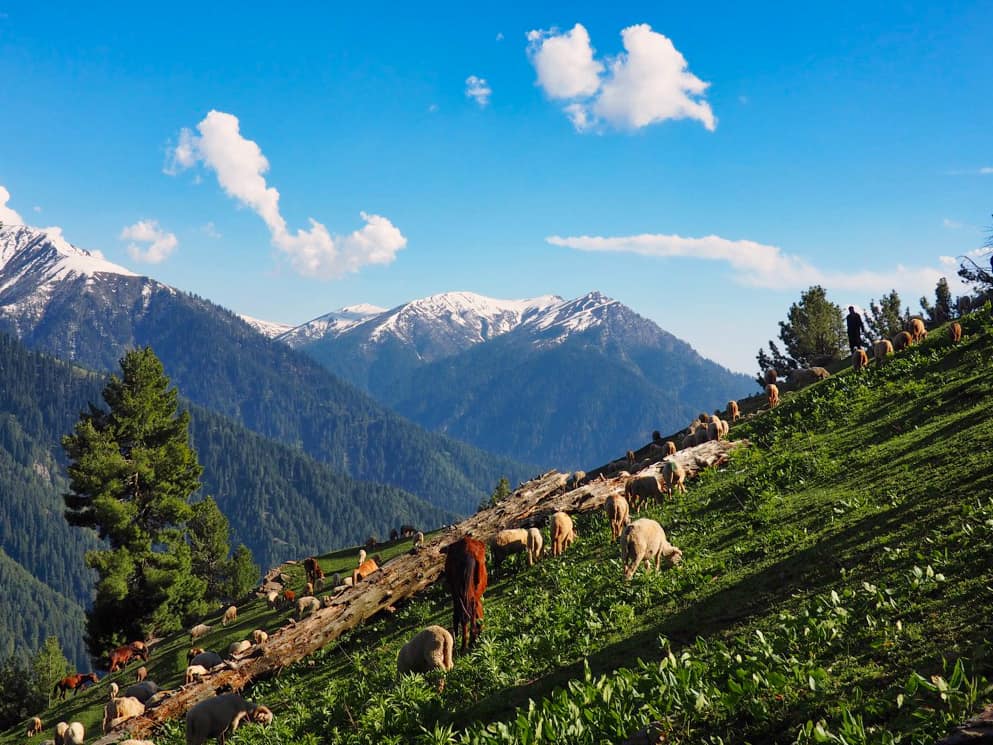 Nevertheless, after a surprisingly good night's sleep, we prepared ourselves for the 30km return trek up to the ultra-remote Gangabal Lake at 3600 metres. While not as steep as our first-day trek this would be just as gruelling at times for one reason.
Snow. Lots of snow.
The track up to the lake had only recently been opened following its winter closure.  And while some parts would pass through green pastures and rocky terrain, others were still carpeted in the white stuff. And it was deep. That is, deep enough for Nicky's lower body to fully disappear when she made the occasional wrong step.
But, difficult as it sometimes was, this was a sublime walk through majestic Himalayan scenery. Where the only sounds were the occasional thunder of the river and the expletives from Nicky as she plunged once more into a metre of snow.
Unlike our Nepal trek, the visibility was crystal clear. Although the weather looked like it was going to threaten a major storm at any time. And, unlike in Nepal, we didn't meet another soul for the eight hours we were out in the mountains. Apart from some local porters carrying supplies back down the mountain for a small army unit based beyond the lake.
After about three hours we reached a ridge with bare rock on one side and thick snow on the other. Our guide warned us that the final climb up to the lake was along the side with the snow.  Which meant it was time for Nicky to put her feet up and breathe in the cool mountain air.  Meanwhile, I would be completing the task of reaching the lake and planting the Above Us Only Skies flag.
And believe me, it was tough going. I too managed to find plenty of deep pockets of snow for my leg to plunge into. It hadn't really dawned on me quite how dangerous this actually was. Particularly as traversing the side of a mountain in snow such as this was energy-sapping in the extreme.
Still, after about forty minutes we arrived at the partially-frozen lake, now in the shadow of complete cloud cover. It was still a pretty awe-inspiring sight, though, nestled beneath Kashmir's highest peak, Mount Haramukh.
Looking back from the lake the scene was one of serene beauty. A sea of white snow stretched to the horizon, while an icy blue river cut through it, fed by the meltwaters of the Himalayas.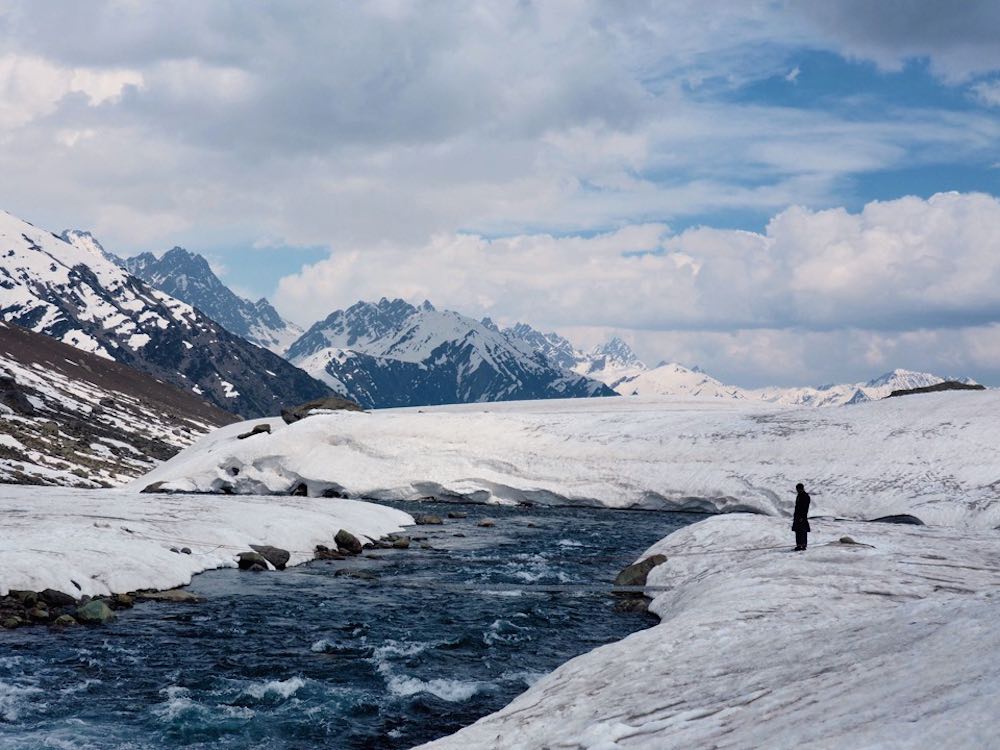 Half an hour later we returned to Nicky and began our descent back to camp. Incredibly, much of the snow we'd struggled through earlier had melted in the mid-afternoon heat, leaving us with the prospect of walking through fields of mud instead. In fact, our guide told us that most of the snow would be gone over the next few weeks.
And finally, after eight hours of intense trekking, we arrived back to the lush greenery of our camp.
Only, this time, we'd been joined by a large family of nomadic shepherds. They'd arrived from the mountains of Jammu while making their way to the Kashmir Valley meadows for the summer. Along with their hundreds of goats. And their dozen or so dogs.
Which brings us back around to yeti girls and their apparent taste for nomadic menfolk. One shepherd even recalled a female yeti being set alight by his uncle in an apparent act of self defence. Apparently, the Indian army stationed in the area also have a yeti in captivity as proof that they exist.
Scary stuff to hear when you're already both mentally and physically shattered. In all honesty, though, to us, it sounded like a modern day version of a witch hunt. Tales of people who are "different" being demonised. But here we were in the Himalayas, talking to people who say they've seen yetis. And even gone as far as burned one alive. Bizarre.
Unfortunately, our nomadic neighbours for the evening turned out to be undoubtedly the noisiest neighbours we've ever come across. Or rather their dogs were. Imagine you live next door to a dog that runs around barking in the garden all night. Pretty annoying, huh? Well, multiply that by twelve for a sense of what sort of a night's sleep we managed that night.
And that's before most of the family got up at 05:00 to round up their goats, pack their belongings and head off up towards the partially snow-covered meadows we'd trekked through the day before.
For yours truly, the only solution was to spend the majority of the following morning flat out on a blanket trying to at least get some rest while the tents were being taken down and preparations were being made to trek back down the mountain.
Going through last-minute preparations before tackling the descent
For us, three days and two nights were just about right. But there are much longer treks available, particularly when the snow melts and further tracks become passable. And when that happens, it's possible to camp at the lake, too.
In all, we spent five days in and around Srinagar and the Kashmir Valley – and we loved it. We found the people there to be friendly and genuinely happy that we were visiting "their land". The Indian army presence is very apparent, though, and it's perhaps not surprising that there are occasional outbreaks of conflict.
But in our view, there are plenty of other places on the mainstream tourist map that are just as likely to flare up with civil unrest – and we've already been to plenty of them. Thailand, for a start.
And spending an afternoon in the company of the New King of Kashmir, or exploring on foot the sublime wilderness of the Kashmir Valley, are two very good reasons for visiting this wonderful part of the world. And in some way helping its impoverished people by spending at least a small part of our tourist cash.
* Our accommodation, lake tour and Kashmir Valley trek were arranged through Shafi and his team at Invicta Tour & Travels, New Delhi.
Related articles
…or visit our India page.
What did you think? Have you been to Kashmir? Do you have any recommendations for hiking in the beautiful Kashmir Valley? Even if you haven't we'd love to hear from you so please add your comments below. 
To help us maintain our site we work with a number of partners who we've personally used and can recommend to our readers. If you decide to purchase any products through the following links, we'll receive a small commission at no extra cost to you. Thank you for your support!
Hi, we're Ian and Nicky, an English couple on a voyage of discovery around the world, and this blog is designed to reflect what we see, think and do. Actually, we'd like to think it also provides information, entertainment and inspiration for other "mature" travellers, too. So please feel free to pour yourself a glass of something suitably chilled and take a look around.