LA PLAYA DE BELEN – OFF THE BEATEN TRACK IN NORTHERN COLOMBIA
LA PLAYA DE BELEN – OFF THE BEATEN TRACK IN NORTHERN COLOMBIA
Norte de Santander is a department in northwest Colombia which hardly sees any foreign tourists. Mainly because the advice from most governments is to avoid all but essential travel to the area. But also because of the amount of time and effort it takes to get there.
In truth, we hadn't planned on calling in either, but our route from Mompox to San Gil was such a lengthy one that we decided to break the journey and take a look at one of the country's 17 pueblos patrimonios (heritage towns) along the way.
And we're glad we did.
La Playa de Belén (or "Bethlehem Beach") is a cobbled, three-street, single-church, ultra-clean pueblo that defines the phrase, sleepy village. But what makes it attractive to visit is its proximity to the bizarre rock formations of Área Natural Única Los Estoraques.
So, if you're prepared to make time for a crowd-free detour on your route north to Santa Marta or south to San Gil, then here's how we'd suggest you do it.
Contents
This page contains affiliate links. To help us maintain our site we work with a number of partners who we've personally used and can recommend to our readers. If you decide to purchase any products through the links on this page, we'll receive a small commission at no extra cost to you.
If you're travelling by bus from the north (eg: Santa Marta), get off at Aguachica and catch a bus/minivan to Ocaña with Cootransunidos. From there, it's 59 kilometres (37 miles) and a 90-minute journey that rises 1000 metres (3,300 feet) through a spectacular and mountainous landscape.
Just be prepared for your driver to be obsessively pre-occupied with overtaking every lorry that gets in his way.
Once in Ocaña, you can catch one of the regular minivans to La Playa de Belén (30-45 minutes).
From the south, you can get a direct bus from Bucaramanga to Ocaña (5-6 hours) without having to change at Aguachica (Cootransunico, again).
You can either stay in the village or out in the countryside. For a best-of-both-worlds experience, we'd recommend staying at the lovely Finca Casa Real, just a short walk out of the village and set amongst fields of peppers, maize and potatoes.
And with great views of Los Estoraques, too.
Co-owner, Carolina will also arrange for a guide to the park and a minivan to pick you up when you return to Ocaña, too. Just don't let her try and convince you to sample one of her special fruit/salt concoctions straight from the garden.
Like I did…..
Ian getting to grips with one of Carolina's "delicacies"

With only three streets to its name, Belén isn't exactly a place to "explore". But there's no denying it's a beautiful, meticulously decorated and serene place of single-storey whitewashed houses.
With a very distinct colour scheme of red, white and brown. And nary a piece of litter in sight.
In fact, you get the impression that if someone dropped as much as a sweet wrapper there'd be a local "litter defence volunteer" jumping out from a hidden doorway to swiftly remove the offending article.
We visited during the week before Christmas and the whole village was decked out in subtly arranged decorations that all appeared to have come from the same box. Almost as if the local mayor had grossly over-ordered for the office party and handed out the leftovers to everyone in town with clear instructions on how and where to hang them up. And, as a finishing touch, each lampost was dressed up like a stick of Blackpool rock (aka stick candy).
But, do you know, it all somehow worked. So much so that a gentle meander through the village, both during the day and in the evening, was a chilled and calming experience. And, as we've experienced pretty much everywhere else in Colombia, the people who lived there were glad to see us.
For something to eat, head to El Portal on the road back to Casa Real. Under a huge thatched roof, we had an excellent two-course menu del dias lunch for 8,000 Colombia pesos (£2 / $2.50).
You can see some of the unique rock formations found in this park elsewhere in Santander and Boyaca. But nowhere are they so concentrated and dramatic as in this small park that's situated right next to the village.
Like the backdrop to a science-fiction movie, the passage of time has helped to carve out the granite, sandstone and sedimentary rock landscape into a weird world of pedestals, columns and caves. 
They're a sight that can be appreciated both close up and from a distance. But wandering through the park and climbing up to vantage points to peer in between them is at times a mesmerising experience. 
Just watch out for the snakes.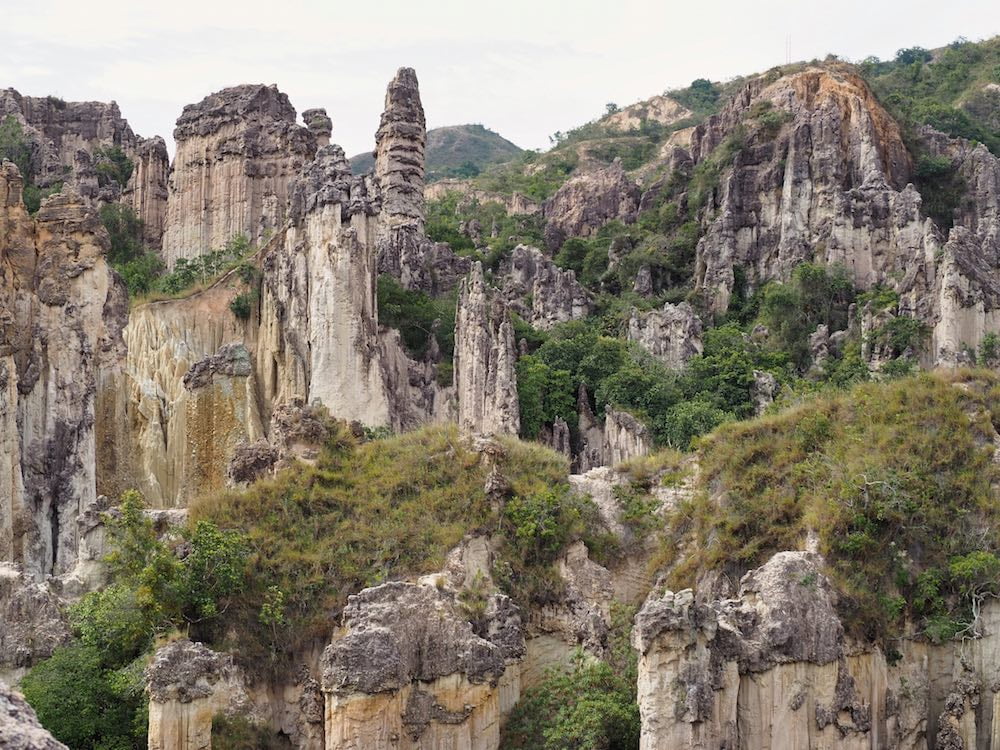 It's a little confusing as to which parts of the park are actually open. Until very recently it was closed altogether and now only parts are officially open to the public. Nor is it totally clear whether you can walk around by yourself or if you need a guide. We chose the guide route (arranged through Casa Real), which at 70,000 Colombian pesos (£17.50 / $22.50) for a full day private tour was hard to beat.
And, to be honest, some of the pathways were pretty treacherous, with sheer drops only a misstep away, so we were glad to have Alvaro (tel: 350-845 5368) and his expertise along with us.
Once you've had your fill of seeing the formations up close, you'll want to get a different perspective of them from a distance.
Perched on a hill across from the park, a small man-made forest of pine trees (Los Pinos) is a dusty 45-minute walk away. But for a panoramic view of both La Playa de Belén and the unique landscape behind, it's well worth the effort.
From Los Pinos, Alvaro led us back down past Casa Real and through the village before climbing steeply up to what was possibly the most picturesque cemetery we've ever seen.
A strange choice to include on a hike, you might think. But, with further panoramic views of Los Estoraques and across to the Mirador Santa Cruz, it provides yet another perspective on this unique landscape.
And, for those who need more of an adrenaline rush, the Tibetan Bridge offers a leap-of-faith walk across the gorge, albeit with the aid of a harness.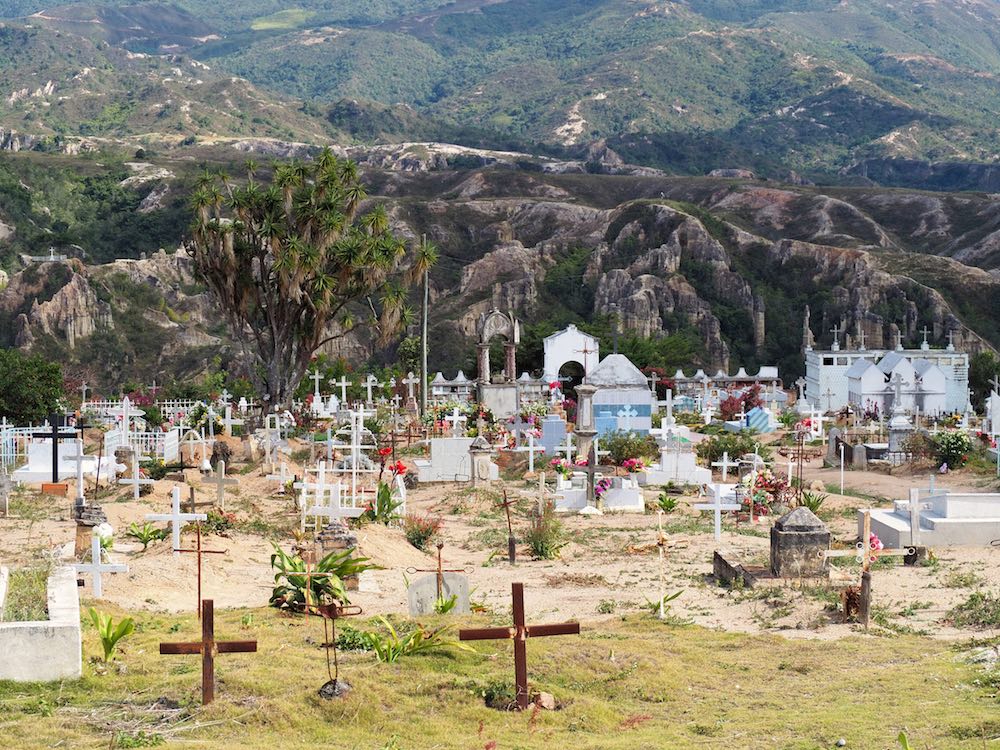 And, to complete the circuit, Mirador Santa Cruz is a vantage point on the opposite side of the valley. It can be accessed via a 1 km trail that starts by the El Portal restaurant. But Alvaro took us on a steepish shortcut via the house and back yard of one of the village's residents. 
The view from the top looks back across the village with the cemetery and Los Estoraques towering behind.
Is La Playa de Belen safe to visit?
Without making light of the warnings we'd read about online, I can quite honestly say that at no point were we remotely aware of any perceived threat to our safety. Indeed, we were met with nothing but friendliness by most of the people we came into contact with. Which is pretty much par for the course for the rest of the country, to be fair.
That's not to say that the threats aren't out there. But most Colombians want nothing to do with the criminal gangs that lurk in certain parts of the country. And, as always, applying common sense and remaining vigilant are basic principles to maintain at all times. No matter which country you're in.
La Playa de Belén is probably not a place you'd make a special journey to visit unless you already happen to be in the area. And there's not an awful lot to do other than what I've outlined in this post.
But if you value the prospect of visiting a charming and very Colombian mountain village with a uniquely rugged landscape as a backdrop – and where you may just be the only foreigner in town – then this could very well be the place for you.
What did you think? Have you been to La Playa de Belén? Do you have any recommendations to add? Or perhaps you're thinking of visiting there in the near future? Either way, we'd love to hear from you so please add your comments below.
To help us maintain our site we work with a number of partners who we've personally used and can recommend to our readers. If you decide to purchase any products through the following links, we'll receive a small commission at no extra cost to you. Thank you for your support!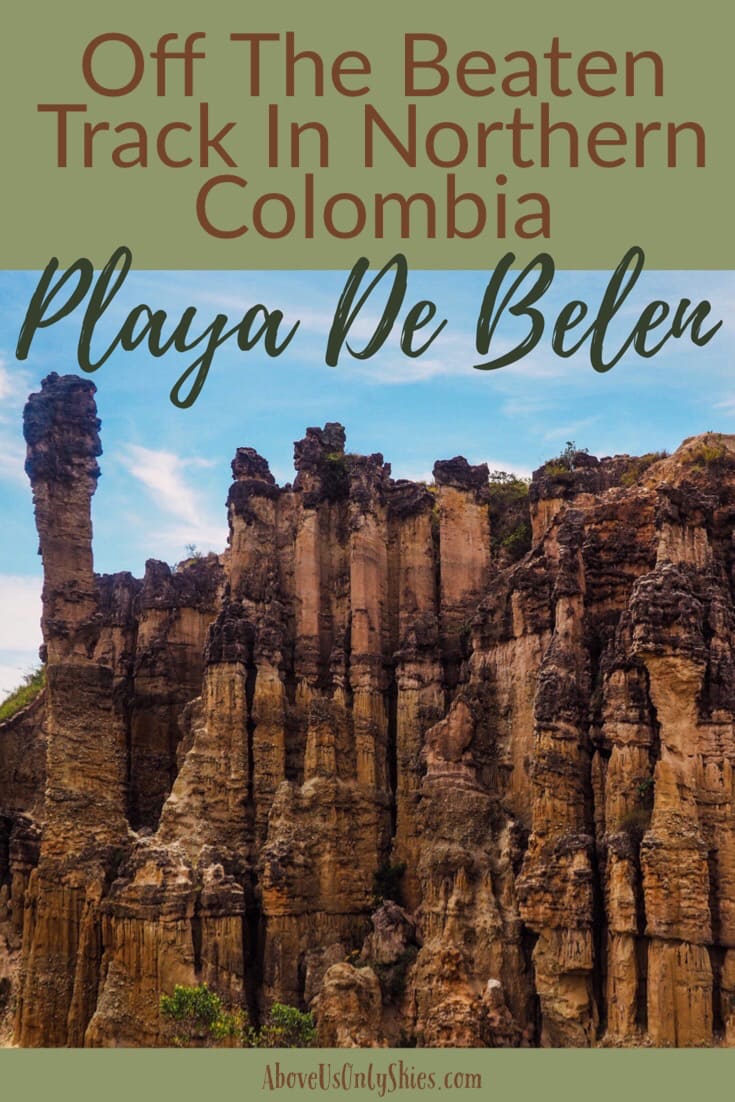 Hi, we're Ian and Nicky, an English couple on a voyage of discovery around the world, and this blog is designed to reflect what we see, think and do. Actually, we'd like to think it also provides information, entertainment and inspiration for other "mature" travellers, too. So please feel free to pour yourself a glass of something suitably chilled and take a look around.