LAGUNA 69 – NORTHERN PERU'S UNMISSABLE DAY HIKE
LAGUNA 69 – NORTHERN PERU'S UNMISSABLE DAY HIKE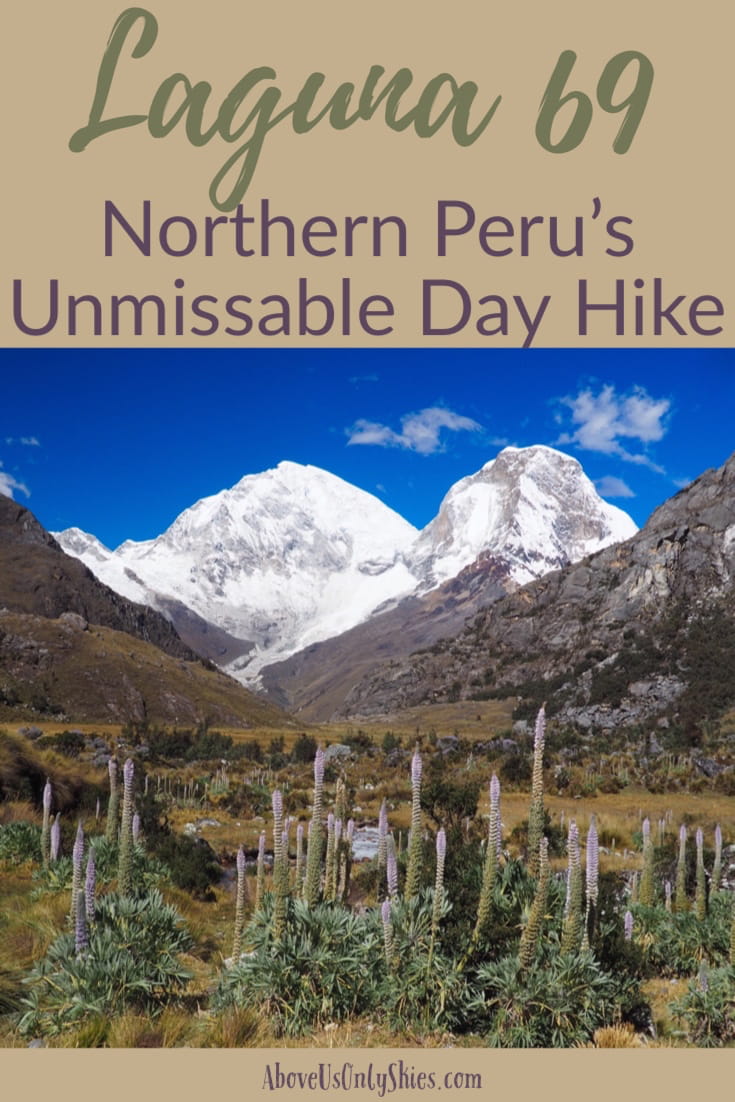 Nestled in the ridiculously high Cordillera Blanca mountain range in northwest Peru, the dubiously named Laguna 69 sits at the end of one of the best day hikes in the country.
At an altitude of 4,600 metres (15,100 feet), it's not for the faint-hearted. But with a sensible amount of acclimatisation and a pair of lungs ready for some serious exercise, it's an experience not to be missed.
So charge up your camera battery to the max, strap on your walking boots and let us guide you through the whole glorious spectacle.
Contents
This page contains affiliate links. To help us maintain our site we work with a number of partners who we've personally used and can recommend to our readers. If you decide to purchase any products through the links on this page, we'll receive a small commission at no extra cost to you.
If you've not already spent some time at altitude (at least 3,000 metres / 9,800 feet), then a couple of days in Huaraz would be a good move.
Not only because it's the area's main tourist hub, but at 3,100 metres, it'll provide you with all the acclimatisation you'll need. Especially if you use some of your time to test your lungs walking up to the viewpoint at Rataquenua.
You'll also find plenty of companies in town offering tours to the laguna (lake). Which is the most convenient way to do it. And actually cheaper than trying to make your own way there. At the time of writing, that means 30 soles (£7 / $9US) plus a 30 soles entrance fee to Huascarán National Park (payable at the gate).
And while you're in Huaraz, do yourself a favour and book a table at tiny Jama restaurant in the city's Belen neighbourhood. With just four tables, a set three-course menu prepared in front of you, and a young, ambitious chef bursting with ideas, it's a culinary experience that wouldn't look out of place in Lima.
But at a fraction of the cost.
Huaraz, with the Cordillera Blanca in the background
Image courtesy of enriqueIX via Pixabay
Home to the highest tropical mountain range in the world, Huascarán National Park is a UNESCO World Heritage Site and an adventure haven for mountaineers, hikers, cyclists and just about anybody who appreciates jaw-dropping scenery.
Just get your head around the fact that it contains no less than 660 tropical glaciers, 300 glacial lakes and Peru's highest mountain at 6,768 metres (22,300 feet), Huascarán.
Indeed, two of Peru's best-loved multi-day hikes – the four-day Santa Cruz and ten-day Huayhash circuits – can be enjoyed within the park.
And the iconic mountain logo used by Paramount Pictures is said to have been based on the park's towering peak, Mount Artesonraju. 
And the resemblance is obvious…
The journey from Huaraz to the trailhead
Whichever tour company you decide to go with, you'll follow more-or-less the same route and schedule. Which typically means a 4:30 to 5:00 am start, a journey north through the villages of Carhuaz and Tungay, and a tour guide whose idea of allowing you some pre-hike shuteye is to converse with the driver as if they're at opposite ends of the bus.
From Tungay, it's a long, winding uphill road, with switchback after switchback until you reach the park entrance.
For us, breakfast at a restaurant just outside the park consisted of a tiny and suspiciously fat-free fried egg served on a stale and butterless bun. Top tip: prepare your own the night before.
Inside the park, you'll soon arrive at the twin lagunas of Chinancocha and Orcancocha for photos. And then it's onwards and upwards through the increasingly dramatic Llanganuco Valley flanked by enormous vertical walls of granite.
Once you've been dropped off at the trailhead, you'll descend for a short while until you reach a river, and then you'll continue along a relatively flat valley to the right.
If you're reasonably fit and acclimatised you might want to make the effort to get ahead of the rest of the tour group while the going is easy. The guides will typically stay with the main group and the tailenders to ensure everyone's on schedule, But, if you're like me, you'll prefer some breathing space to enjoy the hike.
The river marks the beginning of the hike
Switchbacks and waterfalls
When the switchbacks arrive you'll know what hiking at altitude is all about. Be prepared for regular breaks. Or as I like to call them, "hands-on-knees breathing exercises".
They're pretty steep and lengthy and so shouldn't be rushed. Especially as you'll have the opportunity to gaze upon some pretty impressive waterfalls along the way.
One of the waterfalls along the trail
The middle section of the hike sees a return of flat terrain and spectacular views all around.
Firstly, an isolated glacial lake greets you and almost begs to be used as half-way picnic spot.
Ahead of you, an ominous ice wall indicates where the next set of switchbacks is heading.
Meanwhile, the valley opens up into a carpet of green pasture, punctuated by explosions of violet plantlife.
And, behind you, the staggering twin peaks of Mount Huascarán watch over your progress like an over-protective aunt and uncle.
I won't lie. The final push to the lake is just plain exhausting. It's the steepest section and obviously at the highest altitude. It's a relentless switchback cavalcade of loose gravel, pockmarked with fellow hikers desperately trying to catch their breath.
Thankfully, there are plenty of resting places to drink in the incredible views.
The final push to the lake
If you've managed to get a head start on the main tour group, you'll arrive at the lake before the oh-so-familiar Instagram photo shoots get underway in earnest.
And to arrive with a clear blue sky and relatively few other people at the lake's shore is to see it at its best.
Famed for its gorgeously blue water, it actually reminded me of the colours to be seen at the glacier lake of Mount Fitzroy in Argentinian Patagonia and Lake Tekapo in New Zealand.
Indeed, it's a stark, high-altitude scene of translucent blue, grey and brilliant white.
Most people congregate around the lakeshore at the end of the trail. But you can walk along the boulder-strewn shoreline in either direction to find a more secluded spot for your lunch-time picnic, away from the inevitable noise.
Better still, you can clamber up two barely-marked trails – to the left and right of the main trail – for magnificent overhead views where the only sounds are the breeze and your own attempts to catch your breath.
You'll have anywhere between one to two hours to spend at the lake before you'll be ushered to begin your descent back to the bus.
Once again, unless you wish to take part in a makeshift conga down the narrow path, you might want to get ahead of the main group to allow yourself some time to take in the fabulous views.
And fabulous views there are in abundance.
Of course, you'll be returning along the same trail you came along earlier. But this time, you'll have Mount Huascarán in full view for almost the entire time.
And you'll even have time to say hello to some of the donkeys that graze along the valley floor.
It may only be a 6 kilometre (3.7 mile) trek (one-way), but with an altitude gain of 750 metres (2,460 feet) up to 4,600 metres (15,100 feet), this is no easy stroll. Overall it will involve between five and six hours of walking, bookended by six to eight hours on the bus from/to Huaraz.
With some preparation and a will to succeed it can be achieved by most people with a moderate level of fitness.
But don't underestimate the difficulty of hiking uphill at this altitude. Especially if you suffer with respiratory issues such as asthma.
Although, arguably, the most spectacular scenery is actually en route to the lake. And, if you'd consider the steep final push as perhaps a step too far, I'd suggest stopping for your picnic lunch in the beautiful valley below.
Either way, it's without doubt, a highlight of any trip to this corner of Peru.
In fact, I'd go as far to say it's unmissable!
What did you think? Have you been to Laguna 69? Do you have any recommendations to add? Or perhaps you're thinking of visiting there in the near future? Either way, we'd love to hear from you so please add your comments below.
To help us maintain our site we work with a number of partners who we've personally used and can recommend to our readers. If you decide to purchase any products through the following links, we'll receive a small commission at no extra cost to you. Thank you for your support!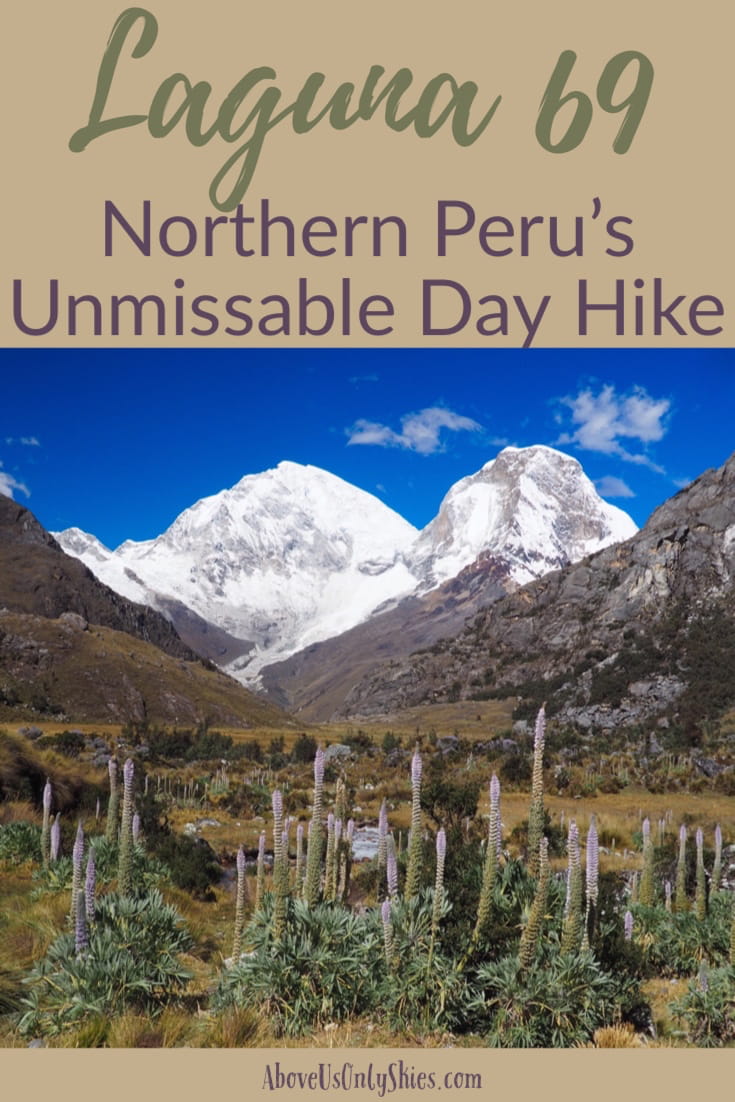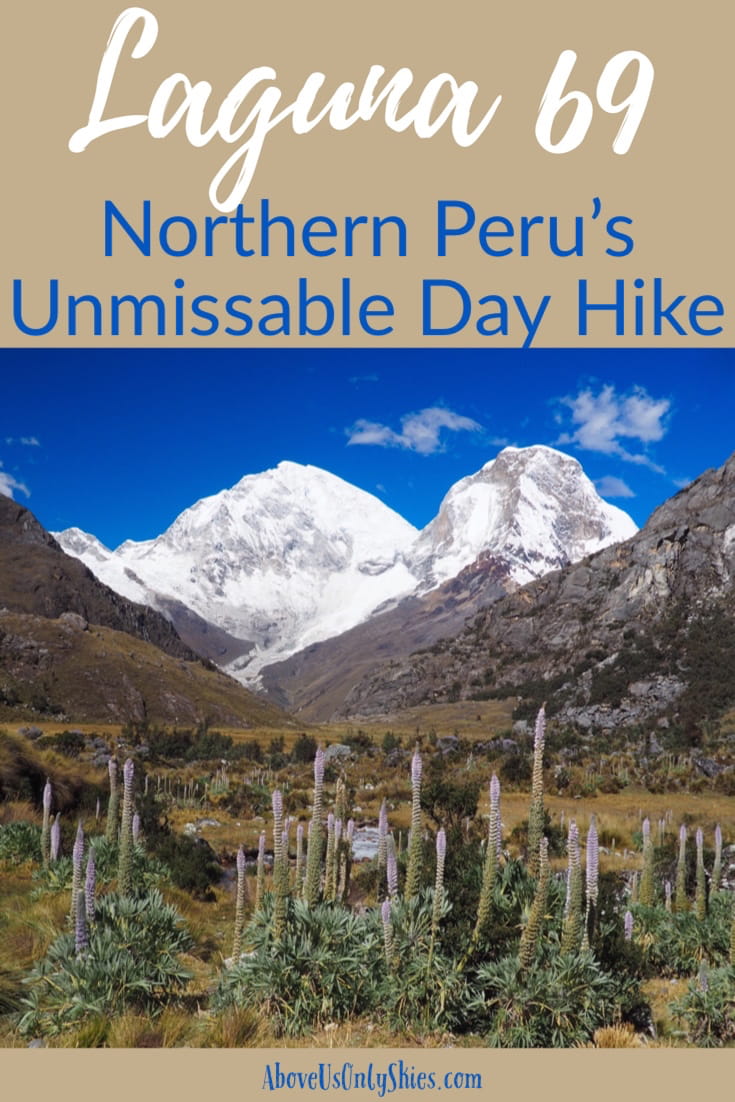 Hi, we're Ian and Nicky, an English couple on a voyage of discovery around the world, and this blog is designed to reflect what we see, think and do. Actually, we'd like to think it also provides information, entertainment and inspiration for other "mature" travellers, too. So please feel free to pour yourself a glass of something suitably chilled and take a look around.