At 3500 metres above sea level, Leh is not your average adventure holiday destination.
Apart from it being really difficult to reach, the air is notoriously low on oxygen. So, just walking around its dusty streets can be a challenge, particularly if you've just arrived and need to acclimatise. And those that are unprepared or ignore the potential risks of altitude sickness can find it not only an uncomfortable place to be but one that could actually turn out to be fatal.
That being said, if you want to experience authentic Tibetan Buddhist culture, incredible mountain scenery, multi-day high-altitude trekking and some of the highest and most epic road trips on Earth, then Leh really should be on your bucket list of places to visit.
Leh is the capital of Ladakh, a mountainous region within the state of Jammu & Kashmir (J&K). But unlike Muslim-dominated J&K, the region is predominantly populated by ethnic Tibetans, practising Buddhism.
For roughly six months of the year (between October and March) the town and the two main highway routes connecting it to the rest of India are blanketed with heavy snow and severe sub-zero temperatures. The town is effectively cut off from the rest of the world by road and has to survive on supplies stored during the summer.
Tourism is still possible during this time but you'd need to book one of the infrequent flights from Delhi. Of course, you'd then have to deal with severe cold in addition to conditioning yourself against altitude sickness. Fewer tourists and the potential for thick snow and blue skies is at least appealing!
During the summer months, though, the weather is typically hot and sunny with very little rainfall. In fact, Leh's cold desert climate is caused by the surrounding Himalayan mountains sheltering it from the monsoon rains which batter most of the country during this time of the year. As a result, domestic Indian tourists now flock there to escape the wet and humid weather further south. And the evidence for this can be seen in the amount of building work currently all over town. New guest houses, hotels, restaurants and the beautification of the town centre are all on-going.
In short, when we visited in May 2016 the town pretty much resembled a building site.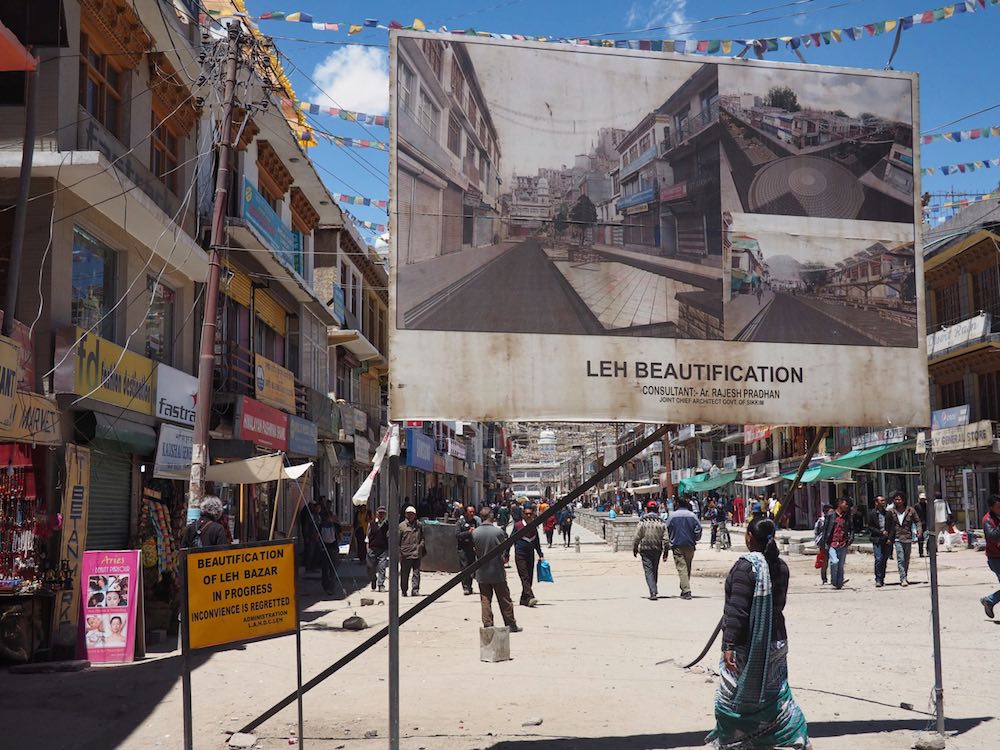 The "beautification" of Leh
But you're not going to let some roadworks and half-completed hotels put you off are you? Of course not. If you did you'd be missing out on the adventure of a lifetime.
For instance, you can spend time exploring the wonders of Ladakh in a shared taxi or on a jeep safari. You'll see travel agents all over town offering taxis to share for up to five people to the likes of the sublime lake of Pangong Tso and the two-day return journey over the world's highest mountain road to the Nubra Valley and the Balti village of Turtuk. These two trips, in particular, shouldn't be missed.
Plenty of people come to Ladakh to go high-altitude trekking, too. It was something I'd planned on doing but, to be honest, I struggled enough walking around town in the oxygen-lite air. Having spoken to other travellers, though, there are some pretty incredible multi-day treks to be had. The nearby Markha Valley, where you can experience high mountain passes, ancient monasteries and remote village life, is particularly recommended. Again, there are plenty of local travel agents to arrange these through so no need to book ahead.
If meditation interests you then you might want to visit the Mahabodhi International Meditation Centre. It's situated a few kilometres out of town and offers residential and day-only courses June to September. Frustratingly for us, we were there in May so we can't comment on the experience ourselves.
However, one thing you MUST do when you arrive is acclimatising to the altitude BEFORE you go off exploring. Particularly if you've arrived by air. That means taking it very easy for the first couple of days as your body gets used to the conditions. If you don't you run the risk of developing altitude sickness, which in its severe form can be life-threatening. Indeed, you might want to review this well-written article on altitude sickness to properly understand how it affects you and what you can do to avoid it.
Here are some of the highlights in and around Leh that are definitely worth visiting…
Perched on a hill overlooking Leh, the stupa was built as recently as 1991 by Japanese monks as part of the Peace Pagoda mission. The easy way to get there is by bike or car to the parking area. But for a more lung-busting option, there's a steep climb up a series of 500 steps. Which is the route I took.
Once you're there, and as you circumnavigate it clockwise, you can immediately appreciate its scale. Its brilliant white dome and colourful artwork provide a stunning contrast against the blue sky and barren mountains. A place to stop and sit, reflect on what it represents and just enjoy the quiet and stillness.
Unless there's a minibus of tourists who've just pulled up in the car park.
While I was there, a group of volunteers were touching up some of the stupa artwork. Clearly an indicator of how much it's susceptible to the harsh winter weather.
And then, of course, there are the views. My god, the views.
Not only can you see Leh below, but the Royal Palace and Tsemo Fort are also in view. The really killer panoramas, though are across the Indus Valley to the Stok Mountain Range. Just breathtaking.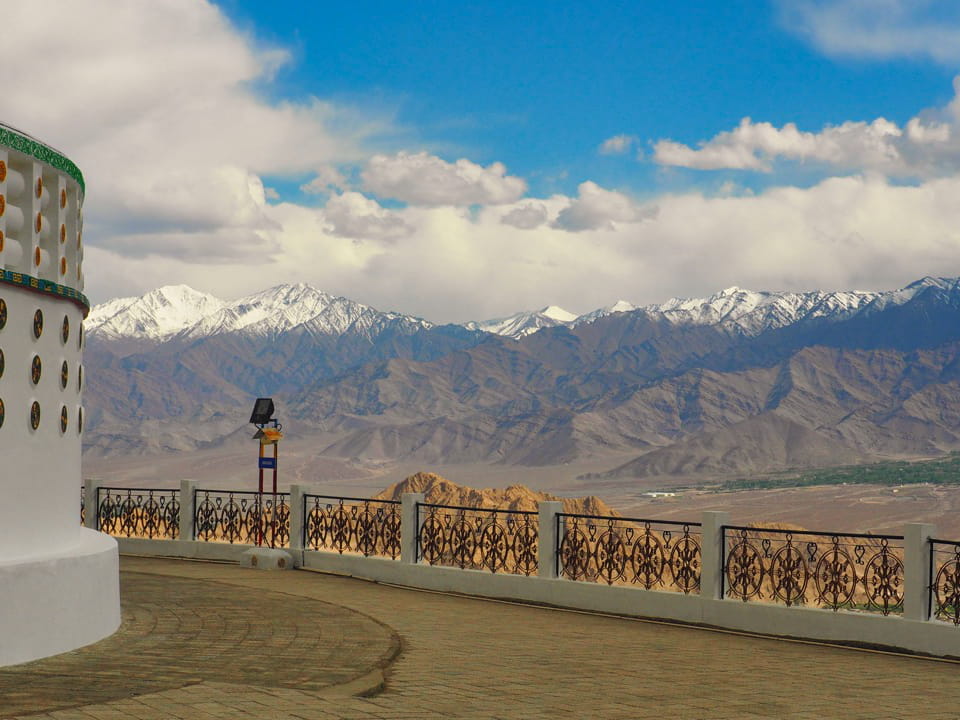 Views of the Indus Valley and the Stok Mountains from Shanti Stupa
Dominating the skyline immediately above the town, this former royal palace has been left abandoned for nearly 200 years. Again it's accessible by road but there's a much nicer approach to it up through the tunnels and past the mud-houses of the crumbling old town.
Further up the hill behind Leh Palace, is the 16th-century Tsemo Fort, with its small gompa (monastery) beneath. You can reach it via a steep footpath and steps leading from the Palace car park. Or of course, you can get a taxi to the car park at the top.
For me it was a fabulous place to spend time sitting on the edge of the cliff, bedecked in prayer flags, looking out over the valley below. So peaceful and quiet. And, like at Shanti Stupa, a perfect place to just gather your thoughts and contemplate whatever's on your mind.
Before I came I'd read about the devastating flash floods which hit Leh in August 2010. It was apparent from this viewpoint just how susceptible the town is to such an event should it happen again.
Just 20km from Leh, this is an iconic Buddhist hilltop monastery and one of the most visited in Ladakh. Not surprising given its incredible 12 storeys, its 15 metre Buddha statue and its fantastic position with 360 panoramic views.
But one of the big draws here is to catch the morning prayers, which begin at 6 am. Although they last for a couple of hours, tourists are welcome to just wander in and sit on the floor at the back of the room, while the monks – young and old – chant their prayers. There's no charge but a donation is expected.
Splendid isolation – Thiksey Monastery
There's a serious amount of accommodation options in Leh, considering the relative size of the place. And there's plenty more in the pipeline judging by the building work going on. You can even stay in a monastery, such as the one at Thiksey or Hemis if you'd like to really immerse yourself into Tibetan Buddhist life.
We had a look around some of the budget guest house options (anywhere from 500 to 2500 rupees per night). But for us, none came anywhere near the Padma Guest House & Hotel in terms of value for money. For 2000 rupees per night we had a large, clean en-suite room in the hotel block with a super-comfy bed, wifi and an excellent breakfast. We also picked our room on the corner of the block, looking out to the Stok Mountains. Best of all the service was probably the best we received in our 46 days travelling around India.
They're currently building a brand new hotel block adjacent to where we stayed, which will provide 21 more rooms. We did have to contend with some daytime noise and the building work itself was something of an eyesore. But if we ever return to Leh we'll have no hesitation in booking here again.
The quickest way to get there is by flying from Delhi on one of the six daily flights. It takes less than an hour and a half and can be booked for less than £100 ($135) one way. If you've only got a limited amount of time (a week or less) or if the prospect of two or three days travelling in the back of a car over some of the scariest roads in the world doesn't float your boat, then this would definitely be your best choice.
On the other hand, you need a sense of adventure to holiday in Leh anyway so why not got just jump in with both feet and enjoy probably the most challenging an awe-inspiring overland journey you're ever likely to take!
There are two routes to choose from – one from Manali in Himachal Pradesh and one from Srinagar in Jammu & Kashmir. Both involve 400km+ journeys across high altitude mountain passes, with an overnight stop in either a tent or guesthouse. If you have the time we recommend that you travel to Leh from Srinagar as the route gets progressively higher. An overnight stop in either Kargil or Mulbekh will help you to acclimatise before you reach Leh at 3600 metres. And that's something that's not really possible on the Manali route as the half-way points are at a much higher altitude.
You can then opt for the Manali route on your way back to Delhi from Leh.
The cheapest options are by bus, which will cost you anywhere between 500 and 1200 rupees depending on whether you choose ordinary or deluxe class (don't be fooled by the deluxe description). Some of them do the whole trip in a single 15 to 18-hour journey – not something we'd recommend unless you really are in a hurry to get there. Otherwise, they'll stop in Kargil overnight.
Shared jeeps, carrying seven tightly packed passengers, leave daily from 05:30 – or when they've filled up. Tickets cost between 1500 and 2500 rupees depending on which seat you get.
The most expensive option is hiring a taxi, which you can then share with other people if you wish. There's a fixed rate of anywhere up to 20,400 rupees (as per the 2015-16 published rates), depending on what type of car you opt for. The advantage of this method is fewer people (= more elbow room) and you have much more flexibility over when and where you want to stop.
We decided to splurge on the taxi for those two very good reasons.
And the road trip was indeed epic.
What surprised me was the amount of traffic. Don't expect to be alone in the wilderness as you've got plenty of other cars, jeeps, buses and lorries along for the ride. And they're more than happy to jostle for position on mountain roads with vertical drops of hundreds, even thousands of feet on one side.
You'll also need to be prepared for a wait of up to two hours (like we did) before accessing the Zoji La (Pass). Because of the notoriously poor condition and narrowness of its road, together with the almighty drop-offs, it's just too dangerous for lots of two-way traffic to negotiate. So we waited in a temporary off-road car park with lots of other cars and jeeps as several convoys of empty lorries passed us on their way back from Leh (having delivered their cargoes of supplies).
After the migraine-inducing road up to and over Zoji La, we then made our way through a rugged landscape of snow and rock and then onto the winding roads and desert landscapes that Ladakh is famous for. Most travellers tend to stay overnight in Kargil, but our driver seemed to think that the accommodation here was pretty dire, so we carried on instead to the tiny village of Mulbekh, where we stayed at the Paradise Guest House (which was decent enough).
The long and winding road
A 6 am start the following morning saw us beat the traffic coming out of Kargil, giving us a pretty clear run for the five-hour journey to Leh. There are some great stop-off points en route, too – particularly the spectacular monastery at Lamayuru.
Taking two days for the journey is definitely the way to go. While it's possible to do the journey in one 15 hour-or-so slog, I'm not sure I'd be comfortable pushing a driver who would understandably be extremely tired long before the end. Not just for his own sake but mine too. And you won't have had the benefit of sleeping en route at an altitude which helps you to prepare for the higher altitude of Leh, either.
Leh to Manali Highway (via Tso Moriri)
Generally recognised as one of the world's great road journeys, you've once again got options.
Minibuses seating 12 people leave at 01:00 and do the 15-21 hour journey in one go, only stopping for breakfast, lunch and dinner. You can sleep on reclining seats but how anyone could manage to get a moment's sleep on those roads is anyone's guess. Tickets cost 2500 rupees.
Similarly, shared jeeps (7 people) leave around 17:00 and cost between 2500 and 3500 rupees, depending on whether you get a rear, middle or front seat.
Once again the shared taxis are the expensive option, costing upwards of 18000 rupees (depending on the type of car), including a high-altitude overnight stop in the one of the mountain "villages" such as Sarchu.
Alternatively, you can choose to take a detour in a shared taxi to the beautiful high-altitude lake at Tso Moriri, stay overnight there and rejoin the Leh-Manali Highway to complete the trip the following day, which is exactly what we did. It cost us 22000 rupees but we shared with two other travellers (you don't have to look for the other travellers yourself – the travel agent who you book with does all that for you).
To be fair, much of the six-hour journey from Leh to Tso Moriri took us through pretty ordinary boulder-strewn landscapes that didn't compare to those we'd travelled through elsewhere in Ladakh. But the surreal beauty and serenity of the lake made it all worthwhile. And at an altitude of 4500 metres (nearly 15000 feet), this was by some distance the highest place we've ever laid our heads to rest in.
Surreal beauty combined with high altitude
Our accommodation (Goose Home Stay) was extremely basic, as were the few other alternatives in the lakeside village of Korzok, reflecting the fact that the area has only been open to foreign visitors for just a few years. And at this altitude, you can expect a cold night.
But the next day you can look forward to an incredibly diverse journey through farmland, salt lands and desert before meeting up with the main Leh to Manali highway again at the More Plains. Our driver went off-road in our 4×4 too, which turned our journey into even more of an adventure.
You'll witness changing scenery from rock and snow to high altitude desert
Once back on the main highway, it was one majestic scene after another as we passed through open plains and snow-capped barren mountain ranges, before eventually passing through the contrasting pine-clad mountains near Keylong in Himachal Pradesh.
It's a route that's not for the faint-hearted as you pass up and over three high-altitude passes and some pretty atrocious road conditions. In fact, if you ignore Tso Moriri and take the direct route to Manali you'll traverse a fourth mountain pass at Tanglang La, reaching an altitude of 5328 metres (17,480 feet).
But, once again you wouldn't be travelling to and from Leh by road if you didn't have a sense of adventure, would you?
Which pretty much sums Leh-Ladakh up. This is most definitely an example of where the journey is as much a part of the whole experience as the destination itself. And to get the most out of it, we reckon you should really allow at least 10 days – in all we spent nine days in Leh and four days travelling.
If you do you'll have time to experience a truly wonderful part of India and one which contrasts in so many ways with the chaos, noise and sheer volume of people that are common elsewhere.
Related articles
…or visit our India page.
What did you think? Have you been to Leh? Would you recommend it as an adventure holiday destination? Or perhaps you're thinking this might be somewhere you'd enjoy. Either way, we'd love to hear from you so please add your comments below. 
Download our GPS-guided travel app to explore the places featured in this post.
Hi, we're Ian and Nicky, an English couple on a voyage of discovery around the world, and this blog is designed to reflect what we see, think and do. Actually, we'd like to think it also provides information, entertainment and inspiration for other "mature" travellers, too. So please feel free to pour yourself a glass of something suitably chilled and take a look around.
WHY SWITCHING TO A LIFE OF TRAVEL IS THE BEST DECISION WE'VE EVER MADE
CONQUERING THE SPECTACULAR MOUNT INERIE
TREKKING IN THE NEPALESE HIMALAYAS TO KHOPRA DANDA