SEARCHING FOR THE LOST WATERFALLS OF BOQUETE
SEARCHING FOR THE LOST WATERFALLS OF BOQUETE
Something caught my eye as I craned my neck back to take a gulp of water. A second glance confirmed what I'd first thought and I froze on the spot. Time seemed to stand still as the coral snake nonchalantly continued its sideways journey across the dirt track right in front of me towards the long grass to my right.
I grabbed my camera and frantically tried to get off a shot before it disappeared altogether. But to no avail. Remembering to take off the lens cap in a moment of pressure was clearly a step too far for this would-be adventurer.
And so my hike to find the "lost waterfalls" of Boquete began.
A hike that would find me climbing up through thick jungle via a steep, muddy and rocky trail, occasionally aided by ropes. A hike that was undoubtedly one of the most taxing I've ever done. But one where the payoff of three beautiful waterfalls surrounded by jungle dripping with every hue of green imaginable was more than worth the effort.
Located just outside Panama's backpacker and ex-pat hub of Boquete up in the coffee-growing mountains of Chiriquí Province, the lost waterfalls aren't really "lost" at all, of course. "Hidden waterfalls" would probably be a better description.
But let's not quibble over semantics.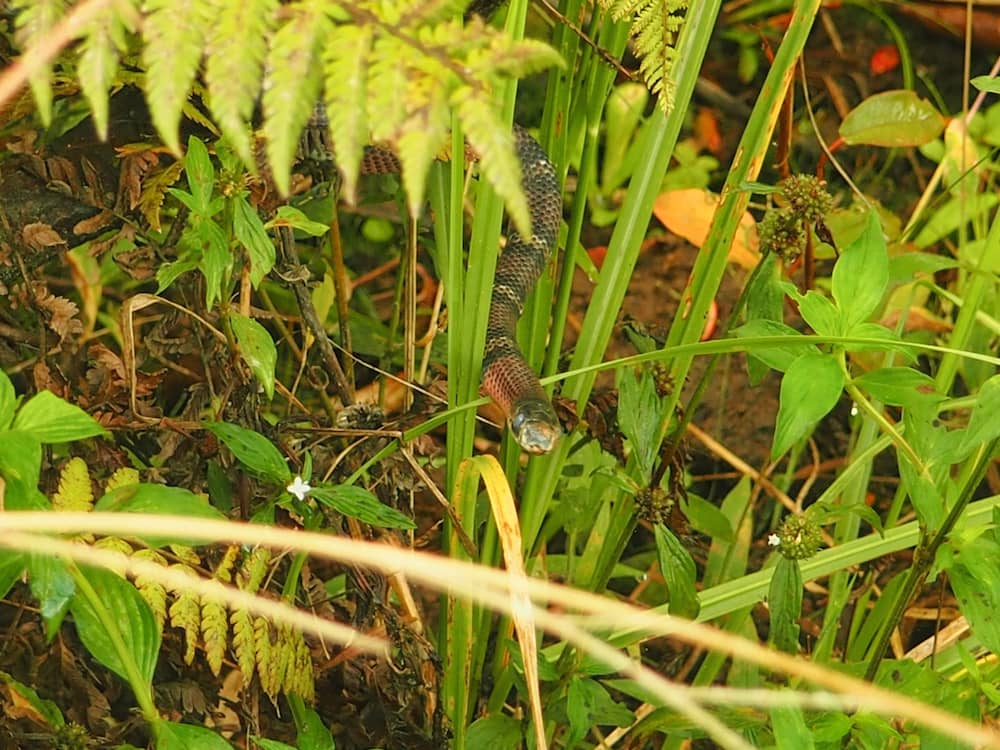 Fortunately, my new-found buddy patiently waited long enough for me to take a photo…
Contents
This page contains affiliate links. To help us maintain our site we work with a number of partners who we've personally used and can recommend to our readers. If you decide to purchase any products through the links on this page, we'll receive a small commission at no extra cost to you.
It all started after finding the trailhead and then crossing the Rio Caldera on a small suspension bridge before quickly ascending steeply up a boulder-clad track and series of steps. If there was a clue as to what exertions lay ahead then this was definitely it.
Soon I arrived at a plateau where a carefully tended garden stretched out in front of a log cabin, taking in world-class views across to Panama's highest point, Volcan Baru. It was here I had to hand over my $7 entrance fee.
Compared to other hikes in the area this was as steep as the hill I'd just spent 15 minutes walking up. The trail is actually on private land and the fee is ostensibly used for its maintenance. And as I perused the only map of the trail, which was attached to a clipboard, I couldn't help thinking that my $7 could go a long way towards providing one you could actually read.
A possibly less-than-helpful trail sign
The view from the trail entrance
A quick check of the map and suddenly everything becomes clear…
So, off I went on the first leg of my quest to discover the elusive waterfalls.
The guy at the gate had suggested (and indeed the map did, too) that I somehow skip Waterfall 1 and head straight to Waterfalls 2 and 3. The reasoning apparently being that the first one is the best and should be saved until last.
That didn't sit well with my OCD however, so I decided to advance strictly in numerical order.
I know. Anarchist.
The walk there was indeed a beautiful one, despite my snake encounter. First, through open bush with further views behind towards Volcan Baru and then into the jungle proper. Suddenly, instead of walking amidst grand mountain vistas I was surrounded by huge ferns, hanging moss-covered vines and monstrously-sized leaves.
After taking a right at a fork, the trail descended as the roaring sound of the first waterfall soon approached. And when it came into full view it was everything I'd hoped it would be.
Directly ahead of the trail, a huge stone wall covered with foliage played host to a single-drop fall that plunged into a deep canyon below. I looked for a way down to its base for a closer look but that proved impossible. So instead, I made the most of my time alone to enjoy what seemed to me like a hypnotic slice of jungle paradise. Where the only sounds were the persistent calls of the forest and the plummeting river.
A lost waterfall indeed.
And then it was time to move on deeper into the jungle. The lung-busting steps that led up from the waterfall eventually brought me back on to the main trail. And that was by now on a distinctively upward trajectory.
The hypnotic setting of Waterfall 1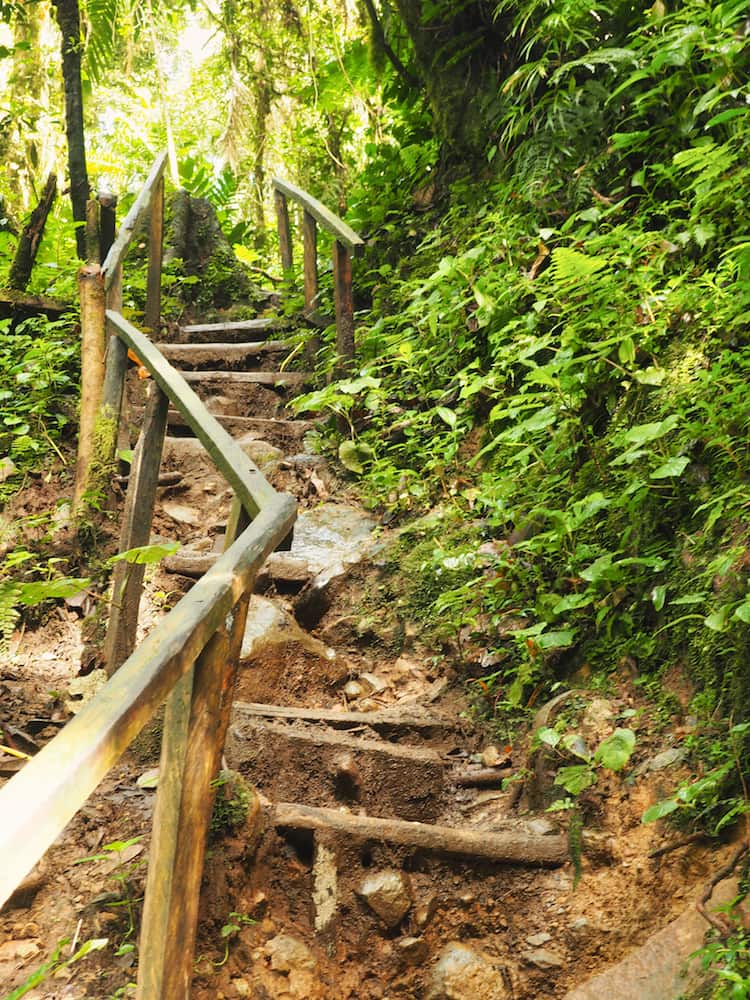 Part of the steep ascent from the falls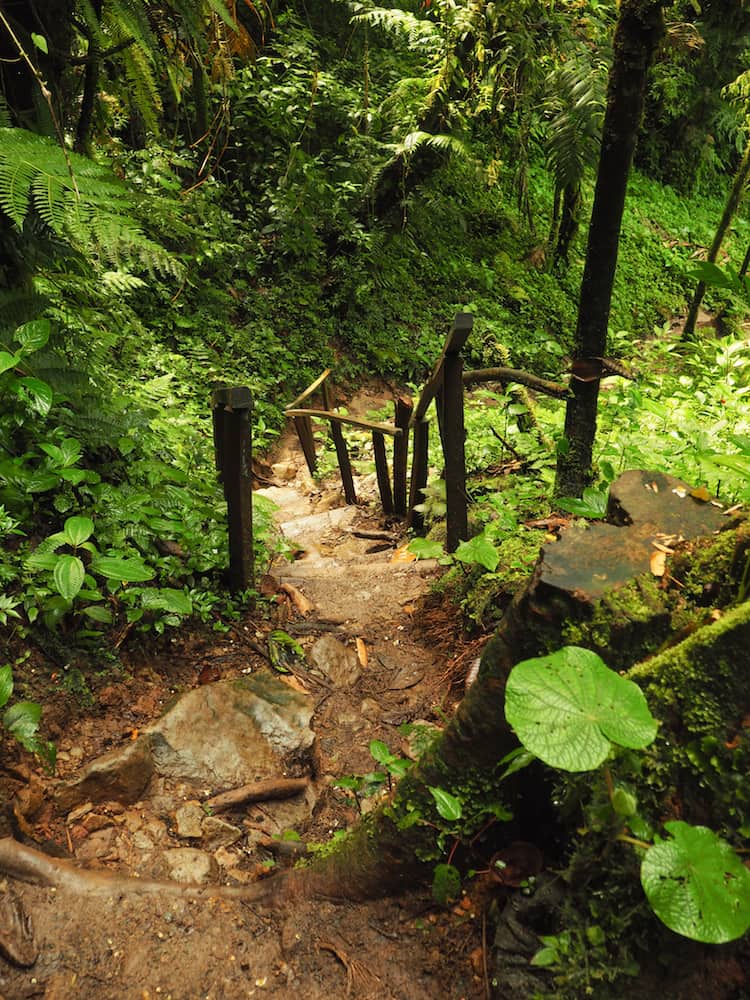 The steeper trail coincided with a marked deterioration in conditions. In addition to negotiating rocks and huge tree roots, the mud began to appear at more regular intervals. Not surprising really as this was the middle of Panama's rainy season (August).
Nevertheless, as Waterfall 1 disappeared from view to my right, it wasn't long before Number 2 beckoned me with its equally thunderous call.
Considerably wider than the first one, its cascading plume of water was much more uniform in shape. And, dare I say it, was actually more impressive than its forebear. And, this time, it was easy to just walk to its base and look up in awe.
The pool at its base was an inviting one. But, unprepared as always, my backpack was a swimming-gear-free-zone. And jungle skinny-dipping wasn't something I was prepared to unleash on any fellow waterfall-chaser who might pass by.
So, after checking out a nearby cave, I took the rope-enabled trail to the top of the waterfall and stepped out on to the rocky precipice. Holding back the vertigo whilst triple-checking my footing on the slippery rocks, I stood there for a while to drink in the incredible view over the jungle canopy to distant Volcan Baru.
Once again, without anybody else around, it felt as if I'd truly found something special. I'm sure that in the high season (between December and March) this spot wouldn't be so tranquil. But right then, at that moment, it seemed like this jungle wilderness was just mine to discover.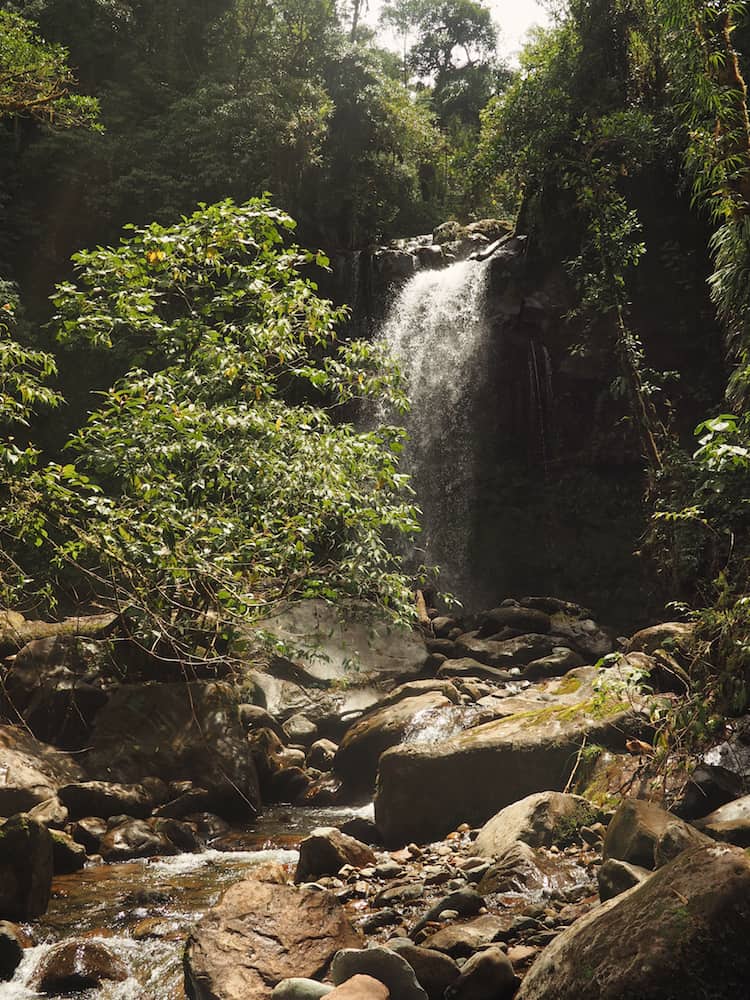 My first view of Waterfall 2 from a few yards down-river
A closer view of the waterfall with its neighbouring cave on the left
Another view from the top
Things started to get very serious when I set off again in search of Waterfall 3. This was by far the most challenging section of the trail and it's one that many don't even attempt. No wonder given the steep, muddy conditions and a not-so-obvious route at times.
The jungle began to thicken and I became aware of the foliage closing in around me. Of particular concern was the warning I'd received about looking out for snakes in the trees rather than on the ground. So not only was I searching for firm ground to step on but my eyes were at the same time looking around for signs of slithery movement above.
But there was no way this adventure was going to end early so I stoically continued my way up through the jungle until, at last, I arrived at the end point of the trail and another stunning waterfall.
This time it was more about the sense of achievement in getting there rather than seeing the waterfall itself. It was also an opportune moment to rest and regain my strength while the spray from the falls provided a welcome cool down.
Of course, the route back down proved to be something of a challenge, too. Trying to pick solid pieces of rock and tree root to step on was at times no easy task amidst all that mud. And especially with tired legs.
But thankfully, the regular late-morning/early-afternoon rain that soaks this part of Panama for much of the year didn't materialise and I was able to descend without any major mishaps.
The end of the road – Waterfall 3
Final thoughts and getting there
It had been an exhilarating three hours-or-so in the jungle and one that I can thoroughly recommend to anyone visiting Boquete, or even Panama generally. And, in retrospect, $7 was was a small price to pay to spend a morning hiking through such magical surroundings. And visiting during the low season meant that there were very few other people around and the waterfalls were at their best.
To get there from Boquete, you can either catch the local bus ($3) and then walk to the trailhead from the dropoff point – it's situated along a road signposted for the Sendero Los Quetzales Trail. Or you can hail a taxi for approximately $8 and be dropped off right outside the trailhead.
It's possible to do the hike as part of a guided tour. And I'm sure there are advantages in doing so – particularly when it comes to spotting wildlife. But, for me, there's nothing quite like the thrill of exploring under your own steam.
And the lost waterfalls of Boquete provide a perfect way to find out just how much of an explorer you really are.
Watch slow-mo footage of Waterfalls 1 & 2…
What did you think? Have you been hiking in Boquete?  Or perhaps you're thinking of visiting there in the near future? Either way, we'd love to hear from you so please add your comments below.
To help us maintain our site we work with a number of partners who we've personally used and can recommend to our readers. If you decide to purchase any products through the following links, we'll receive a small commission at no extra cost to you. Thank you for your support!
Hi, we're Ian and Nicky, an English couple on a voyage of discovery around the world, and this blog is designed to reflect what we see, think and do. Actually, we'd like to think it also provides information, entertainment and inspiration for other "mature" travellers, too. So please feel free to pour yourself a glass of something suitably chilled and take a look around.