HOW TO PLAN YOUR MACHU PICCHU EXPERIENCE
Last updated: 14 January 2020
HOW TO PLAN YOUR MACHU PICCHU EXPERIENCE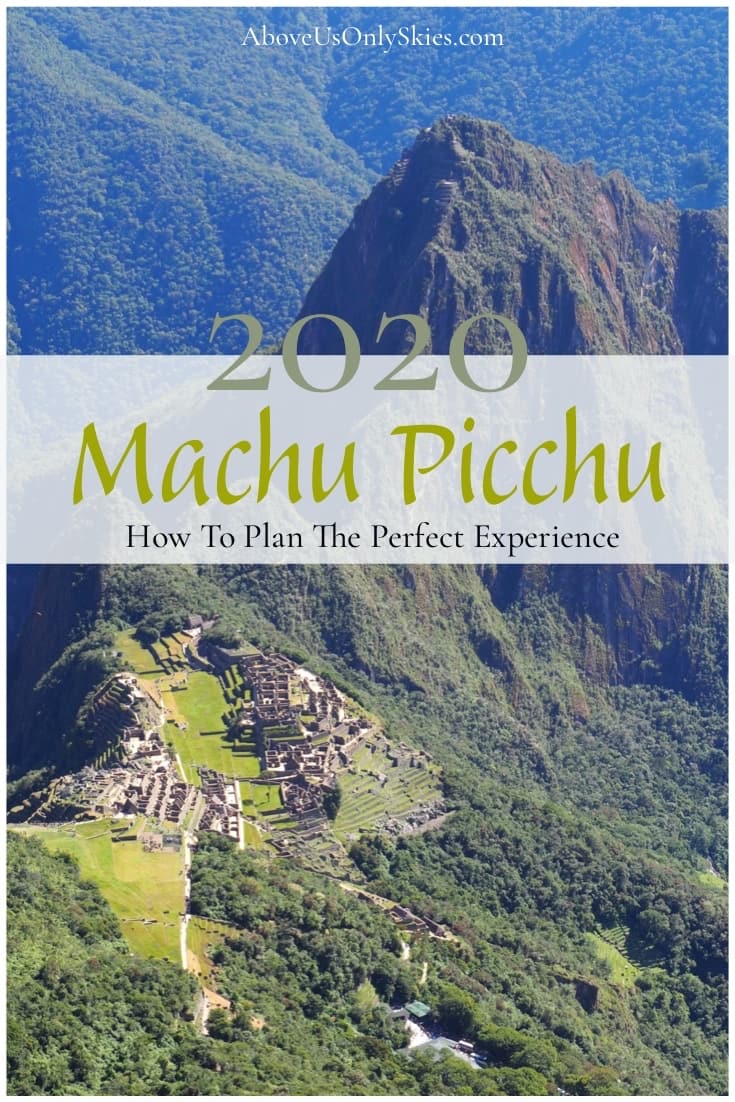 Last updated: 14 January 2020
Also known as The Lost City of the Incas, Machu Picchu (translated from the Quechua dialect as Old Mountain) is one of the Seven Wonders Of The World. It's also a UNESCO World Heritage Site and undoubtedly Peru's top tourist attraction.
Its combination of stunning location, cultural significance and word-of-mouth mystique have ensured that it appears at or near the top of travellers' bucket lists across the world.
Inevitably, over the past decade or so, it has witnessed an explosion in mass tourism which threatens its World Heritage status – 1.6 million visitors arrived in 2018, nearly twice the level recommended by UNESCO.
Yet that hasn't stopped the Peruvian government from green-lighting a new international airport at nearby Chinchero, which will handle international flights from all over Latin America and the US.
Suffice to say, as daily visitor numbers are restricted, a visit to Machu Picchu demands plenty of planning in advance. Here's our comprehensive guide on how to do just that, taking into account the rules and regulations introduced in 2019.
This page contains affiliate links. To help us maintain our site we work with a number of partners who we've personally used and can recommend to our readers. If you decide to purchase any products through the links on this page, we'll receive a small commission at no extra cost to you.
Machu Picchu can be visited at any time of the year.
The dry season runs from April to October, which coincides with the largest crowds, peaking between July and August.
November to March is the rainy season, which normally means misty/cloudy conditions in the morning and showers in the afternoon. So, if you've booked to climb Huayna or Machu Picchu Mountain, there's a good chance you won't see very much at all. Unless you're prepared to hang around at the top and wait for the conditions to improve.
We visited in early-June and were fortunate enough to have clear blue skies from early morning through till early afternoon when the clouds started to roll in.
To put it into perspective, visitor numbers have increased from just 80,000 in 1991 to 400,000 in 2000 to 1.6 million in 2018. A cap of 2,500 visitors per day set in 2011 was largely ignored and, during 2018, that number peaked at nearly 6,000 per day.
In an attempt to manage this situation, the Peruvian government have focused on both a cap on tickets and the flow of people. So a limited number of tickets must now be purchased for specific hourly time slots between 06:00 and 14:00.
Which means that you'll generally need to book 2-3 weeks in advance for the citadel tickets and 2-3 months in advance if you're hiking up Huayna or Machu Picchu Mountain.
How long you spend at the site depends on what options you choose:
Machu Picchu Citadel (Llaqta) only
Confusingly, the website states that there are two "shifts" for visits to the Citadel – the morning shift between 06:00 and 12:00, and the afternoon shift between 12:00 and 16:30.
But, in essence, you pick your hourly time slot and then you're allowed FOUR hours inside the site. Not that it's policed particularly well, however.
And, rather than allow visitors to just wander where they want in opposing directions, they've established three circuits to follow.
Citadel and Huayna Picchu or Machu Picchu Mountain
Climbing Huayna Picchu Mountain is limited to 400 people per day, split between two morning time slots – at 07:00 and 10:00.
Climbing Machu Picchu Mountain is limited to 800 people per day, split between two morning time slots – at 07:00 and 09:00.
You'll then have SIX hours to climb either mountain and explore the citadel via ONE of the established circuits. To monitor time on the mountain, you have to provide ID and sign in and out at a kiosk at the start of the trail. And, if it's deemed you're spending too much time at the summit you'll be moved along by an unsmiling warden.
Also note that there are no toilet facilities inside the site, but you're allowed to leave and re-enter at the main gate ONCE for this purpose!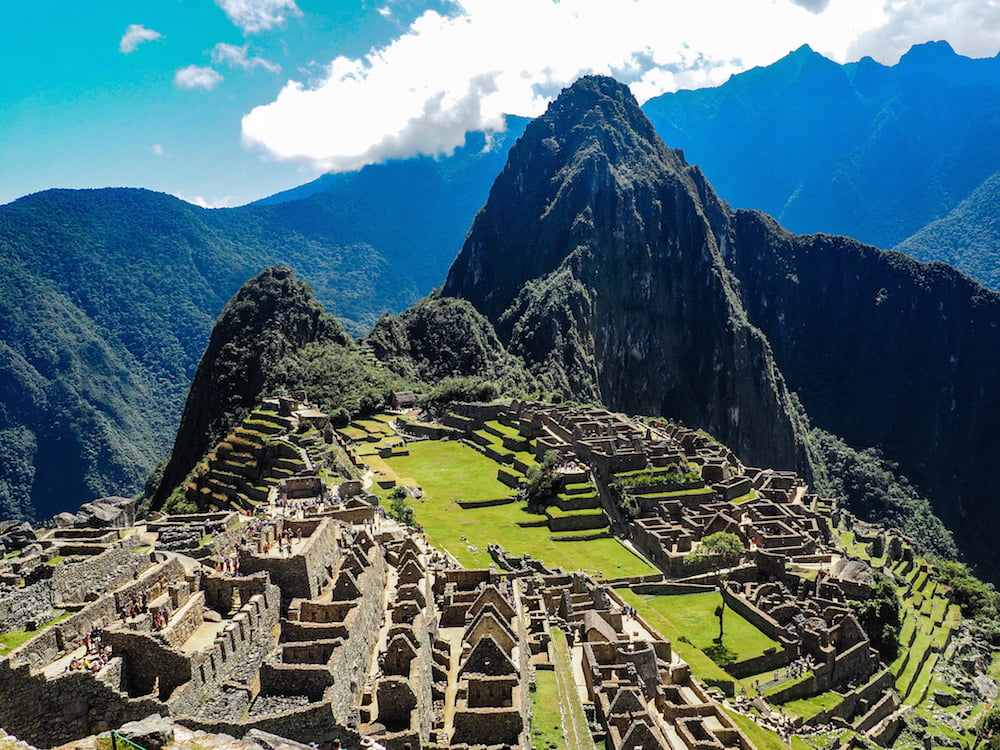 Unless you've booked a multi-day trek or an organised tour from Cusco, you'd be best to buy your entrance tickets from the Official Website. Be careful as it's only available in Spanish and, once you've booked the tickets, they're non-refundable.
You CAN buy tickets from the Machu Picchu entrance on the day you arrive. But you run the very real risk of them being sold out. So, unless you're visiting during the off-season you shouldn't really rely on this as an option.
Tour agents will also offer tickets but their markups can be steep.
The adult prices for 2019 were 152 soles (£37 / 46 USD) for the citadel and 200 soles (£48 / 61 USD) for the mountain/citadel combination ticket.
Note: For 2020, there are plans to further improve the flow of people by increasing the "morning shift" (peak) prices by 20% and reducing the "afternoon shift" (non-peak) price by the same amount.
The booking site is now relatively easy to use, even for a non-Spanish speaker (the previous incarnation was a nightmare!). Once you've entered your initial search information (including date of visit) you'll be taken to a page showing the number of available tickets for each time slot.
This is updated in real time so you can try different dates to suit your needs. And, if you're not ready to book, you can always go back periodically and recheck availability for the dates you're considering.
Paying for your tickets can still be temperamental as we found when trying to pay using a credit card not registered in Peru. But, after a number of unsuccessful attempts, our transaction went through.
Once your purchase has been confirmed, you'll need to print off your ticket.
The options for Machu Picchu Citadel tickets

The options for Machu Picchu and Huayna Picchu Mountain

Multi-Day Trek 
The classic way to arrive at Machu Picchu is to take the four-day Inca Trail trek and arrive at the iconic Sun Gate as dawn breaks. But you'll need to book months in advance as there's a limit of 500 permits per day (including those allocated to guides, porters etc). And, as all permits are issued in January each year, the earlier you book the better.
There's a shorter two-day version of the trail, too.
Alternatively, there are other well-established trails such as the Salkantay Route (seven days) and the Lares Trail (four days).
Train
The "romantic" way to get there is via a train that takes you on a scenic journey through the Sacred Valley. Ridiculously expensive in our opinion but if you're not up for the multi-day hike, it might just be your only option. Especially as you can't get there by road.
There are two train companies – Peru Rail and Inca Rail – that operate between Cusco and Aguas Calientes (at the foot of Machu Picchu), with pickups along the way at Urubamba and Ollantaytambo.
A return ticket from Ollantaytambo (two-hour journey) costs from 140 USD to 950 USD for the luxury Hiram Brigham Train.
We chose the train option with Peru Rail and, although pleasant, found it underwhelming for what it cost.
On board the Peru Rail train from Ollantaytambo to Agua Calientes
Walk from Hydroelectrica
By far the cheapest option, this involves taking a collectivo or shared taxi from Ollantaytambo to the hydro-electric plant located on the way to Aguas Calientes. From there, it's a three-hour walk beside the railway tracks to Aguas Calientes.
Day-trip from Cusco
It's possible to do the whole trip in one, albeit rushed day from Cusco. Either on an organised trip or independently via a shared taxi and train. But it will involve leaving Cusco before dawn, picking up a train in Ollantaytambo, catching a bus in Aguas Calientes up to the site, touring the site, catching a bus back down to Aguas Calientes, picking up the train back to Ollantaytambo and then a shared taxi/collectivo back to Cusco.
Perhaps not the ideal way to tick Machu Picchu off your bucket list.
If you're not doing one of the multi-day hikes, you'll have to pass through Aguas Calientes (aka Machu Picchu Pueblo). From there, it's a 30-minute bus journey (£10 / 12 USD) or a one-hour-plus steep walk up to the Machu Picchu main gate.
Ideally, you'll arrive in Aguas Calientes the day before so that you can make an early start the following morning.
It's a very touristy place and it won't win any beauty awards (despite its spectacular location) but as the gateway to Machu Picchu, it makes sense to spend a night there beforehand.
You'll also need to buy your bus ticket the day before and be in line at your allotted time the following day (to tie in with your Machu Picchu entrance time).
Queuing for the bus in Aguas Calientes 
If taking the multi-day trek you'll arrive via the Sun Gate before the main day-trippers arrive.
If coming up from Aguas Calientes, the main gate opens at 06:00, but you'll only be given access if you've bought a ticket for that time slot. A good time to see the citadel before the crowds arrive.
However, you won't be able to start hiking up Huayna or Machu Picchu Mountain until the first "shift" at 07:00.
Outside the main gate, you'll find guides for hire, who'll probably seek you out as you wait for your entrance slot.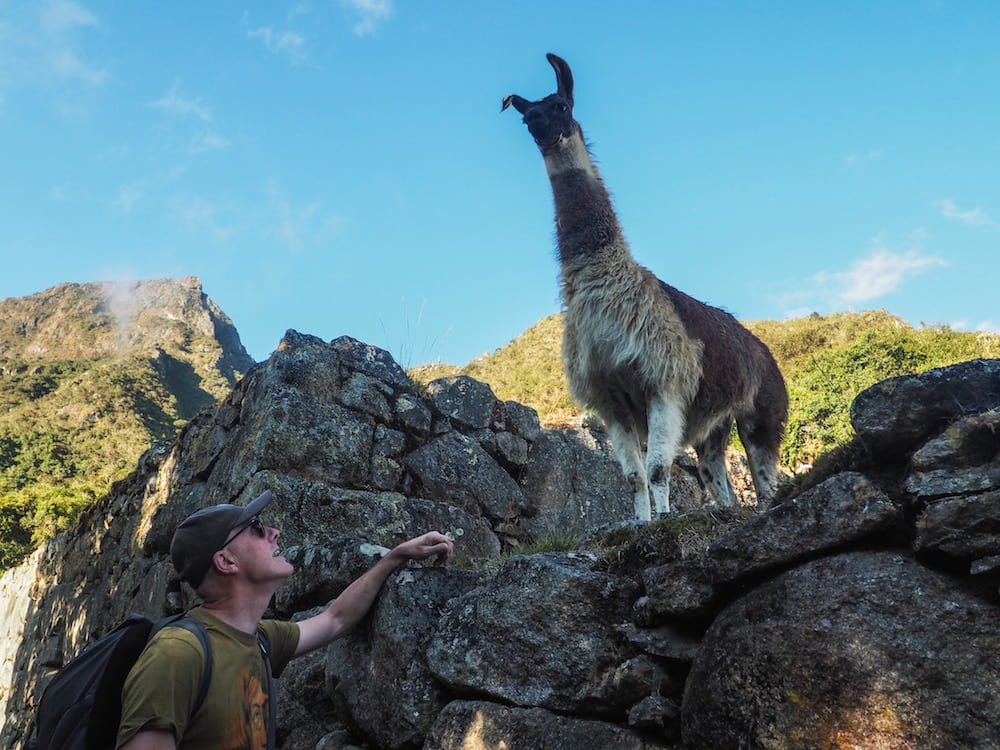 A llama officially welcomes us to Machu Picchu 
With an altitude gain of 650 metres in just over 2 km (1.2 miles) this is no straightforward hike. It means negotiating 2670 steps that are occasionally huge. And you'll be climbing to nearly 3,100 metres at the summit, so if you haven't properly acclimatised you'll find it particularly difficult.
It should take you between 1.5 to 2.5 hours to get to the summit, depending on your fitness levels, and 1-2 hours back down. Added to that, you're expected to do the round-trip back to the warden's hut by 11:00 (for the 7-8 am "group") or 13:00 (for the 9-10 am "group"). Although, again, enforcement of the rule is rather impractical.
The views of the citadel and surrounding mountains as you ascend are fantastic – if the weather is kind to you. And there are plenty of opportunities to stop along the way to catch your breath and take photographs.
Of course, the view from the summit is the one that everyone comes to see. But, to be honest, the views en route are just as good. And so if you really can't stomach the final 30 minutes-or-so of relentlessly steep steps, then all's not lost.
From our experience, the earlier you climb the mountain, the better. We started the walk at 07:00 and returned at 11:20. The hike up was relatively crowd-free but, on the way down, there were bottlenecks as people from the second 09:00 group were making their way up.
Be aware that some of the steps are narrow and hug the cliff edge. Which was a bit much for some people we met along the way. Especially when it involved negotiating them at the same time as people coming in the opposite direction.
Worth doing, though? Absolutely!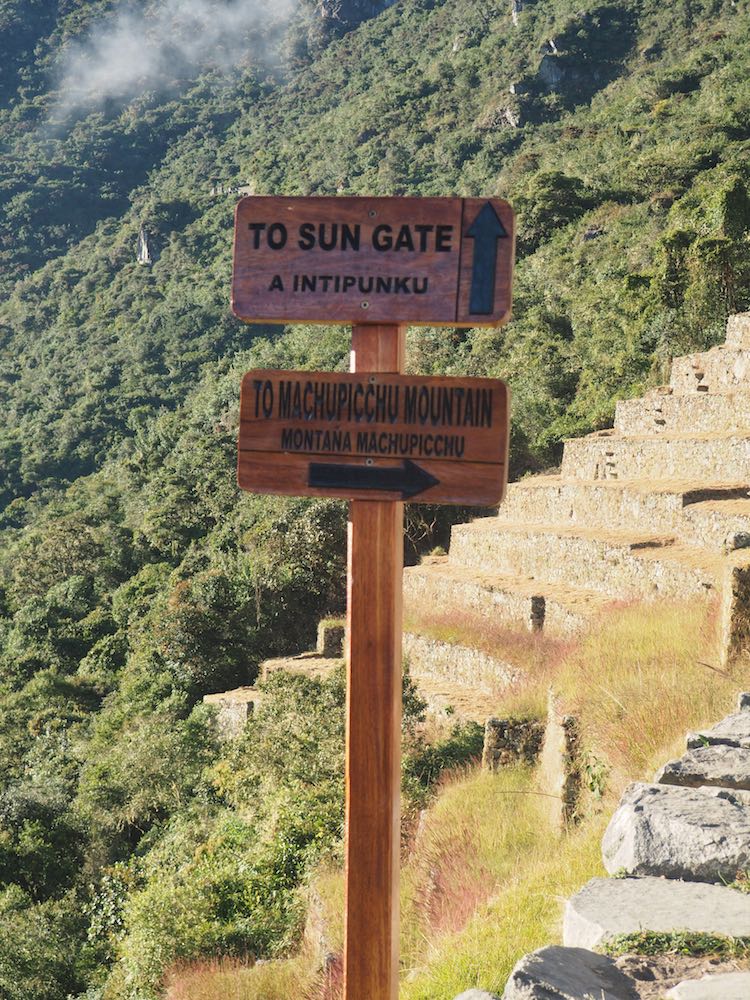 And, of course, the walk down means that you've got a consistent view of the citadel in front of you, rather than behind.
Although it's shorter and has a moderate altitude gain of 300 metres, this is considered the more taxing of the two mountain hikes. Mostly because of its steepness and precarious cliff-edge trail. Not to mention the boulder-scrambling section near the top.
Those with a fear of heights should probably avoid it.
But it's undoubtedly seen by many visitors to Machu Picchu as THE iconic trail to complete. However, with just 400 permits available per day, you'll need to book months in advance.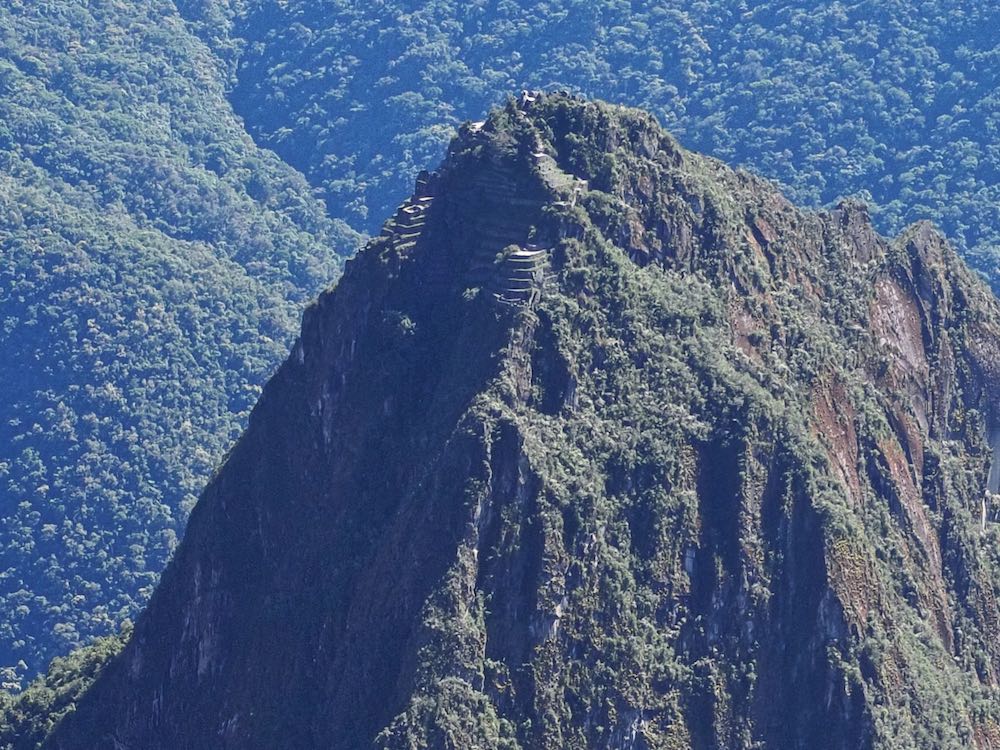 And then, of course, there's the citadel itself.
Your biggest decisions are probably going to centre around a) what time slot to select; b) whether you'll combine it with one of the mountain hikes; c) whether you want to hire a guide.
If you're just going to see the citadel then undoubtedly, earlier is better. Late-morning normally coincides with the largest tour parties and higher temperatures. Otherwise, mid-afternoon (after the tour parties have started to disappear) is another good option.
If you're doing a citadel and mountain hike combination you'll need to decide if you'll do the hike first or afterwards. We chose to do the hike first before the temperatures made it too uncomfortable and because we don't enjoy walks with crowds of people for company.
As for a guide, we decided against hiring one. Mainly because it would have cost us an additional 140 soles (£34 / 43 USD) each for a 2.5-hour tour. And we didn't have that amount of time anyway after our hike.
We've learned that the history of Machu Picchu is still surrounded by mystery and so the information that guides provide is open to dispute or interpretation. We felt it would be better to do your research online beforehand. But that's just us. You might feel that your experience of one of the world's most important cultural sites would be better enhanced with the aid of a local guide. And you may well be right.
For us, we enjoyed strolling around the site, taking in the views and its dramatic setting. And, having learned a lot about Incan culture following our tour of the Sacred Valley, we were still able to have an appreciation of what we were looking at.
Returning to Aguas Calientes
Once again you've got a choice between walking and catching a bus (12 USD).
During peak periods, the queue for the bus can be a long one. But they do run frequently.
The walking trail is another step-heavy one that descends through jungle and crisscrosses the road. If you've already hiked up one of the mountains your knees might not thank you for another hour or so of constant trauma. And, when you reach the bottom, you've got another two-mile walk along the road to Aguas Calientes.
Nevertheless, it's what we chose to do. And there was a particularly ice cold beer at a riverside restaurant that made it all worthwhile!
Map showing the hiking trail down from Machu Picchu
So, plenty to consider before you take the plunge and book your trip to Machu Picchu.
But, if you're still not sure where to start, you could always piggyback on our many hours of planning and research by following our itinerary…
Pre-planning
Purchase Machu Picchu tickets at official website one month prior to visit – Citadel and Machu Picchu Mountain @200 soles (£48 / 61 USD) each.
Purchase Peru Rail tickets at official website one month prior to visit – Ollantaytambo to Aguas Calientes – outward journey on Vistadome train @ £61 / 77 USD – return journey on Expedition train @ £57 / 72 USD.
Research and book accommodation in Ollantaytambo for Days One & Three (Q'ori Anka's B&B @ 36 USD per night).
Research and book accommodation in Aguas Calientes for Day Two (Catari's House @ 32 USD per night).
Organise how to get from Cusco to Ollantaytambo – we first booked two nights each in Pisac and Urubamba to explore the Incan ruins in the Sacred Valley.
Day One
Visit the Inca ruins in Ollantaytambo.
Overnight stay in Ollantaytambo.
Pick up train tickets from Peru Rail kiosk at Ollantaytambo station.
Day Two
Leave our main luggage at Q'ori Anka's B&B, travel with just day pack.
Train from Ollantaytambo (13:27) to Aguas Calientes (14:50).
Purchase bus tickets for the following day up to Machu Picchu @ 12 USD each.
Overnight stay in Aguas Calientes.
Day Three
Queue by 06:00 for 06:30 bus to Machu Picchu Main gate.
Enter Machu Picchu at 07:00 allotted time.
Head straight to Machu Picchu Mountain trail (07:00 allotted time).
Complete Machu Picchu Mountain trail and return to the citadel by 11:30.
Walk around the citadel until 13:00.
Exit Machu Picchu and walk back to Aguas Calientes.
Train from Aguas Calientes (16:22) to Ollantaytambo (18:10).
Overnight stay in Ollantaytambo.
Day Four
Taxi (via hostel) from Ollantaytambo to Cusco airport (70 soles / £17 / 22 USD).
Sign up for Airbnb here
and get £25 off your first booking
Final thoughts on Machu Picchu
As you'll have noticed, it's an expensive destination to get to and takes some effort to plan.
For example, we spent £177 (222 USD) each just on transportation from/to Ollantaytambo and our entrance to Machu Picchu. Add on guide fees, hotels and transportation back to Cusco and you're looking at well over £200 (250 USD) each.
Opt for one of the multi-day hikes and you can end up doubling that.
You'll also need to manage your expectations when you arrive. Any spiritual experience you might be hoping for will undoubtedly be shared with literally hundreds of other people.
But there's also no doubting that, for all its tourist trappings, Machu Picchu is still a world-class destination that should not be missed.
And the view of the citadel from the vantage point on Machu Picchu Mountain 650 metres above, is a sight that neither of us will ever forget.
What did you think? Have you been to Machu Picchu? Or even Huayna or Machu Picchu Mountain? Do you have any recommendations to add? Or perhaps you're thinking of visiting there in the near future? Either way, we'd love to hear from you so please add your comments below.
To help us maintain our site we work with a number of partners who we've personally used and can recommend to our readers. If you decide to purchase any products through the following links, we'll receive a small commission at no extra cost to you. Thank you for your support!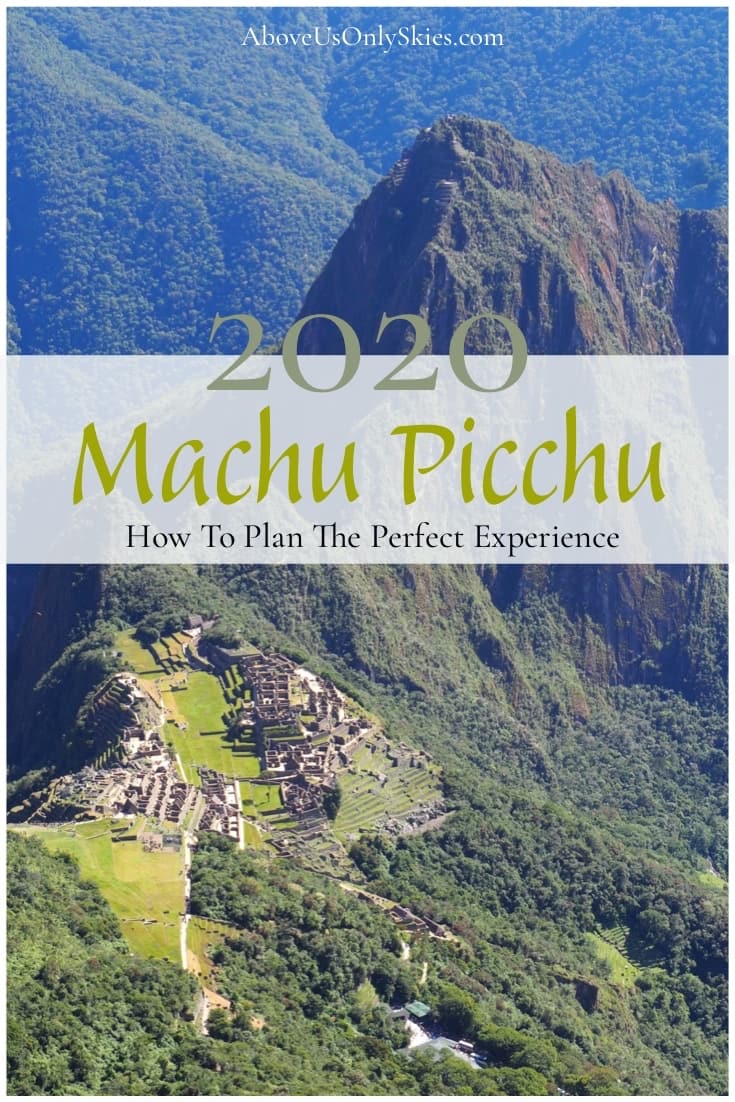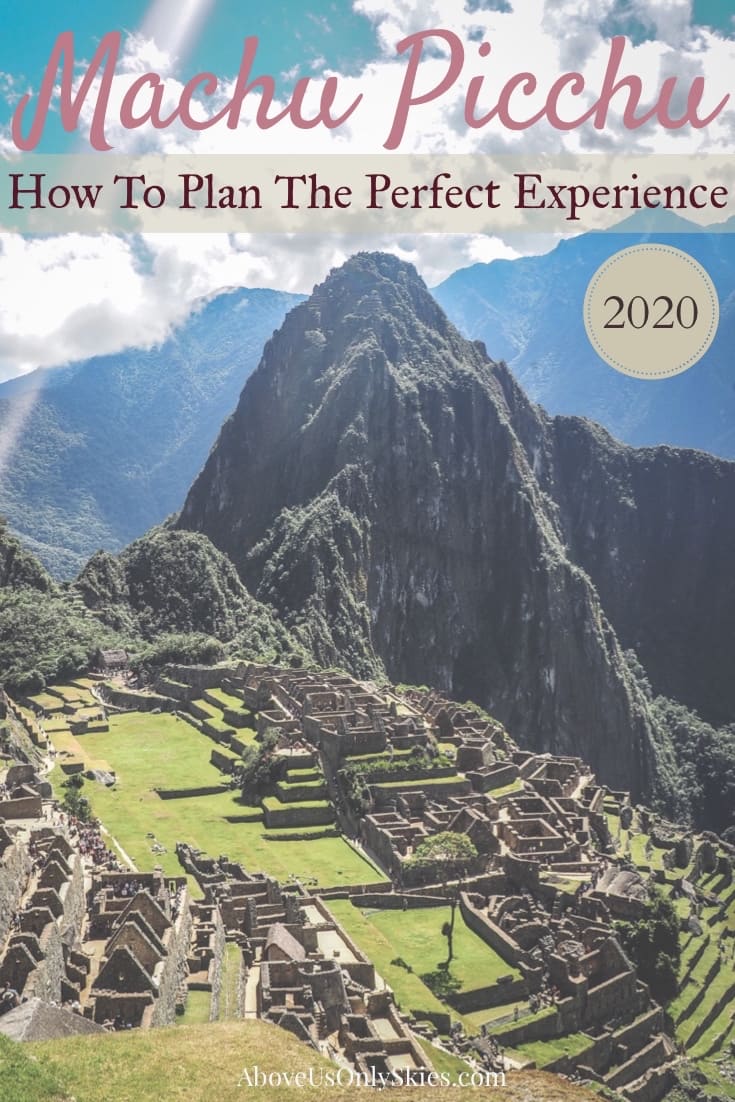 Hi, we're Ian and Nicky, an English couple on a voyage of discovery around the world, and this blog is designed to reflect what we see, think and do. Actually, we'd like to think it also provides information, entertainment and inspiration for other "mature" travellers, too. So please feel free to pour yourself a glass of something suitably chilled and take a look around.