THE MARBLE CAVES OF CHILEAN PATAGONIA
THE MARBLE CAVES OF CHILEAN PATAGONIA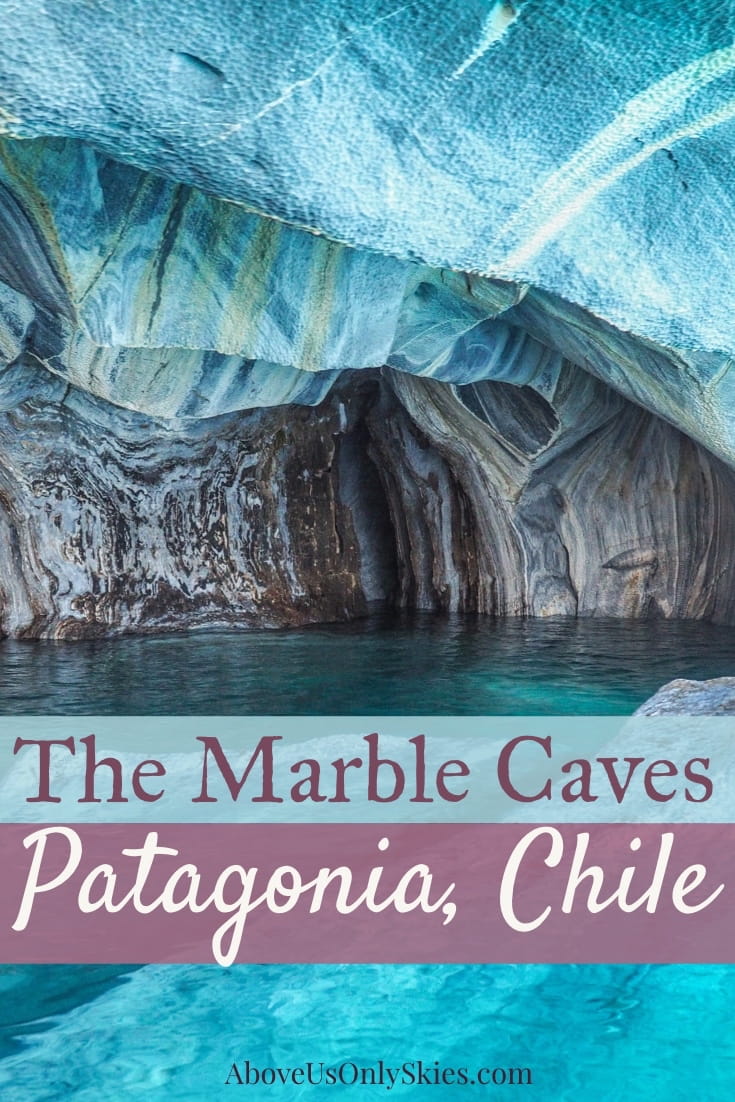 Picture the scene.
Amidst the towering, snow-capped peaks of Patagonia, a peninsula of solid marble protrudes into a huge glacial lake that straddles both Chile and Argentina.
Over the course of thousands of years, the Patagonian winds stir up waves which crash against the walls of the marble, chiselling out caves and bizarrely shaped rock formations.
As a result, the exposed veins of the marble ceiling are a dazzling mixture of blue, turquoise, yellow and white as the low early morning and early evening light reflects off the crystal clear glacial water of the lake.
The Capilla de Mármol (or "Marble Chapel" to give it its literal translation) is an Instagram-perfect natural wonder that can only be appreciated by boat or kayak. And it's a nightmare to get to if you're not already on an extended Patagonia road trip.
But if you're exploring this unbelievably scenic part of the world, then it would be mad to miss out on it.
And so here's what to expect.
The Capilla de Mármol (Marble Caves)
The Capilla de Mármol (Marble Caves)
Contents
This page contains affiliate links. To help us maintain our site we work with a number of partners who we've personally used and can recommend to our readers. If you decide to purchase any products through the links on this page, we'll receive a small commission at no extra cost to you.
Getting to the Capilla de Mármol
The Capilla de Mármol is situated just south of Puerto Rio Tranquilo, a small village on the northwest shore of Lago General Carrera (the second-largest lake in South America).
From the village, small boats take visitors on the short journey to the caves.
There are actually two separate locations for the tours. The main one is in Puerto Rio Tranquilo itself. But a better option is at Puerto Mármol a couple of kilometres south of the village. It's nearer to the caves and there are generally less people around. Although you might want to park your vehicle near to Ruta 7 as the lane down to the port is a killer without a four-wheel drive.
There's also the option of taking a more expensive half-day kayak tour.
We'd deliberately timed our visit to coincide with a good weather forecast. And our research told us to take the first tour of the morning when the light would be better and the water generally calmer.
So, having camped overnight on the lakeside beach, we drove to Puerto Mármol  to catch the 8 am tour.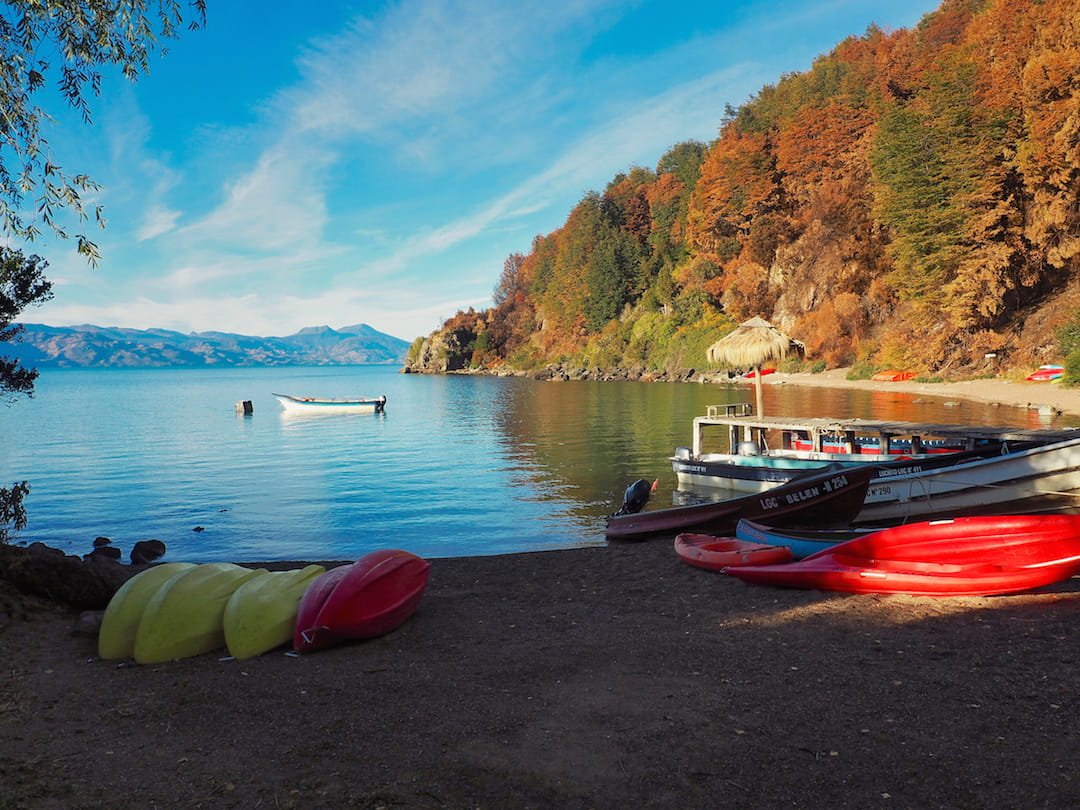 The boat terminal at Puerto Mármol
En route to the Marble Caves
There are effectively three main features to see. The "three C's" if you will. Namely the Cavern, the Chapel and the Cathedral.
The first two are interesting rather than essential. And they're where the first part of the tour begins. They do feature unmistakeable marble veins. And there's a cave big enough for the tour boat to enter and back out again. But if you've made the effort to get here on the basis of those amazing photographs on the internet, they might seem somewhat underwhelming.
Fear not, however, as the star attraction lies in wait.
Undoubtedly the Cathedral, a huge lump of marble boasting caves and twisting multi-coloured ceilings, is what everyone comes here to see. And, sure enough, the boat lingers while eager camera-wielding tourists nervously try to balance themselves as they stand to take the perfect photo.
It's important to note that the effect is enhanced by a combination of good lighting conditions and reflections from the icy glacial water. But the colours are simply incredible.
As you'll see from the photographs that follow.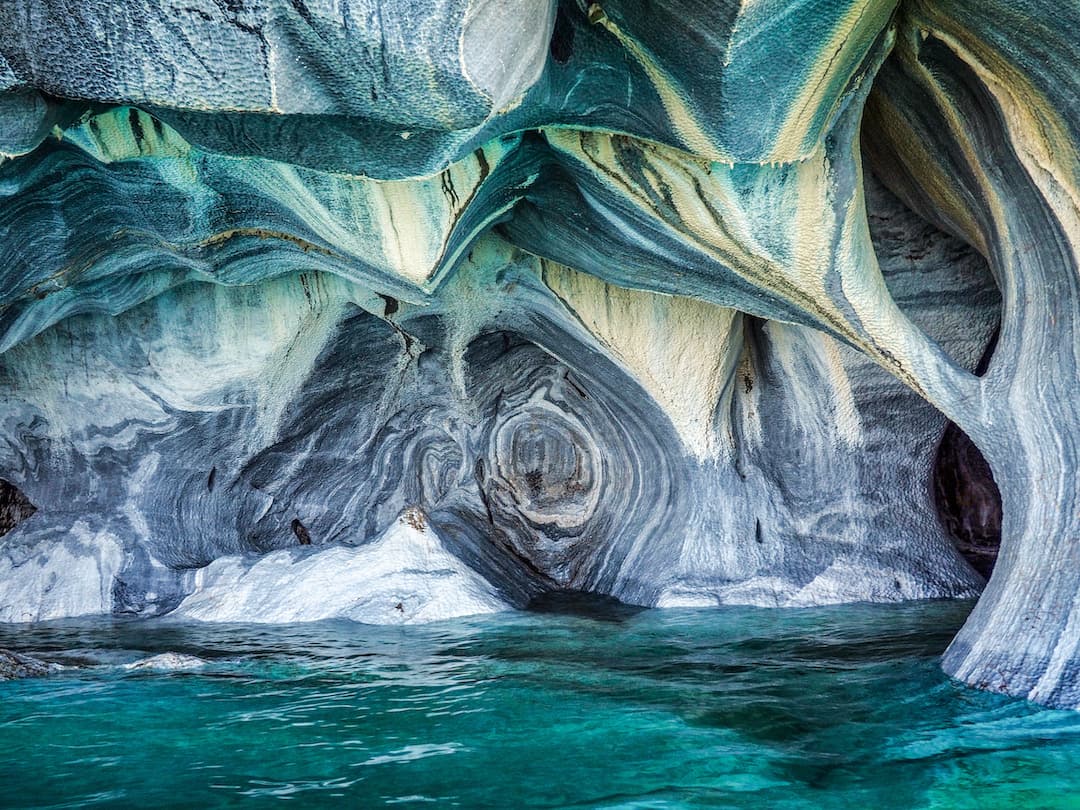 Take a dip into our archives
Elsewhere, the boat potters around further caves and rocky outcrops, slowing down for the occasional kayaker on a mission to get as close to the marble as possible.
And then, after 45 minutes-or-so, it's time to return to dry land and a warming cup of hot chocolate.
How to get to Puerto Rio Tranquilo
If you've never been to Patagonia you might find it difficult to appreciate just how hard it can be to get around. Especially outside of the short summer season (December to mid-March).
The nearest towns of any size to Puerto Rio Tranquilo are Coyaique to the north (a five hour bus journey) and Cochrane to the south (a further four hours or so). And the journey involves bone-shaking stretches of the infamous Carretera Austral, a road loosely constructed during General Pinochet's regime to connect Southern and Northern Patagonia. And the bus only operates during the summer months.
Most backpackers opt for hitching a lift, which is practically a way of life in these parts.
The best way, if you have the budget, is to rent a car or camper van and include the caves as part of a longer journey along the Carretera Austral and beyond. These can be arranged in Coyaique for a short road trip or further afield in the likes of Puerto Montt and Punta Arenas.
Once you've arrived in Puerto Rio Tranquilo you can book your boat trip with one of the local tour operators. They all operate pretty much the same tour, leaving in the morning at 8am and 9am and in the afternoon from around 4pm. You can also book on the same day if it's not too busy.
It costs 10,000 Chilean pesos (CLP – £11/ $14 USD) for the 90-minute to two-hour round trip.
Just bear in mind that if you want to take advantage of the early tour, you'll definitely need to stay over the night before. We merely stayed in our camper van on the lakeside beach but there are also a number of hostels in town.
If the weather's good you could also try a half-day kayak tour of the caves for 35,000 CLP (£38 / $48 USD)
Spectacular though they are, we'd suggest that a visit to the Marble Caves should only be done as part of a longer trip along the Carretera Austral. Otherwise, the time and effort it takes to get there versus the amount of time you actually have on the water just doesn't make sense.
That being said, when combined with other Chilean Patagonia highlights such as hiking around Cerro Villa Castillo, rafting on Rio Baker and gazing in awe at the San Rafael Glacier, it's a no-brainer to spend at least one night here.
What did you think? Have you been to the Marble Caves? Do you have any recommendations to add? Or perhaps you're thinking of visiting there in the near future? Either way, we'd love to hear from you so please add your comments below.
To help us maintain our site we work with a number of partners who we've personally used and can recommend to our readers. If you decide to purchase any products through the following links, we'll receive a small commission at no extra cost to you. Thank you for your support!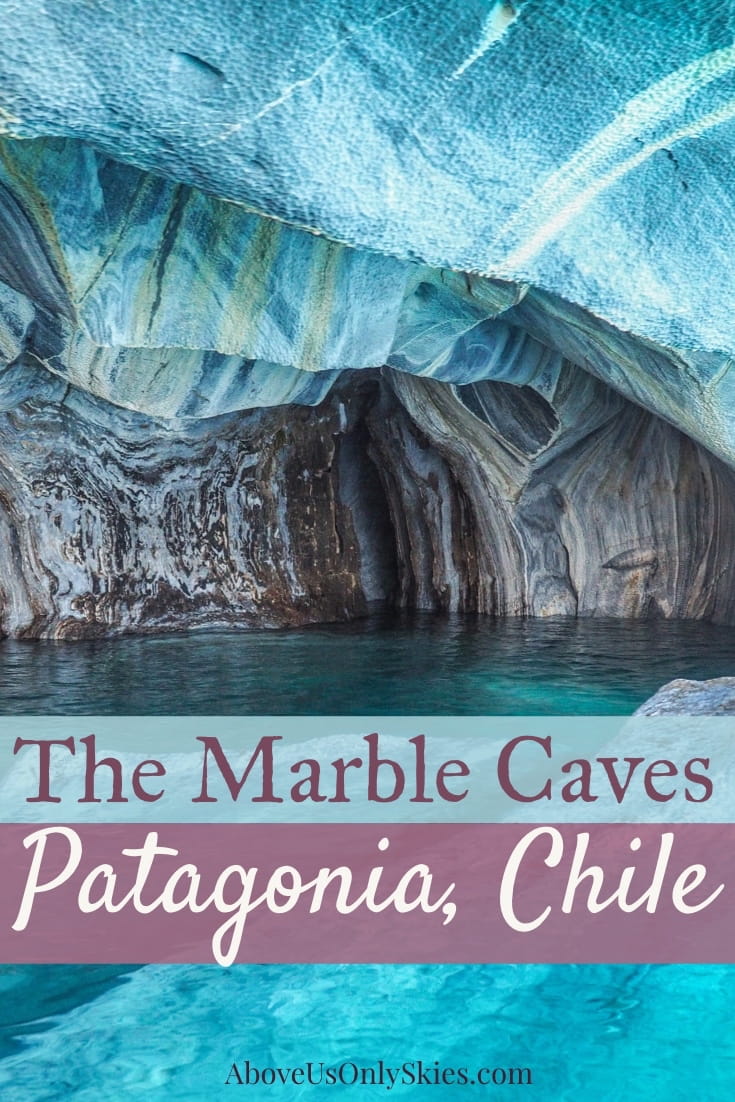 Hi, we're Ian and Nicky, an English couple on a voyage of discovery around the world, and this blog is designed to reflect what we see, think and do. Actually, we'd like to think it also provides information, entertainment and inspiration for other "mature" travellers, too. So please feel free to pour yourself a glass of something suitably chilled and take a look around.