10 THINGS TO KNOW ABOUT MOMPOX: COLOMBIA'S FORGOTTEN COLONIAL GEM
10 Things To Know About Mompox: Colombia's Forgotten Gem
Mompox, also known as Santa Cruz de Mompox, or even Mompós, is a town in Colombia 125 miles south of Cartagena with a history as rich and enticing as its larger northern neighbour.
And, like Cartagena, it boasts gloriously preserved buildings from its early Spanish colonial rule.
But that's where the similarities end. Whereas Cartagena is now a tourist magnet and a regular cruise ship stopping off point, Mompox is virtually unknown outside of Colombia. Which is a crying shame because it's one of our favourite Colombian towns and one that we believe should be on any traveller's list of places to see when visiting the country.
Convinced? Well, here are ten things you ought to know about Colombia's forgotten colonial gem.
Click on a heading to jump to the section
This page contains affiliate links. To help us maintain our site we work with a number of partners who we've personally used and can recommend to our readers. If you decide to purchase any products through the links on this page, we'll receive a small commission at no extra cost to you.
It has a riches to rags back story
For its first 300-or-so-years of existence, the story of Mompox was one of unbridled success.
Founded as a port in 1540 on the Magdalena River by early Spanish settlers, it quickly developed as a hub for merchants transporting all manner of goods between the Andes and the Caribbean coast. And its remote location helped it became a safe place for wealthy Spaniards and traders to hide their gold and other treasures from pirates. To cap it all, it even minted coins for the colony.
Indeed, by the early 17th Century, the town's wealth was perhaps best exemplified by its Calle de la Albarrada, a riverside street dripping with glorious colonial architecture.
Such was its confidence that, by 1810, it had become the first Colombian town to declare independence from Spain. And, shortly after, Simon Bolivar (Caracas-born liberator of much of South America) came to Mompox and recruited 400 Momposinos to fight for and ultimately gain independence for western Venezuela. Which prompted him to famously remark, "If to Caracas I owe my life, it's to Mompós I owe my glory".
Times were good. And Mompox was second only to Cartagena in its strategic importance within Colombia.
And then it all went wrong.
By the mid-to-late-19th Century, the surrounding Magdalena River had all but silted up. Traders began to go elsewhere on the river. The town's prosperity came to an abrupt end. And its location on an island in low-lying wetlands meant that it was effectively marooned. So it became an isolated and forgotten backwater for over a hundred years.
To make matters worse, the whole area of the Magdalena Valley became a battleground between guerillas and paramilitaries during the 1980s and early-90s, rendering it a no-go-zone to outsiders.
But the green shoots of recovery began in 1995 when UNESCO recognised it as a World Heritage Site.
And with the retreat of the warring factions over the past few years, tourism has begun to regain a foothold, bringing new hope of prosperity for this perfectly preserved colonial gem.
Like Cartagena, it has a connection with Gabriel Garcia Marquez
The Nobel Prize-winning Colombian writer spent quite a bit of time in Mompox during his youth. Mainly because his girlfriend lived there.
But it was time well spent as his experiences there, and his understanding of the town's history inspired much of what he wrote in his landmark 1967 magical realism novel, "One Hundred Years Of Solitude". In it, a family establishes the fictional town of "Macondo" on a riverside island, which is isolated from the outside world for a hundred years.
A wall plaque reflecting Marquez' "magical realism" and Mompox

You can stroll around its gorgeous historic centre in a morning
Essentially consisting of just three streets with rows of connecting streets in-between, Mompox is the sort of place that can be explored twice in a day.
Once first thing in the morning as the town and its inhabitants come to life (and before the blazing heat takes hold) and once again in the evening as the subtly lit streets and buildings give the place an ethereal feel.
The pick of the streets to linger in is undoubtedly Albarrada – as it was 400 years ago – with its riverside setting and beautifully maintained buildings. Here you'll find a smattering of cafés, boutique hotels and restaurants alongside immaculate high-ceilinged homes.
Meanwhile, residents talk to each other through intricately designed ironwork grills that adorn pretty much every dwelling window (they traditionally indicated wealth and status). And elderly men and women sit outside their homes on old wooden chairs – seemingly for hours – only too happy to bid you "Buenas Dias" every time you pass by. 
And, as you wander along the riverside, you might be lucky enough to catch a sight of some of the wetlands' wildlife, such as great egrets and iguanas.
Or as in my case, a very inquisitive and hungry red howler monkey.
Its churches are stunning
Perhaps the town's most noticeable buildings are its seven churches. Painted with striking colours, they're within easy walking distance of each other.
Most striking of all is arguably the Church of Santa Barbara with its yellow facade and baroque bell tower. Not to mention its resident bats and swallows.
Although the red-ochre painted Church of San Francisco and the Church of the Immaculate Conception are both stunners in their own right, too.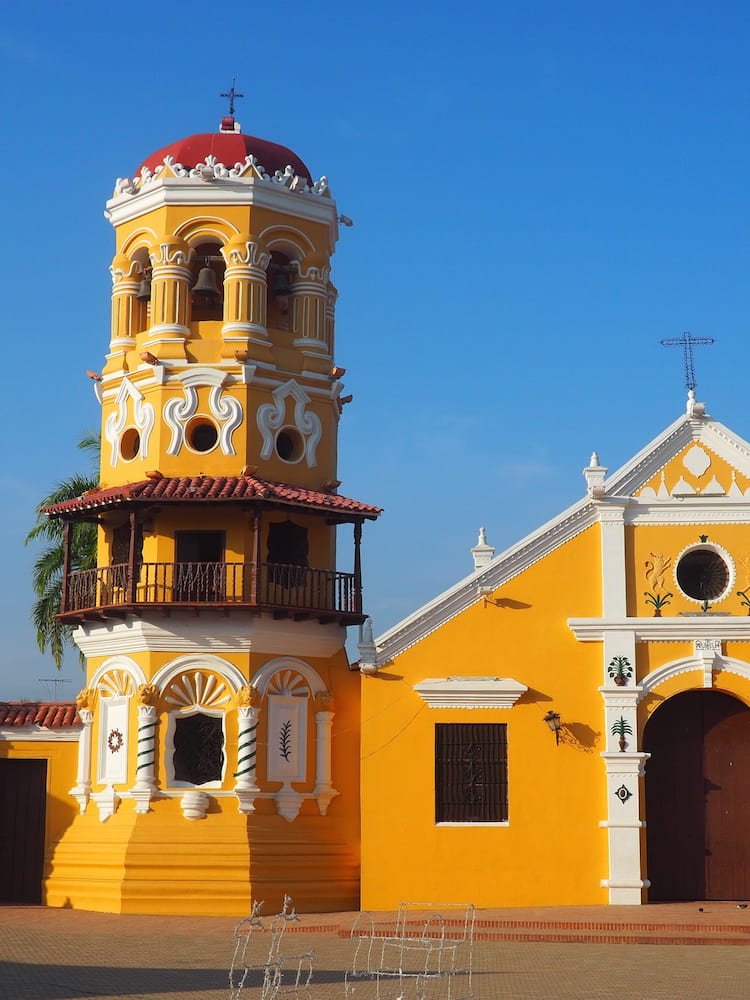 Church of the Immaculate Conception

It's famous for its filigree silver
For most of its history, Mompox has been associated with the production of fine gold and silver filigree jewellery. It's a process whereby the metal is melted down and made into a thread before being delicately transformed into detailed pieces of jewellery.
The tradition no doubt grew out of Mompox's stockpile of gold and silver. As a result, it attracted goldsmiths and silversmiths from Spain who settled in the town and combined their own skills with those of existing Colombian artisans to create this very unique type of art.
You can see how it's made at a number of workshops in town.
A boat trip to Pijaño Swamp is an unexpected joy
An example of how tourism is beginning to take a foothold in the town can be seen at the small dock at San Francisco Plaza.
I'd read about a boat trip that could be taken along the Magdalena River to a swamp area filled-to-bursting with birds, iguanas and fishermen. And I convinced myself I'd be one of the few in-the-know tourists who could take advantage of a private tour with perhaps just the boatman and his trusted dog for company.
So when another 50-or-so people (mostly Colombian tourists and a group of Germans) turned up, my expectations took a nose dive. Especially as the safety police had also deemed it necessary for everyone to put on the obligatory life jackets. Including for three dogs who were also coming along for the ride.
But, once we'd cruised down the river for half-an-hour and then turned off towards the swamp, the river narrowed and everything I'd read about came into sharp focus.
Firstly, the banks of the river were filled with groups of locals repeatedly casting their fishing nets into the water as we approached. Dozens and dozens of them as we turned around each bend. And if there was any doubt about what lurked in the water, one guy proudly displayed his catch for us as we passed.
But then the real show began. 
I still haven't established whether the white birds we saw were cranes, herons or egrets. But what I can tell you is that there were hundreds, possibly thousands of them basking on the river bank and in the trees. And as we approached, they'd take flight in an almost balletic display of white against a background of lush greenery. Urged on by the frantic barking of the three dogs, obviously.
Not quite the at-one-with-nature experience I was naively expecting but a memorable one all the same.
At its furthest point, the trip stopped in a wide section of the swamp where everybody decided to jump in for a swim. I obviously hadn't read the small print and so hadn't brought my swimming shorts with me. Not that the fully clothed mother of three in front of me was worried about such minor details. So in she went dressed liked she was on her way to salsa class.
And then, after what seemed like an eternity (probably about half-an-hour), we made the return trip back through the birds and the fishermen in time to catch the sun setting over the Magdalena River and a welcome beer at San Francisco Plaza.
Don't miss it.
Watch as hundreds of gorgeous white birds take flight as our boat approaches
It has an eclectic mix of accommodation
Accommodation choices range from simple but comfortable to high-end boutique hotels. There might not be many choices but they're highly individual.
For instance, the Portal de la Marquesa Hotel is set right on the Albarrada in one of Mompox's most beautiful buildings. And La Casa Amarilla is perhaps the best-known of all the town's lodgings.
But, if you're on a budget you should try Cafe Mompox, which for around £15 ($20) per night is a steal for a large, high-ceilinged room. We stayed there for two nights and can thoroughly recommend it.
It has some truly atmospheric places to eat and drink coffee
And when it comes to eating and drinking, there are some nice choices, too.
If you want to eat as the locals do, make your way to Parque de Bolivar during the day for freshly squeezed fruit juices and hot empanadas from street stalls parked around the square. And pick up a ball of queso de cappa, a local mozerrella-style cheese that's wrapped in layers.
Or in the evenings, head over to Plaza Santa Domingo for al fresco dining in front of yet another of the town's churches.
For something a little more upmarket, El Fuerte is the place to go if you read most travel guides. Although we didn't go so can't comment.
But the restaurants on Plaza de la Concepcion see probably the most foot traffic. Although you'll probably be eating al fresco alongside a group of street dogs doing what street dogs love best – fighting amongst each other, begging for food and harassing by-passing cyclists.
Don't miss Cafe 1700 on the Albarrada, though. Stylishly decorated inside a gorgeous building, it's a great place to grab a seat by the window and people-watch through the ironwork grills with a coffee or a beer. Especially in the early evening.
Or, as we experienced, watch a small group of teenagers arrive on their bicycles, musical instruments tied around their backs, and begin an impromptu jamming session on the wall opposite. Perfecto!
Getting to it can be a challenge
Given its history over the past century-and-a-half, it's perhaps not surprising that getting there is something of a challenge. In fact, as a remote island many miles from any major city, it didn't even have a bridge connecting it to the mainland until 2015.
However, with an improved road, the easiest route is now by direct bus from Cartagena and Santa Marta on the Caribbean coast. We caught the 08:40 bus from Cartagena and arrived in Mompox at 13:00.
Arriving from the south from Bucaramanga or Bogota, on the other hand, is a different story.
We did that particular journey in the opposite direction. The roads for the first 100km can best be described as "agricultural"  – dusty, pot-holed washboard tracks frequented by herds of cows. Don't expect to find a reliable bus service. We booked a "taxi" through our guest house in Mompox which turned out to be a clapped-out pick-up truck on what was quite possibly its final ever journey.
Ostensibly headed to the nearest bus station in El Banco, some 70km away, we were eventually dropped off in the middle of a fruit and vegetable market and transferred to a slightly more upmarket pick-up truck for the final leg to Aguachica. From where there are bus connections (and decent roads) to all points south.
If you're visiting Colombia, go and see it…soon
That said, it's a destination that definitely deserves the effort to get there. Especially if you want to get a sense of what an authentic Colombian colonial town looks and feels like.
Despite the road connections from the north, it's still an out-of-the-way destination for many. And plenty of travellers we met hadn't even heard of it. So we wouldn't expect an explosion of tourism there any time soon.
But, increased tourism will surely happen as Colombia continues to attract more international visitors as well as its own domestic market. So, if you're spending some time on the country's busy Caribbean coast, make sure you factor in at least a one night break in Mompox. 
You won't regret it.
What did you think? Have you been to Mompox? Do you have any recommendations to add? Or perhaps you're thinking of visiting there in the near future? Either way, we'd love to hear from you so please add your comments below.
Download our GPS-guided travel app to explore the places featured in this post.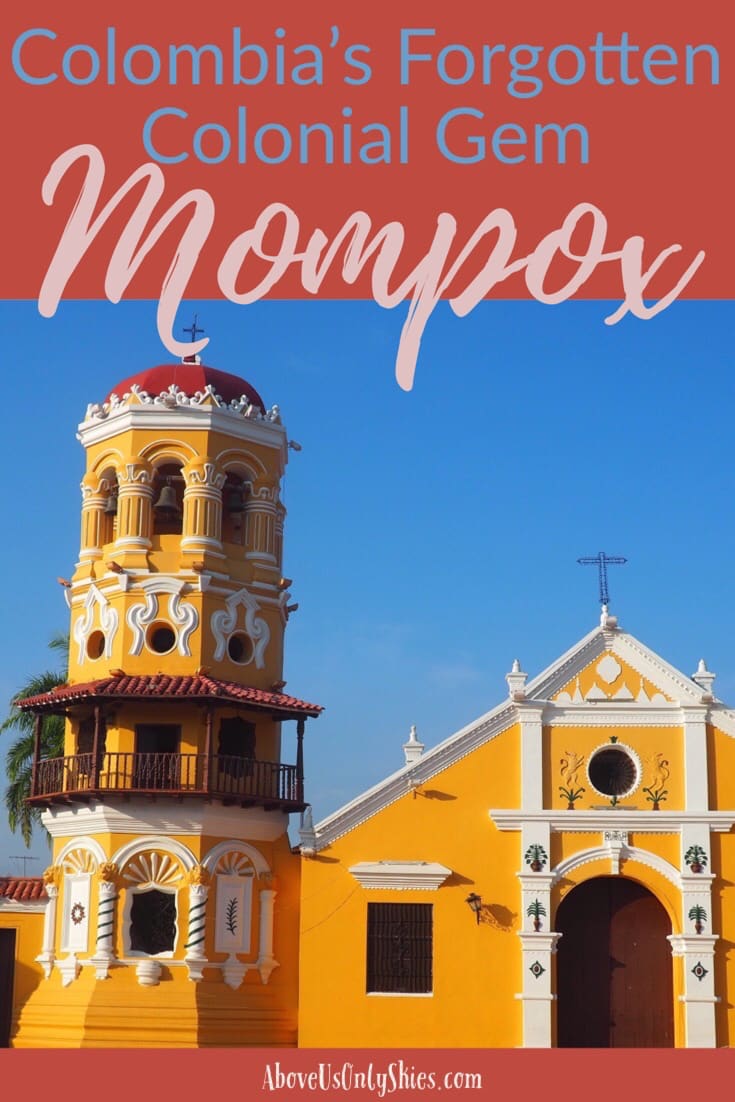 Hi, we're Ian and Nicky, an English couple on a voyage of discovery around the world, and this blog is designed to reflect what we see, think and do. Actually, we'd like to think it also provides information, entertainment and inspiration for other "mature" travellers, too. So please feel free to pour yourself a glass of something suitably chilled and take a look around.