HOW TO EXPLORE MONGUI AND THE WORLD'S MOST BEAUTIFUL PARAMO
HOW TO EXPLORE MONGUI AND THE WORLD'S MOST BEAUTIFUL PARAMO
Situated in a remote location, and at an altitude of 2,900 metres (9,500 feet), Monguí isn't exactly a town you're likely to just pass through. Much like La Playa de Belén, it takes some effort and a good dose of patience to get there. But, if you're travelling between Bogata and Bucaramanga you should absolutely make some time for it.
The town's name literally translates from the indigenous Muisca language as The Wife's Bath. Obviously.
But, as one of Colombia's 17 Pueblos Patrimonios, or Heritage Towns, it deserves to be on anyone's Colombian itinerary. Yet it receives hardly any non-Colombian tourists.
And that's especially surprising given its close proximity to the wonderful Páramo de Ocetá, a high-altitude plateau of staggering beauty.
Contents
This page contains affiliate links. To help us maintain our site we work with a number of partners who we've personally used and can recommend to our readers. If you decide to purchase any products through the links on this page, we'll receive a small commission at no extra cost to you.
Colombia's heritage towns
As one of the country's network of heritage towns, Mongui shares with its fellow members gorgeous colonial-era architecture, fascinating history and clean streets. And, for the most part, hardly any of the visitor numbers that the likes of Cartagena, Medellín and Salento receive.
Which is a blessing to those of us who like to explore places that haven't just geared up to mass tourism. And with residents who obviously take great pride in their town's status.
You may have to work a little harder to reach them. And you might not even find them in a lot of guidebooks or blogs. But if you want to get a feel for the real Colombia then trying a few of these seventeen gems will get you pretty close.
The full list is: Honda – Santa Crux de Mompox – Mongui – La Playa de Belén – Lórica – Salamina – Santa Fe de Antioquia – Villa de Leyva – Girón – Barichara – Aguadas – Ciénaga – El Jardín – Guaduas – Jericó – Buga – Socorro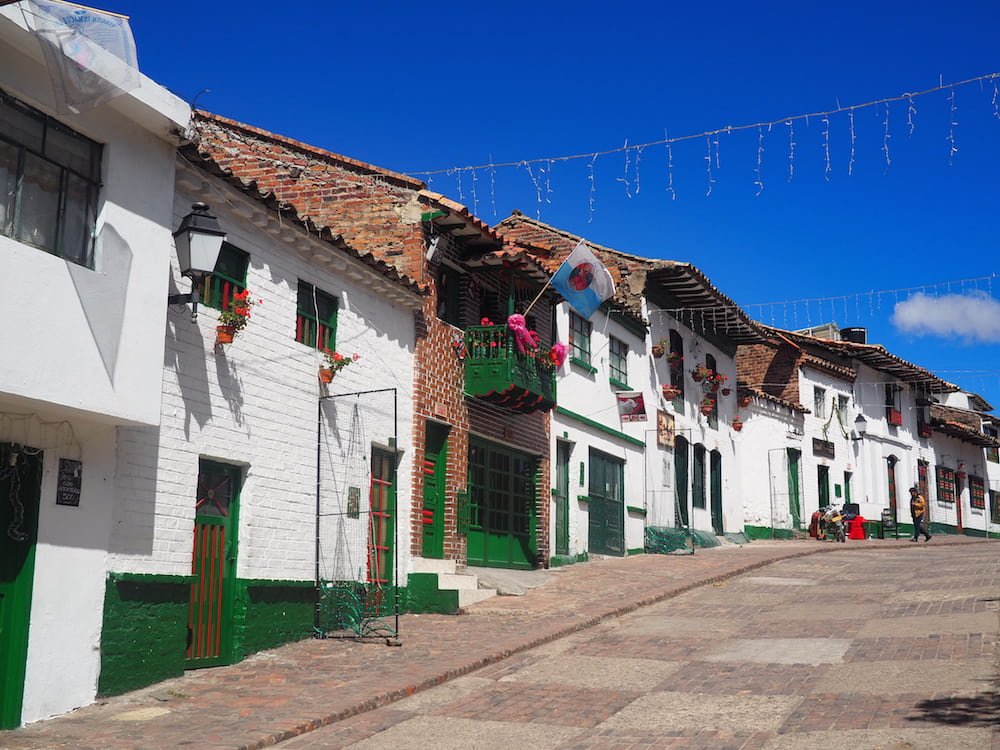 As you can see from the previous photograph, the town has a very distinct colour scheme of white, green and red. As if its buildings were painted as an homage to Christmas and everyone subsequently decided to keep it that way.
And, judging by the incredible number of street decorations we saw during our visit between Christmas and New Year, you get the impression the town plays on it. Even the church's interior was festooned with decorations and strobe lighting.
The centrepiece is the town's large plaza, which is dominated by the normally strobe-free Basilica de Nuestra Señora de Monguí. And next door is the equally impressive Convent Of The Franciscans.
But a casual stroll along cobbled Carrera 3, adjacent to the church, will take you past a range of restaurants, cafes and shops selling ruanas – traditional Colombian ponchos which, not surprisingly, do a roaring trade at this altitude.
At the end of the street, you'll reach the iconic Puento Real de Calicanto. Built in the 17th-Century with the help of indigenous people from lime, sand, molasses, beef and…ahem…blood, it's a national monument. No idea why that particular construction method didn't catch on.
Otherwise, like many of the other pueblos patrimonios, you shouldn't expect too much else to be going in town. Just enjoy strolling around, admiring the buildings and soaking up the authenticity of the place.
Buildings around the plaza
Rear view of the Convent of the Franciscans
The Puento Real de Calicanto
For Colombians, Monguí is mostly famous for its fábricas de balones, or football factories. A tradition going back for 80 years, the town has produced up to 25% of the nation's balls. And, judging by the number of Colombian tourists we saw wandering around town clutching a newly bought, brightly coloured ball, it's an industry that's far from falling into decline.
If you want to see how they are hand-made, there are a number of factories in town to choose from. And there are plenty of shops from where to buy them, too. However, tempting though it was, I decided there just wasn't enough space in my backpack to carry one around the rest of South America.
Páramos are high-altitude wetlands that largely exist in the Northern Andes of South America and are considered one of the most important and fragile eco-systems in the world. They largely consist of moorland and plants that have the ability to capture moisture from the air and store it in the soil below. In fact, so much so that the Sumapaz Páramo, south of Bogotá, provides most of the city's water supply.
Indeed, Colombia is home to 40% of the world's páramos. And Páramo de Ocetá is widely regarded as the most beautiful.
You can hike in the páramo but it's best to do it with a guide as the route isn't always obvious and you'll learn a lot more about it, too. I was lucky to be guided by Juan from Monguí Travels, who have an office on the plaza. And, for a whole day, along with just two other people, it cost me a grand total of 40,000 Colombian Pesos (£10 / $13). Incredible value.
Juan instructs us at the páramo entrance
The full hike is 18 kilometres long, but because of a dispute with local landowners, it's currently down to 15 kilometres. However, it remains a lung-busting, full-day trip, ascending 1,000 metres (3,300 feet) up to a peak of 3,900 metres (12,800 feet). And that's in addition to Juan's 30-minute "warm up", which re-introduced me to some leg muscles I'd long forgotten about.
And, be warned, most of that 1,000-metre ascent occurs in the first two hours or so. Initially through a landscape of rolling green hills and pine trees before the rugged landscape of the upper páramo comes into play.
Along the way, Juan told us about the páramo's, and indeed the rest of the area's connection with the indigenous Muisca people – perhaps the least known of the four advanced civilisations of the Americas (the others being the Incas, Aztecs and Mayas). They saw the páramo as sacred ground and remnants of their culture can be found on the ascent to the summit.
For instance, on the lower slopes, there are the remains of a birthing pool carved out of a slab of rock. And Juan's explanation of how the birth process was seen by the Muisca as part of the circle of life was both fascinating and heartwarming.
Less so the slab of rock we saw at the páramo summit which was apparently used for child sacrifice. Not quite the circle of life I'd earlier imagined.
Scenery along the lower slopes
But once the green hills and cattle-grazing farmland are left behind, the stark landscape of the plateau welcomes you with a gust of cool wind that demands another layer of clothing from your rucksack. 
This is now the realm of the frailejónes, the gigantic plants of the páramo that grow less than a centimetre per year and yet can live for hundreds of years. There's just a few of them to begin with, clinging to the hillside like guards at an imaginary gate. But, very soon, the whole landscape is dominated by them. So much so that, from a distance, they look like huge flocks of grazing sheep.
They're an unforgettable sight once you get amongst them to appreciate their size and the impact their water retention capabilities have on the environment.
Meanwhile, the views back across and beyond Monguí are just sublime.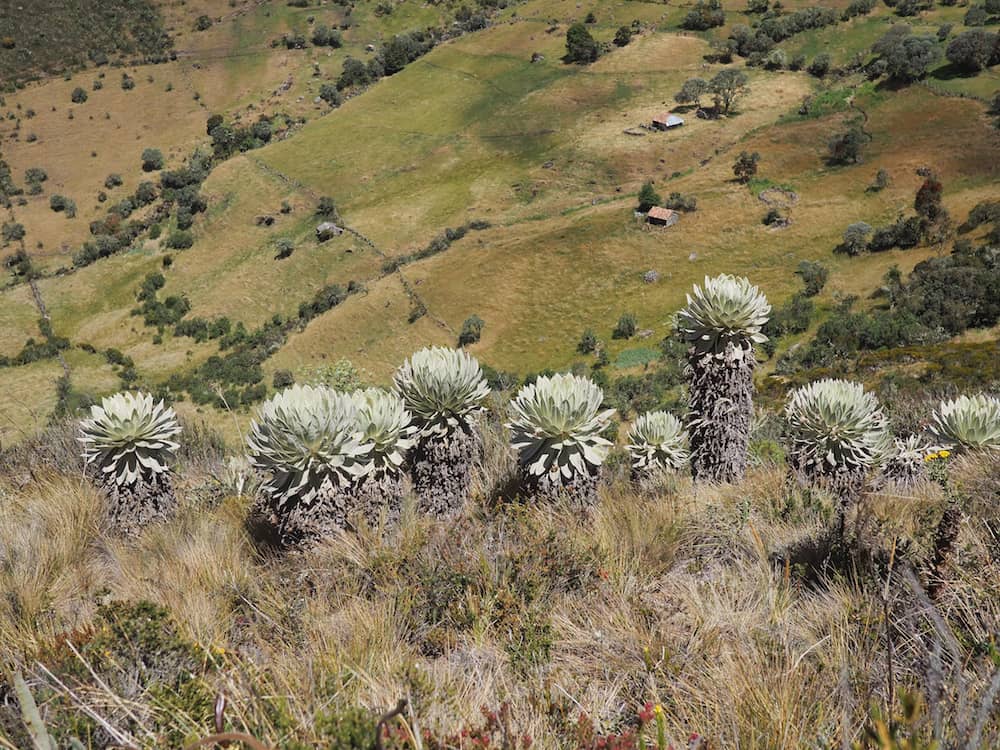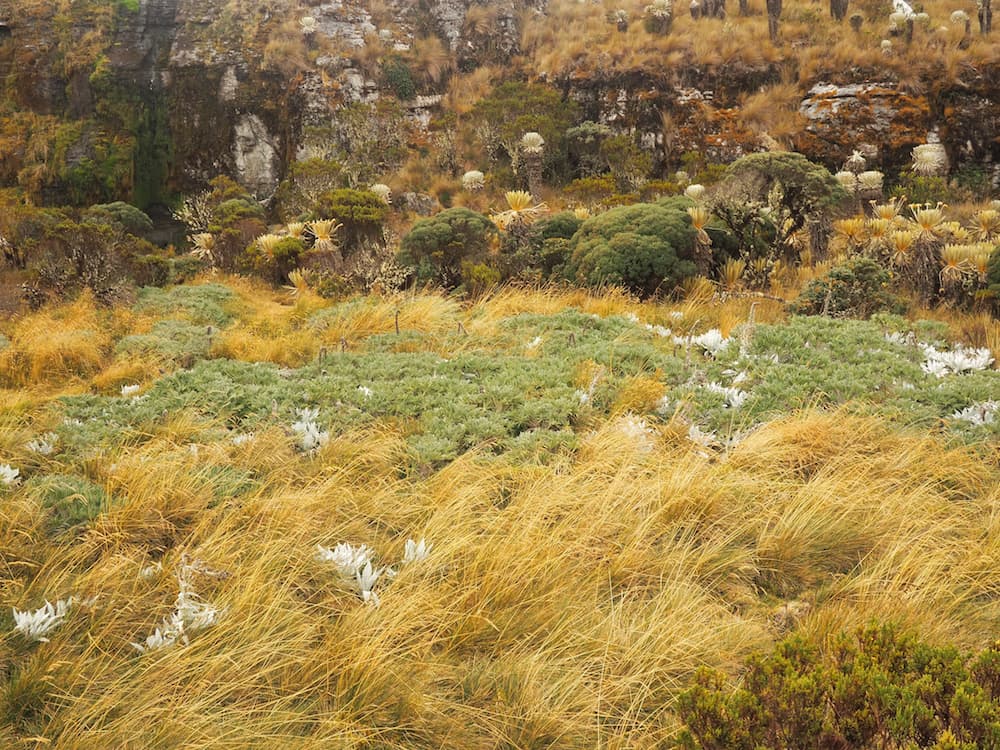 The descent back to Mongui, on the opposite side of the plateau, provides views that look more like Switzerland (without the snow) than Colombia.
And, of course, descending a further 1,000 metres in the space of a couple of hours is a knee-trembling experience that tests the fittest of people. And I don't mind admitting I caught the jeep that another group had ordered for the final stretch into town.
Where, as tradition in our household dictates, an ice-cold beer was summarily dispatched.
Most of the eating and drinking options are centred around the plaza and Carrera 3. 
To be honest, we concentrated our eating on the mobile stalls around the plaza (a pork kebab with potato costing the equivalent of $1) and a fast food joint selling six varieties of salchipapa (an artery-clogging dish of sausage, potato, cheese and a number of sauces). Not something we'd particularly recommend. Even if the bed of lettuce was a nice, though wholly unnecessary touch.
However, we would absolutely recommend you visit La Gloria Café on Carrera 3. With a retro artsy interior and an almost obsessive approach to preparing the perfect coffee, it's by far the most enticing café-bar in town. And if you've never tried a limonada de coco (essentially a coconut and lime smoothie) before then they don't come much better than here.
From Bogotá, you can take a bus to Sogamoso (4 hours+) and then pick up a further bus to Monguí (40 minutes).
From the north, we took a bus from San Gil to Tunja (5 hours) and then another bus to Sogamoso (1 hour 30 minutes).
Because of its relatively straightforward access from Bogotá, Monguí isn't necessarily an off-the-beaten-track destination for Colombians. But, for foreign tourists, it remains outside the typical Gringo Trail. And, as a result, it retains an air of authenticity that some of the more popular destinations lack.
You'll need to pack for cold weather. Most Colombian visitors we saw who weren't covered in a poncho were dressed in ski jackets and bobble hats during the crisp evenings.
But, combined with a visit to Villa de Leyva (article coming soon) it's an excellent destination to see what the department of Boyacá has to offer.
What did you think? Have you been to Monguí or the Páramo de Ocetá? Do you have any recommendations to add? Or perhaps you're thinking of visiting there in the near future? Either way, we'd love to hear from you so please add your comments below.
To help us maintain our site we work with a number of partners who we've personally used and can recommend to our readers. If you decide to purchase any products through the following links, we'll receive a small commission at no extra cost to you. Thank you for your support!
Hi, we're Ian and Nicky, an English couple on a voyage of discovery around the world, and this blog is designed to reflect what we see, think and do. Actually, we'd like to think it also provides information, entertainment and inspiration for other "mature" travellers, too. So please feel free to pour yourself a glass of something suitably chilled and take a look around.