NEPAL: PHOTOGRAPHS FROM THE ROOF OF THE WORLD
NEPAL: PHOTOGRAPHS FROM THE ROOD OF THE WORLD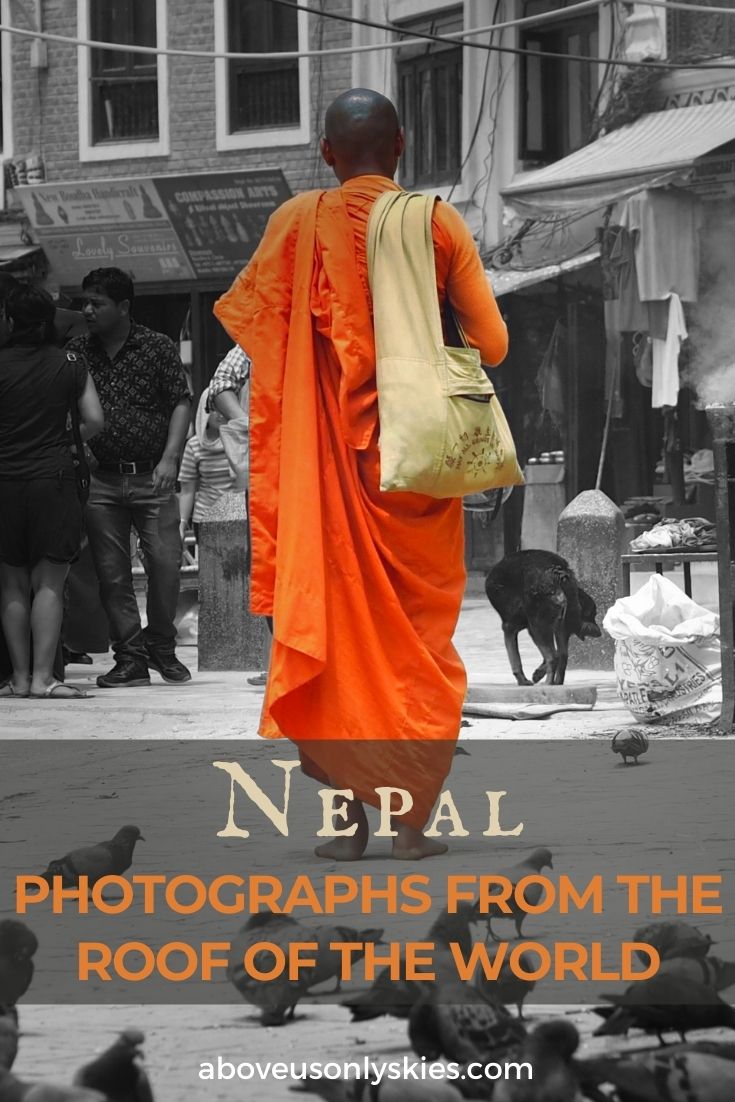 The COVID-19 pandemic has been merciless in decimating the economies of the poorest countries of the world. Especially those that rely on tourism, like Nepal.
It's a country we visited back in 2016, just one year after the devastating series of earthquakes and tremors that rocked the Kathmandu Valley and beyond.
We saw a country that was desperately trying to attract foreign tourists back to its high-altitude trekking in the Everest and Annapurna regions. To once again explore its cultural riches along the Kathmandu Valley. And to venture to its lesser-visited wilderness and jungle areas in the south.
Indeed it enjoyed a measure of success in that international tourist numbers more than doubled between 2015 and 2019, before collapsing in 2020 when the pandemic hit.
But now, as the country struggles to contain a new surge of COVID-19 cases, it arguably faces an even bigger challenge in attracting back such numbers in the foreseeable future. Which would be a shame, because it's a country with a lot to offer anyone who enjoys spectacular scenery and immersing themselves in a culture rich in tradition and incredible architecture.
So it's with this in mind that we've put together some of our favourite photographs from our 2016 visit to give you an insight into the country. And perhaps inspire you to consider Nepal as one of your post-COVID destinations of choice.
A Buddhist wall shrine in Bhaktapur
The response to the 2015 earthquakes – which killed 9,000 people, injured 22,000 and destroyed 700,000 homes – was well-meaning, but painfully slow. To the point where, four years later, some 100,000 people were still living in temporary shelters constructed from wood and tin.
Obviously, the difficult terrain would have hampered recovery.  But, as a result of political squabbling and a lack of local government infrastructure, the worldwide relief aid that poured into the country didn't materialise where it was most needed. Something we heard a lot from people we spoke to in Bhaktapur, back in 2016.
Known as "The City Of The Temples", Bhaktapur was recognised before the earthquake as perhaps Nepal's best-preserved ancient city. Something we tried to picture as we wandered around the rubble-strewn lanes, where bricks from demolished buildings were stacked loosely in anticipation of their restoration at some point in the future.
A side street in Bhaktapur lined with stacks of bricks
A side street in Bhaktapur lined with stacks of bricks
Certainly, there seemed to be very little restoration work going on while we were there. But, amongst the rubble, dust and scenes of destruction, people were stoically going about their daily business – shopping in the market, chatting on doorsteps and playing cards in half-demolished courtyards.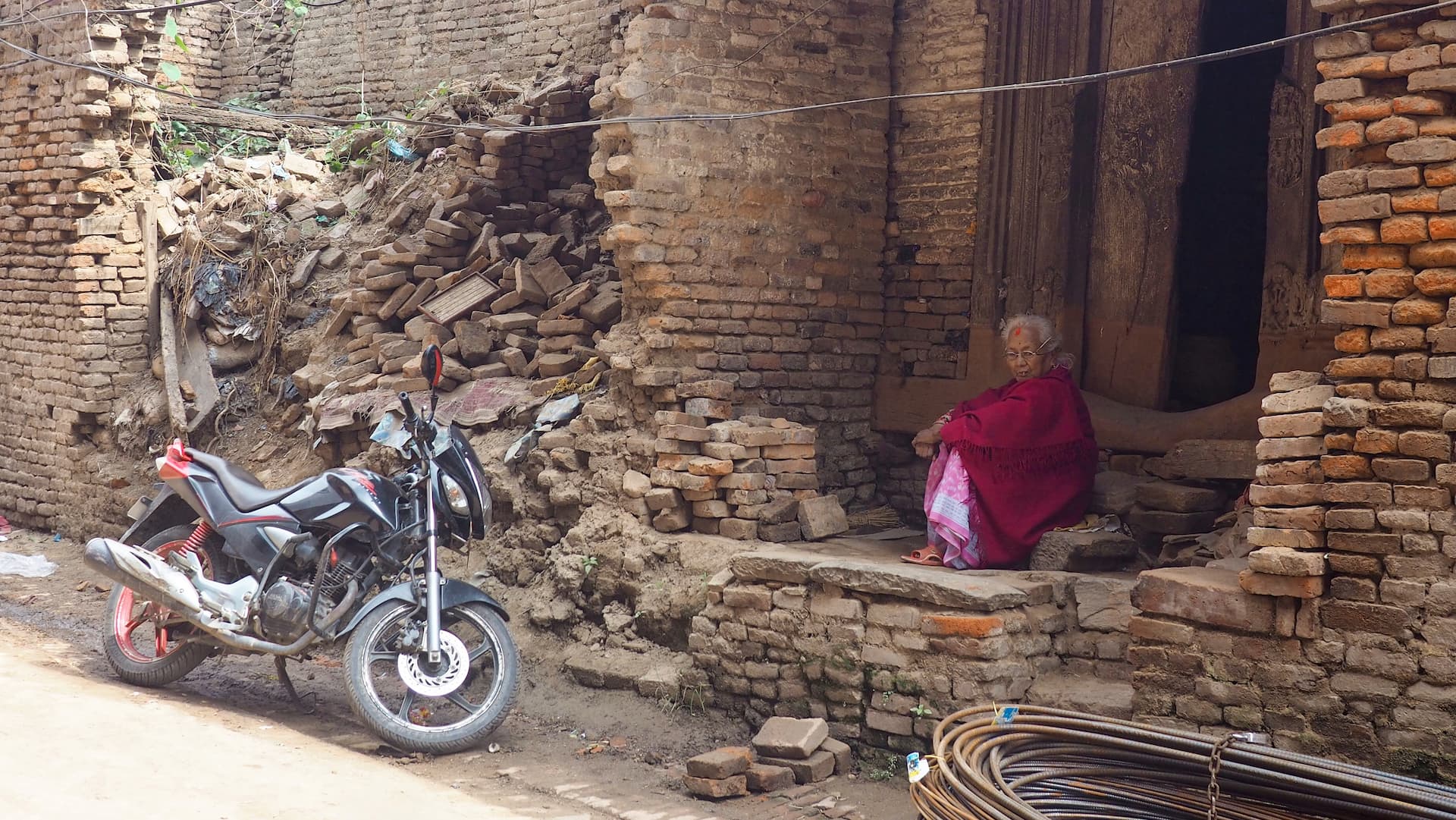 Hardly any of the city's buildings – or its people – escaped the devastation
Hardly any of the city's buildings – or its people – escaped the devastation
In many places, buildings that hadn't already collapsed were supported by long planks of wood that were wedged between the outer wall and the street below. Indeed, many of the temples in the city's historic Darbar Square were also propped up in this way.
Wooden supports crisscross the street
Aside from its temples, some of the most striking features of Bhaktapur's architecture are its traditional Newãr houses. Combining brick with intricate wooden carvings –  especially around the windows – they're particularly common in the Kathmandu Valley.
And in Bhaktapur, perhaps the most famous example of a Newãr window in the entire Kathmandu Valley is the 15th-Century Peacock Window. Which looked in remarkable condition considering that the wall it's surrounded by was damaged by the earthquake and had to be rebuilt.
Another feature that sticks in our memory is the bald-faced cheek of the local goats who'd commandeered some of the temples to use as places to hang out. And who can blame them.
Goats taking a well-earned rest courtesy of the Tachapal Bhimsen Temple
In a country blessed with hundreds of Buddhist stupas, one of the world's largest is the Boudha Stupa in Boudhanath, some 11 kilometres from Kathmandu. With its set of "all-seeing eyes" watching out in four directions, it's been a magnet for pilgrims and tourists alike.
Alas, it suffered major damage to the gilded tower that sits above its whitewashed dome, so wasn't open when we visited. However, the bustling atmosphere in the circular perimeter surrounding it was still as vibrant as we could have imagined. The sight of monks in their orange and maroon robes. The sweet smell of burning incense. And the din coming from helpful locals as they stood in line to ferry building materials up to the stupa's dome.
It actually reopened in November 2016 after a restoration cost of $2.1m, including an extra 30kg of gold.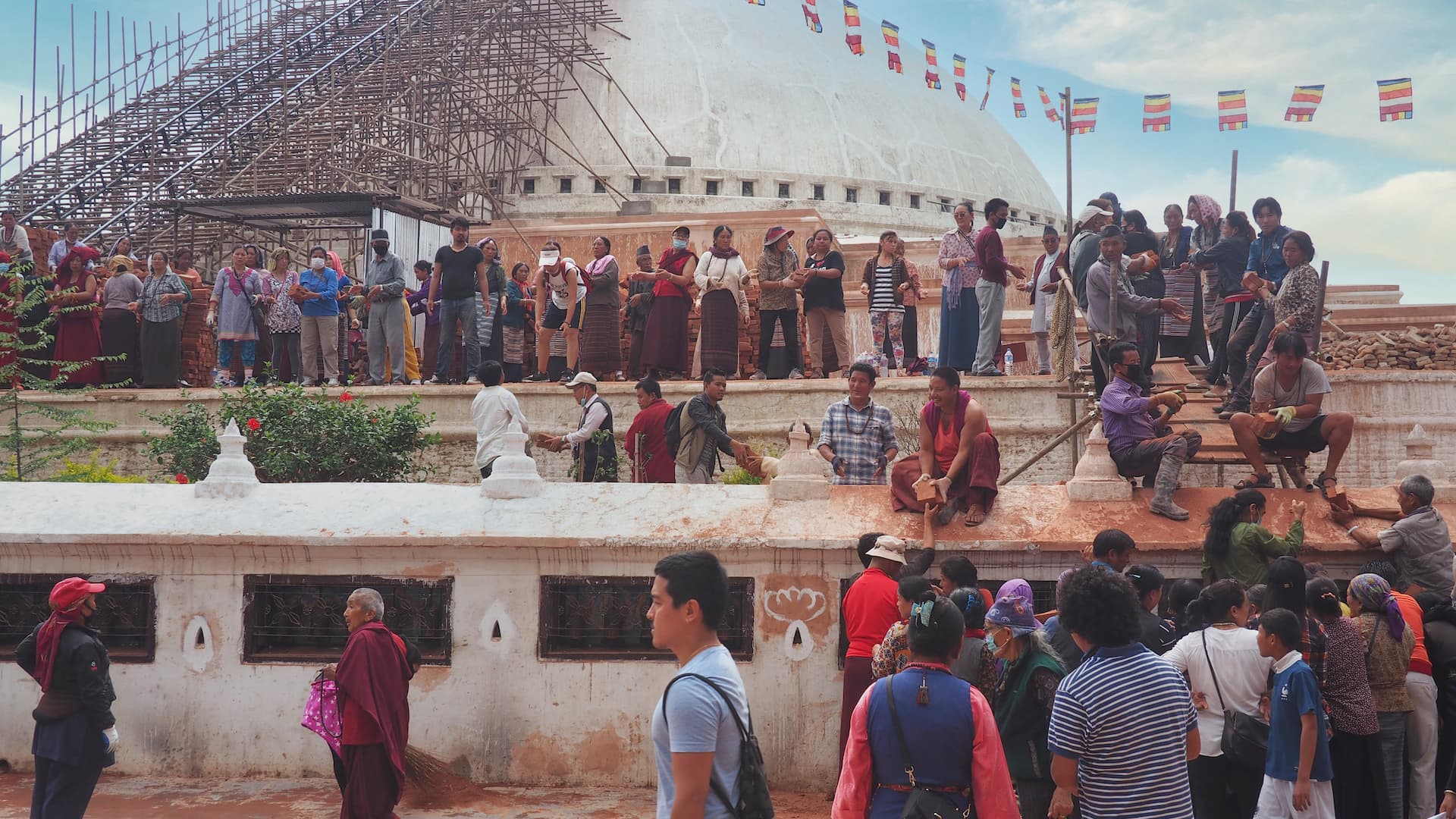 Local people do what they can to help the restoration of the stupa
In addition to the burning of incense, the lighting of candles in front of Buddhist shrines is a mark of respect. And it also represents light in the darkness of life. So their presence all around seemed pretty apt to us in given the events of the previous year.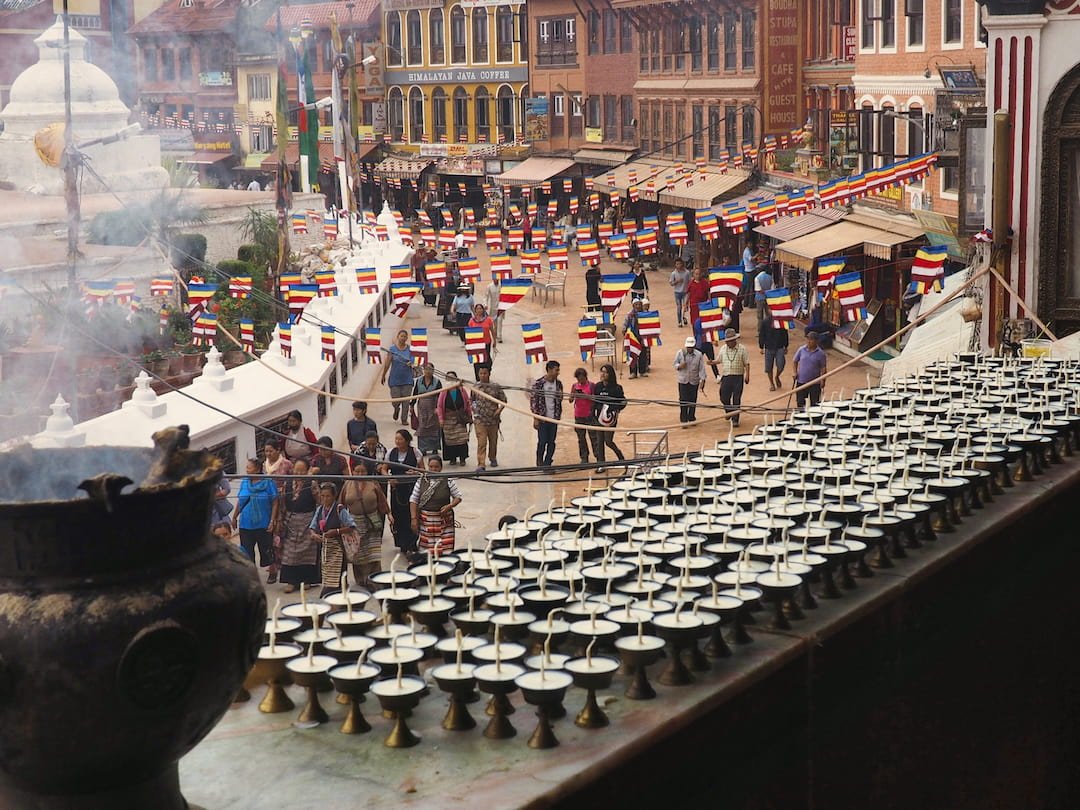 Incense burns and candles are prepared in a temple overlooking the stupa
And, of course, monks were everywhere. Which is not surprising given the stature of the stupa within Buddhism. Indeed, many of the monks walk around the stupa at least three times each day chanting the ancient Buddhist mantra, "Om Mani Padme Hum" (literally translated as "Praise to the Jewel in the Lotus").
We caught a photograph of this monk gathering "alms" – a practice that comes from the disciplinary rules for monks that include only being allowed to eat what is offered in their bowls each morning as part of their "alms rounds".
A monk gathers alms around the stupa
Hiking (or "trekking" as it's referred to in these parts), is largely centred around two areas – Mount Everest and the Annapurna region. We chose to take a
nine-day trek
in the latter, from Pokhara to the little-visited Khopra Danda.
In truth, we probably chose the wrong time of year to do it as the May weather was typically blighted by a constant haze which rendered visibility of the mountains almost impossible until we climbed above a certain altitude.
But once we rose above the haze, the full glory of spring in the Himalayas presented itself. Beginning with the colourful rhododendrons which carpeted the hillsides with their blooms of red, pink, white and magenta.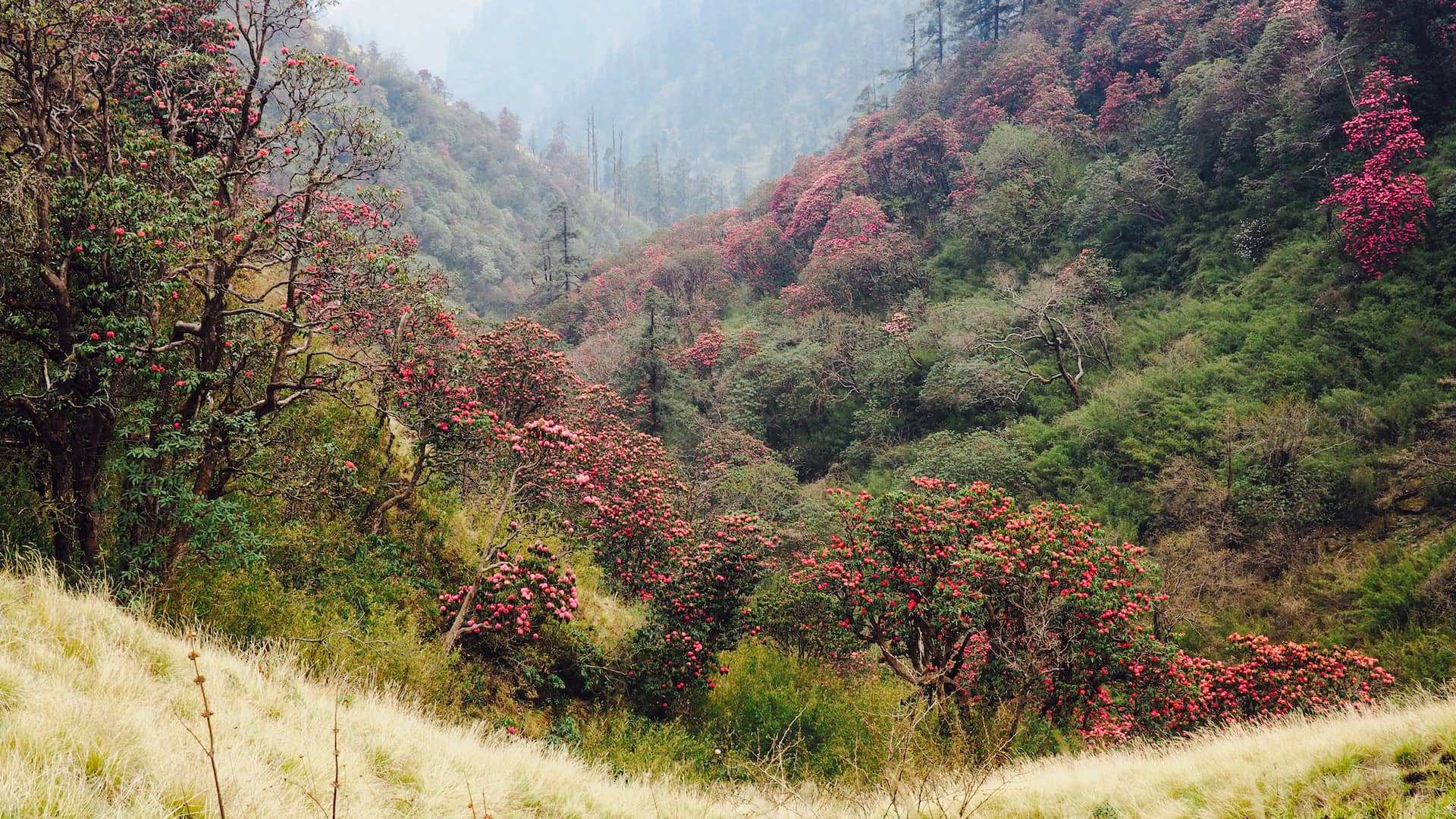 A rhododendron field en route to Khopra Danda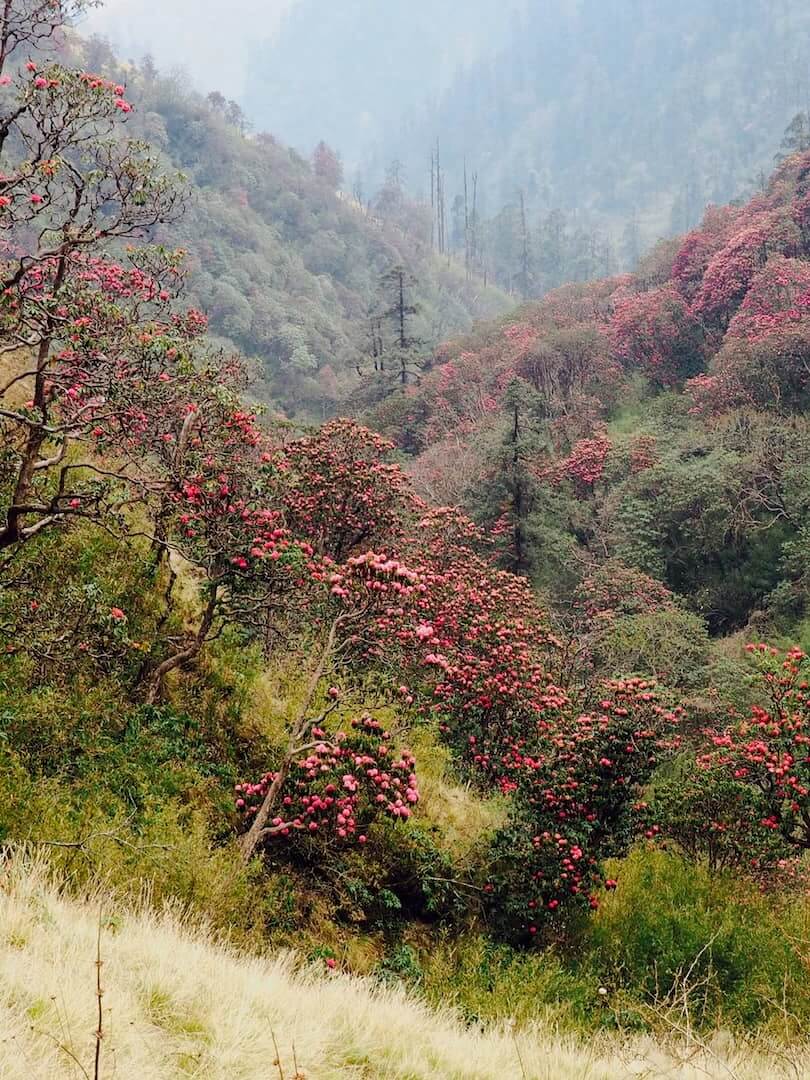 A rhododendron field en route to Khopra Danda
As trekking in the Annapurna region is very popular, some of the trails can get busy. But our idea of spending quality time in the Himalayan wilderness doesn't include waiting in a queue for the trail in front of us to clear.
Happily, the Khopra Danda trek was almost devoid of other people. Better still, we had the additional trail to the remote Khayar Lake at 4800 metres all to ourselves. And, after all that haze, the sight of the snow-covered Annapurna range reaching high into the cloudless blue sky made all the effort to get there worthwhile.
Just ourselves and the high Himalayas
Just ourselves and the high Himalayas
Still, there was evidence of farming – even at this high altitude – in the form of goat and yak shelters that dotted the rugged landscape.  Their skeletal appearance made them look like long-abandoned houses, reduced to mere shells after long exposure to the elements.
Animal shelters en route to Khayer Lake
Animal shelters en route to Khayer Lake
Indeed, we'd been excited about seeing yaks for the first time. Which might sound like we don't get out very much. But, to us, yaks are as synonymous to the Himalayas as llamas are to the Andes. And, of course, sheep to Wales.
But we were even more excited about trying yak's cheese. Which turned out to be rather like Dutch Gouda instead of the soft goat's cheese texture we'd been expecting. Nevertheless, it was an unexpected treat to break up the daily ritual of eating rice, lentils and vegetables.
We managed to get a photograph of this one as he grazed to the side of a larger herd.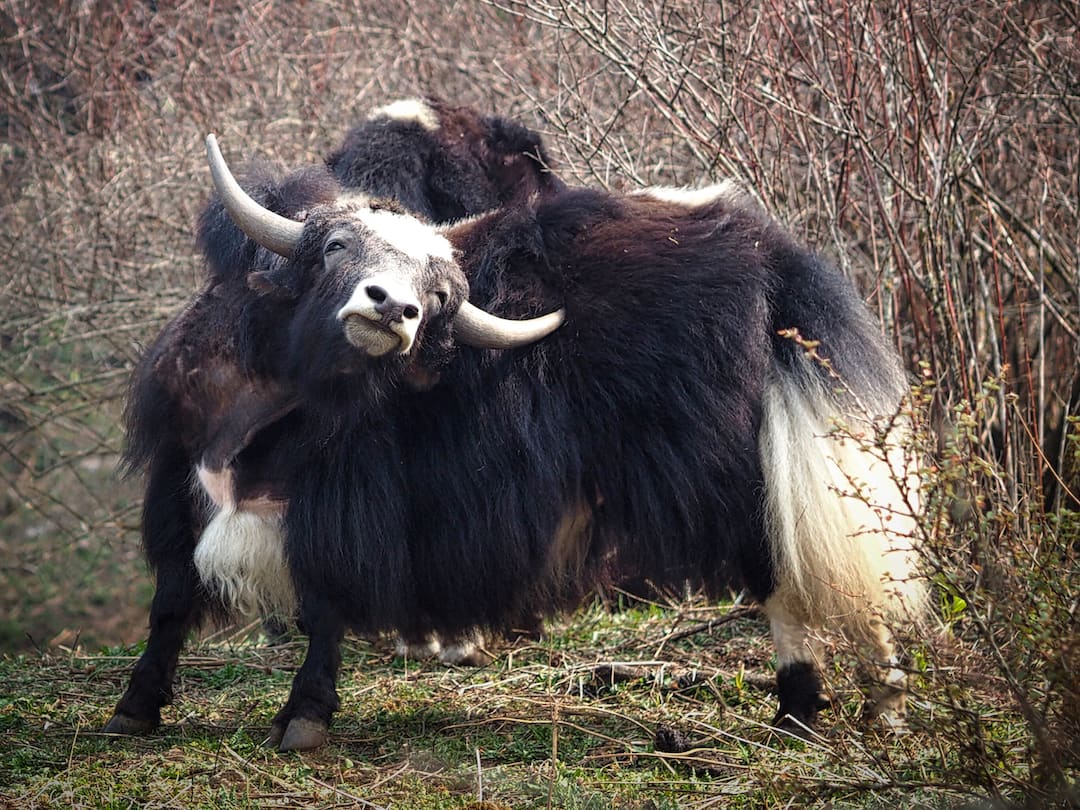 Speaking of food, there were some highlights other than yak's cheese.
The fact that our daily feast of Daal Bhat (lentil curry served with rice, vegetables, pickle and a papadom) came with unlimited top-ups was a quantity-over-quality bonus. And the ravioli-like momos – served with a spicy sauce – was a lunchtime favourite.
But our most memorable dish was the simple breakfast we enjoyed on our terrace in the lovely village of Ghandruk. Consisting of a small bowl of lentil soup and a freshly prepared circle of wheat, millet and corn Gunung bread – shallow-fried and hot – it was a taste sensation.
Gunung bread and lentil soup – same again, please!
Suffice to say, we feel as if we have unfinished business in Nepal. We'd love to see more of the mountains – perhaps in the autumn this time. Not just in the Annapurna Range but also over in the Everest area. And we'd love to spend more time exploring some of the remoter areas in the south.
But, more than anything, we'd love to think that the people of Nepal can come out of the current dire situation with a renewed sense of hope and optimism. Especially if international tourism returns to the same levels as it was before.
That won't be easy for sure. The double whammy of the earthquake and the pandemic is a body blow that will be hard to recover from. But, for a nation that sits proudly on the rooftop of the world, it's something that must happen as soon as it's safe enough to do so.
A lady we met and who walked with us on our descent from Khopra Danda
Visit our Nepal home page for more posts and a wealth of additional information to help you plan your trip.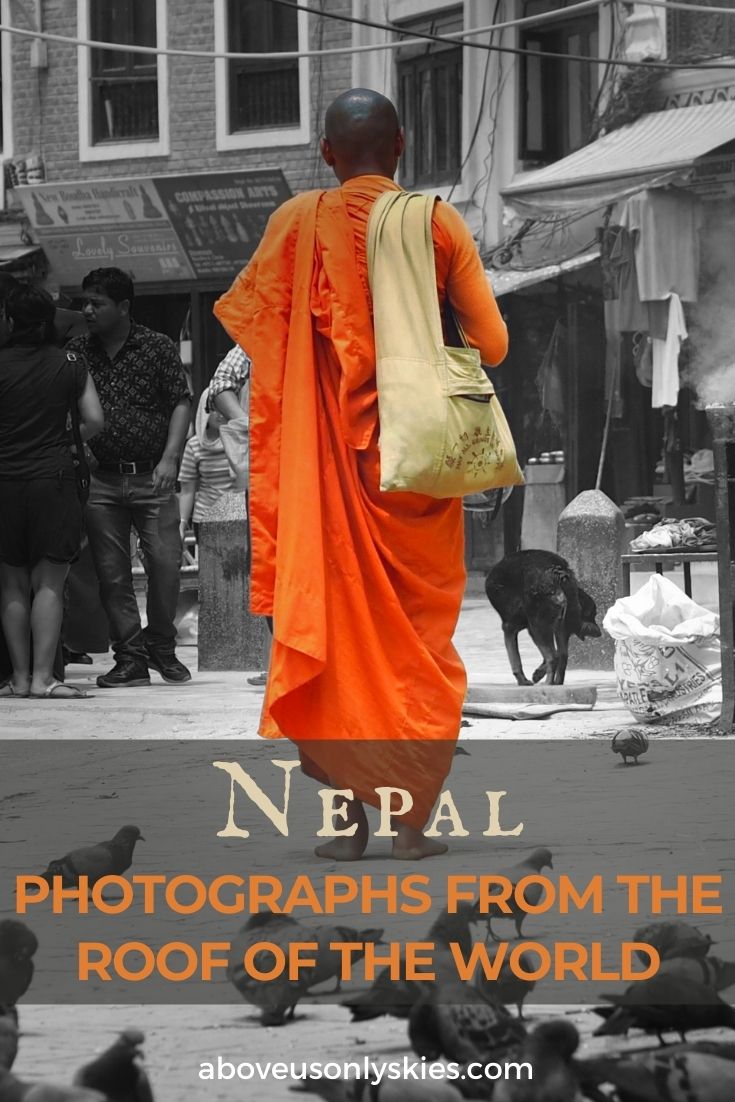 Hi, we're Ian and Nicky, an English couple on a voyage of discovery around the world, and this blog is designed to reflect what we see, think and do. Actually, we'd like to think it also provides information, entertainment and inspiration for other "mature" travellers, too. So please feel free to pour yourself a glass of something suitably chilled and take a look around.