NORTHERN CALIFORNIA – THE ULTIMATE ROAD TRIP ITINERARY
NORTHERN CALIFORNIA – THE ULTIMATE ROAD TRIP ITINERARY
The road hugged the granite walls beside the Kings Canyon Scenic Byway as it snaked its way down towards the valley floor. Sandwiched between us and the sheer cliffs opposite was a drop hundreds of feet down to the whitewater rapids of the Kings River. We pulled over once more to take a closer look and drink in the serenity of the place. And as we approached the cliff edge to peer over we realised that we were all alone in this majestic mountain landscape. 
A Northern California road trip is something to be savoured. After all, with an incredibly varied landscape that includes a wild and rugged coastline, sweeping rural vistas, 3000-year-old giant trees, jaw-dropping canyons, fantastical glacial valleys and high altitude mountain lakes, it's not something to be rushed.
In all, we spent 15 days driving 1500 miles in a campervan on a loop that took us from San Francisco heading south, east, north and west. And, as it was during the second half of May, the high season was just in its infancy. Which meant relatively small crowds (apart from Yosemite) and decidedly changeable weather.
Our vehicle of choice was a campervan rental because it gave us the flexibility of staying in national and state park campsites while enjoying the relative luxury of a comfortable bed. Not that we don't mind roughing it, you understand. But those night-time temperatures in the high altitude Sierra Nevada mountains dip perilously close to freezing during May!
Ultimately it was a road trip that ranks with the best we've ever done. And we'd encourage anyone who loves the Great Outdoors to hit the road just as we did.
Interested? Well, here's our guide to how, where and why.
Contents
This page contains affiliate links. To help us maintain our site we work with a number of partners who we've personally used and can recommend to our readers. If you decide to purchase any products through the links on this page, we'll receive a small commission at no extra cost to you.
Unless you're into driving around in an RV the size of a medium-sized house, we can heartily recommend looking at Escape Campervans for your vehicle. Not because we've signed up with them to pay us an obscene amount of money to plug them (we haven't and they're not) but rather that we're more than happy to endorse them as part of this post.
Why?
One: our hand-painted campervan (essentially a customised Ford Transit) was brilliant. Great to drive with kitchen facilities at the back and an internal seating/dining area that converted into a comfortable Queen-sized bed. And the paint job was eye-catching, to say the least (which was reflected in its fleet name, The Gobstopper). No problems spotting it in a Safeway car park!
Two: the service we received was impeccable – from booking online, to picking it up and dropping it off.
Three: we found it great value for money. Having taken advantage of their "early bird" offer, our 15 nights rental cost $1150 – or just over $76 per day.
Note: if you choose an Escape campervan you'll pick it up from Hayward in the East Bay area, which is about 25 miles southeast of San Franciso's centre. But that's OK as you'll just need to cross the bay on nearby Mateo Bridge (Highway 92), which brings you on to Highway 1 at Half Moon Bay.
The Pacific Coast Highway
The trip south from San Francisco on Highway 1 (aka the Pacific Coast Highway) all the way down to San Diego is one of THE great road journeys. And you don't have to wait long before you get an understanding of what all the hype is about.
Indeed, after turning south at Half Moon Bay the road hugs the coast like its life depends on it. And doesn't let go for most of its 560-odd spectacular miles. Of course, our route won't cover the full length – we'll turn off after 150 miles-or-so. But what you get in return is a drive sandwiched between sweeping, empty beaches caressed with endless waves of surf and rugged green hillsides. If only campervans came with retractable roofs.
Along the way, and if you have the time, there's the option to stop off at the traditional American seaside town of Santa Cruz, or the more upmarket peninsula surrounding Monterey and Carmel. To be honest, we pressed on to our campsite in Big Sur instead. And there was still plenty of awesome coastline to enjoy as we crossed Bixby Bridge into Big Sur proper.
Approaching Big Sur, with Bixby Bridge in the background
Generally regarded as the most beautiful stretch of coastline on the whole Pacific coast, the Big Sur section is 90 miles of pure eye-popping magnificence. Sandwiched between the Santa Lucia Mountains and the wild, rocky Pacific coastline, the road twists and winds on an almost endless quest to find the ultimate picture postcard experience.
Highlights for us included the hidden Pfeiffer Beach (one of the few in Big Sur that are actually accessible) and Julian Pfeiffer Burns State Park, encompassing the fairytale McWay Falls which cascades over a cliff-edge 80 feet (24 metres) onto a pristine beach below. Picture postcard perfect indeed.
For an easy away-from-it-all experience though, check out the short hike to a small peninsula looking out across to Plaskett Rock. Situated just off the road south of Plaskett Creek Campground, the easy hike leads through meadow and thick bush before opening out over cliffs, where monster surf rolls in and crashes against the rocks below. A perfect picnic spot as you look back towards the expanse of Sand Dollar Beach. Enhanced immeasurably for us by the sight of two grey whales passing Plaskett Rock and onwards across the bay.
One of the highlights of the whole trip right there.
Note: A major landslide in 2017 caused a section of the road to be closed at Gorda – which was still the case when we visited in May 2018. As a result, we didn't venture further south, although the southern section of the road could still have been reached after a pretty hefty diversion. Once it reopens you can continue south as far as Cambria and still pick up our route onwards to Sequoia National Park at Paso Robles via Highways 46 and 101.
Off-shore rocks and whitewater
There are plenty of campground options but, if you're not careful, they'll be solidly booked out if you don't plan in advance. And bear in mind that if you get there and everywhere is full, it's illegal to park off the road.
We split our time (three nights) between the forest-enclosed Pfeiffer Big Sur Campground and the more intimate, cliff-top Kirk Creek.
Yet another idyllic Big Sur beach
Because of the road closure at Gorda, we took an over-the-top route to Highway 101 via the Nacimiento-Fergusson mountain road opposite the Kirk Creek Campground. We'd been warned that it was a tough, narrow drive with unguarded sheer drops of two-thousand feet. Nonsense! It's actually a beautiful, winding drive with great views back down to the coast before heading inland through forest, farmland and, finally, on towards Highway 101's vineyards on the approach to Paso Robles.
Then, on Highway 41 between Paso Robles and Visalia, the landscape turns to semi-desert and huge open spaces. The sheer diversity of it all is simply stunning.
Our destination was Potwisha Campground on Highway 198, just inside Sequoia National Park. All of the campgrounds higher up in the park are on a "first-come-first-served" basis so in the peak season, Potwisha serves as an ideal base to get up early the following morning and drive up to claim your space at the excellent Lodgepole Campground before everyone else arrives.
The Nacimiento-Fergusson Road climbs above Kirk Creek Campground, Big Sur
People visit Sequoia National Park because of it's claim to fame as the home of the General Sherman tree – the world's largest. But, the park is much more than just that.
If you've never seen a sequoia up close before – which is likely as they only grow in the Sierra Nevadas – then it's difficult to appreciate the sheer scale of these giants. In fact, just wandering amongst hundreds of them in Giants Forest is a humbling experience. Especially if you combine it with some of the trails around Crescent Meadow.
There are also more strenuous trails up to the granite dome summit of Moro Rock and further afield to hidden lakes higher up in the mountains.
Spend a couple of nights at Lodgepole and take advantage of its close proximity to star attractions such as General Sherman and Moro Rock by getting up as early as possible after dawn and having them all to yourself.
The base of a mighty sequoia beside Crescent Meadow
If you thought the drive thus far was pretty exceptional then you're in for a real treat on the way to neighbouring Kings Canyon National Park. Initially, you'll continue beyond Lodgepole Campground on Highway 198 with its pine forests and fantastic views over Sequoia National Park.
Then, after turning on to Highway 180 you'll arrive at Grant Grove. Further sequoia forests await here but, to be honest, by now you're probably not inclined to see more of the same.
So instead, continue on for a further 30 miles or so down to one of the campgrounds around Cedar Grove. Along the way, you'll drive through some of the most glorious scenery of the whole trip. Just make sure you've got plenty of gas in the tank as it's one way in and one way out. And it's all uphill on the way back.
The good news is that there are plenty of places to pull over as you make your long descent into the valley. And pull over you will as immense vistas of distant mountains come into view before everything narrows and you find yourself winding through a narrowish gorge along with Kings River raging hundreds of feet below.
Finally, everything levels out as you reach the valley floor and the route continues alongside the river. And don't miss Grizzly Falls on your left before you reach Cedar Grove.
The Kings Canyon Scenic Byway
Kings Canyon National Park
Actually deeper than the Grand Canyon in Arizona, Kings Canyon is an under-visited gem which deserves a bigger audience. But then again, the relative crowd-free atmosphere just adds to its allure.
Despite its close proximity to Sequoia National Park, it's a completely different experience. Indeed, it's towering monolithic cliffs are more aligned to Yosemite Valley further north.
Things to do here include a range of walks along the valley floor and up into the backcountry. Roaring River Falls and Zumwalt Meadows are great places to start. And for a spectacular view across pine-clad wilderness to a rock formation called The Sphinx (for reasons that become obvious) take the trail to Mist Falls. It's a 12-mile round trip from Zumwalt Meadow but so worth it!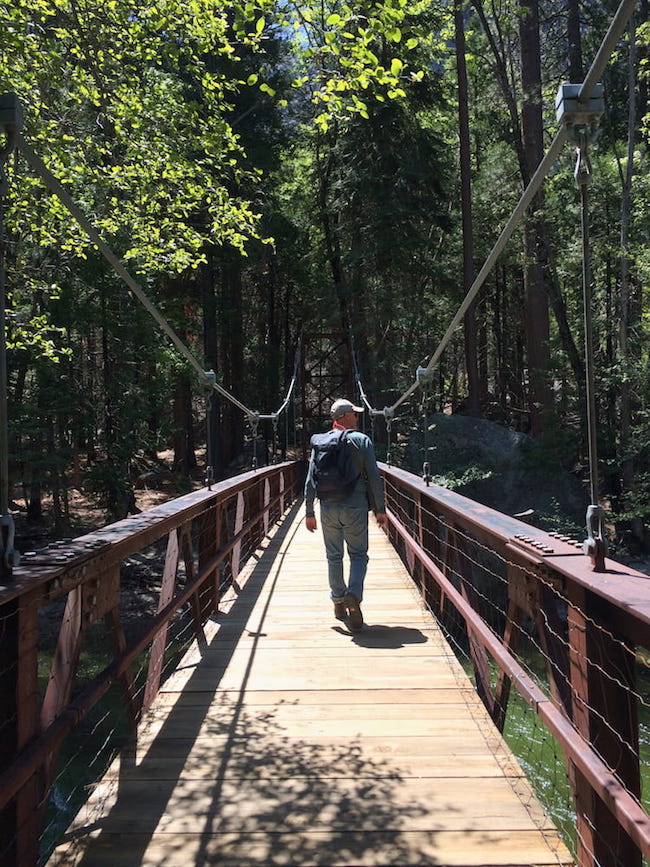 The crystal clear waters of Kings River
We stayed at Sentinel Campground as it was the only one open at this time of the year. And even then it was only quarter-full.
To be honest, we loved Kings Canyon so much we could easily have spent a few days there. But Yosemite Valley was beckoning and we had a whole host of things we'd planned to do there. Before we left we got talking to a group of old boys who couldn't understand why we were leaving this tranquil and astonishingly beautiful place to fight our way through the crowds further north. And we really did struggle to give them a coherent reply.
So, if you can fit some time into your schedule, try and find an extra night. Just for us.
A stunning view across the valley to "The Sphinx" from the Mist Falls Trail
OK, I'll give it to you straight. Yosemite Valley gets crowded.
But that's where the negatives end.
It's truly the most astonishing place we've ever seen. Sublime scenery, huge waterfalls, incredible rock formations, amazing hikes. It's an outdoor lover's wet dream.
Suffice to say, you can read about how to spend three days there in our essential guide. But with world-class sights such as Yosemite Falls, Glacier Point, Taft Point, Half Dome, Nevada Falls and El Capitan all within easy reach of each other, it's no wonder that it's the USA's third most popular National Park.
If you want to stay in one of the valley's preciously few campgrounds you'll need to book well in advance. Alternatively, you can opt for a campground just outside the park and then drive in each day. We stayed at Summerdale Campground just outside the park on Highway 41 and found it to be perfectly fine. And a shout out to the wonderfully welcoming camp host, Gina who made our already pleasant stay somewhat special.
You'll have gathered by now that we like getting up early to beat the crowds whenever we can. And nowhere is that more relevant than in Yosemite. Especially at Glacier Point, an unbelievable viewpoint that looks out over the valley's standout attractions. Believe me, parking up at nearby Washburn Point and eating a freshly cooked breakfast while gazing over to the monolithic Half Dome and dual waterfalls of Vernal and Nevada Falls isn't a moment you're likely to forget in a hurry.
Yosemite Valley from the Upper Yosemite Falls Trail
Yosemite would seem to be a perfect climax to any road trip. But wait a minute, we haven't finished yet.
Although it's a good six-hour drive from Summerdale Campground to Sugar Pine Point State Park at Lake Tahoe, it's another mesmerising journey. Not least the section on Highway 120 (aka Tioga Road) across the northern extremity of Yosemite National Park to Lee Vining. It's a high-altitude wilderness of stark beauty which is only open for traffic during the summer months. We were lucky enough to pass through on the day it re-opened.
Don't miss pulling off the road at Olmsted Point. The view back to Yosemite Valley – and the unmistakable Half Dome – is worth lingering over.
At Lee Vining, you'll then head north on Highway 395 before joining Highway 89 to Lake Tahoe.
View of Half Dome in Yosemite Valley from Olmsted Point
And, finally, you'll reach Lake Tahoe. At an altitude of over 6,200 feet (1900 metres) it's both a major winter and summer tourist destination. At the tail end of May, however, it's very much shoulder season and the campsites are either empty or closed.
South Lake Tahoe is a typically American tourist strip of chain hotels, restaurants, bars and shops. However, pass through it on Highway 89 and you'll find yourself on the beautiful west coast of the lake.
If it's open, stay in the DL Bliss State Park Campground, especially if you can book into one of the pitches beside the lake. We ended up at Sugar Pine Point State Park Campground as it was the only one open in the area.
If there's one hike to do while you're there it would have to be the six-mile Rubicon Trail, which follows the lake shore of both D.L Bliss and Emerald Bay State Parks. Bear in mind that it's six miles one-way so you'll need to factor in the walk back. Unless you want to turn back once you've reached the quirky mansion of Vikingsholm.
It's a fairly undemanding yet gorgeous hike, which may come as a welcome relief after the exertions in Yosemite.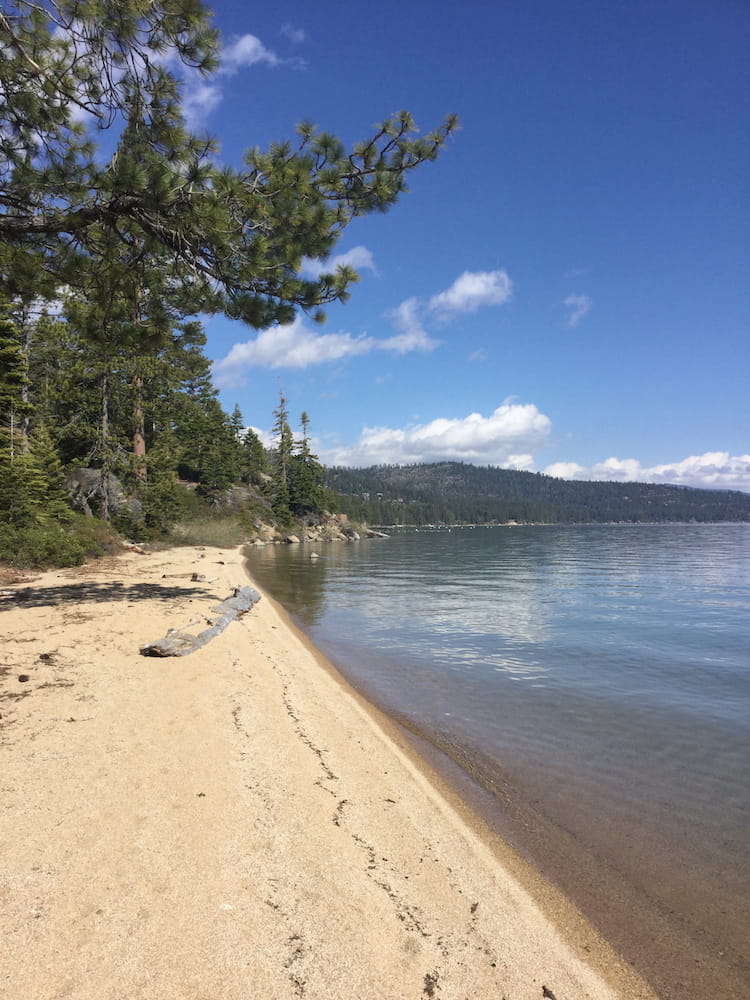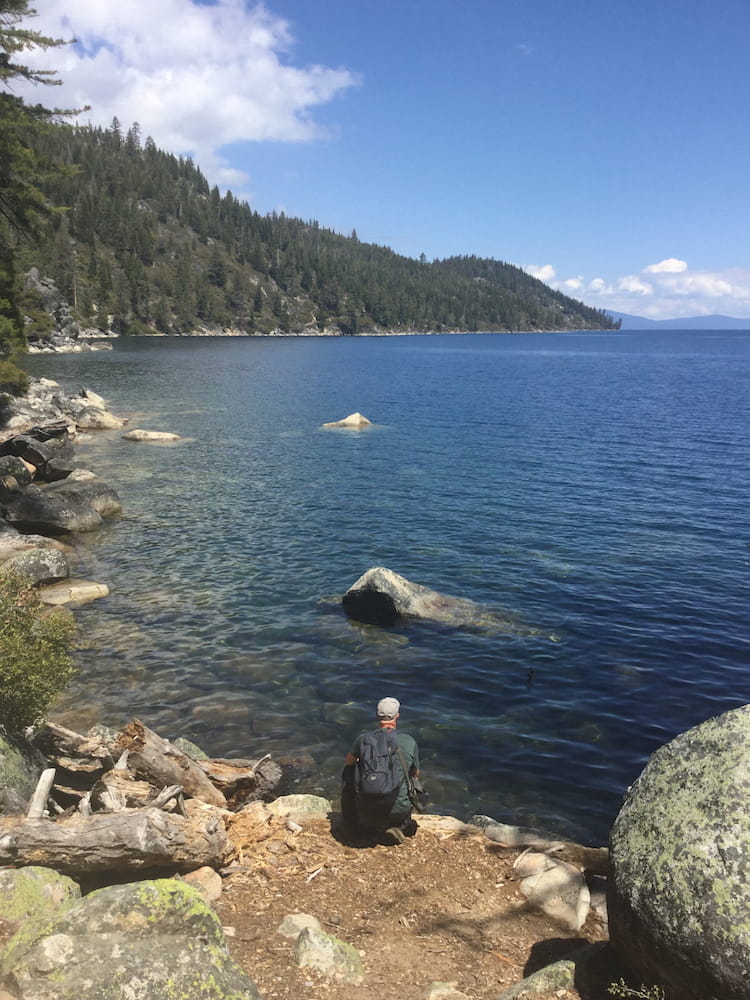 Elsewhere, there are enough things to do in and around the lake to last you a week or more. For instance, a drive around the lake perimeter discovering beaches such as Sand Harbor or Secret Cove. Or kayaking on the calm, crystal clear waters. Or perhaps taking a trip into the surrounding mountains for more challenging walks and spectacular views.
Meanwhile, if you're into extreme challenges and have a four-wheel drive vehicle, there's the 22-mile road version of the Rubicon Trail to consider.
Just be prepared for plenty of crowds if you're going in high season.
Emerald Bay State Park, Lake Tahoe
Return west to San Francisco
And then, all that remains to do after Tahoe is to head back west towards San Francisco to drop off the camper van. If you've gone with Escape Campervans that means dropping it off by 10 am if you want to avoid a further full day's charge. We actually headed back the day before and stayed overnight in a meadow near to Livermore, giving us enough time the following morning to arrive in good time.
Just enough time, too for an impromptu visit to the excellent Altamont Beer Works in Livermore for some reflection over one or two craft beers on what had been a sublime road trip.
The scene of our final night, near Livermore
What did you think? Have you been on a Northern California road trip? If so, do you have any suggestions to add? Or maybe you're thinking of planning a trip soon? Either way, we'd love to hear from you so please add your comments below.
To help us maintain our site we work with a number of partners who we've personally used and can recommend to our readers. If you decide to purchase any products through the following links, we'll receive a small commission at no extra cost to you. Thank you for your support!
Hi, we're Ian and Nicky, an English couple on a voyage of discovery around the world, and this blog is designed to reflect what we see, think and do. Actually, we'd like to think it also provides information, entertainment and inspiration for other "mature" travellers, too. So please feel free to pour yourself a glass of something suitably chilled and take a look around.