THINGS TO DO IN PANAMA CITY ON A BUDGET
THINGS TO DO IN PANAMA CITY ON A BUDGET
Panama City isn't exactly considered a budget destination for many. And it's true that you could easily spend a small fortune if you decide to include all the "must-do" sights on organised tours and eat out at the many international restaurants.
But there is another way. One that includes a bit of insider knowledge and a willingness to see the city's iconic sights on foot.
And here's our guide on how to do just that.
This page contains affiliate links. To help us maintain our site we work with a number of partners who we've personally used and can recommend to our readers. If you decide to purchase any products through the links on this page, we'll receive a small commission at no extra cost to you.
Use the Metro to get around
The city's Metro system is a cheap, reliable and safe way to get around. In fact, we found it a far better bet than the yellow taxis you'll see everywhere.
You'll need to buy a Rapi>Pass card as you can't pay for fares in cash. They can be bought for $2 from machines in the metro stations. And then you'll need to load them up using dollar bills.
Each journey within the city costs 35 cents no matter the distance so you can get a reasonable idea of how much you'll need to load for your visit. And, because we're particularly hardcore cheapskates, we shared one card and just handed it between us through the turnstiles.
Once loaded you'll then be able to use the card on all Metro trains and buses.
So, if you arrive in Panama City by bus at Allbrook Station, simply buy and load up your Rapi>Pass card, find the nearest station to your hotel and leave the yellow cab drivers to argue the toss with somebody else.
Note: we used maps.me to find the walking route from the station to our hotel.
Unfortunately, if you arrive by plane to Tocumen Airport, it's a different story. The good news is that the fare by bus for the 35km journey into the city centre is just $1.25 (compared to $25-$30 by taxi). The bad news is that there aren't any card machines at the airport so the only way to take advantage of this is to make your way to the bus stop and ask a local to swipe you through with their card and repay them the cash!
If you fancy trying that, here's a good article that describes how to find the bus stop.
Of course, if you're flying back out, you can use your Ravi>Pass and take the bus in the opposite direction.
The metro rail system is still largely under construction. Line 1 is currently in full operation but there are a number of other lines either under or planned for future construction.
If you do decide to take a yellow cab, agree on the rate before you get in the car and write it down. And don't hesitate to negotiate – we were quoted ridiculous rates for short journeys and ultimately just walked away. Alternatively, if you have a phone then just order an Uber instead.
All the Metro stations on Line 1

For the quintessential Panama City walking experience take the train to either Iglesia del Carmen or Santo Tomas stations and head to the shoreline to pick up the Cinta Costera (Coastal Walkway). 
With the city's waterfront skyscrapers behind you, the walkway (which also doubles as a cycleway) heads west towards the "Old Quarter" of Casco Viejo and the entrance to the Panama Canal. On a sunny day, it's a beautiful (if sweat-inducing) walk with a number of stopping points for cityscape gazing and the obligatory photographs. And it's perhaps best negotiated in the early morning.
When you arrive at the Mercado de Mariscos (seafood market), stop to watch the boats unload and sell their catch inside the market stalls before moving on to the final leg of the Cinta Costera – a 2.5km semi-circular viaduct that skirts Casco Viejo and provides stellar views of the city skyline.
And you can always bookmark the seafood market for lunch if you fancy a freshly-prepared ceviche in a styrofoam cup at one of the many outdoor eateries.
View of the Panama City skyline from the Cinta Costera

Do a self-guided walking tour of Casco Viejo
Having completed the Cinta Costera, you'll now find yourself on the other side of Casco Viejo. From there, you can either continue on towards the Amador Causeway and the entrance to the Panama Canal, or head into the "Old Quarter" itself.
Also known as Casco Antiguo or San Felipe, it dates back to 1673 and so its architecture is far removed from the gleaming steel and shiny glass of Panama City's financial district. And it's a UNESCO World Heritage Site, too.
It's a world of crumbling old buildings standing side-by-side with increasingly gentrified streets where violent gangs once roamed. And it's small enough to just wander around for a morning or afternoon, with or without a map.
View of Casco Viejo from the Cinta Costera

Unlike other colonial cities in Central and South America, the architecture has a heavy French influence – a legacy from the period of French colonial rule.
So, plenty of extravagant balconies such as those you'd expect to see in the Old Quarter of New Orleans rather than Panama's capital city.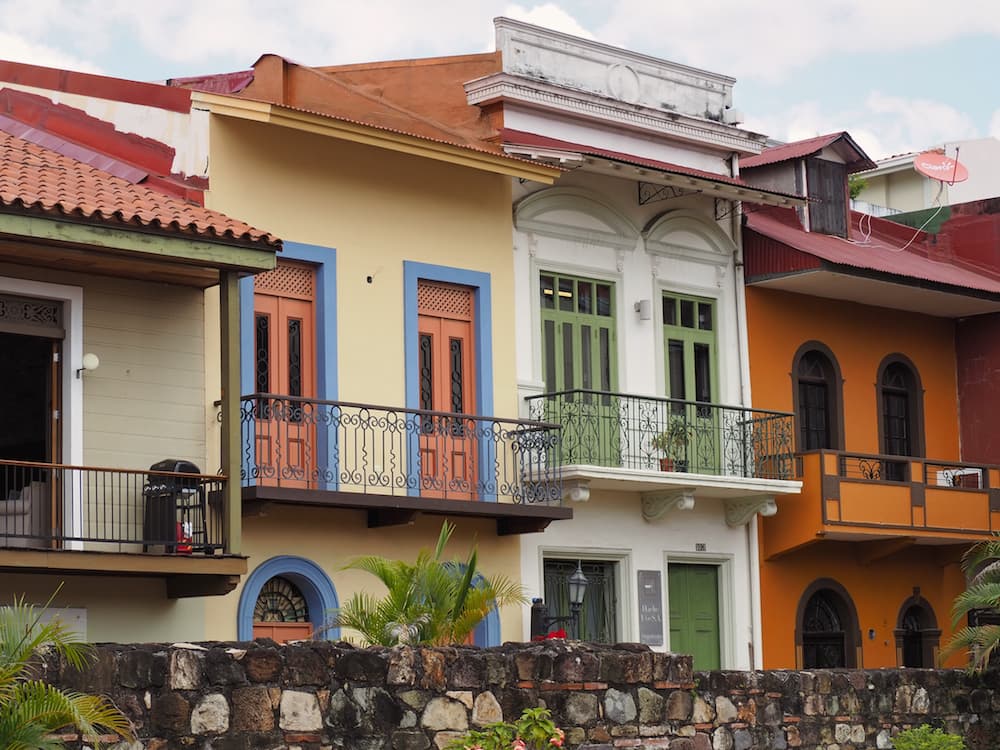 A good place to break your walk is the rum bar Pedro Mandingo, with its noon-till-6pm Happy Hour. A wonderfully atmospheric place, you can try a sample of their house rums before you decide to place an order.
And opposite the bar are some examples of the street art of Rolo de Sedas, whose colourful depictions of Latin American women are dedicated to transforming the greyness of Panama City.
The Old Quarter's churches are also a feature that shouldn't be missed.
For instance, there's the Church of San Jose, famous for its baroque Altar de Oro (Golden Altar) which –  the story goes – a quick-thinking priest hid from the ransacking pirate, Henry Morgan, by painting it black.
Then there's Iglesia de la Merced, which was removed stone-by-stone from its original Panama City (or "Panama Viejo") site.
And, dominating Plaza de la Independencia, the incredible Metropolitan Cathedral, with its distinctive mother-of-pearl studded twin towers bookending an ancient stone facade.
Casco Viejo's Metropolitan Cathedral
At Plaza La Francia, you'll certainly welcome a refreshing raspao. Just look out for a silver mobile stall carrying a block of ice and a multitude of flavourings. The vendor will then shave the ice and pack it into a cone with fruit, condensed milk and syrup. All for $1.
And you'll also find local women selling empanadas et al from improvised supermarket shopping trolleys.
It's not a fine dining experience, but on a baking hot day after a lengthy walk, an empanada washed down with a raspao is as good as it gets.
OK, two empanadas.
View from Paseo de las Bovedas, including the Cinta Costera in the foreground
Beyond Plaza La Francia, the Paseo de las Bovedas is a walkway on top of the old city wall that provides further views of the city skyline and the Cinta Costera.
And, as it continues along the wall, you'll pass an open market where Kuna women sell their famous embroidered molas.
Make your own way to see the Panama Canal
There are two ways to see the Panama Canal on a budget.
Firstly, continue the walk from the Cinta Costera on to the Amador Causeway, a 6km road that links four islands at the entrance to the Panama Canal to the mainland. From there, you can see large ships entering the Pacific side of the canal and cruising beneath the Bridge Of The Americas.
As an alternative to walking there, you can catch a Metro Bus from Allbrook Terminal.
Secondly, you can visit the Miraflores Locks and its Visitor Centre by catching another Metro bus from Allbrook.
To be honest, we weren't that enthusiastic about visiting the locks – so we didn't go. But if it's your kind of thing, it'll cost you $20 to get into the visitor centre. However, you can always skip that and head straight to the restaurant viewing platform to watch the ships as they come through.
View from the Amador Causeway
Photo courtesy of Allen Trottier at Reliable Housesitters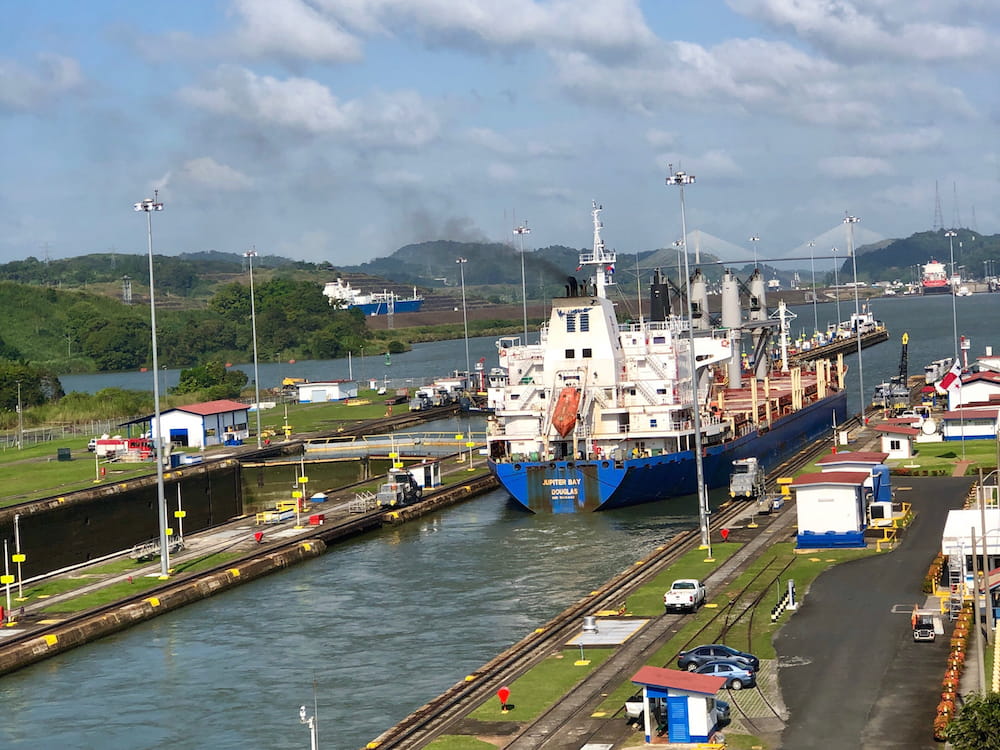 Miraflores Locks
Photo courtesy of Allen Trottier at Reliable Housesitters 
Drink at La Rana Dorada during half-price Happy Hour
And finally, after a day's walking in stifling heat, head to one of the La Rana Dorada brewhouses between 12 and 6 pm for half-price craft beers.
Even better, before you get the chance to order, you'll be handed a complimentary sampler flight of six house beers to try. 
Sure, you can still buy a bottle of Panamá or Balboá for less, but taste-wise, there's no comparison.
You'll find a number of branches in the city, including Casco Viejo and Via Argentina.
A free flight at La Rana Dorada
Of course, there's plenty more to see and do in Panama City in addition to what I've covered here.
If you fancy a bit of a splurge, you can take a taxi or a tour beyond Miraflores Locks and visit Gatun Lake or the Panama Rainforest Discovery Centre in Soberania National Park.
Or if you really want to splurge, you can take a tour to the sublime tropical paradise of the San Blas Islands. 
But, if you've just got a couple of days and would rather see Panama City on a modest budget then, trust me, follow our advice and you'll leave without a canal-size dent in your money belt.
What did you think? Have you been to Panama City? Do you have any recommendations to add? Or perhaps you're thinking of visiting there in the near future? Either way, we'd love to hear from you so please add your comments below.
To help us maintain our site we work with a number of partners who we've personally used and can recommend to our readers. If you decide to purchase any products through the following links, we'll receive a small commission at no extra cost to you. Thank you for your support!
Hi, we're Ian and Nicky, an English couple on a voyage of discovery around the world, and this blog is designed to reflect what we see, think and do. Actually, we'd like to think it also provides information, entertainment and inspiration for other "mature" travellers, too. So please feel free to pour yourself a glass of something suitably chilled and take a look around.