Last updated: 15 July 2019
HOW TO SPEND THE PERFECT DAY AT LE MONT SAINT MICHEL
Last updated: 15 July 2019
Visited by more than 3 million people per year, Le Mont Saint Michel is one of France's top tourist attractions. And it's not hard to see why when you consider its history and spectacular location. So, with a forecast of warm, sunny weather on this particular mid-March day, we took a day trip there to find out what all the fuss was about.
Does it deserve its reputation as one of France's must-see attractions? Can you visit it on a budget? And why on earth would anyone want to build an enormous monastery complex on a lonely slab of granite just off the coast of Normandy?
Contents
This page contains affiliate links. To help us maintain our site we work with a number of partners who we've personally used and can recommend to our readers. If you decide to purchase any products through the links on this page, we'll receive a small commission at no extra cost to you.
Its origins can be traced back to 708 when the Bishop of Avranches built a sanctuary on the outcrop in honour of the Archangel, St Michael. Over the next few hundred years, Benedictine monks settled in the Abbey and a village started to take shape below its walls. And, by the 14th Century the monastery, abbey and church were completed as they appear today.
Located approximately 600 metres offshore, it was accessible to the mainland during low tide but completely cut off at high tide. In fact, the bay lays claim to having the highest tides in Europe. So, perfect for pilgrims to make their peaceful visits but a major headache for any would-be assailants trying to launch an attack. And, so impregnable was the Mont that it survived every attempt by the pesky British to take it during the Hundred Years War. As a result, it became a symbol of national identity for the French.
After the Revolution, the Abbey was used as a prison. More recently it's been the subject of ongoing restoration and was listed as a UNESCO World Heritage Site in 1979.
Getting to Le Mont Saint Michel
If you have a car it's an easy drive from Rennes or from the car ferry port at nearby St Malo. There's a huge, new car park about a 10-minute drive from the island as you're no longer able to drive right up to its entrance. Which is good news considering the sheer volume of traffic it attracts. Not so good news is the 14 euros parking fee for anybody staying more than 30 minutes. Which means pretty much everybody.
And, of course, there are plenty of organised coach tours and school trip parties to keep you company, too.
It's also possible to get to Mont Saint Michel from Paris as a day trip by train or bus. The train from Gare Montparnasse to Rennes (from 59 euros one-way – buy it here online) takes about two hours. And from Rennes, there's a connecting bus (16 euros one-way – buy it here online) which takes about an hour and twenty minutes. Alternatively, if you'd rather not worry about arranging your own transport, this full-day tour from Paris can be booked online and includes transportation, admission ticket and guide.
Once you've parked up, your big decision is whether to get in the queue for the 10-minute shuttle bus to Le Mont Saint Michel (which is free with your car park ticket) or to start the 45-minute walk. I guess that might depend on the weather, but our tip would be to walk if you're up for it. It's as flat a walk as you could possibly wish for. And, best of all, after the first 10 minutes or so you've got a perfect view of the Mont right in front of you.
In fact, we think the experience was all the better for being able to see the Mont from different viewpoints. From a hazy long-shot as we first stepped onto the new boardwalk to the gradually emerging clear vision of the Mont as we slowly got nearer to it. Something you simply couldn't appreciate on the bus.
View of Le Mont Saint Michel from the boardwalk
We'd seen photographs of it before, of course. But this is one of those places where photographs just don't cut the mustard compared to actually being there. Particularly on a clear, sunny day when the reflections of the blue sky in the low tide make it appear that the island is floating above the ground.
Speaking of which, it's a good idea to try and time your visit for low tide as you get to see the mudflats that make up the surrounding bay. More on them in a moment.
As the walk brings you nearer, you get a better sense of how the high-sided monastery and abbey seem to rise almost naturally from the rock below. You're able to distinguish individual houses and other buildings that are sandwiched between the ramparts and the base of the Mont.
Finally, as you approach the entrance, a glance up to the church spire reveals a golden statue of St Michael, which literally gleams in the sunlight. It's a truly spectacular sight and one that's worth lingering over.
View of Le Mont Saint Michel from the entrance
Just inside the entrance, the tourist office is on your left inside a building called the Burgher's Guardroom.
You can access the Abbey by walking through the village along the Grand Vue and then take the Grand Staircase on your left. Much more fun though is to circumnavigate the Mont along the ramparts and reach the Abbey with much less exertion.
You can access the ramparts by taking a right just after you pass through an archway into the village, up the steps and then turn left so that the sea is on your right.
You'll pass by the rooftops of medieval houses, which serve as a foreground for different views of the monastery and abbey behind. You'll pass by restaurants with open terraces looking out to sea. And you'll find various viewpoints where you can gaze down over the mudflats some 90 metres below.
Hang on. Mudflats you say? Why on earth would they be of any interest? To be honest, they were the best surprise of the day as they gave a perfect sense of what it must have been like to gaze out from these very same ramparts a thousand years ago. Multiple hues of orange, pink, green and grey interspersed with the white specks of resident seagulls. And they're also listed by UNESCO as a World Heritage Site, too (the mudflats, not the seagulls).
Looking out to sea from ramparts at Le Mont Saint Michel
Eventually, you'll arrive at the Abbey. You do have the option to walk straight past and continue along the ramparts but we reckon it's well worth the 10 euro entrance fee.
Guided tours are available or you can rent an audio guide. But you can also just pick up a free leaflet from the ticket counter and work your own way around. It's all signposted and easy to follow.
You'll discover ancients crypts, corridors, staircases and even a huge wheel which was used to hoist food to the prisoners during the Abbey's time as a prison. Best of all, though are the gothic Great Pillared Crypt and Saint Martin Crypt, which reminded me of those I saw at the Tower of London.
Once you've completed your tour of the Abbey you'll exit at the opposite side where you'll again be able to take in views of the coastline and mudflats.
Once you've followed the exit route back to the Abbey entrance you can then complete your circumnavigation of the ramparts and return to the village.
Along the Grand Vue, you'll see shops selling clothes, ice creams, pizza slices and rows of biscuits from the famed Mère Poulard, who was originally renowned for making omelettes here back in the 19th-Century. Nowadays the Poulard group have close to a monopoly on the Mont's commerce and you'll see their brand name everywhere.
The village is as quaint and pretty as you would imagine it to be. But it's crowded and inevitably touristy. And we were there in early Spring so I can only imagine what it must be like during July and August.
Can you visit Le Mont Saint Michel on a budget?
Yes, you can. As long as you're not intending on a sit-down lunch. 40 euros for a fancy omelette at the world-renowned Mère Poullard restaurant was a touch outside our budget. Anyway, we had some bratwürst rolled up in homemade omelette safely tucked away in the car for when we got back to the car park!
Alternatively, you could always pick up a filled baguette for lunch. Don't miss out on the Abbey, though. Apparently, one in three visitors does just that, which is a shame.
So, assuming you're arriving by car, there's the near 12 euro parking fee and the 10 euro Abbey entrance ticket (which you can book in advance with a self-guide booklet included). Not bad overall for such a top tourist attraction.
And it really does live up to the hype. Just try not to rush it by taking the shuttle bus to get there. Enjoy the walk. Enjoy the Mont. And get the bus back. Simple.
Le Mont Saint Michel Tourist Office
Times of the tides
What did you think? Have you been to Le Mont Saint Michel? What were your impressions of it? Or maybe you're thinking of visiting sometime soon? Either way, we'd love to hear from you so please add your comments below. 
Download our GPS-guided travel app to explore the places featured in this post.
To help us maintain our site we work with a number of partners who we've personally used and can recommend to our readers. If you decide to purchase any products through the following links, we'll receive a small commission at no extra cost to you. Thank you for your support!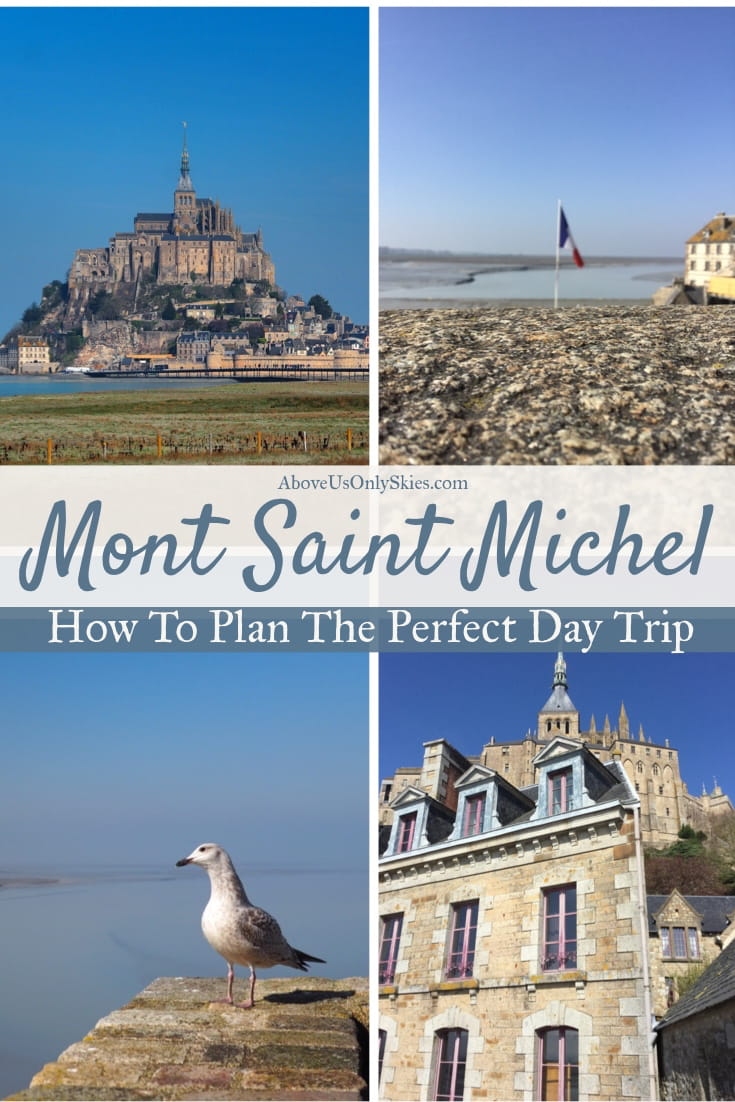 Hi, we're Ian and Nicky, an English couple on a voyage of discovery around the world, and this blog is designed to reflect what we see, think and do. Actually, we'd like to think it also provides information, entertainment and inspiration for other "mature" travellers, too. So please feel free to pour yourself a glass of something suitably chilled and take a look around.