HOW TO SPEND THE PERFECT WEEKEND IN JARDIN, COLOMBIA
HOW TO SPEND THE PERFECT WEEKEND IN JARDIN, COLOMBIA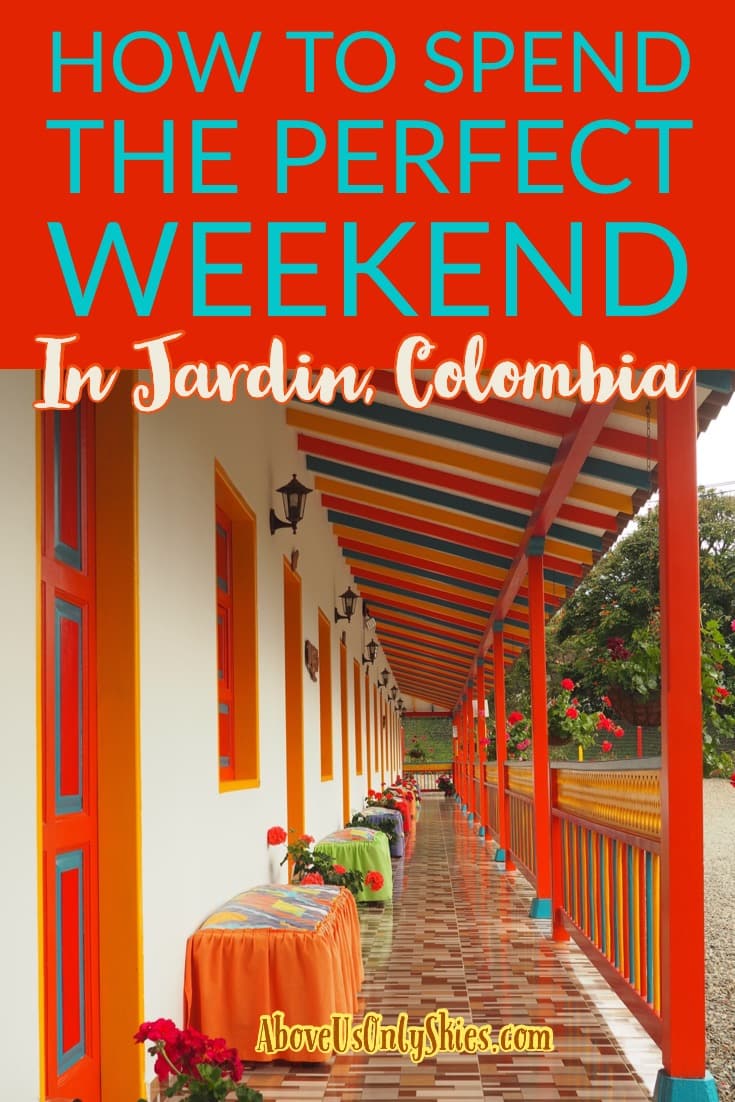 Just five minutes into our first beer in a corner bar on Jardin's colourful plaza, the sound of impatient hooves on cobblestone grabs our attention. Suddenly, the horse appears from a side street to our right, head standing proud and strutting in an almost rhythmic dance. In the saddle is a middle-aged guy wearing a patterned sombrero vueltiao (a traditional Colombian hat).
Almost spoiled for choice, the cowboy steers his charge toward the brightly coloured bar on the adjacent corner to where we're sitting. Having dismounted, he strokes the horse's head before sitting on a brown wooden chair next to the bar's entrance.
Slowly he reclines until his back is resting on the wall behind, the front two legs of the chair hanging in the air at a 45-degree angle. On cue, the barman arrives with a cup of tinto (a traditional Colombian long black coffee) for our guy who receives it without barely moving from his ultra-relaxed position.
Such is life in the hillside pueblo of Jardin. Where daily routines of Colombian rural life haven't changed for generations. Where its colourfully painted houses remain festooned with flowers and plants as they've been for past 150 years. And where visitors to this gorgeous part of Colombia are slowly catching on to the town's beguiling charms.
We took a two-night break there from Medellín, three hours away by bus.
And if you're travelling in Colombia, we think you'd be mad to miss it. Not because there's necessarily a wealth of things to do. But you just might leave the place with the widest, most satisfying grin you've had in ages.
So here's how we reckon you should spend your time there.
Jardin, as seen from Cerro Cristo Rey
Contents
This page contains affiliate links. To help us maintain our site we work with a number of partners who we've personally used and can recommend to our readers. If you decide to purchase any products through the links on this page, we'll receive a small commission at no extra cost to you.
Fanning away from Jardin's central plaza, the town's spiderweb of streets is a photographer's paradise. Houses decorated side-by-side in an almost random array of vibrant colours, they're a visual delight. Especially those with intricately designed balconies.
At times, it's almost as if neighbourly competition has run amok to produce the most beautifully painted facade. And you can comfortably work your way around them over two or three hours.
Alternatively, you could hire a tuk-tuk for a grand tour without all the leg-work.
Of course, the main attraction is the town's central plaza with its centrepiece, the Basilica of the Immaculate Inception. Built from local hand-carved stone it dominates the town, especially when seen from the surrounding hillsides.
Alongside it, and stretching on all four sides of the square are cafes, restaurants and bars, all designed in the now familiar mishmash of bright colours. And in between, their matching hand-painted chairs and tables adorn the plaza, which in the evenings are filled with locals drinking seemingly endless amounts of tinto. That's if they're not chatting to each other on one the many benches.
Meanwhile, children turn the plaza into an extension of their school playground.
It's clearly the central meeting point for much, if not all of the town's population. And it's a joy to be part of it.
People watch in the plaza
Indeed, you could do far worse than to pick yourself an outside table and chair, order yourself a beer, tinto or aguardiente (a local anise-flavoured liquor) and just discreetly people-watch the evening away.
In fact, "just being part of it" is the essence of what makes visiting Jardin so special. And if we had one regret, it's that we didn't have a decent enough grasp of Spanish to properly converse with some of the locals. I get the impression that if we had, we'd have struck up some extremely interesting cowboy (and cowgirl) conversations.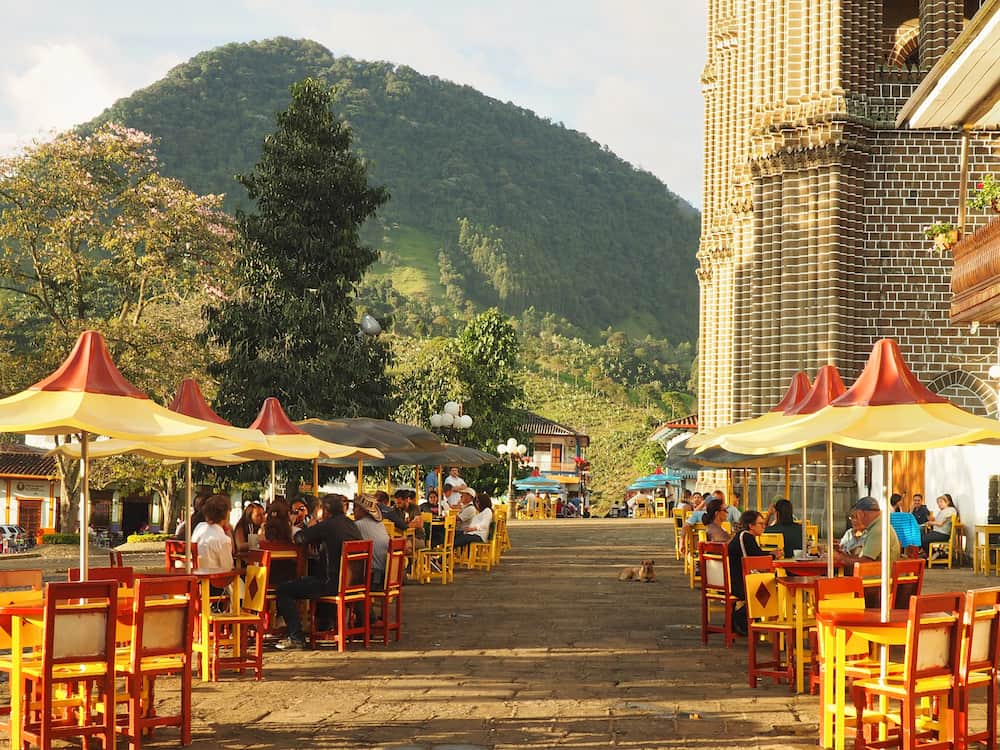 Stay at Hosteria El Paraiso
There's a burgeoning choice of accommodation in the centre of town as Jardin continues to attract more visitors. And staying in one of its atmospheric old buildings certainly has its attractions.
But for us, Hosteria El Paraiso, with its wonderfully colourful buildings and landscaped gardens, would take some beating. It's a 10-minute walk out of town, surrounded by banana plantations and has beautiful views of the mountains.
The rooms are simple but clean. Waking up to the sound of horses neighing in an adjacent field makes a welcome change to the normally obligatory rooster. And the contrast to the city noise of Medellín is a stark one.
You could undoubtedly find cheaper accommodation elsewhere in Jardin but we wouldn't hesitate in booking El Paraiso next time we're in town.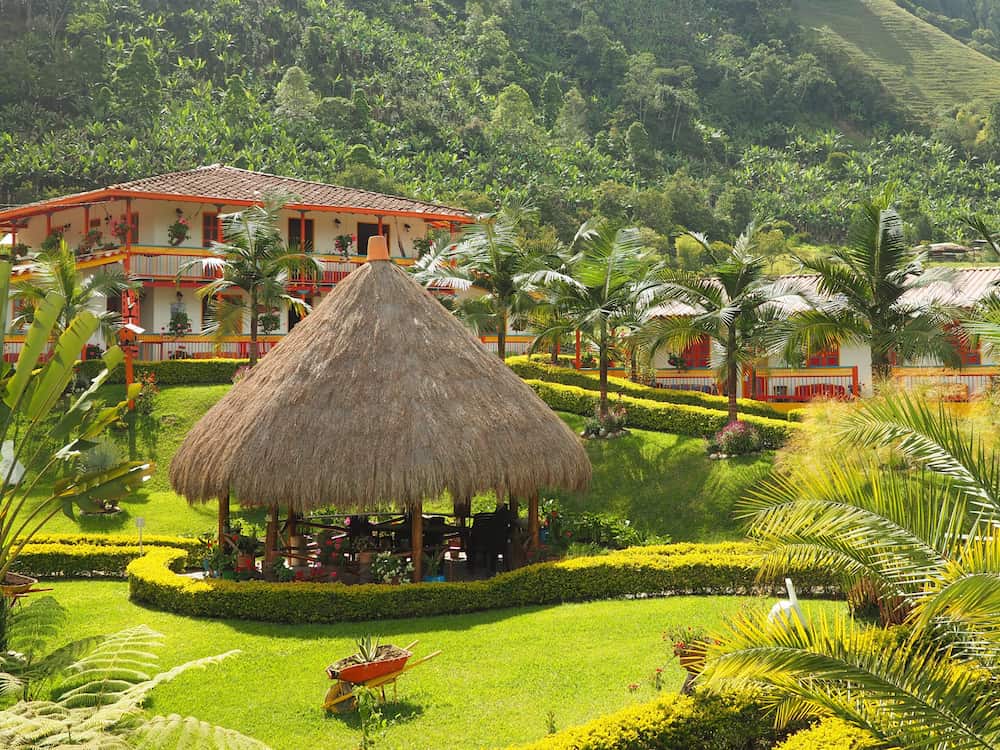 Hike up to Cerro Cristo Rey
Once you've acquainted yourself with the charms of the town it's time to explore on foot the glorious countryside that surrounds it.
Without a doubt, if you only do one hike it should be to Cerro Cristo Rey, a nearby hill upon which a white statue of Christ looks down on Jardin. From there you'll enjoy a panorama that includes the whole of Jardin and the surrounding mountains. But, in all honesty, it's the trek there and back that makes it all the more worthwhile.
There used to be a cable car that would whisk tourists up to the summit from the edge of town, but that's no longer in service. Instead, there are a number of walking routes. But we found the best way to do it is in a two-to-three-hour loop beginning at Hosteria El Paraiso.
From there, facing away from the hotel, head right along the road and then take a left when you arrive at a dirt track signposted for La Argelia Restaurant. The track then ascends through farmland until it arrives at another road, where you turn left again. And a few hundred metres further along you'll turn left once more onto another dirt track, which leads to Cerro Cristo Rey.
Along the way, you'll pass a number of fincas together with banana and coffee plantations which seem to defy gravity by as they cling to the steep hillsides. You'll also catch various glimpses of Jardin as it begins to disappear beneath you.
View of Jardin en route to Cerro Cristo Rey
The hike includes passing through coffee plantations
After taking in the views, the track back down is just to the left of the cafe. It's a steep descent. Which is why we chose the other, longer route to get there! But the scenery is no less spectacular.
View of Jardin en route down from Cerro Cristo Rey
The hike down is blessed with stunning scenery
Explore the countryside surrounding Jardin
You could easily do the Cerro Cristo Rey hike in a morning. Which leaves you plenty of time to explore some of the other countryside around Jardin.
One that's easily accessible is the Camino de la Herrara hike, which starts on Calle 13, just after the Dulce de Jardin cafe/shop. We only walked as far as the Amor Cascade waterfall but you can do it in a loop that also connects with the Garrucha cable car. And I use the term "cable car" loosely as it's more like a rickety shed suspended from cables.
We also took a side-trip at the signpost for Sendero la Lechuza, which took us down and then up through banana plantations and across a metal bridge high above the Rio Volcanes. It would help to have with you an offline app like maps.me to negotiate the route if you don't understand Spanish.
There are also options to take a guided hike to some caves in the area, too.
The stone road at the start of the Camino de la Herrara hike
The hillsides surrounding Jardin are filled with banana plantations
Of course, after all of that wandering around the streets and hiking in the countryside, you'll be ready for some refreshment or maybe something more substantial. And, thankfully, there's plenty of choice.
If it's a bar you're after, just find the most inviting one on the main plaza, order a Colombia Club Negra, grab a seat next to a wall facing the plaza and recline gently. And if you end up with a horse as a companion, then lucky you.
For lunch or dinner, Cafe Europa is a tiny pizza place with just half-a-dozen tables that gets rave reviews. But if you're a hungry meat or fish eater and have a good appetite, head down Calle 9 to La Parilla De Mi Pueblo. Great steaks, ribs, meat platters, local trout cooked three different ways etc. The place is spotlessly clean and it's amazing value for money, too.
But if you want to taste the freshest trout, head to Estadero Al Arka, a 15-minute tuk-tuk drive away in an adjacent valley. You can even catch your own lunch from one of the farm's breeding tanks.
Coffee is big in Jardin with cafes seemingly everywhere. Which is not surprising given the world-class plantations in the surrounding hills. Cafe Macanas, just to the left of the Basilica has a great reputation for both its coffee and pastries. Meanwhile, at Cafe de los Andes, they not only process and roast their own coffee, but you can drink it on the first-floor balcony while looking down over the plaza.
And for those with a particularly sweet tooth, Dulce de Jardin on Calle 13 is something of a local institution selling home-made jams, pastries and other cavity-inducing sweets. Its interior decor is also worth taking a look at, too.
The interior at Dulce de Jardin reflects the multi-colours of the town
From Medellín, there are regular daily buses from the city's Terminal del Sur, operated by Rapido Ochoa and Expreso Brasilia, costing 26,000 and 38,000 COP respectively (as of August 2018). The advertised time is three hours, but I'd plan for between three and four as the traffic on the narrow mountain roads, together with the inevitable roadworks, make arriving on time nearly impossible.
Despite the best intentions of our scarily erratic driver!
It also means that a day trip from Medellín is out of the question. To do it justice you need at least one night, but preferably two.
And when you've finally boarded the bus back to the chaos of Medellín and you leave the colourful charms of Jardin behind, you might feel a tinge of regret that you didn't allow yourself just one more.
What did you think? Have you been to Jardin, Colombia?  Or perhaps you're thinking of visiting there in the near future? Either way, we'd love to hear from you so please add your comments below.
Download our GPS-guided travel app to explore the places featured in this post.
To help us maintain our site we work with a number of partners who we've personally used and can recommend to our readers. If you decide to purchase any products through the following links, we'll receive a small commission at no extra cost to you. Thank you for your support!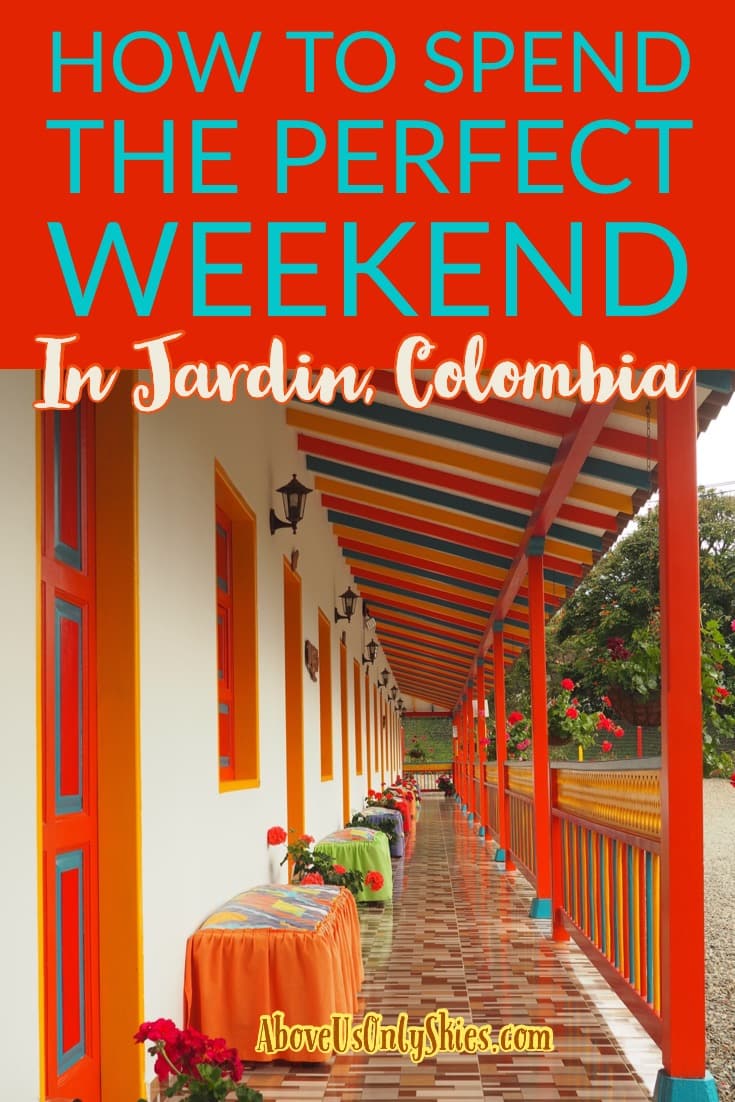 Hi, we're Ian and Nicky, an English couple on a voyage of discovery around the world, and this blog is designed to reflect what we see, think and do. Actually, we'd like to think it also provides information, entertainment and inspiration for other "mature" travellers, too. So please feel free to pour yourself a glass of something suitably chilled and take a look around.