THE POCKET-SIZED GEM OF JAIPUR
Delhi. Agra. And now Jaipur.
Our introduction to India has included everything we expected and more. Mind-boggling numbers of people, extreme poverty, and free-spirited cows who think it's ok to stroll around in the middle of a traffic jam. And of course, plenty of hawkers, touts and others only too willing to help you part with your money,  By fair or foul means.
And that goes for the authorities too. Frankly, the way they've hiked entrance prices to historic sites and buildings for "foreigners" is a disgrace. For example, it's 20 rupees for an Indian to visit the Taj Mahal, whereas it's now 1000 – that's ONE THOUSAND – rupees for a foreigner.
So, by the time we'd reached the city of Jaipur, Rajasthan's "Pink City", we were already feeling jaded by what was feeling like a relentless attempt by a long line of people to make money out of us in some way. Beggars, hawkers, tuk-tuk drivers, passers-by, police officers, museum clerks – you name it. As tourists, we appeared to be fair game and our guard was now well and truly raised.
So when we flagged down a tuk-tuk one night we prepared ourselves for another battle of wits and a probable refuse-to-take-no-for-an-answer sales pitch.
Enter one Gopal Singh Hemant – a portly, silver-haired, five feet tall tuk-tuk driver who, over the next 24 hours would restore our faith in human nature and leave us with glowing smiles on our faces.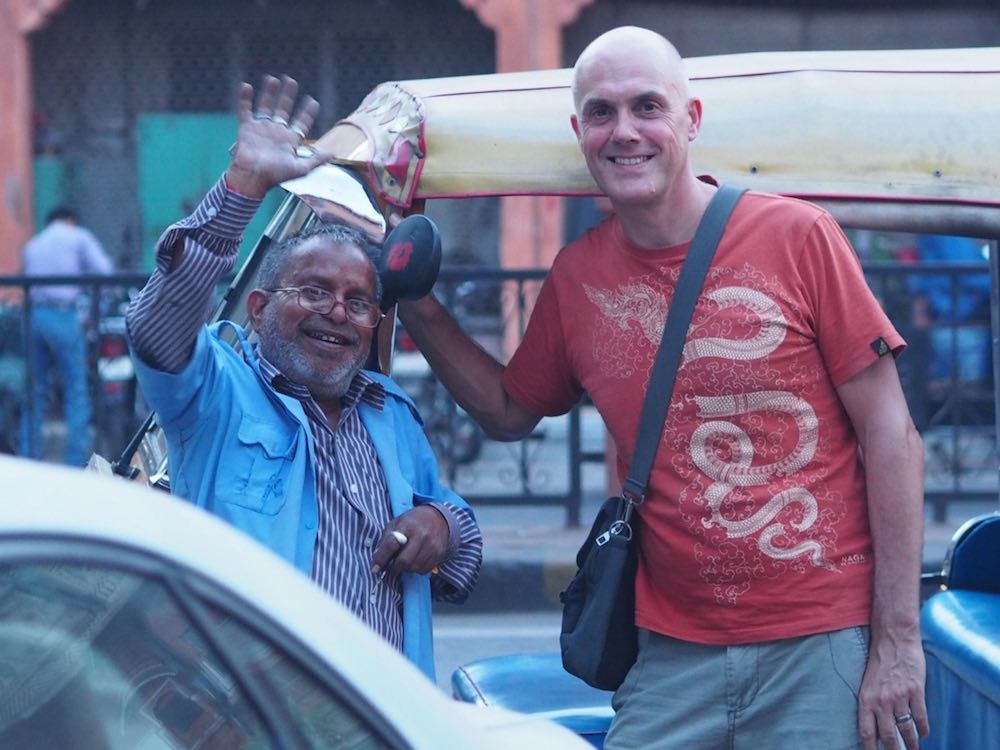 Ferrying people around the streets and surrounds of Jaipur is all that Gopal's ever known. Until 1989, he'd operated as a cycle rickshaw. But then he made enough money to buy his first auto tuk-tuk and the rest, as they say, is history. And with a wife, five sons and a daughter to support, Gopal has had to work the sort of hours that most of us could only have nightmares about.
So, as he negotiated his way along the chaotic streets of Jaipur's old city with the expertise of someone who'd seen it all before, we were given a running commentary on what we were seeing from our rear seat. But to be honest, the highlight for me was just watching a master at work as he weaved his way between traffic that doesn't actually conform to any sort of road rules. Scary as hell, but great fun!
For the record, we ate at the Peacock Rooftop Restaurant, which was just fantastic. Three dishes of contrasting colour and textures – Lal Maas (lamb in spicy, sour curry), Palak Paneer (curd cheese in a spinach masala) and Dal Makhani (creamy slow-cooked black lentils).
Before we left Gopal we arranged with him to pick us up in the morning from our hotel and show us around his city for the day. We couldn't get a price out of him for it, though. "You are guests in my country and it's my honour to be at your service" was about as committed as he would get. We could have been forgiven for being more than a little skeptical about it. We needn't have worried.
As promised, Gopal was waiting for us outside our hotel at 9 am the following morning. First stop was the City Palace, home of the Maharaja of Jaipur – a colourful complex of buildings and gardens, which we explored with the aid of a gushing audio-guide – we learned that one particularly enlightened Maharaja actually washed his own turban. No, really.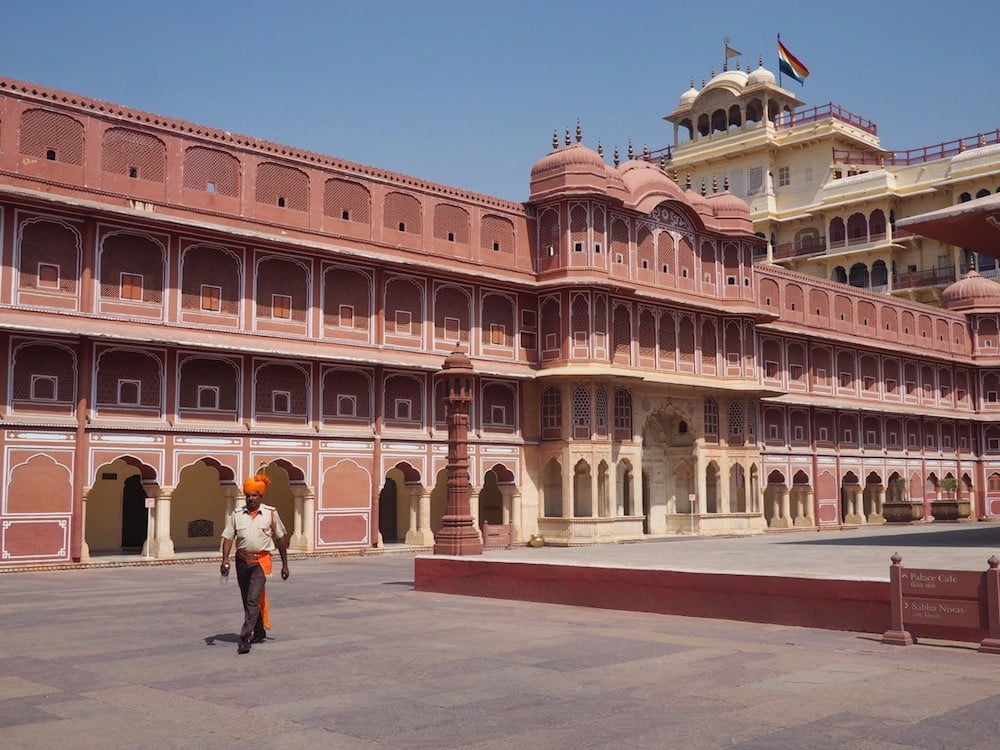 Back outside in the sweltering heat, which was already touching 40 degrees, Gopal hailed us over to his waiting tuk-tuk, parked just beyond the cow that was now meandering down the centre of the road.
We decided it was time to try a lassi at Lassiwala, Jaipur's finest purveyor of sweet yoghurt nourishment. Gopal certainly didn't need any encouragement as we headed straight back into the traffic chaos. Like most other things in India, the place was very much a male-dominated affair – more or less a serving window looking down on a pavement full of men waving 20 rupee notes. And, on this occasion, Nicky.
Inside, one guy was gathering portions of thick yoghurt from a circular steel dish, which was to be added to liquid yoghurt being poured into terracotta beakers by another guy at the back. The result – a deliciously sweet, creamy yoghurt drink that made a mockery of the 25 rupee price.
Suitably refreshed it was time to set off again. Only Gopal couldn't get his tuk-tuk to start. Time for me to get out and help him with a push start. Which, of course, I did. Only he wasn't looking for a push start – he just wanted to move his tuk-tuk to the other side of the road where more help was at hand.
So I found myself pushing this tiny metallic vehicle which Gopal was steering diagonally across a road containing possibly the most unfriendly-looking drivers of vehicles I've ever come across. Cars, motorbikes, and buses literally swerved out of our way while a cacophony of horns indicated that they weren't best pleased. It was scary, surreal and hilarious all at the same time, like some warped game of "chicken" I'd suddenly found myself in. Needless to say, we made it to the relative sanctuary of the other side of the road. Gopal got a couple of guys to give him a proper jump start. Nicky and I just looked at each other in disbelief.
As if nothing out of the ordinary had happened Gopal revved up the engine, invited us to step back inside and off we went back into the traffic. Next stop was the beautiful Hawa Mahal (the iconic Palace Of The Winds), which was surprisingly hemmed in between market stalls and shops.
The far-from-understated Hawa Mahal
We didn't hang around there long as Nicky had decided her feet were in dire need of a pedicure. That was going to take around 45 minutes so I suggested to Gopal that he and I go for a coffee at the cafe next door to Nicky's spa of choice. As soon as I'd made the suggestion I knew what his response would be. Instead, he suggested a mobile chai vendor just down the road where a cuppa of Jaipur's finest tea could be had for 10 rupees. And it was pretty damned good too.
While we waited I asked him about his life and his family. He talked about his six children, his love for the earth mother and his current ritualistic nine-day fasting. To be honest not everything he said made sense to me as the stories he told veered between the real and the mystical. But just listening to someone like him, who'd dedicated his life to his family and his religion, was an incredibly humbling experience.
He proudly showed me a pocket-sized testimonial book containing the best wishes of people he'd helped in the past. Not that he could actually read them, so I read the ones in English to him. He just smiled as I read the universally glowing tributes and thanks. But what shone through was the genuine warmth and affection people had for him.
Later on, he took us to see the Gangaur Festival procession – an annual festival that takes place throughout Rajasthan to celebrate the monsoon, harvest, and marital fidelity. The roads were now even crazier than during the day as excited locals weaved their way to the old city on the backs of motorbikes and vans. Car, bike and bus horns blared out almost continuously as everyone jostled for position – apart from Gopal it seemed, as he calmly, and assertively, overtook nearly everyone around him. Meanwhile, we looked on in open-mouthed admiration.
He dropped us off at Tripolia Bazaar, which would be the epicentre of the festival and we found ourselves a place on the pavement alongside colourfully dressed locals, who looked at us inquisitively. Some wanted photographs with us and naturally, we obliged.
The procession was a fairly short one but it was about as colourful as it gets, featuring dancers, bands, drummers and, inevitably, camels, cows and an elephant.
It was almost impossible not to get swept up in the excitement of it all. We even hung around after it finished and just watched as families made their way back home. Once again we were the focus of attention for some who wanted to have their photograph taken with us. Unfortunately one of them demanded money after asking us to take a photo of him and his two kids. We declined. The two sides of India I'm afraid.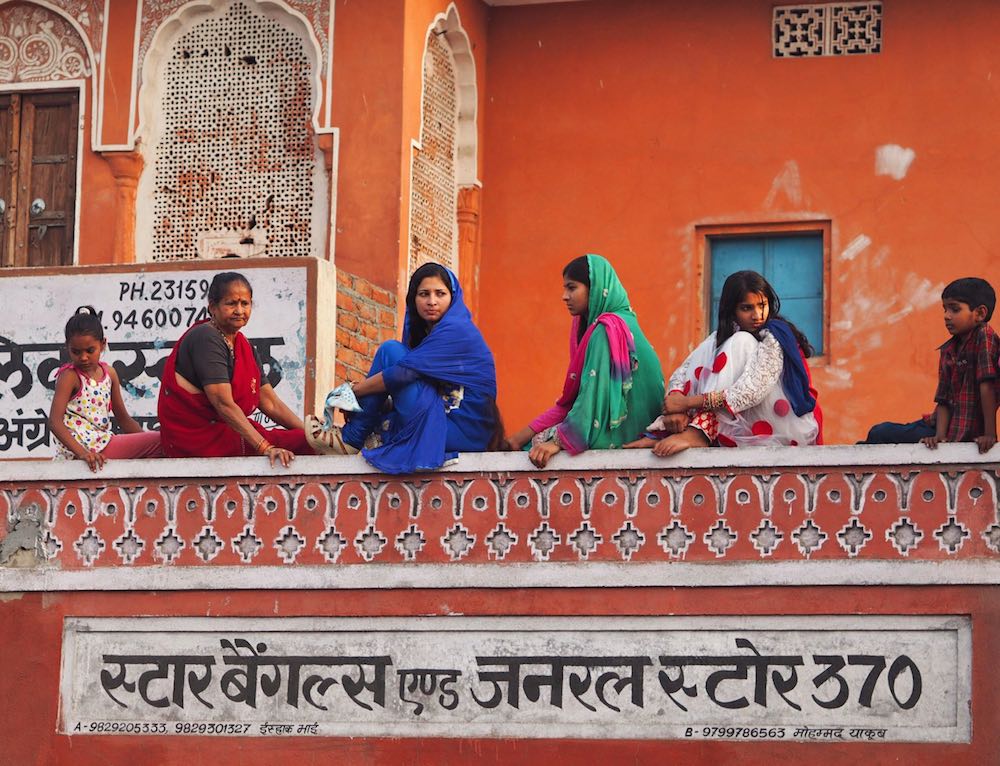 We met up again with Gopal as arranged and he took us back to our hotel, via a number of shops we'd asked him to stop by.
He told us another real life-cum-mystical story, which neither of us really understood, but there was so much sincerity in his voice that it didn't really matter. He mistakenly thought that he'd be taking us out again the next day so we had to break it to him that we already had a car and driver booked for the remainder of our tour of Rajasthan. It was a genuinely upsetting moment as the friendship we'd struck up was very real and this seemed like an abrupt end. He asked us to remember him always and would we put a comment in his little testimonial book. As if we're ever likely to forget this wonderful little man.
After agonising over how much we should pay him we eventually handed over an amount we felt was right. Gopal didn't even look at the folded notes. He just placed them in his pocket and told us again it was his pleasure to serve us. Finally, we embraced like old friends and said our reluctant goodbyes.
We can honestly say it had been one of the best days of our whole 13 months or so of travel. We didn't do anything especially memorable. We'd eaten great food and travelled around Jaipur like we were participants in an episode of The Wacky Races. We'd witnessed genuine Jaipur street life. And we'd spent 12 hours with the most genuine, kind and humble person we've ever had the pleasure of meeting.
In our opinion, India should cherish true gems like Gopal. We're pretty sure travellers do.
And if you're planning to visit Jaipur just call Gopal on +91 (0)99 83 99 14 16 or email him on [email protected]. We guarantee you won't regret it.
What did you think? Have you been to Jaipur? What experiences have you had of seeing the city in a tuk-tuk or rickshaw? Or maybe you're thinking of going there yourself? Either way, we'd love to hear from you so please add your comments below.
Download our GPS-guided travel app to explore the places featured in this post.
To help us maintain our site we work with a number of partners who we've personally used and can recommend to our readers. If you decide to purchase any products through the following links, we'll receive a small commission at no extra cost to you. Thank you for your support!
Hi, we're Ian and Nicky, an English couple on a voyage of discovery around the world, and this blog is designed to reflect what we see, think and do. Actually, we'd like to think it also provides information, entertainment and inspiration for other "mature" travellers, too. So please feel free to pour yourself a glass of something suitably chilled and take a look around.