OFF THE BEATEN TRACK IN RAUL MARIN BALMACEDA
OFF THE BEATEN TRACK IN RAUL MARIN BALMACEDA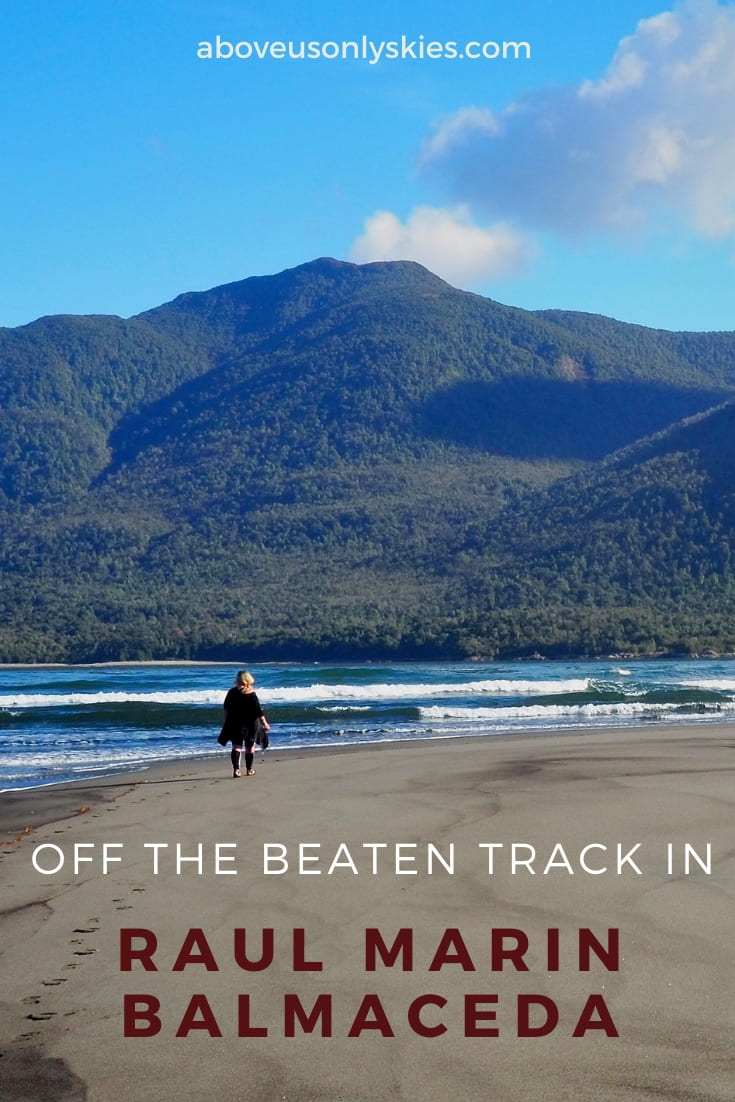 The splendidly-named Puerto Raul Marin Balmaceda is a remote and completely unspoilt slice of Chilean coastal wilderness that's just begging to be explored.
Where gorgeous scenery boasting fjords, virgin temperate rainforest and wide, sandy beaches go hand-in-hand.
Where a road connection to the rest of Chile has only been in existence since 2009.
And where a makeshift barbecue on the colloquially-known "Dolphin Beach" can be enjoyed while austral dolphins frolic in the calm waters just offshore.
Whisper it quietly but it might not remain a secret for much longer.
Which is why, if you're visiting northern Patagonia soon, you really should make the effort to go and see it for yourself.
Dolphin Beach, Puerto Raul Marin Balmaceda
Dolphin Beach, Puerto Raul Marin Balmaceda
About Raul Marin Balmaceda
A tiny village of sandy streets and just 300-or-so people, Raul Marin Balmaceda sits at the tip of the Rio Palena delta some 1500 kilometres (930 miles) south of Santiago.
Hemmed in against the Pacific Ocean by the pristine national parks of Corcavado and Melimoyu, its only connection to the mainland is via a free 10-minute ferry journey.
And its remote location between the ocean and the Andean peaks to the east means that it receives an extremely wet 107 inches (2700 mm) of rain per year and very few tourists. Perfect for the countless austral dolphins, sea lions, otters, penguins and marine birds that call the surrounding area home.
If you're travelling by car or camper van along Chile's notorious Carretera Austral, you'll turn off at La Junta and take the X-12 route towards the coast. The gravel road is in reasonable condition and winds through thick rainforest for an hour-and-a-half before arriving at a tiny ferry terminal 10 kilometres (six miles) before town.
The ferry service starts at 08:30 and continues until early evening (depending on the season). You don't need to book ahead. Merely wait at the roadside for it to arrive.
From La Junta (on the Carretera Austral), you can also catch a bus (Transportes Willy) at 15:00 on Tuesday, Wednesday, Friday and Sunday.
Alternatively, you can arrive in relative style via the much larger Naviera Austral ferry service from Chiloé (to the north) or Puerto Chacabuco (to the south). This time you will need to book in advance, either from an agency in town or via the Naviera Austral website.
One you've arrived, accommodation choices are fairly limited. But a good choice would be Isla del Palena, which doubles as a hostel and a tourist agency.
If you're travelling by camper van (as we were) and like to wild camp then head along the dirt track, just past the Naviera Austral jetty, until you arrive at a small opening on your right (marked as Sendero el Churcao on Google Maps). Here, you can set up for free right next to Dolphin Beach with views across the fiord and a regular helping of dolphin shows thrown in. Highly recommended!
Our camping pitch at Dolphin Beach
The Naviera Austral ferry arrives from Chiloé
A visit to Puerto Raul Marin Balmaceda is all about exploring the pristine surroundings, spotting the wildlife and enjoying a couple of days of crowd-free relaxation.
For instance, you can spend a half-day exploring the Pitipalena Fiord in a sea kayak. And, along the way, you're likely to come across sea lions, dolphins and penguins. You don't have to be an experienced kayaker either as the fiord affords calm water and an easy current.
Or you can book a boat trip to Islas Hermanus where hundreds, if not thousands of penguins gather to breed. And, if you're around during February, you might be lucky enough to spot orcas and blue whales, too.
More information on both at Isla del Palena.
Alternatively, you can simply explore the surroundings on foot. For example, there are a couple of rainforest trails, including the six-kilometre Arayán Trail.
But, for us, the highlight was to take an extended loop walk from our camping spot along the fiord to the wide open expanse of the ocean-side beach and then back via a footpath through the grassy dunes.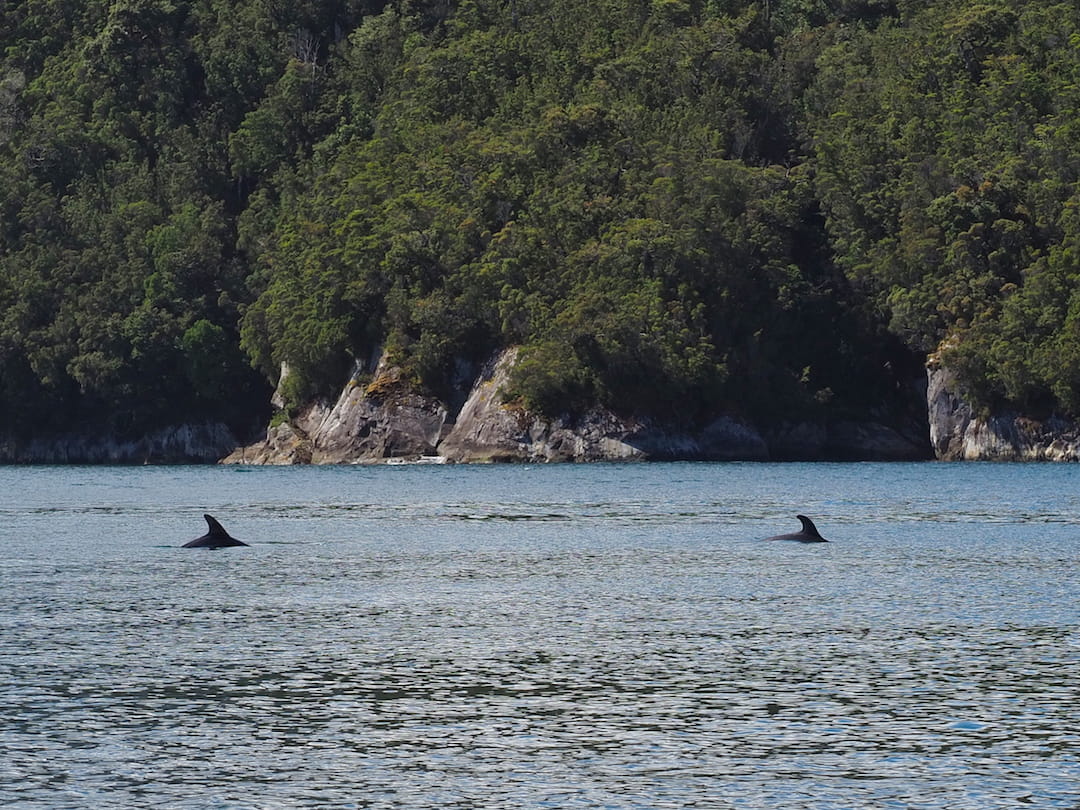 Dolphins cruising just off the beach
The walk from the jetty, along the Pitipalena Fiord and towards the ocean, is one to be savoured on a clear, sunny morning.
The grey sand provides a stark contrast to the calm blue water and lush green rainforest on the hillsides. And there's total silence except for the occasional waft of a dolphin fin breaking water or the gentle lap of tiny waves as they reach shore.
We followed the water's edge as it curved around the headland that would soon reveal the ocean. Indeed, the distant sound of crashing waves told us that the calm sereneness of the fiord would soon give way to the more robust nature of the Pacific.
On the ocean side, the sand turned a darker grey and the landscape opened up so that we could now see Melimoyu Volcano to the south, its peak surrounded by cloud.
Meanwhile a large gathering of wading birds congregated near to the water's edge, taking advantage of the seafood trappings on the back of a receding tide.
We walked for about an hour along the beach, jumping between shallow lagoons of water and on to oases of sand, temporarily marooned between sea and land.
And, all the while, there was literally nobody else around. Indeed, to have this beautifully wild stretch of coastline to ourselves was the icing on the cake for what was already turning out to be a thoroughly worthwhile diversion from our Carretera Austral road trip.
The ocean side of the beach
At the top of the beach, the large expanse of grey gave way to a combination of sand and grasses. A footpath then led us from the beach and through the grassy dunes, taking us in a loop back to our camping spot on Dolphin Beach.
In all, a leisurely walk of around three hours in total.
And timed perfectly for an afternoon barbecue on the beach in the company of those dolphins.
Grasses at the head of the beach
Grasses at the head of the beach
Because of its remoteness, Raul Marin Balmaceda is safe from the perils of over-commercialism for the foreseeable future. But, with ongoing improvements to the Carretera Austral – Chile's main overland route connecting northern and southern Patagonia – there's no doubt that access will become easier.
For us, it served as a great diversion on our road trip heading north from southern Chile. And we'd suggest that anyone tackling the route should definitely put aside a couple of days to include it, too.
Especially if you can claim your spot to camp overnight beside Dolphin Beach.
What did you think? Have you been to Puerto Raul Marin Balmaceda? Do you have any recommendations to add? Or perhaps you're thinking of visiting there in the near future? Either way, we'd love to hear from you so please add your comments below.
To help us maintain our site we work with a number of partners who we've personally used and can recommend to our readers. If you decide to purchase any products through the following links, we'll receive a small commission at no extra cost to you. Thank you for your support!
Hi, we're Ian and Nicky, an English couple on a voyage of discovery around the world, and this blog is designed to reflect what we see, think and do. Actually, we'd like to think it also provides information, entertainment and inspiration for other "mature" travellers, too. So please feel free to pour yourself a glass of something suitably chilled and take a look around.