SALAMINA & THE SAMARIA VALLEY – COLOMBIA'S BEST KEPT SECRET
SALAMINA & THE SAMARIA VALLEY – COLOMBIA'S BEST KEPT SECRET
Colombia's Zona Cafetera (or coffee region) is a world of lush mountain scenery, waterfalls, boutique hotels, and of course coffee farms. It's a well-established part of the Colombia travel scene. And, with Salento and the stunning Cocora Valley, it has its very own essential stop on the gringo trail. 
However, tucked away in the far north of the region is an equally lovely town that sits on the edge of a mountain ridge with imperious views over the Colombian Andes. And, like Salento, it provides access to a fabulous valley every bit as enchanting as Cocora.
Yet you won't find it listed in Lonely Planet. Which is why most travellers have never heard of it. Despite it being recognised as one of Colombia's 17 pueblos patrimomios (heritage towns).
And it's why – if you value authenticity over popularity – you should plan to include Salamina and the Samaria Valley on your trip to Colombia.
Contents
This page contains affiliate links. To help us maintain our site we work with a number of partners who we've personally used and can recommend to our readers. If you decide to purchase any products through the links on this page, we'll receive a small commission at no extra cost to you.
Much like Colombia's other pueblo patrimonios such as Mompox, La Playa de Belén and Barichara, Salamina's centrepiece is its colourful main plaza, complete with church and a multitude of cafés.
And, leading away from the plaza is a warren of streets brimming with colourful paisa-style buildings. Once again, the best way to explore is to just wander around under your own steam and enjoy the atmosphere of this authentic mountain town. 
Indeed, foreign tourists are still something of a novelty in these parts and so you shouldn't be put off by the occasional stare. Or even being approached by a local who just wants to welcome you to Salamina!
Of course, this being coffee country, you shouldn't pass up the opportunity to stop and sample a freshly brewed cup of the local stuff. Not the low-quality tinto that most Colombians drink, but the single estate speciality coffee that Colombian coffee farmers are now producing and reserving for their more discerning customers.
Our recommendation would have to be Cafe Calicanto on the main plaza. Quite possibly the best cup of cafe negro of our three months in Colombia. In fact, so much so that we bought a kilo of the stuff to take away.
Coffee fix satiated, next it's time to turn your attention to Salamina's unique foodie experience.
Huevos al Vapor is an ingeniously simple way to prepare a version of scrambled eggs. Using the frother from an espresso maker, naturally. So, what you get is a mixture of eggs and butter that's carefully frothed up and served in its own cup with a bread roll infused with another shot of melted butter.
Artery-clogging, gloriously rich and utterly delicious. We had ours with added chorizo.
The best place in town to try one is Cafe el Polo on Calle Real, where it was invented over 60 years ago. And here's a quick video to show you how it's done.
As the man on TV once famously said, "Don't try this at home, kids!"
Now that you're in the mood for trying something different, you might as well go for another of Salamina's specialities – La Macana.
Milk, butter, sugar and salt crackers are again blitzed in the frother and served with a topping of cinnamon. Sounds awful, I know. But the best way of imagining it is to think of an extra-creamy bread pudding. And, to be honest, after one of those and a froth-infused cup of egg and sausage you'll be ready for an afternoon sleep.
There are some good accommodation choices in town. Especially as a number of Salamina's wonderful traditional houses have been converted into guest houses and boutique hotels. Such as La Casa de Lola García, for instance.
However, we opted to stay at an Airbnb up on the hillside a few kilometres out of town. Alto Bonito is a rustic cottage owned by local photographer-cum-chef and raconteur, Martin. Together with his six rescue dogs.
You'll find cheaper places in town. And it probably won't suit everyone. But, for a "proper Airbnb experience", where you co-exist with the owner in his home, it's an absolute treat. And it came with probably the most comfortable bed of our entire Colombia trip.
The views down into the valley aren't too shabby, either.
Recommended.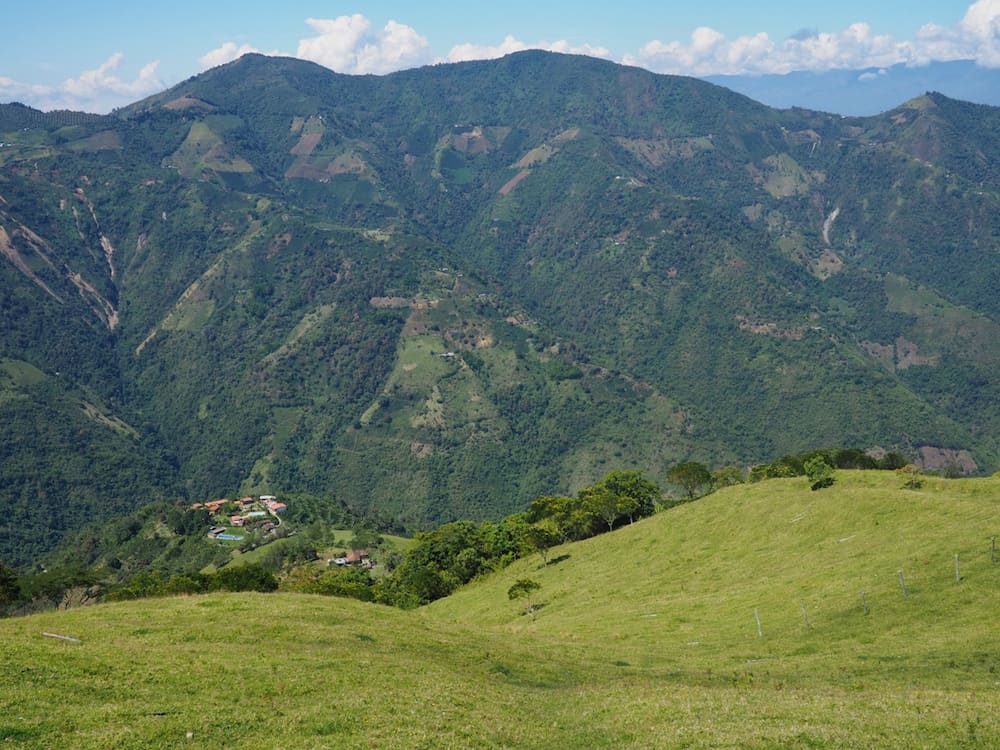 Sign up for Airbnb here
and get £25 off your first booking
While staying in Salamina, you should leave one day aside for a trip over to the hamlet of San Felix and the nearby Samaria Valley.
By far the cheapest way to get there is by catching the 06:00 bus from Salamina (which passes Alto Bonito at 06:15, if you're staying there).
It's a 90-minute journey, mostly uphill, which travels along a largely gravel road and takes in staggering views back across the valley. 
The village is yet another colour-fest of traditional paisa buildings enveloping a central plaza. With the obligatory church, of course. Together with a smattering of simple cafés and a couple of small grocery stores. 
You won't see much activity. Other than the occasional local farmer wandering around the plaza dressed in his poncho and cowboy hat.  Or sitting on a bench simply watching the world go by. Otherwise, don't be surprised if you're the only foreigner in town.
Just bear in mind that the last bus back to Salamina leaves at 2 pm. That's if it actually turns up. We ended up getting a Willys Jeep (jeep taxi) for the bone-crunching journey back over the mountain.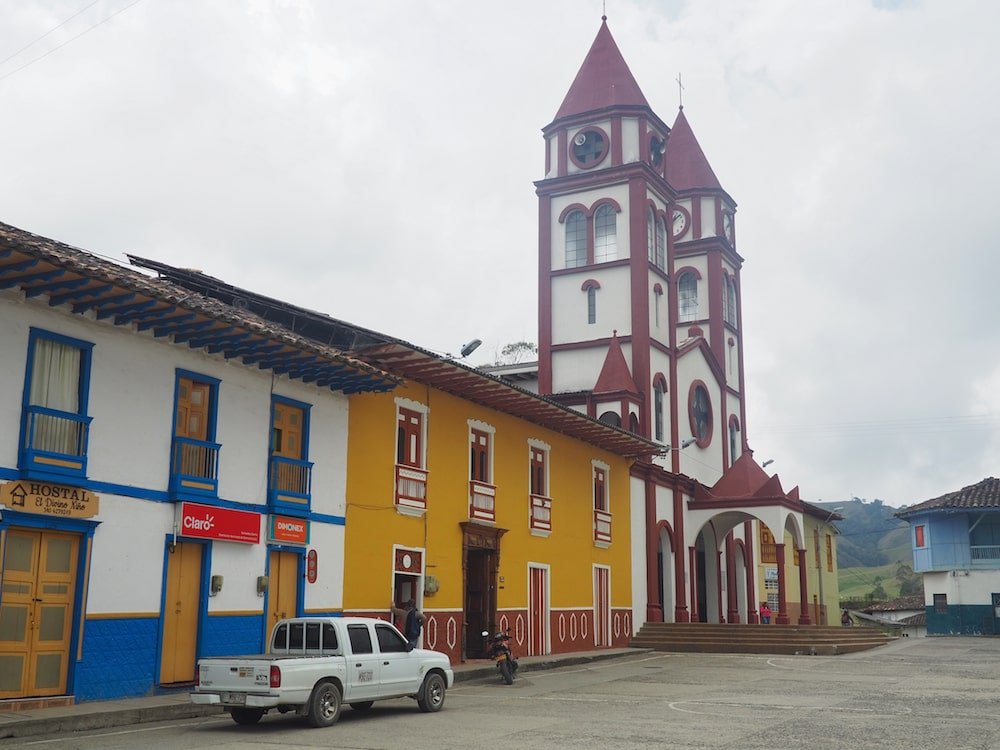 Of course, your reason for being there is to head out to the Samaria Valley. It's possible to hire a jeep to take you there, but we'd recommend you walk the seven kilometres (four miles) instead as the countryside along the way is just gorgeous.
Facing away from the main plaza's church, you'll need to take the road in the right-hand corner alongside Café Los Andes and follow the signs for Bosque Palma de Cera (Wax Palm Forest) and Mirador Valle de la Samaria.
The national tree of Colombia, the Quindío Wax Palm is also the largest palm in the world. Found mainly in certain Andean regions of Colombia and Peru, it was declared an endangered species in 2005.
The decline began back in the 19th Century when the wax from the trees was used to make candles and matches. More recently, heavy deforestation and disease have taken their toll.
But when you're standing close to a 45-metre (150-foot) wax palm you can appreciate why there's such a clamour to protect these most spindly of trees.
The road to Bosque Palma Del Cera
We've already touched on a comparison between the Samaria Valley and the Cocora Valley, near Salento. Both are home to a forest of iconic wax palms. And both are surrounded by glorious countryside. But that's where the similarity ends.
For instance, after being dropped off by one of the numerous willy jeeps that transfer tourists from the centre of Salento to Cocora, you'll be met by a whole host of local entrepreneurs offering horseback rides up into the valley. Meanwhile, the only horses you'll see in the Samaria Valley are those that are chasing each other around the fields to the side of the gravel road.
Secondly, your walk from the Cocora Valley car park to the Bosque de Palmas (Forest Of Palms) will inevitably take place in the company of dozens of other people, heading in both directions. We can absolutely guarantee, however, that your walk from San Felix to the Bosque Palma de Cera will take place in the company of just your own thoughts and the occasional passing farmer on a motorbike.
Oh, and that photograph of the Cocora Valley wax palm you're hoping to take will just have to wait for the couple in front of you to get their Instagram shot absolutely perfect. Fortunately, the cows, goats and horses in the Samaria Valley are too busy doing absolutely nothing to get in the way.
Ok, you get the picture. And that's not to say that the Cocora Valley isn't worth visiting. It absolutely is! But it's so refreshing to be able to wander through a landscape such as the Samaria Valley and feel that you've somehow discovered a special place that hardly any other foreigner has set eyes upon.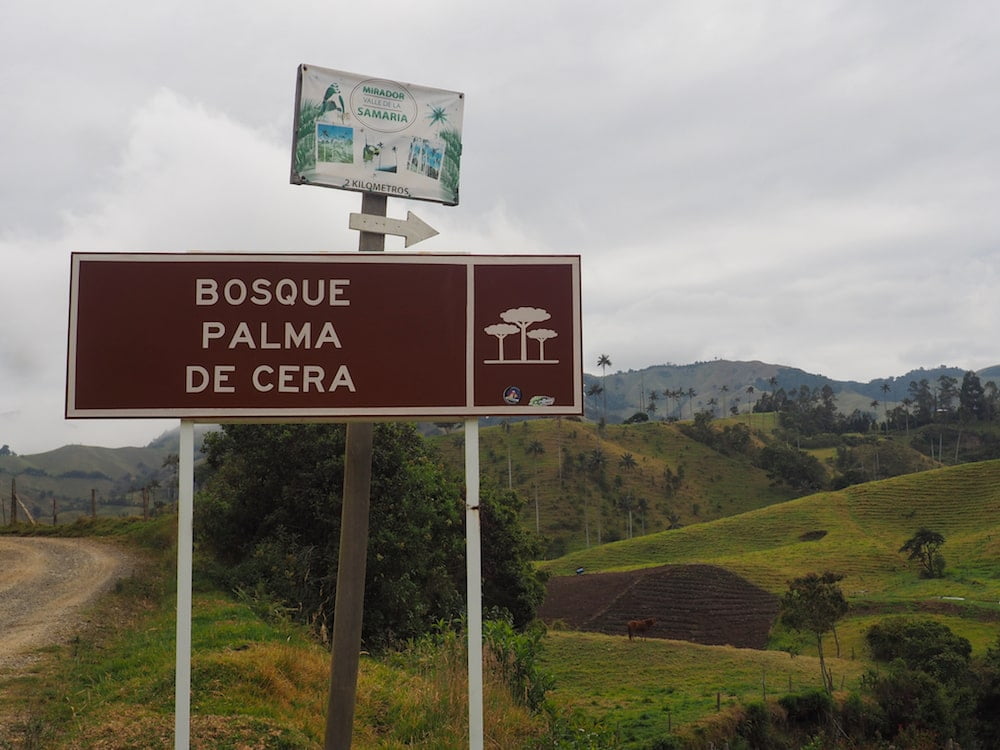 Although it's seven kilometres to the end of the walk, the wax palms start to come into view after only two or three. And, before long, you'll be walking amongst them as they grow in number along both sides of the road.
In fact, each bend in the road reveals a new vantage point and you'll find yourself stopping to take photos at increasingly regular intervals.
Your final destination is the Finca Mirador de la Samaria, which is signposted along the way. However, the final "2 kilometre" signpost is grossly under-estimated and we reckon it's a further 4 kilometres-or-so before you finally reach it.
In fact, we were close to turning back on a couple of occasions, sure that we'd missed it. But we persevered up the hill until we did eventually make it to the finca.
And the views back over the wax palms to the gravel road were a pretty good incentive to keep going.
Finca Mirador de la Samaria
Whilst you can see plenty of wax palms without actually going into the finca, it's definitely worthwhile spending an hour or two there. Especially as for 8,000 COP (£2 / $2.60), you can learn more about the palms on an hour-long tour with owner Luis or his English-speaking daughter, Leidy.
The family bought the land four years ago when it was used mainly for growing potatoes and have since made it their mission to help conserve the wax palms through a donation scheme. Indeed, we were shown rows of seedlings that had been sponsored by people from around the world. Although, at a growth rate of just a few inches per year most of those will be well gone before the trees reach maturity!
Stick around afterwards for a trucha (trout) lunch before you head back along the road to San Felix.
View from the hour-long walk
From Zona Cafetera's capital city of Manizales it's a three-hour bus journey to Salamina through the area's stunning mountain landscape.
From Medellín it's a long, cross-mountain journey of between six and seven hours (destination Manizales). And over half of that is on gravel. Although, for the most part, the scenery is nothing less than spectacular.
As with all off-the-beaten-track destinations, it takes some effort to reach Salamina. 
And, when you get there, you won't find the restaurants, the bars or the American-owned breakfast joints that Salento is brimming with. But, what you'll find instead is a true Colombian mountain town with bags of charm and world-class scenery on its doorstep.
So make sure you go there now before the rest of the world catches on!
What did you think? Have you tried wildcamping in Argentina or Chile? Do you have any recommendations to add? Or perhaps you're thinking of visiting there in the near future? Either way, we'd love to hear from you so please add your comments below.
To help us maintain our site we work with a number of partners who we've personally used and can recommend to our readers. If you decide to purchase any products through the following links, we'll receive a small commission at no extra cost to you. Thank you for your support!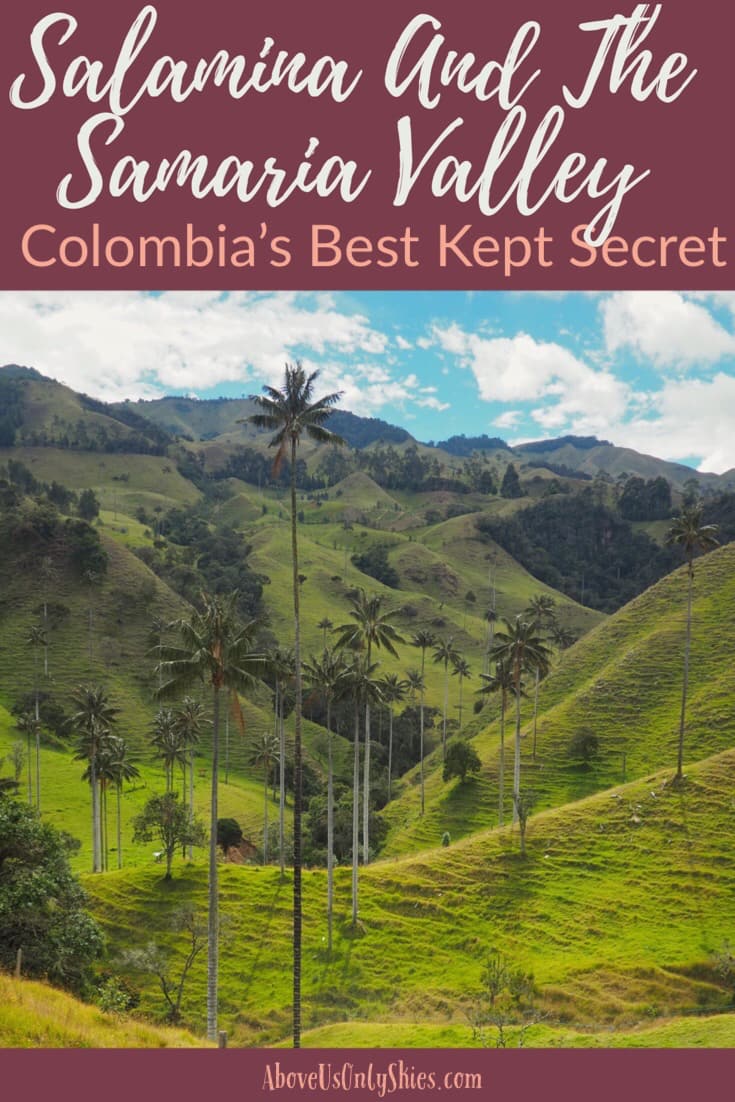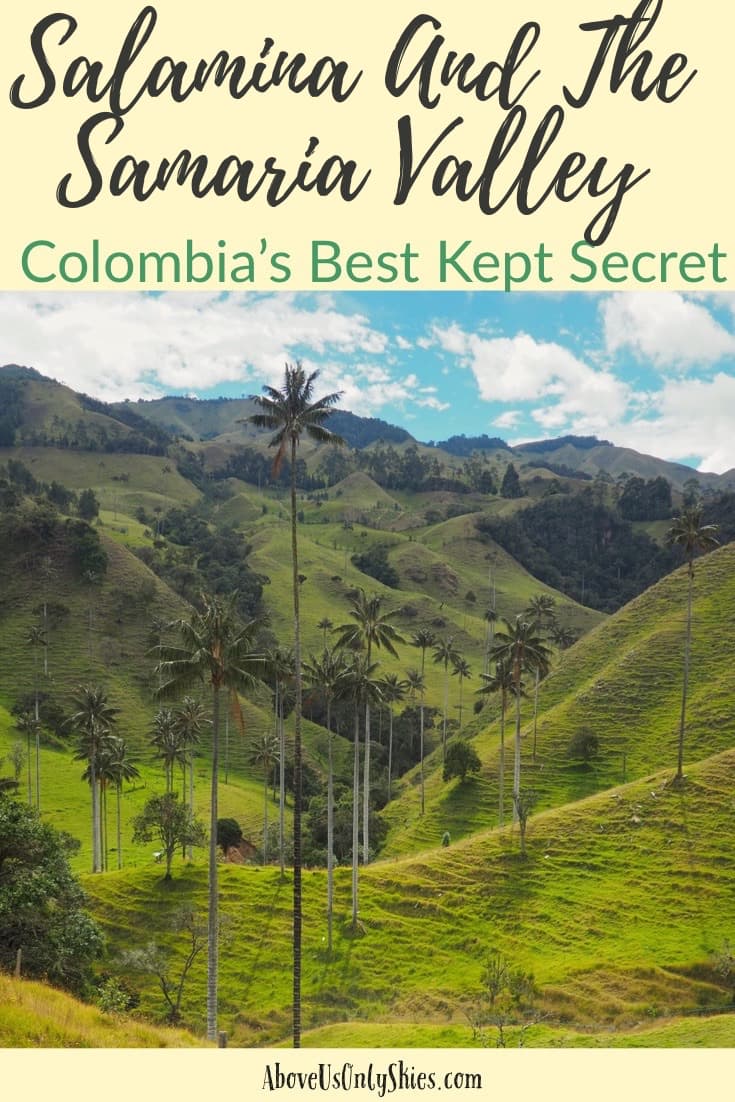 Hi, we're Ian and Nicky, an English couple on a voyage of discovery around the world, and this blog is designed to reflect what we see, think and do. Actually, we'd like to think it also provides information, entertainment and inspiration for other "mature" travellers, too. So please feel free to pour yourself a glass of something suitably chilled and take a look around.