AN ENCOUNTER WITH THE GUAMBIANO PEOPLE OF SILVIA, COLOMBIA
AN ENCOUNTER WITH THE GUAMBIANO PEOPLE OF SILVIA, COLOMBIA
Most travellers who visit Silvia do so as a day trip from Popayán (aka the "White City"), located in the southwest Cauca region of Colombia. Specifically to visit the colourful Tuesday market and to see the equally colourful Guambiano community who descend on the town to sell their fruit, vegetables and handicrafts.
However, venture out into the hillsides surrounding the town and you'll find yourself immersed in a land rich in Guambiano culture but devoid of crowds.
We did just that in the company of our indigenous guide, Maria. Who had quite a story to tell.
Getting from Popayán to Silvia
We'd decided we wanted to visit Silvia even though our stay in Popayán didn't coincide with the Tuesday market. Our plan was to catch one of the regular buses that ply the route, take a look around and possibly hire a jeep tour into the surrounding hillsides.
But, having taken a free walking tour in Popayán, we were introduced to Julian, a guide whose family actually lives in Silvia, and who happened to be driving back there for the weekend the following morning. So when he offered to take us with him and introduce us to Maria, we jumped at the chance.
Julian's job as a tourist guide meant that his English was very good. Which was a real bonus in a region where little English is spoken.
And so, during the 60-minute journey, he talked to us about his own travel experiences, how the region had been torn apart by the decades-long conflict fuelled by drugs and armed guerillas,  and how it's so important for people who live there to see foreign tourists come and experience Silvia for themselves.
Indeed, as we stopped at a hillside on the final approach to Silvia, we could be excused for thinking  we were looking down to a green valley in the Swiss Alps rather than Colombia.
Buses from Popayán to Silvia
Coomotoristas del Cauca – every 25 minutes from 05:30 until 18:45 (reduced service at weekends)
Cootaxis Belacazar – every day at 06:00, 07:00, 10:00, 15:00
Sotracauca – every day at 12:00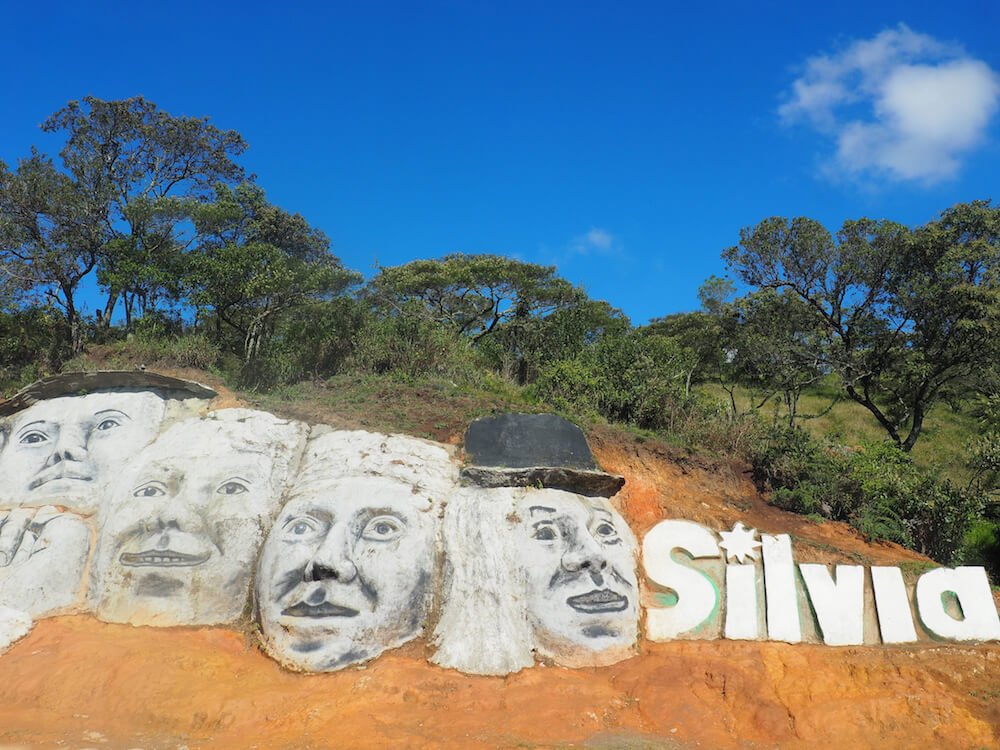 The view across the valley beyond Silvia
After a short walking tour around Silvia we met Maria, resplendent in her traditional dress composed of black skirt, striking blue cape with shocking pink trim, white bead necklace and hand-woven bag. She also wore a straw hat, slanted to one side, which served as a contrast to the traditional bowler hats worn by most of the other Guambiano women in the town square.
Indeed, the bowler hats were also worn by the men, accompanied by grey or blue ponchos, red scarves and long blue wraparound skirts.
The distinctive dress serves to reinforce the Guambianos' fierce sense of tradition. And the multiple layers are a practical nod to the fact that Silvia sits at a relatively cool and wet elevation of 2,800 metres (9,200 feet).
Our walking tour of Guambia
After introductions and translation courtesy of Julian, we bundled into the back of a local farmer's jeep with Maria and headed up the mountain road towards the small collection of villages the Guambianos call home. Namely Guambía, La Campana, Pueblito and Caciques.
In fact, they refer to themselves as Wampi-Misamera (or "the people of Guambía)", alluding to the territory they've lived in for hundreds of years.
Without the help of Julian, our initial communications with Maria were a mixture of hand signals, awkward smiles and the inevitable reference to Google Translate. Which, combined with Nicky's increasing confidence with basic Spanish, was enough to help build a warm relationship as the day progressed.
Having been dropped off at a crossroads somewhere between the four villages, Maria led us along the road to our first stop, a basic small holding with a attached trout farm. We met the owner of the farm and were invited inside to see how filleted trout were smoked over a wood fire like clothes on a washing line.
Trout smoking over a wood fire
And outside we were treated to a late-morning snack of bread, cheese and herbal tea. Served in porcelain cups, naturally. How did they know we were English?
Ian and Maria share a cup of herbal tea
Trout farming and fishing is important to the Guambiano community, both as a food source and as an income. Pigs, cows and sheep, too. Especially the latter, whose wool they use for their clothing.
As we continued walking in between fields given over to agriculture and farming, Maria explained how the Guambiano people attach such great importance to Mother Earth. Perhaps not surprising given their belief that their ancestors rose from mountain gullies created by the many rivers and streams that permeate the landscape.
Indeed, "Guambia" translates from the native Wampi-Misameran language as "the land of waters". And it's this reverence towards nature that calls on all Guambiano people to protect and cultivate it.
As the morning progressed, Maria's natural shyness seemed to give way to a more mischievous sense of humour. And, encouraged by Nicky, much of it at my expense. Like a couple of teenage schoolgirls sniggering over memes on a smartphone, they joked together using Google Translate as their mouthpiece. All of a sudden, it seemed as if they'd just discovered their new best mates.
It was at this point that Maria began to play us some traditional Guambiano music on her phone. And so, to the sound of flutes, drums and chanting we made our way to a hospital and an allotment of herbs used for the production of traditional medicine (including coca leaves).
In fact, in addition to being self sufficient in growing their own food, weaving their own clothes and developing their own medicines, Guambianos also build their own houses. Which they do by practicing the Incan custom of minga, effectively turning a task such as house-building into a community event. Something we'd come across before on Chiloé Island in Chile.
And what extraordinary houses some of them were. Featuring the unmistakeable Guambiano primary colours of red, blue and white, they ranged from simple structures made from bamboo to circular and rectangular buildings with tiled or thatched roofs.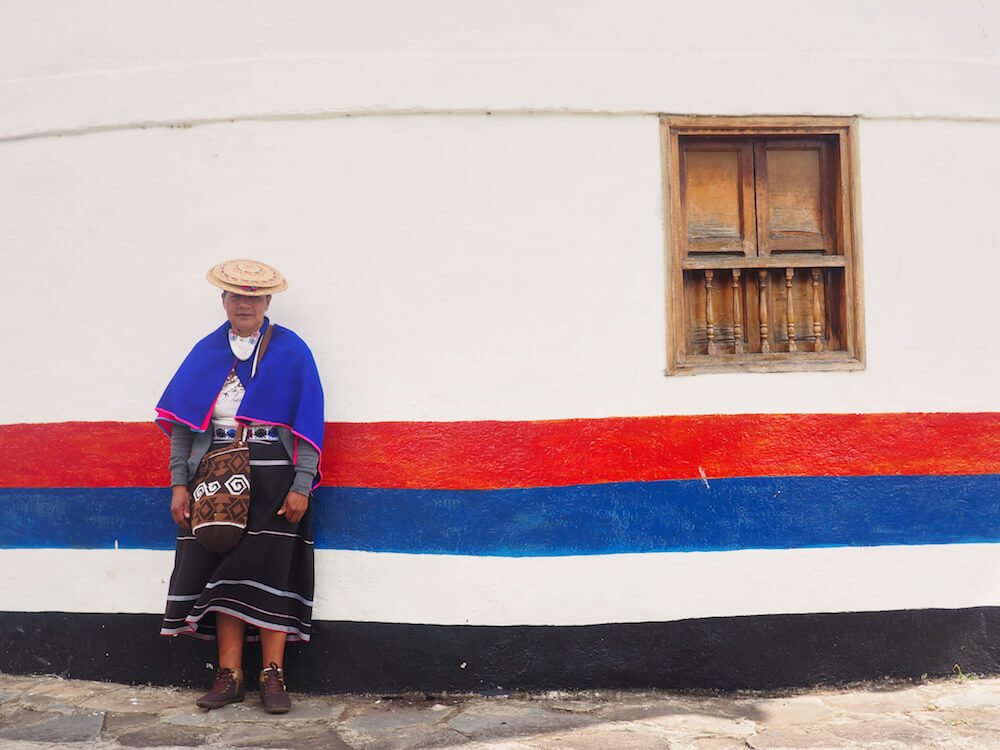 Our walk through the hillside villages with Maria was a leisurely and informal one. There wasn't much interaction with other villagers other than to say "hello" as they passed us by.
Like Maria herself, the Guambianos are naturally shy people and are quite reserved when they first meet outsiders. They don't take kindly to being photographed without permission, either. Which can make the weekly market in Silvia something of cultural flashpoint when tourists descend from Popayán with their fully charged cameras and smartphones.
Once we'd completed our walk through the villages we made our way back to Silvia along the potholed dirt road. As we approached the main square, we passed a number of houses emblazoned with murals which once again seemed to reflect the connection between Mother Earth and the its people.
And then, to show our gratitude, we took Maria for some traditional local food at Julian's favourite restaurant, Parilla Paisa. Unsurprisingly, we all went for the Trucha con Patacones (grilled trout served with fried plantain)!
After which, it was time to say goodbye to Maria. Our three hours or so in her company had been a genuinely uplifting experience, despite the language barrier. And one that we'll both cherish when we think about our time in Colombia.
We paid her an agreed fee for her time and as a contribution to the community. And we promised we'd spread the word about why there's more to Silvia than just the Tuesday market.
Back on the main square, we waited for our bus back to Popayán and took the opportunity to observe more of the Guambiano people just going about their daily business. And, coming from a society that seemingly lurches from one fashion to another at the drop of a hat, and where traditions are increasingly being tossed aside, it feels somehow reassuring that the Guambianos steadfastly refuse to change their way of life.
Or indeed their incredibly striking dress code.
Photo credit: ID 92111087 © Xing Wang | Dreamstime.com​
A young Guambiano girl crouches in Silvia's main square
Although the violence that blighted Silvia in the past has been absent for the past few years, the Cauca region in general remains one of the most unsettled in Colombia. Indeed, guerrilla and drug related violence, including against other indigenous communities to the north of Silva, have increased in recent months. Our own UK government's current travel advice is that both Popayán and Silvia are safe areas for foreigners (albeit with the usual caveats about being vigilant). And we felt completely comfortable about visiting them both.
We'd absolutely urge anybody exploring Colombia to pay Silvia a visit. Not only is it set in a gorgeous valley of misty green hills but it's home to one of the country's true indigenous communities.
A community that's merely 12,000 strong.
And one that, if treated with warmth and respect, will welcome you back with open arms.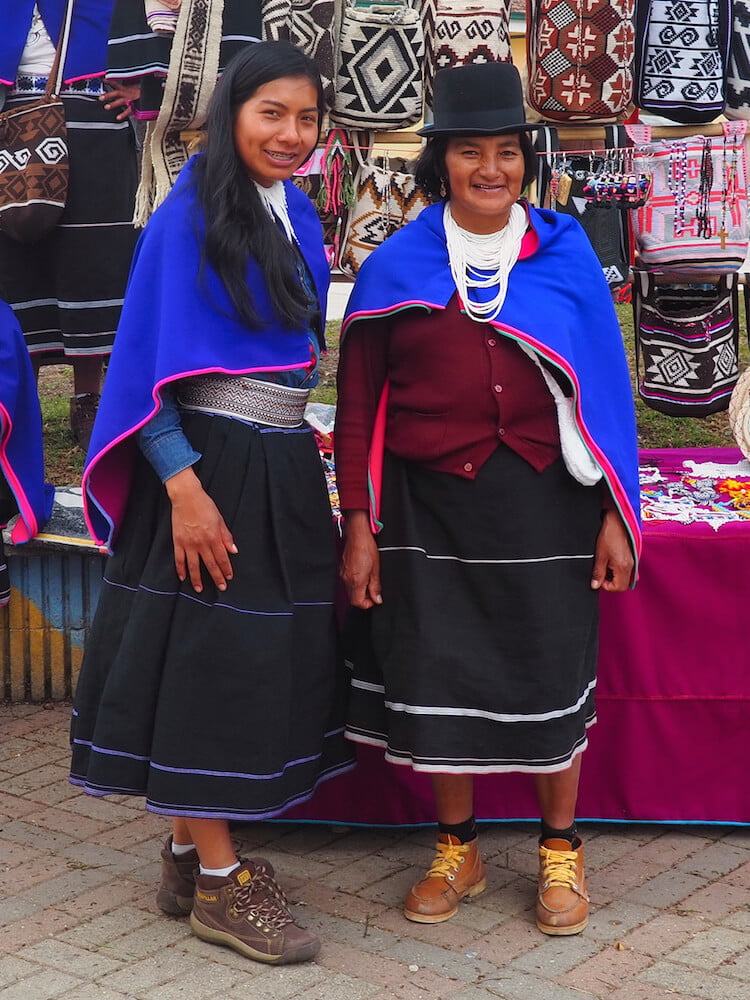 Our thanks to Maria for her warmth, knowledge  – and patience! And to Julian for making it all happen. 
Header photo credit: ID 211111269 © Uli Danner | dreamstime.com
What did you think? Have you been to Silvia? Do you have any recommendations to add? Or perhaps you're thinking of visiting there in the near future? Either way, we'd love to hear from you so please add your comments below.
To help us maintain our site we work with a number of partners who we've personally used and can recommend to our readers. If you decide to purchase any products through the following links, we'll receive a small commission at no extra cost to you. Thank you for your support!
Hi, we're Ian and Nicky, an English couple on a voyage of discovery around the world, and this blog is designed to reflect what we see, think and do. Actually, we'd like to think it also provides information, entertainment and inspiration for other "mature" travellers, too. So please feel free to pour yourself a glass of something suitably chilled and take a look around.