THE INSPIRATIONAL STREET ART OF COMUNA 13, MEDELLIN
THE INSPIRATIONAL STREET ART OF COMUNA 13, MEDELLIN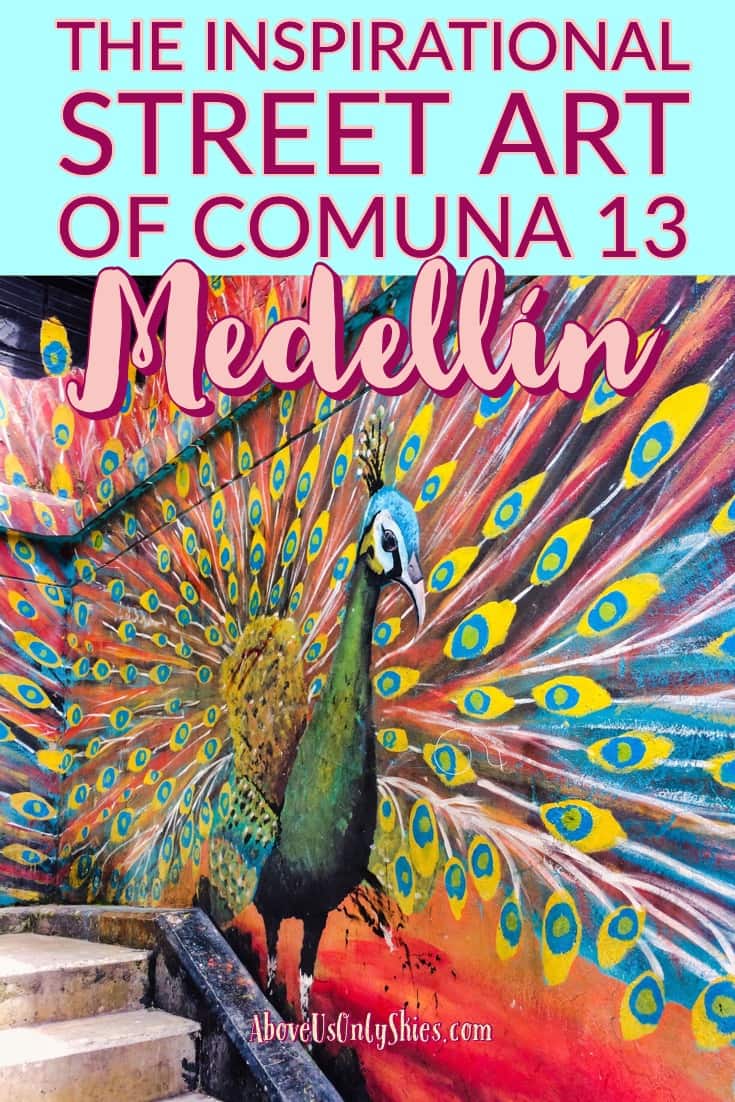 "The principle of true art is not to portray, but to evoke" – Jerzy Kosinski
And evoking the tumultuous, heart-breaking and incredible recent history of Medellin's Comuna 13 has become an ongoing project for street artists, both from the immediate area and elsewhere in Latin America. Having spent a morning visiting this hillside community to the west of the city centre, we found ourselves spellbound by the sheer diversity and scale of the street art on display.
But the wall murals not only serve as reminders to the local community about the conflict that has plagued them for over three decades. They also represent a bright, hopeful future, where prosperity has a chance to flourish.
And they provide a reason for tourists to visit this once no-go-area. Who, if they're like us, and they're blown away by what they saw, will be more than happy to spread the word about what is surely THE must-see "attraction" in Medellin.
Contents
This page contains affiliate links. To help us maintain our site we work with a number of partners who we've personally used and can recommend to our readers. If you decide to purchase any products through the links on this page, we'll receive a small commission at no extra cost to you.
Comuna 13, Medellin – a brief history
After years of indiscriminate violence between drug lords, right-wing guerillas, left-wing paramilitaries and an overwhelmed government, Medellin became recognised in the early 1990s as the murder capital of the world. However, the death of the city's most infamous son, Pablo Escobar, in 1993 signalled a positive change of direction for the majority of the city's 16 comunas (or communities).
But, for the inhabitants of Comuna 13, the change of direction was to actually sink further into violence, chaos and – eventually – military conflict. The very location and construction of the comuna – a warren of makeshift housing clinging to the hillside with easy access to the San Juan Highway and the mountains – made it a prime site for moving cocaine out and bringing weapons in. So, with a vulnerable and poverty-stricken population at the mercy of drug gangs loyal to Escobar and armed guerillas, the area essentially became a lawless battlefield.
The situation came to a head in 2002 when the government staged the last of a number of military operations called Operation Orion. 1500 military personnel, two helicopters and a tank were deployed over three days in an attempt to crush the warring factions. Many innocent people were killed or injured as helicopter fire reigned down on their aluminium rooftops.
The guerillas were defeated. Paramilitaries, who had unofficially supported the government action, moved in. Recriminations for people who had supposedly helped the guerillas were rampant. So much so that nearly 300 people were allegedly abducted and buried in a mass hillside grave called La Escombrera.
In 2006, most of the paramilitaries disbanded after a peace deal with the government, only to be replaced by armed splinter groups who still run mafia-style operations to this day.
It's against this backdrop that community and activist groups have grown over the intervening years, seeking justice and promoting resistance to the violence. In a positive step, and after years of government neglect, a cable car line was opened in 2008, connecting Comuna 13 with surrounding neighbourhoods and the city centre. In 2011, a set of open-air escalators were installed in the Las Independias 1 barrio to help residents scale the impossibly steep hills.
Meanwhile, artists began to create their poignant wall murals. And, despite the continuing threat of violence,  tourists began to make their first tentative steps into the comuna to see the transformation for themselves.
Indeed, tourism in the comuna is still a fledgeling industry, and is mainly based on visitors being shown around by guides on a walking tour. Although there are those who prefer to do it alone, it probably still makes sense to take one of the tours. Not just for safety reasons but also to hear directly from people who actually lived through the worst of the atrocities. And who can provide background and context to the murals.
Of course, there remains a military presence, which is still reassuring despite its chequered history.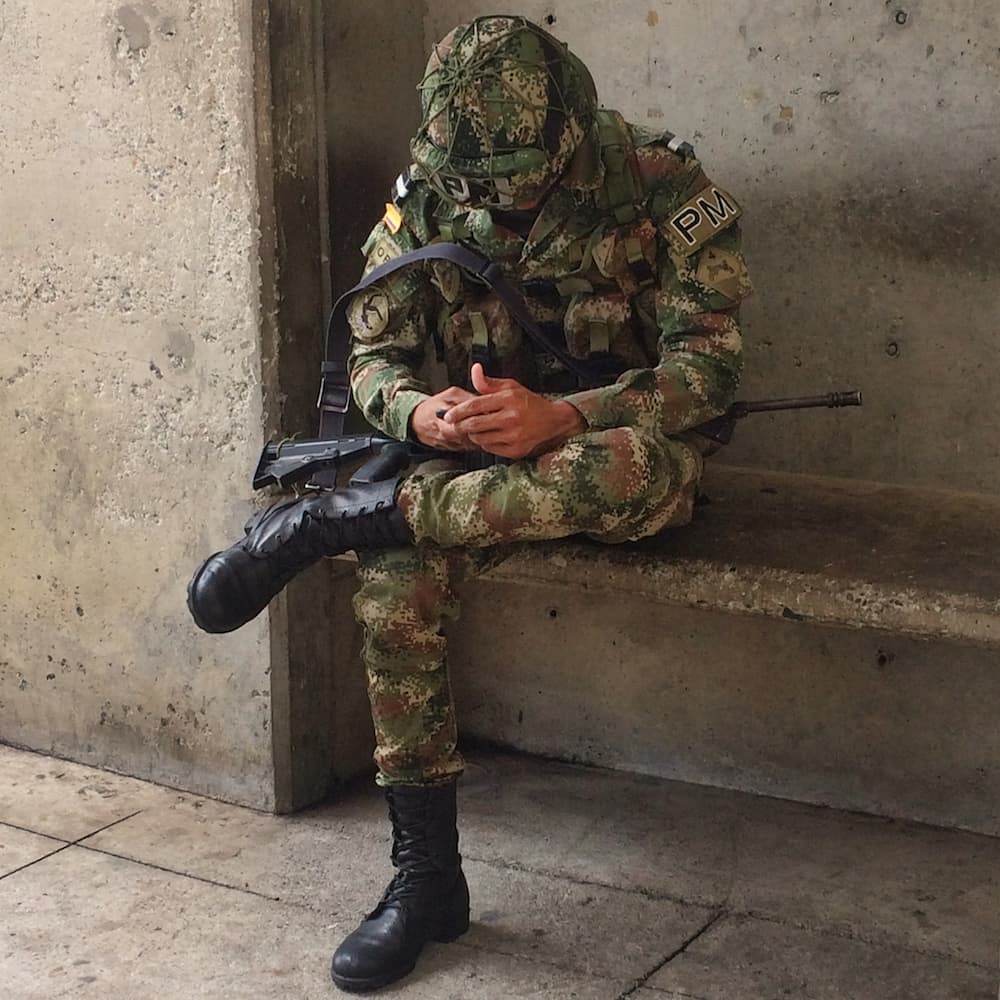 It became very clear to us as we walked around that the residents desperately want tourism to flourish. People smile and are welcoming. The streets are kept clean. And there are plenty of local entrepreneurs offering everything from home-made ice cream to inexpensive friendship bracelets.
A highlight for us was watching Black And White, a local group of talented street dancers, give an energetic 10-minute performance at the top of the escalators.  As an infectiously positive sign of how the community is trying to move on from the past, it was pitch perfect. And yes, it was staged so that each passing walking tour would stop by and hopefully leave a tip.
But who would deny them that?
There are a number of operators offering walking tours around Comuna 13, both free and fee-paying.
Comuna13Tours offers a four-hour tour for 70,000 Colombian Pesos (£17 / $23), while the Medellin Graffiti Tour features local street artists as guides (80,000 COP – £20 / $26). But there are tip-based tours available too, such as Stairway Storytellers.
We opted for the tip-based Zippy Tour as we'd already had a positive experience with the free (tip-based) Medellin Walking Tour from Real City Tours. And in Laura, we were lucky to have an excellent guide who not only grew up in the most notorious barrio (Las Independias 1) but, as a child, also witnessed the helicopters of Operation Orion from her bedroom window. Indeed, after recounting her experiences, she stressed that the very fact we were now visiting her barrio as tourists was perhaps the biggest success story of all.
As local artists began to paint their murals depicting the violence and its aftermath, the local government seized upon an opportunity to encourage more of it by paying for their work, too. And, as a result, the murals are now a feature all over the comuna.
Artists such as @chota13 and @YesGraff have become renowned well beyond the confines of their home community. But there are many others who deserve recognition too such as @Yorch.Art and @FateOne96.
Indeed, if you're an artist whose work has featured in this article and we haven't given you the credit you deserve, please do let us know and we'll update it immediately.
In the meantime, I'll let the murals in the following gallery speak for themselves. But, for the full stories behind them, you're better off listening to local people who can passionately relate to their sense of outrage, pride and hope for the future far better than I can describe here.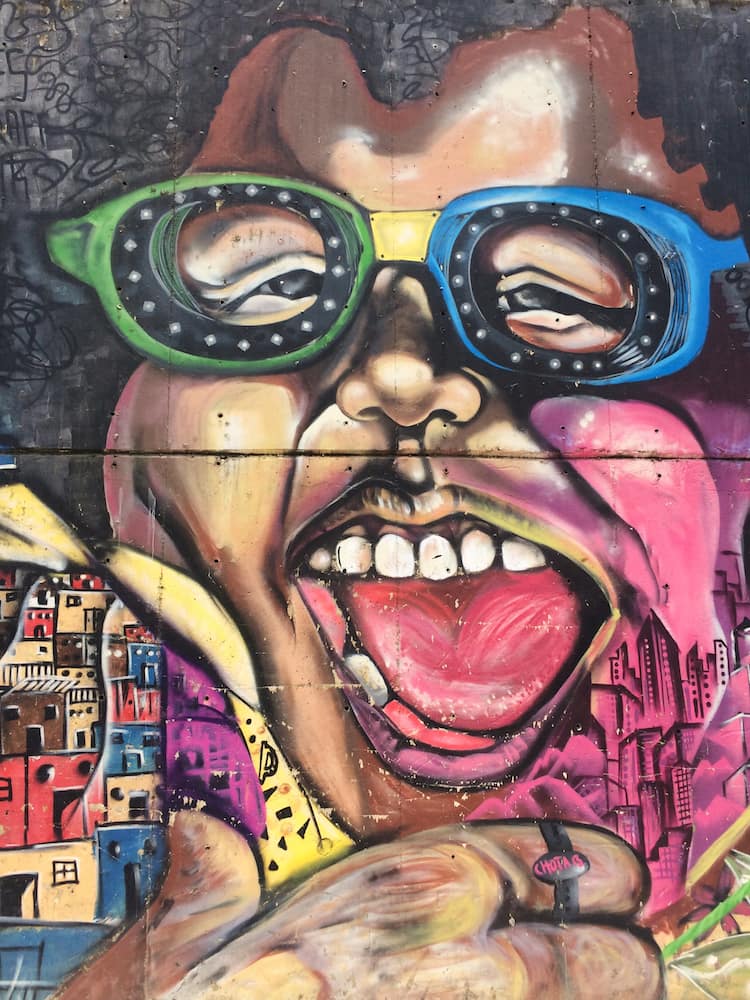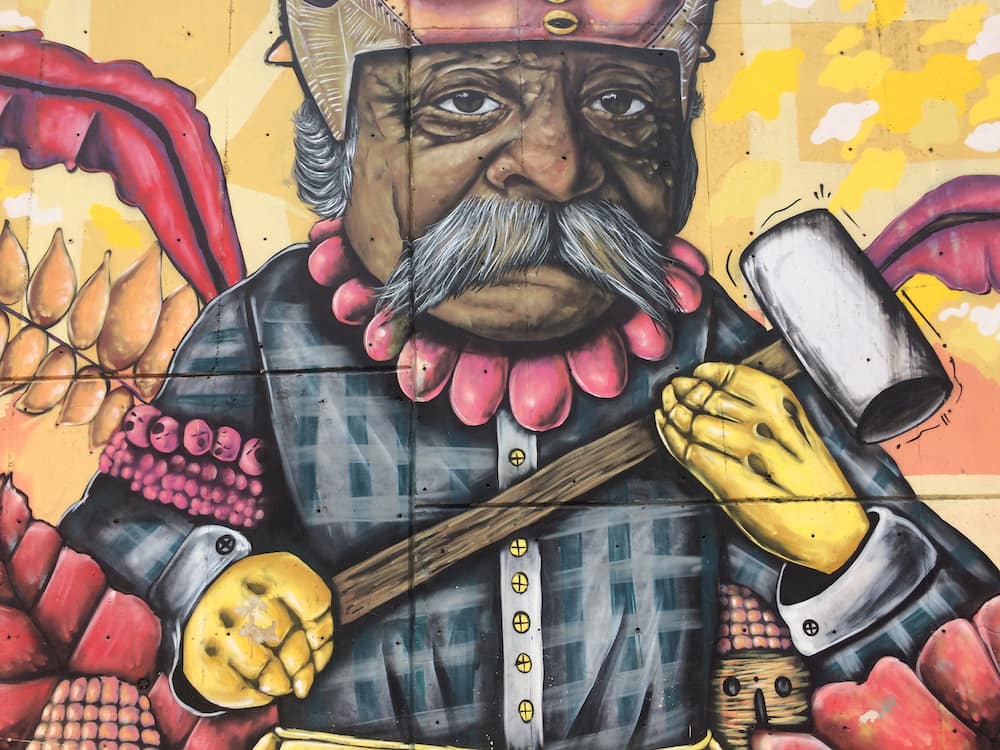 Final thoughts and how to get there
You can book any of the walking tours mentioned here online. Or, of course, you can visit the comuna on your own, with the caveat that you don't stray too far from the main tourist route.
To get there you need to take the metro to San Antonio station and then transfer to the San Javier line. After arriving in San Javier you can catch a bus up to Las Independias 1 and up into the barrio via the escalators.
Make no mistake, despite the attraction of the murals themselves, they represent a community stricken by years of pain and suffering. Yes, they're pieces of art that should be admired – and many of them are really stunning. But a tour of Comuna 13 is more about gaining an understanding of how this impoverished community has managed to overcome the kind of violence and oppression that most of us cannot possibly imagine.
And, through the inspirational work of artists such as @chota13 and @YesGraff, the rest of the world is slowly catching on to how a visit to Medellin isn't complete without taking a walk through one of its most notorious neighbourhoods.
What did you think? Have you been to Comuna 13, Medellin?  Or perhaps you're thinking of visiting there in the near future? Either way, we'd love to hear from you so please add your comments below.
To help us maintain our site we work with a number of partners who we've personally used and can recommend to our readers. If you decide to purchase any products through the following links, we'll receive a small commission at no extra cost to you. Thank you for your support!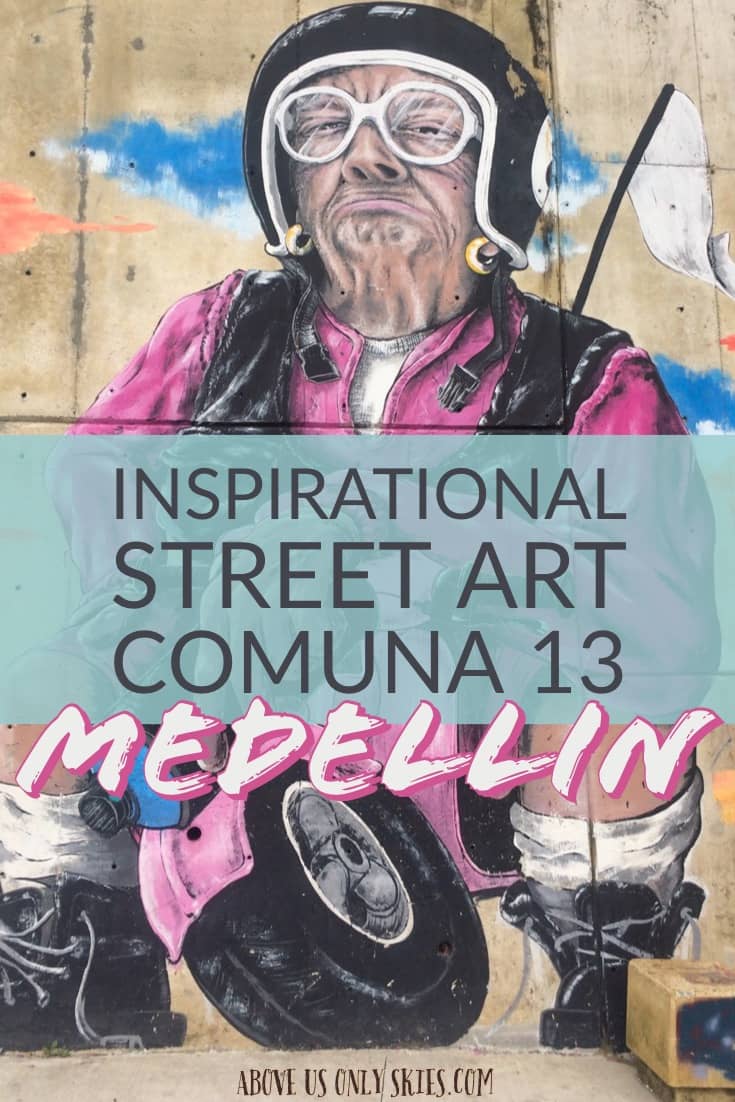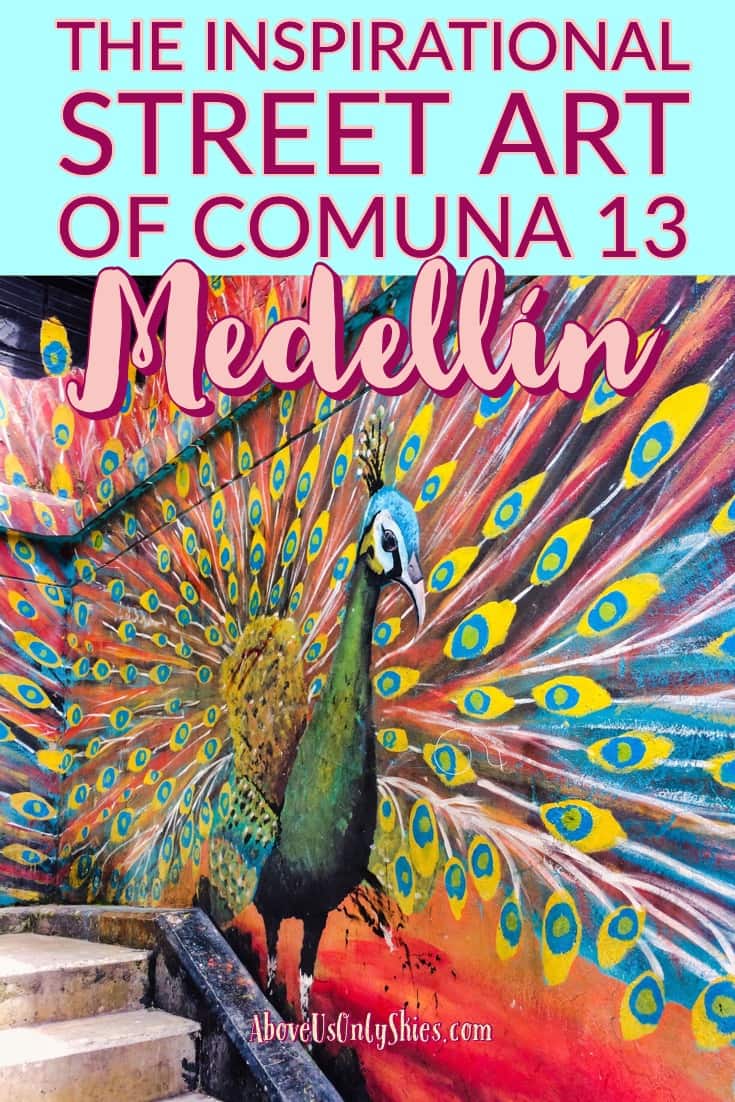 Hi, we're Ian and Nicky, an English couple on a voyage of discovery around the world, and this blog is designed to reflect what we see, think and do. Actually, we'd like to think it also provides information, entertainment and inspiration for other "mature" travellers, too. So please feel free to pour yourself a glass of something suitably chilled and take a look around.