6 ESSENTIAL THINGS TO DO IN AREQUIPA
6 ESSENTIAL THINGS TO DO IN AREQUIPA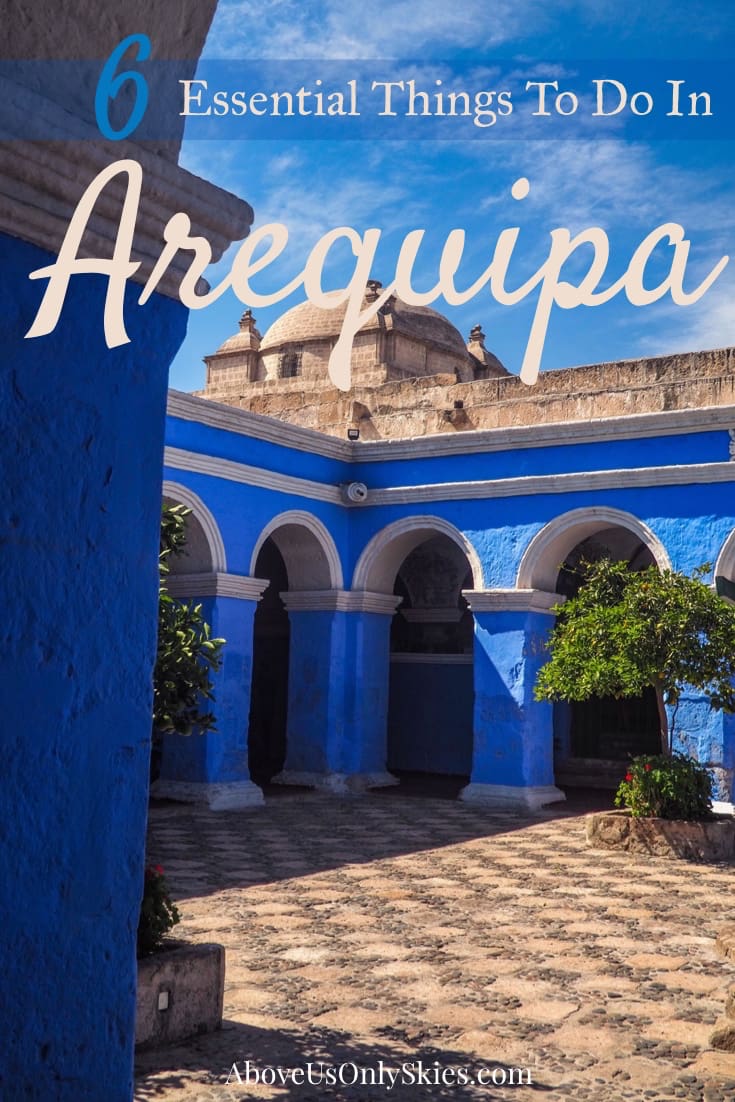 If you're asked to name a Peruvian city that's renowned for its exquisite colonial-era architecture and close proximity to world-class outdoor adventures then you might plump for Cusco. But while that city certainly has its attractions, we'd say that Arequipa is a more attractive proposition.
Especially given its reputation as a gourmet food destination and the comparable lack of crowds.
But if you need convincing, here are six essential things to do to make the most of your visit.
Monasterio Santa Catalina
Monasterio Santa Catalina
This page contains affiliate links. To help us maintain our site we work with a number of partners who we've personally used and can recommend to our readers. If you decide to purchase any products through the links on this page, we'll receive a small commission at no extra cost to you.
Go on an Arequipa Walking Tour
The UNESCO World Heritage listed historical centre of Arequipa is simply made for a walking tour and we'd suggest you do just that on your first morning there.
You'll have a number of free walking tour options to choose from – just remember that "free" effectively means "tip-based" – which means that you'll be expected to pay your guide a decent tip if you enjoyed your two hours-or-so in his or her company.
Ours started beside the chocolate-factory-cum-craft-beer-bar at Chaqchao before working its way to the main square (Plaza de Armas) with its huge cathedral, baroque arches and palm trees watched over by the conical Volcan Misti.
And then on we went through various side streets chock full with beautifully designed buildings and churches constructed from "sillar" – the white/pink volcanic rock found in large quantities around this area.
We visited the San Camilo Market, sampled local chicha (or "corn beer"), had a crash course in typical Arequipian food and took a look inside some of the many courtyards hidden from view from the main streets.
As an introduction to the city and a useful way of getting your bearings, it's a no-brainer.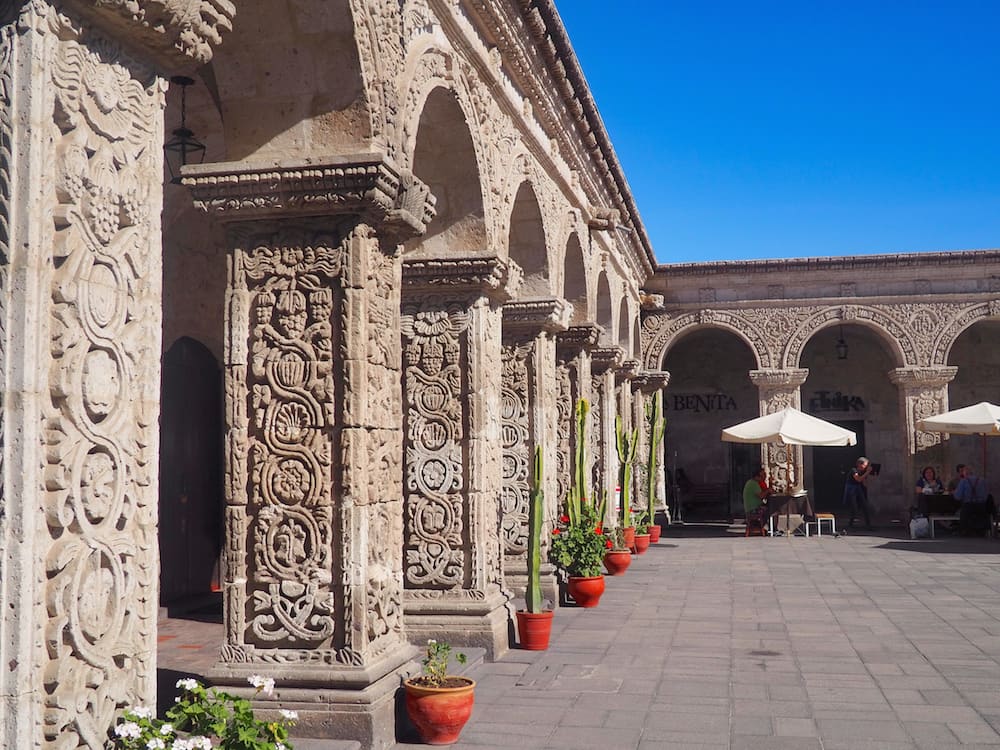 Visit the Museo Santuarios Andinos
An important, if macabre museum which houses the 500-year-old frozen remains of Juanita, a young girl who had been killed as part of an Incan sacrificial ceremony at the top of nearby Volcan Ampato.
One of many children sacrificed in this way, Juanita's still-frozen body is the centrepiece of the museum which pieces together how the Capac Cocha (or "Great Inca Ceremony") was performed on sacred mountains across the Inca Empire (including Argentina, Chile and Peru) in response to natural disasters such as floods, earthquakes and droughts.
As part of the ceremony, the children were led up to the summit of the mountain, where they were given chicha and hallucenogenic drugs to put them to sleep, before being sacrificed as an offering to the Inca gods.
The entrance fee of 20 soles (£5 / $6) includes a "free" local guide, who once again will expect a tip. However, it's a fascinating, albeit upsetting tour.
Juanita's permanent resting place is now inside a temperature-controlled glass casket that can be viewed from every angle. Which feels more than a little intrusive and voyeuristic. But, as a tiny window into the world and beliefs of one of South America's great civilisations, it's nevertheless a thought-provoking experience.
Spend a morning at the Monasterio Santa Catalina
Perhaps the city's biggest draw is this incredible monastery and convent, whose scale is simply mind-boggling.
Founded in 1580, it's a 20,000 square metre city-within-a-city, where the daughters of wealthy Spanish families would spend four years of complete isolation from the outside world. And in total silence. After which they would be given the harsh choice of whether to dedicate the rest of their lives to religious service or return to a "normal" life outside the convent walls.
It costs 40 soles (£10 / $12) to get in and you can hire a personal guide for 20 soles (£5 / $6) once inside. Which is an hour worth spending for some informed background to the monastery. Even though our particular guide was less than engaging. Of course, you then have the opportunity to explore under your own steam once the guided tour is over.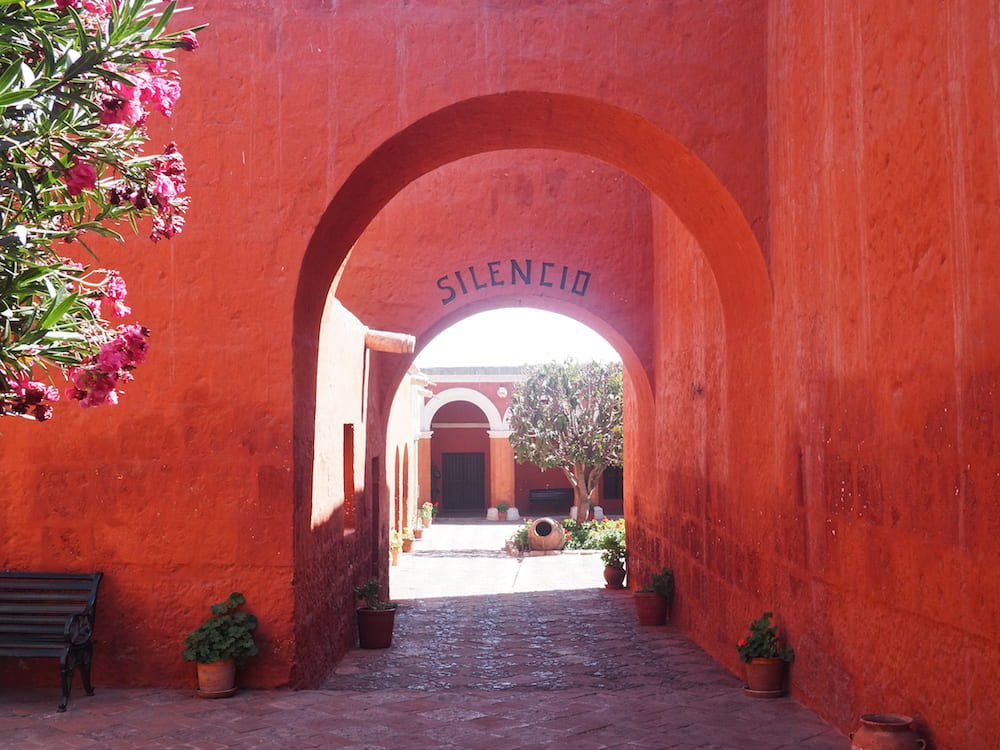 As well as being a fascinating place to visit, the monastery is truly a sumptuous blue, red and orange feast for the eyes. In fact, it's almost like stepping back in time to a Moorish-influenced village in Southern Spain.
Narrow streets of red walls and cobblestones give way to private sleeping quarters emblazoned with blue. Meanwhile, shards of bright sunlight battle with dark shadows as the morning sun marches towards noon.
Just don't rest against one of the walls to take a photograph as the paint has a habit of transferring easily to your clothes!
Equally fascinating are the austere private living quarters where the nuns would spend much of their lives. Typically including an en-suite bathroom and sometimes a spare room for the maid, they commanded huge fees from wealthy parents.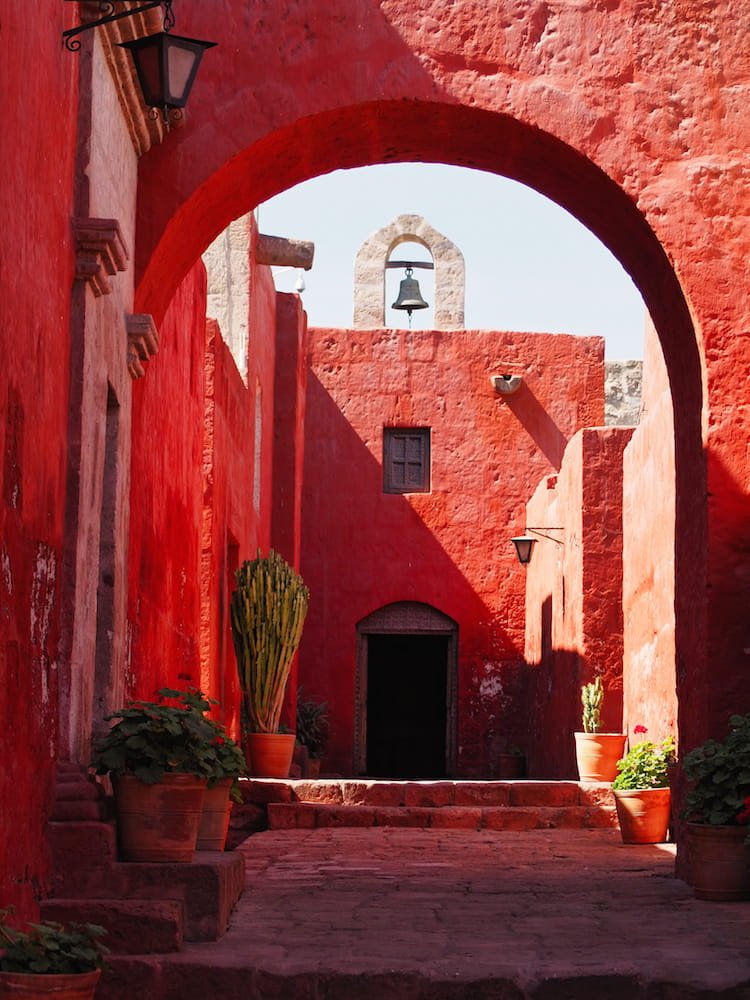 There are even huge communal kitchen areas to explore, including bread ovens and granite water purifiers.
It continues to function as a convent today and the current twenty-or-so nuns still live within the monastery's walls. Albeit separate to what is effect an open-air museum.
Honestly, If you've only got time to do one thing in Arequipa, make sure it's this.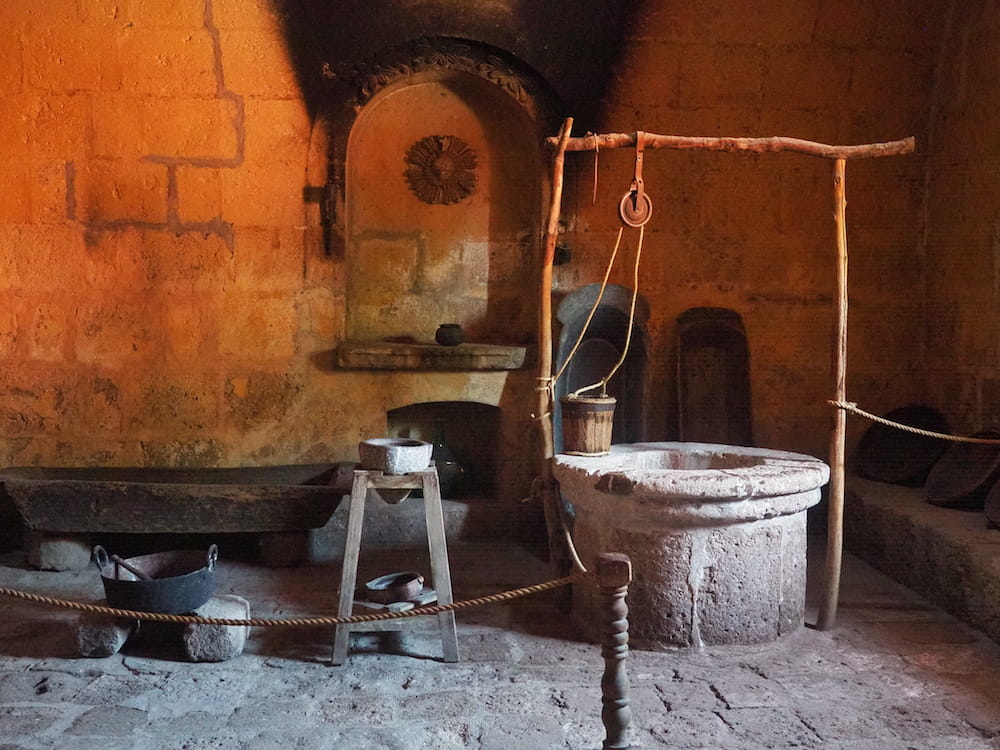 Explore the historic centre at night
Beautiful by day, Arequipa's natural white buildings have an ethereal feel at night, especially around the Plaza de Armas. All you need to do is re-trace your steps from your daytime walking tour for a completely different perspective.
In fact, small crowds start to gather late afternoon in the first floor bars and cafes as the sun begins its descent and Volcan Misti takes on a pinkish hue.
With the magnificent facade of the cathedral lit up on one side of the plaza, and surrounded by glorious arches on the other three, it's a wonderful place to just wander around, stop for a drink and people watch.
We found a small restaurant (on the corner of the plaza, opposite the cathedral) with a "secret" rooftop bar where we enjoyed pisco sours in earthenware cups while we watched Volcan Misti retreat into darkness behind the bright lights of the cathedral.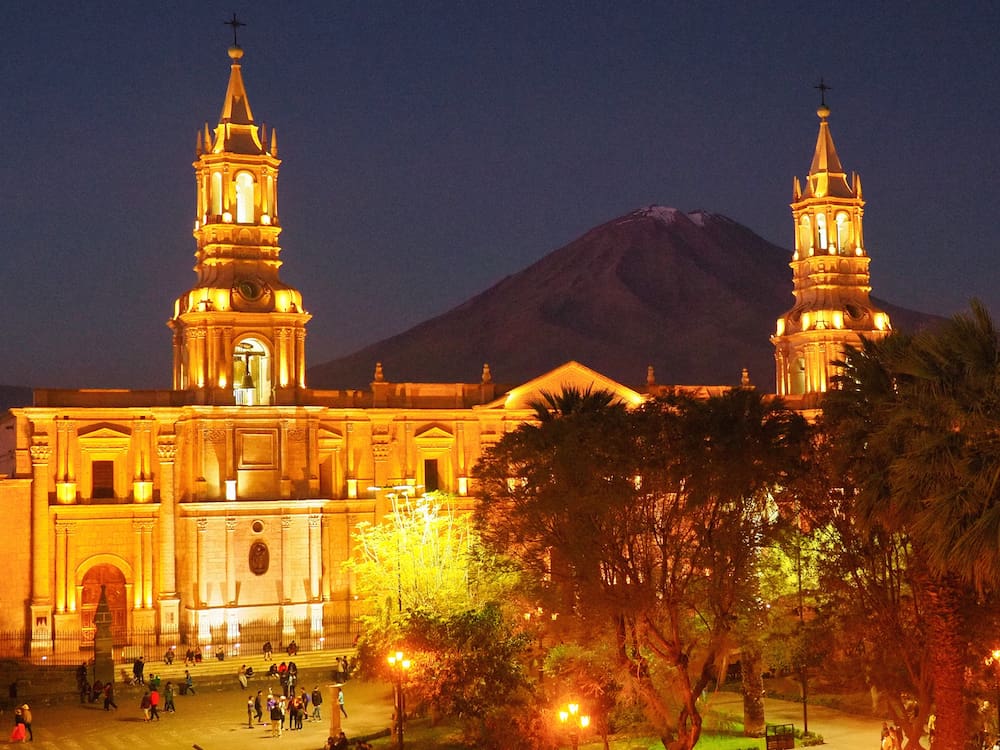 Eat traditional food in a picanteria
Second only to Lima as Peru's gourmet capital, Arequipa is particularly known for its picanterias. These are restaurants that serve lunch time feasts of traditional food that normally includes a picante (or "spicy") bowl of stew, washed down with a glass of chicha.
No visit to Arequipa would be complete without trying at least one of these dishes. So, naturally, we tried eight. All in one session.
Victoria is one of the oldest picanterias in Arequipa. And one of the few that's open during the evening as well as lunch time. And their "Arequipa In 8 Dishes" special was just too good to turn down.
Starting with three different types of chicha, we then worked our way through local dishes such as chicharrón (deep-fried pork), cuy chactado (fried guinea pig) and rocotto relleno (stuffed hot pepper) before finishing with a belly-busting arroz vicuña (rice pudding). Suffice to say, we weren't fit for much else afterwards, but it was without doubt one of the best meals we had in South America. So make sure you give Victoria – or one of the other Arequipa picanterias – a try when you visit.
Three varieties of corn beer ("chicha")
Traditional deep-fried pork ("chicharrón")
Fried guinea pig ("cuy") with wheat pudding
Salad with prawn and sea urchins
Three kinds of quinoa with alpaca
Other eating and drinking options
Elsewhere, there are plenty of eating and drinking options around.
For something different, Kao Restaurant offers Thai-Peruvian fusion cuisine. Including a memorable Mixed Ceviche with Green Curry. In fact, you can take a free ceviche cookery masterclass if you turn up between 12:30 and 1pm.
Not only that, but they serve what we reckon was the best pisco sour we had in Peru. Specifically the Maracuya (Passion Fruit) Sour. Again, if there are five or more people, you can get a free pisco sour masterclass.
And while we're on the subject of ceviche, Fory Fay has a whole menu dedicated to them. It's a no-frills eatery but you'll struggle to find a better value quality ceviche anywhere.
Meanwhile Zig Zag offers higher-end dishes such as their signature Trilogy of Meats (Alpaca, Beef, Lamb) on a Volcanic Stone in a lovely building overlooking San Francisco Plaza. And, for seriously good sweet and savoury crepes give La Petite Francaise a try.
Finally, if like us, you develop an unhealthy fixation on pisco sour, the Museo del Pisco will satisfy your urges into the wee hours.
Preparing a pisco sour at Kao
Pisco sour ready for drinking
Take a trip to Colca Canyon
One of the main reasons for staying in Arequipa for many is to use it as a base for exploring Colca Canyon. And as the second deepest canyon in the world, it shouldn't be missed. Especially as its also home to the famed Andean Condor.
To get there from Arequipa, you can book single or multi-day hikes through a local tour company. Which means a 3am start and a four-hour mini-van journey. But you'll arrive in time to see Andean Condors take flight from their cliffside nests at the Cruz del Condor observation point.
Or you can make your own way there and stay overnight in Chivay or Cabanaconde (5-7 hours by public bus) the night before and hike into the canyon under your own steam the following morning. We chose this option and can thoroughly recommend it. 
Make no mistake, it's a gruelling hike, both down and up. Especially as you'll be starting and finishing at 3,500 metres (11,500 feet) altitude and dropping a full 1200 metres (3,900 feet) into the canyon. And there's precious little shade from the sun when it rises above the cliffs. But we guarantee it'll be one of the most rewarding hikes you've ever done.
Just don't try and do it in a single day as others we met were doing!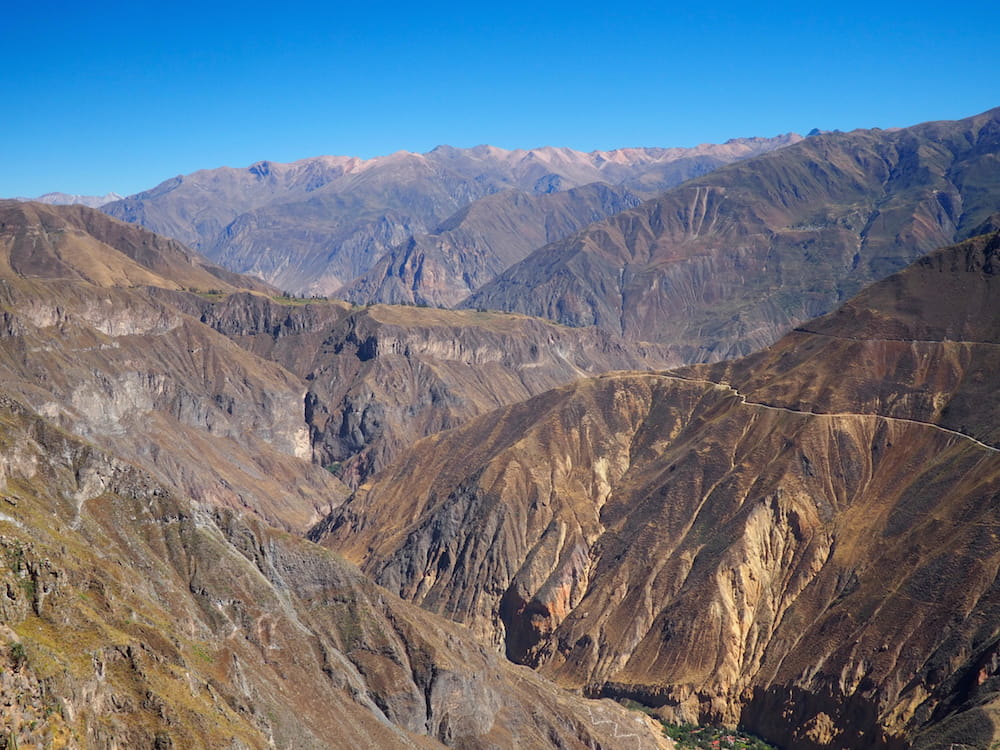 Final thoughts on Arequipa
It's fair to say that our initial bus journey through the outskirts of Arequipa didn't exactly fill us with excitement. In that respect, it's typical of most Peruvian towns and cities where unfinished buildings reign supreme and the traffic is nothing short of chaotic.
But once we reached the historic centre we began to understand what the fuss was all about. As such, it's easily walkable and there's so much to enjoy that it would be easy to spend a week or more exploring its streets and enjoying its gourmet food.
So if you're heading to Peru and are wondering where to go after you've spent some time in Cusco and the Sacred Valley, then don't miss this white-walled gem. 
Just make sure you bring an appetite.
What did you think? What did you think? Have you been to Arequipa? Do you have any recommendations to add? Or perhaps you're thinking of visiting there in the near future? Either way, we'd love to hear from you so please add your comments below.

Download our GPS-guided travel app to explore the places featured in this post.
To help us maintain our site we work with a number of partners who we've personally used and can recommend to our readers. If you decide to purchase any products through the following links, we'll receive a small commission at no extra cost to you. Thank you for your support!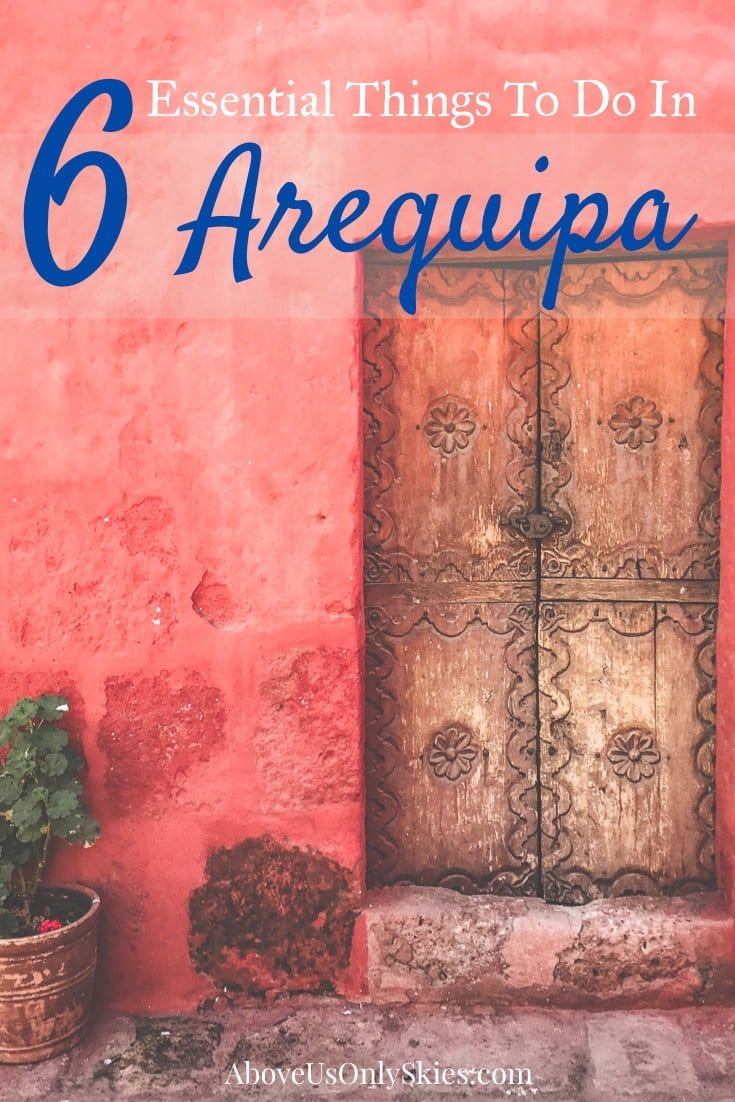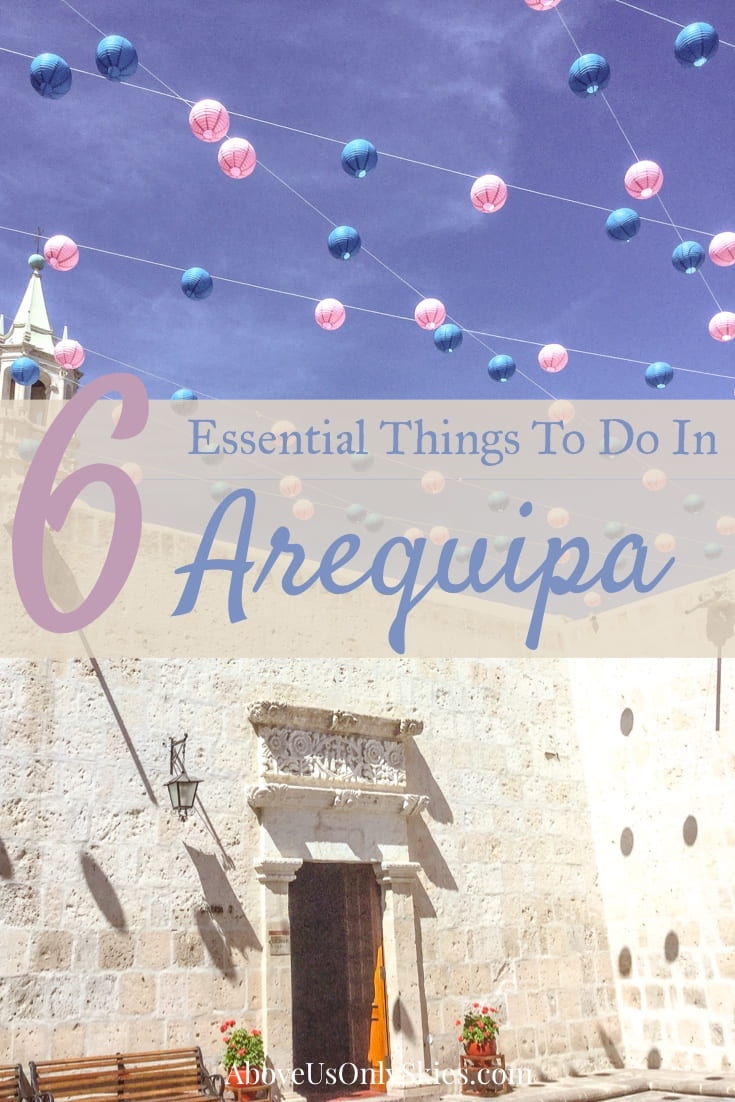 Hi, we're Ian and Nicky, an English couple on a voyage of discovery around the world, and this blog is designed to reflect what we see, think and do. Actually, we'd like to think it also provides information, entertainment and inspiration for other "mature" travellers, too. So please feel free to pour yourself a glass of something suitably chilled and take a look around.