The Best Things To Do In Guadalajara
MEXICO
The Best Things To Do In Guadalajara Mexico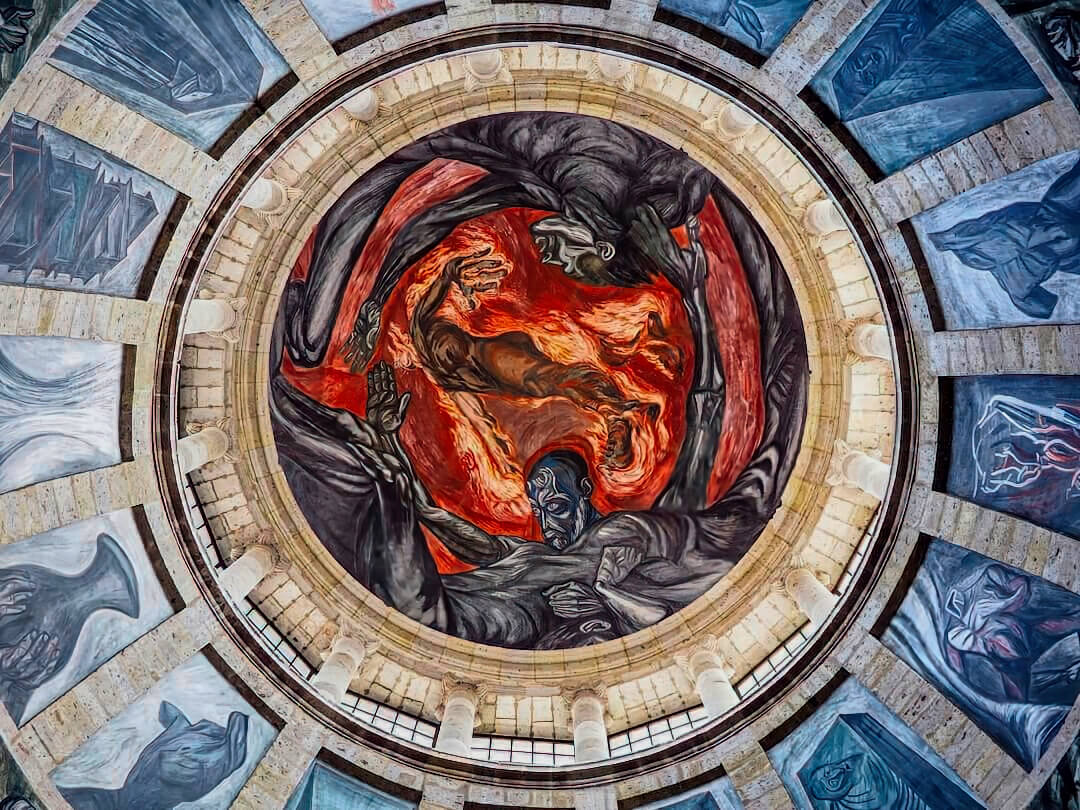 There are so many things to do in Guadalajara Mexico, that it's difficult to know where to start. 
Perhaps the most iconic would be watching a mariachi band play whilst sipping a local tequila. After all, the city is generally considered the birthplace of mariachi and the surrounding countryside is filled with the raw ingredients for producing Mexico's national tipple. Although fans of mezcal would probably disagree.
And we're more than happy to confirm that we did just that during our stay. But there's so much more to this beautiful city. Indeed, it's been on Ian's radar ever since he watched the scratchy satellite coverage of the 1970 World Cup match between Brazil and England at Guadalajara's Jalisco Stadium (for those of a certain age that was the game where Gordon Banks miraculously saved the goal-bound header from the late-and-great Pelé). 
Featuring some of the country's finest colonial-era architecture, arts galore, excellent food and access to a plethora of day trips, it really has got something for everyone. And, unlike Mexico City, the weather is perfect.
Needless to say, if you have the time, we'd strongly recommend you visit Guadalajara as part of your Mexico experience. And, to help get your planning started, here's our guide to making the most of your stay.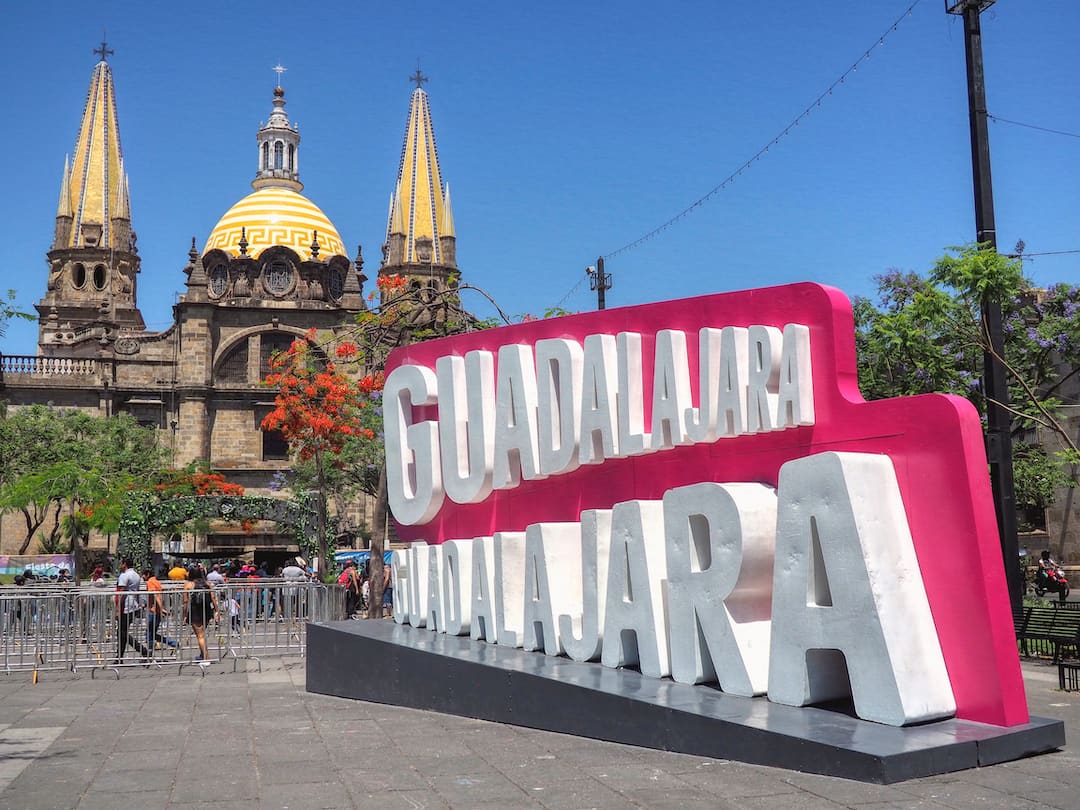 This page contains affiliate links. To help us maintain our site we work with a number of partners who we've personally used and can recommend to our readers. If you decide to purchase any products through the links on this page, we'll receive a small commission at no extra cost to you.
Some facts about Guadalajara
Meaning "Valley of Stone", Guadalajara is named after the original Spanish city and birthplace of one Nuño Beltrán de Guzmán, the brutal conquistador responsible for conquering the region.
Declared as the capital of Nuevo Galicia (now "Jalisco") in 1560, it played a central role in the Mexican War of Independence. Especially after Miguel Hidalgo, one of the rebel leaders, set up a revolutionary government there in 1810.
Later that century, it grew in size and population to become Mexico's second city. And it has continued to grow in size and influence as a commercial and industrial hub for the north of the country. To the point where previously separate towns such as Tlaquepaque and Zapopan are now considered as suburbs of the city.
However, today it's perhaps recognised most for its cultural highlights. In addition to its connections with mariachi and tequila, it's also the home of birria (a rich beef or goat stew, often shredded and served in tacos) and the sombrero, the oversized hat beloved of the tapatíos (Guadalajara natives).
And its cultural fame extends to hosting major events. Such as the annual Guadalajara International Film Festival (the most important in Latin America) and the Guadalajara Book Fair. 
Paradoxically, the city is also noted for its connections with Mexico's long-standing drug wars. Notably involving Felix Gallardo, the head of Guadalajara's cartel in the 1980s, which at the time was the most prominent (and brutal) in the country.
You'll undoubtedly hear them before you see them. But don't leave Guadalajara (or Mexico for that matter) without at least once experiencing the stirring vocals, strumming guitars, blazing trumpets and soaring violins of a mariachi band. 
You shouldn't have to look too far. Especially at weekends when troupes of musicians dressed in flamboyant charro (Mexican cowboy gear) take to the streets in search of an eager audience. 
Their origins can be traced back to the 17th Century when ensembles would gather to play music at celebrations and festivities, dressed in peasant clothing. The Jalisco town of Cocula, near to Guadalajara, is credited with the switch to the current mariachi style in the early 19th Century. And nowadays, some of the best examples can be found in El Parián, a restaurant and mariachi band complex in the Guadalajara suburb of Tlaquepaque 
But, during September, the International Mariachi and Charreria Festival is Guadalajara's biggest homage to its heritage. Mariachi bands from all over the world converge on the city, culminating in a free staged event on Plaza de la Liberación and a ticketed concert in the Teatro Degollado.
Sculpture of mariachi musician in Tlaquepaque, Guadalajara
The name tequila is associated strongly with Mexico because of its worldwide fame as a spirit to be necked quickly from a shot glass. Or as an integral ingredient for Margarita and Tequila Sunrise cocktails. However, you may be surprised to learn that it's also a spirit intended for sipping and savouring. Or as an accompaniment to food. And that, after ageing for anything over three years, it can compare favourably to a cognac or single malt whiskey.
Even less well-known is the fact that it's only produced in the state of Jalisco. Just like champagne or cognac in France, any imitations produced elsewhere must be called something different. And in tequila's case, that difference is its smokier cousin, mezcal. 
Both are produced from the mighty agave plant. But only the blue agave plant is used in the process for making tequila (and only in Jalisco), whereas mezcal can be produced from any agave variety.
The three pueblo magico towns of Tequila, Amatitan and Arenal are responsible for producing all of Jalisco's (and therefore the world's) tequila. And, as the capital of Jalisco, Guadalajara hosts a two-day Tequila Festival every March.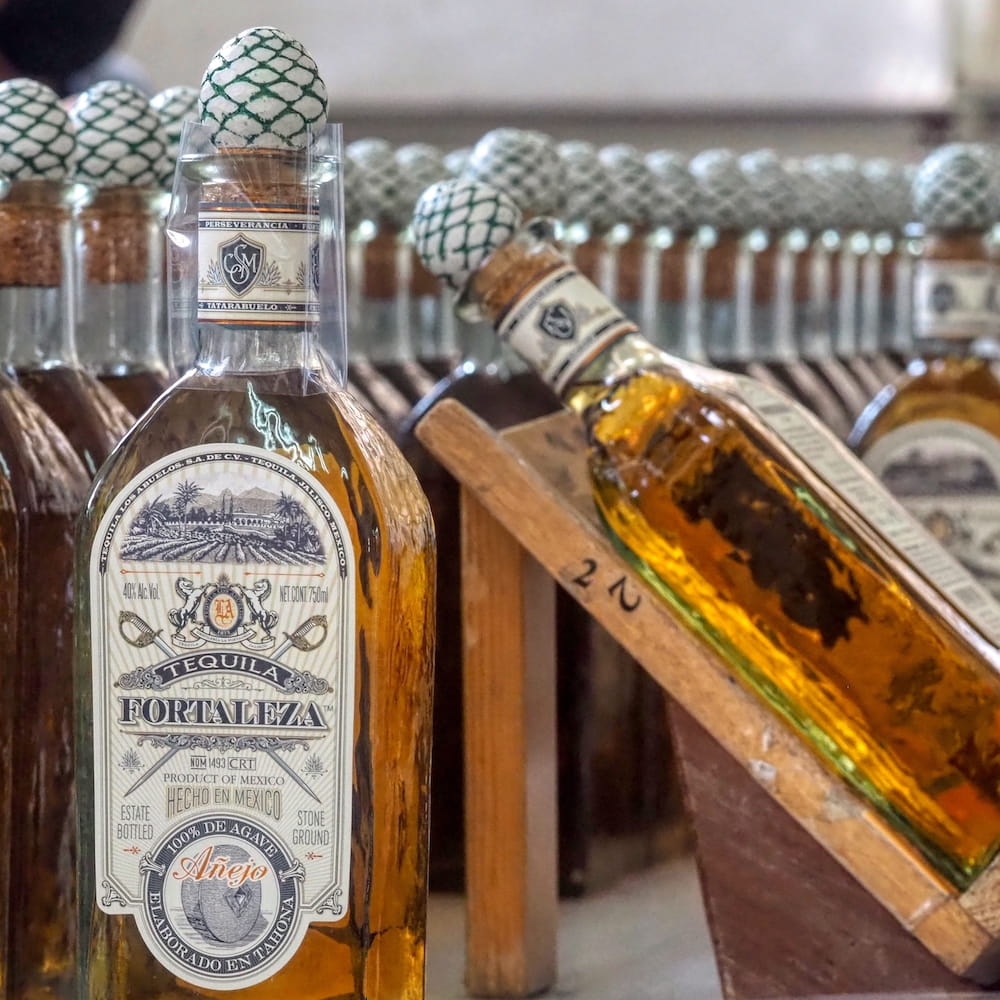 Bottling tequila at La Fortaleza Distillery
Interested in housesitting while you travel?
We were able to spend three weeks in Jalisco housesitting in a villa at Lake Chapala, just an hour from Guadalajara. If you're interested in doing the same, you might want to consider joining Trusted Housesitters – the world's largest housesitting platform. And you can do so with a special 25% discount off your first year's subscription through our link below.
A walk through the historic centre
One of the best free things to in Guadalajara is to walk through its historic centre. It's really simple to do as one plaza is connected to the next. And there's so much to see at each turn. You could easily complete the following walk in a long morning or afternoon. 
Start your walk at the Plaza de Armas, Guadalajara's spacious main square. And also its oldest. 
Lined with rows of trees, wrought iron lampposts and benches, it's an ideal place to use as a resting place while you crisscross your way back and forth around the city. 
The centrepiece is a rather ornate Art-Nouveau bandstand, which usually hosts a band on Thursdays and Sundays. But the plaza is dominated by two of the city's most important buildings.
The Baroque Palacio de Gobierno houses the Jalisco state government. The presence of guards at the main entrance might suggest that it's off limits to visitors. But it is actually possible to go inside and view the opulent interior. Including murals by José Clemente Orozco celebrating the role of Miguel Hidalgo in Mexico's independence. Just be prepared to ask one of the guards if you're allowed in on that particular day.
On the north side of the plaza Guadalajara Cathedral is the city's most iconic landmark. And, although it adds to the drama of the Plaza de Armas, it's actually viewed better from neighbouring Plaza Guadalajara.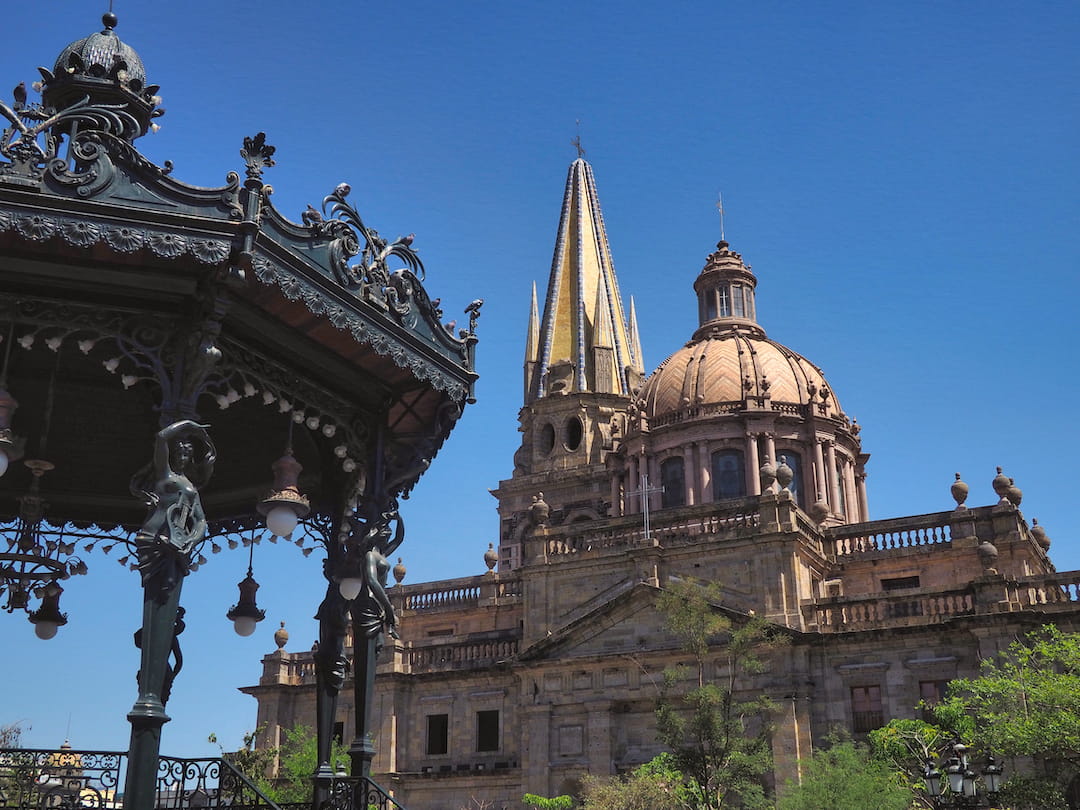 Plaza de Armas bandstand with the cathedral behind
Our first sighting of the cathedral from this plaza was enough to elicit a gasp of wonder from both of us. Featuring a 19th Century twin set of neo-Gothic towers (replacing the previous towers destroyed in two separate earthquakes) and a neoclassical facade, it's a mish-mash of architectural styles.
But there's no doubting its beauty. And if you can time a visit here for the "golden hour", just prior to sunset, the stonework takes on a gorgeous pinkish-orange hue. In fact, you'll find yourself in the company of families who gather around the plaza's centrepiece fountain waiting for the light-filled magic to happen.
The cathedral's lavish interior includes golf-leaf pillars, stained glass windows fashioned in France and no fewer than 11 sumptuous alters donated as a gift from King Fernando VII of Spain.
Suffice it to say, although we're by no means religious, this cathedral felt very special.
The cathedral during the "golden hour"
​3 Rotunda de los Jaliscienses Ilustres
From Plaza Guadalajara, stroll along Avenida Fray Antonio Alcalde for a couple of blocks until you stumble across one of the many quirky sculptures that have sprung up in the city. This one's a huge blue metallic human head that appears to have been scalped. And with the road and surrounding buildings seemingly built around it.
So Guadalajara!
And, as if to emphasise the point about the city's relationship with the arts, the adjacent Rotunda de los Jaliscienses Illustres is a circular monument of 17 fluted columns, surrounded by a number of statues, erected to commemorate prominent artists, musicians and political leaders of Jalisco state.
As with much in this walking guide, it takes on a particularly special appearance when it's lit up at night.
Returning back towards the rear of the cathedral on Calle Liceo, you'll arrive at Plaza de la Liberación. A recently developed open space with fountains and the obligatory city name monument, it also provides another perspective of the mighty cathedral. 
But we can't help feel that the bulldozing of the colonial buildings that had previously existed was to provide a full view of the imposing Teatro Degollado at the opposite end of the plaza. Although to be fair, it's an incredibly beautiful building. The triangular frieze portraying Apollo and the Muses sitting atop eight Greek columns is likely to be your first image. But take a full walk around it to really appreciate its neoclassical splendour. 
Inside the five-tiered concert hall, bathed in gold leaf and red velvet, the roof is adorned with a spectacular mural of Dante's Divine Comedy.
At the rear of the theatre is Plaza Fundadores, where a 21-metre-long bronze frieze commemorates the spot and the original founders of Guadalajara (or Villa Nueva Galicia as it was then called).
Continuing your walk away from the theatre along the landscaped Paseo Degollado, you'll arrive at the exquisite Plaza Tapatia. It's another wide open space, which can get filled with stalls and street performers at weekends. But the focal point is a 25-metre high twisting, writhing metallic sculpture, surrounded by four smaller sculptures. It all depicts the sacrificial end of Quetzalcóatl (the Aztec god) who, according to legend,  "went down to hell to bring fire to the sun".
Stunning Plaza Tapatia and the Quetzalcóatl sculpture
Beyond, Paseo Hospicio is a wide tree-lined and traffic-free boulevard with landscaped fountains and ice cream parlours. After which you'll arrive at potentially the highlight of the whole walk – Hospicio Cabañas. But just before that, stop to admire La Sala de Los Magos, a beguiling set of bronze sculptures by local artist Alejandro Colunga. The sculptures are bizarre combinations of wizard and magician figures that morph into seats for passers-by to use.
One of the many sculptures-cum-seats in La Sala de Los Magos 
The Instituto Cultural Cabañas (aka Hospicio Cabañas) is a UNESCO World Heritage Site built in the early 18th Century as a refuge for orphans, invalids and other disadvantaged people. The building itself is a neoclassical gem, brimming with courtyards and arched corridors. But the main reason for exploring inside is to wonder at the magnificent 57 murals by Mexican artist, José Clemente Orozco.
Seriously, even if you're not an art fan, you'll find it difficult not to be amazed by the striking images that emblazon the walls and ceiling of the central hall. With themes including the Spanish conquest and political terror, they're dark and chilling, with lots of reds, dark greys and blues. Including the centrepiece Man in Flames, which covers the central dome.
Don't miss it.
Murals inside the central hall, including "Man In Flames"
7 San Juan de Dios Mercado
Time for a change now as you head to the nearby Libertad Mercado (aka San Juan de Dios Mercado). It's one of the largest (if not, THE largest) covered markets in the Americas and you're guaranteed to get lost once inside.
From ceramic goods to leather items and cheap tourist tat to street food, it's an "anything goes" experience that spreads over nearly 3,000 stalls. And it's as far removed from the sanitised beauty of Plaza Tapatia as you could possibly imagine.
And, finally, just across from the market (off Avenia Javier Mina) is Plaza de Los Mariachis. Originally built as a meeting place for Guadalajara's mariachis, it's an atmospheric place during the day. But it really comes alive at night when the tequila starts flowing and the musicians get in the mood.
Otherwise, it's simply a lovely spot to have lunch and watch the world go by.
Other things to do in and around Guadalajara
To the west of the historic centre, along Avenida Juarez and beyond Parque Revolucion, the Colonia Americana district is perhaps the trendiest part of the city. Especially along Avenida Chapultepec, where former mansions have been converted into hipster bars and restaurants. And a burgeoning craft beer scene is emerging as an alternative to the usual Mexican domestic beer staples.
It's also here you'll find the spectacular neo-Gothic Templo Expiatorio, with its band of 12 apostle figurines that go for a wander across the balcony of the bell tower on the stroke of every hour. 
Nearby Zapopan is a separate community that has been swallowed up by Guadalajara's urban expansion. It's easy enough to reach by bus or Uber and boasts a sublime 17th Century basilica.
It's also where you can experience a top flight Mexican football game at the Estadio Chivas. Home to Club Deportivo Guadalajara (more commonly known as Chivas), it's arguably Mexico's biggest club. Something supporters of their fierce rivals, Mexico City's Club América, will undoubtedly dispute.
However, if you manage to time your visit for Guadalajara's el clásico tapatío between Chivas and local rivals Atlas, then do whatever you can to get a ticket. 
If you like your Mexican sport with a little more authenticity, you might like to try a live charreada show. Similar to rodeo, it involves both men and women competing in horse riding, roping and cattle handling. And, of course, this being Mexico the men are dressed in tight-fitting decorative suits, boots and sombrero. Although there are shows in the city throughout the year, the Mexican National Charro Championship is held in Guadalajara during the Mariachi festival each September.
But if you want to go for the full-on Mexican pop-culture experience, head down to the Arena Coliseo de Guadalajara for the spectacle that is lucha libre. Subtle it isn't. But if the sight of over-theatrical mask-wearing wrestlers going at it toe-to-toe in front of a raucous crowd floats your boat then you'll have a ball.
As for us, we're just suckers for some good old-fashioned Latin American graffiti. And one of the joys of walking around Guadalajara is that you're likely to stumble across the occasional masterpiece masquerading as a piece of street art.
Of course, no visitor should leave without trying out some of Guadalajara's culinary delights. And, as always with Mexico, there's no need to break the bank to enjoy quality food. Even if you only have 24 or 48 hours in the city, we'd suggest you seek out these two local specialties.
Torta agohada is a Guadalajaran bread roll (birote) that's been soaked in salsa and then filled with pork and onions. So much salsa in fact that it's often served in a bowl. Finished off with avocado, radishes and sometimes chicharron (crispy pork fat), it might not sound that appealing to the uninitiated. But, believe us when we say it's one of our favourite Mexican breakfast dishes.
Literally translated as "drowned sandwich", it's a challenge to eat and not especially healthy. But, as Guadalajara's signature dish, as long as you're not vegetarian, you really must give it a try.
You'll see it advertised all over the city. However, we can heartily recommend Tortas Agohadas Enrique El Viejo, near Parque Revolución. With just three bar stools and a breakfast bar, and your drowned sandwich served in a plastic tray, it's a no-frills gem.
Birria, Guadalajara's other famous dish, is a rich stew of lamb, mutton or beef,  that's typically served in tacos. Traditionally it's cooked by combining the meat with a rich, spicy sauce, which is then wrapped and sealed in corn dough and slowly cooked underground for several hours against hot stones. The resultant meat is ultra-tender, making it perfect for a taco or burrito filling.
Again, you'll find it all over the city. Our recommendation would be the lovely Birreria Las 9 Esquinas.
Three Day trips from Guadalajara
An easy day trip from Guadalajara, Tlaquepaque is just 7 km away from Centro and can be reached by train, bus or taxi.
As we've alluded to, it was once a separate town but has now been engulfed by the surrounding metropolis. Although it does manage to retain its village feel, even when crowds of day trippers arrive.
Famed for its local artisan handicrafts, its colourful pedestrianised main street (Independencia) is chock-full of craft shops. And, as in Guadalajara, bronze sculptures are everywhere.
Its centrepiece is El Parián, a 20-strong collection of restaurants surrounding a central courtyard and pavilion. Claiming to be the world's largest cantina, it gets particularly lively when the mariachi performances start during the afternoon.
Scenes from Calle Independencia in Tlaquepaque
45 kilometres south of Guadalajara – and an hour away by bus – Chapala is Mexico's largest natural lake. Surrounded by mountains and a collection of small towns dotted along its northern shore, it enjoys a beautiful setting. In fact, we stayed there for three weeks while housesitting in the village of San Juan Cosalá. 
The main attraction for day trippers though is the pueblo magico of Ajijic, just a few kilometres further along the shore. With its cobblestones, street art and craft shops it's certainly the most picturesque of the lakeside towns. And it's probably why it's become such a magnet for retirees from the USA and Canada. 
The downside, however, is the amount of building work that's currently underway up into the hillsides. Given the traffic congestion that already exists  – and the fact that the lake is drying up on account of it being the main water supply for Guadalajara – we'd have to question how sustainable that growth is.
Nevertheless, it's still worth the day trip from Guadalajara. You just might want to avoid it at the weekend, however, when tapatíos descend in their droves.
We'd have to say that you should absolutely include some time for a day trip to Tequila from Guadalajara. Home to the ubiquitous spirit and a UNESCO World Heritage Site, it's just 60 km and a two-hour or so bus journey away. And it sits amidst a landscape of rolling hills blanketed with fields of blue agave. Which, if you've been paying attention, provides the raw material for tequila.
The town itself is another of Mexico's pueblo magicos and is worth exploring in its own right. But most visitors will try to take in at least one tour of a tequila distillery. And there are plenty to choose from. For instance, there are big brands such as José Cuervo. And there are much smaller artisan distilleries such as La Fortaleza, which use traditional methods throughout the process.
We chose to take a tour of La Fortaleza on our trip, which we'll cover in a separate post. It's certainly not the cheapest available. But for a personalised two-hour tour to see the traditional methods they use, a buggy ride through the estate and agave fields, and a multiple tasting in their underground cave bar, it was worth every peso.
And if one distillery isn't enough you can always plot your way around several in the area. Guadalajara's official visitor's site has some suggestions for the La Ruta del Tequila ("The Tequila Trail").
Alternatively, there's the Tequila Express, a train that runs from Guadalajara to the José Cuervo and Herradura distilleries. Don't expect a navel-gazing experience or feeling like you've made a spiritual connection with the sea of blue agave that surrounds you. Do expect lots of tequila shots, mariachi music and increasingly inebriated fellow passengers singing their hearts out for Mexico.
We might just take up that option next time
Blue agave fields at La Fortaleza
Final thoughts on the best things to do in Guadalajara
As a tourist destination, we believe that Guadalajara has a lot to offer. And it has advantages over Mexico City for first-time visitors to Mexico.
The gorgeous historic centre is easily walkable, the climate is exceptional and there are authentic Mexican reference points galore.
And, as a gateway to the Pacific coast resorts, the blue agave fields of Jalisco and the colonial towns of neighbouring Guanajuato and Michoacan states, it's an excellent transportation hub.
Guadalajara Cathedral
Teatro Degollado
Plaza Guadalajara
Plaza Tapatia
Palacio de Gobierno
La Sala de Los Magos
San Juan de Dios Mercado
Plaza de Los Mariachis
Avenida Chapultepec, Colonia Americana
Templo Expiatorio
Estadio Chivas
Arena Coliseo de Guadalajara
El Parian, Tlaquepaque
Ajijic, Lake Chapala
Tequila
La Fortaleza Tequila Distillery
Birreria Las 9 Esquinas
Tortas Ahogadas Enrique El Viejo
FAQs
Where is Guadalajara?
The state capital of Jalisco, the city is 350 miles west of Mexico City and is at an altitude of 1500 metres.
How do I get there?
There are direct flights to Guadalajara from many airports in the United States and Canada, along with Colombia (Bogota) and Panama City. However, Madrid is the only point of departure from Europe (with Aeromexico).
The main domestic flights are from Mexico City and Tijuana.
Miguel Hidalgo International Airport is 24 miles from the city centre.
There are also good bus connections to and from Guadalajara. This excellent article provides a good rundown of the options.
When is the best time to visit Guadalajara?
The best time to visit Guadalajara for ideal weather is between October and May. Although it gets progressively hotter towards the end of that season as the rainy low season (June to September) approaches.
As we've mentioned, there are a number of festivals and events that take place during the course of the year and your decision on when to visit might be influenced by them.
Is Guadalajara worth visiting?
Absolutely! Especially if you want to visit a city that's authentically Mexican.
You can easily spend anywhere between 3 and 7 days in Guadalajara without venturing further afield. But it also offers so many other opportunities for other things to do in Jalisco state in general.
Can you recommend where to stay in Guadalajara?
Yes, we can!
To be honest, we can't compare it to other accommodation options in the city, but we found the Portobello Hotel (near to Parque Revolución) to be perfect for our needs.
Modern, reasonably priced, quiet, with great wifi and a large comfortable bed. And it's situated halfway between the historic centre and Colonia Americana – both of which are within easy walking distance.
Is Guadalajara safe?
We're not going to be lazy and say that Guadalajara is perfectly safe. It's a large city with its own particular crime problems. But none of the recommended places to visit in this guide should cause you any particular worries if you practice the same safety precautions as you would anywhere else in the world.
Of course, be extra vigilant at night. And just book a taxi or an Uber rather than walk back to your hotel if you prefer.
Any other questions?
If there's anything you'd like to ask about Guadalajara that we haven't covered here, there are a few ways to get in touch with us.
Firstly, you can simply ask your question in the Comments section below. You can also get in touch using our contact form. Or, if you'd like to join our community on Facebook, you can ask directly there.
Either way, we'll do our best to get straight back to you.
What did you think?  Do you have any recommendations on things to do in Guadalajara Mexico? Or perhaps you're planning to visit in the near future? Either way, we'd love to hear from you so please add your comments below.
PLAN YOUR TRIP
The following contain affiliate links. If you decide to purchase anything after clicking on any of these links, we may receive a small commission at no extra cost to you. Indeed, as a result, you'll be helping to keep our website ad-free! Thanks for your support.
Book Your Flight
Our go-to website for flights is Skyscanner. We've probably booked probably 90% of our flights worldwide with them over the years and they've never let us down.
Book Your Accommodation
No longer merely a travel rating service, Trip Advisor is now a major resource for booking accommodation, too. And you can view some of the best deals in Guadalajara here.
Get Insured
For travellers who are UK residents, we recommend True Traveller. Amongst other things, they offer both multi-trip and backpacker insurance. Indeed, they're our go-to insurance provider.
For travellers who are non-UK residents, we recommend SafetyWing for both remote health insurance and nomad insurance.
Check your entry requirements
Check all entry requirements for Mexico and purchase any visas online with iVisa.
Book a tour in Guadalajara
Book a guide, tour or other activity in and around Guadalajara with Get Your Guide
We provide all the content on this blog completely free and aim to make your reading experience as smooth as possible. As such, other than our own affiliate links, we'll continue to resist using popup advertisements and other income-generating clutter on our pages.
However, we do put a lot of time and effort into producing content and maintaining the site. So, if you find our work useful and would like to contribute something towards it (via PayPal), you can do so here. Thank you!
Hi, we're Ian and Nicky, an English couple on a voyage of discovery around the world, and this blog is designed to reflect what we see, think and do. Actually, we'd like to think it also provides information, entertainment and inspiration for other "mature" travellers, too. So please feel free to pour yourself a glass of something suitably chilled and take a look around.