TORTUGUERO NATIONAL PARK – COSTA RICA'S CARIBBEAN WILDERNESS
TORTUGUERO NATIONAL PARK – COSTA RICA'S CARIBBEAN WILDERNESS
Tortuguero National Park is a remote wilderness of tropical rainforest that can only be accessed by boat or aeroplane. So getting there can be something of a challenge.
Yet it's Costa Rica's third-most visited national park. This despite the fact that it receives up to 250 inches (6,400 mm) of rain per year.
So you might be entitled to ask what all the fuss is about.
Well, if the prospect of spending long mornings gently cruising in a canoe through the narrow canals of a pristine rainforest gets you excited then this is the place for you. Especially when you're guaranteed to spot a whole variety of creatures ranging from howler monkeys and river turtles to crocodiles and toucans.
And, once you've tired of that, there are always the leatherback and green turtles that arrive en masse to Tortuguero's beach to lay their eggs at certain times of the year.
Indeed, for nature lovers, it's a tropical paradise. But we reckon it's a Costa Rica must-see for anybody with a sense of adventure and a willingness to get wet.
Contents
This page contains affiliate links. To help us maintain our site we work with a number of partners who we've personally used and can recommend to our readers. If you decide to purchase any products through the links on this page, we'll receive a small commission at no extra cost to you.
Tortuguero is one of those destinations where the journey to get there is actually one of the attractions.
You can fly there from San Jose or Limon, but that would be just too easy. Instead, choose one of two starting points and take either a public boat or water taxi along the glorious canals that snake through Tortuguero National Park.
From San Jose, the easiest route is to take the bus to Cariara and then a second bus to the pier at Finca La Pavona. Public boats will be waiting there to take you on the one-hour-or-so trip to the main dock in Tortuguero.
Alternatively, from Limon private water taxis depart from the dock at Moin. What follows is an often exhilarating three-to-four hour journey that almost feels like a super-extended theme park ride as the boat banks back and forth around twisting canal bends that cut through the lush green rainforest.
And, if you're lucky, your captain will intermittently shut off the engine as he spots a jungle creature lounging on the shore, hanging from a tree branch or simply drying its wings in the sun. As he did for us when we passed a large open-mouthed crocodile trying to stay cool, another one nonchalantly stretched out on a tree trunk and a sloth picking off fruit from the branches of a tree.
The type of boat you end up with can have a bearing on what type of journey you experience as they seem to come in all shapes and sizes, depending on the private operator. Ours was a medium-sized boat of three rows that seated nine people. But we saw others that seated up to twenty.
Best of all was one where the captain was sat at the rear and the passengers sat on just two rows of two seats with unobstructed views of everything in front of them. Unfortunately, I can't tell you which company that was with. But you might want to seek it out!
Seriously, the journey was one of the highlights of our whole Costa Rica trip and was well worth the hefty $35 ticket price.
Full details on both routes here and here.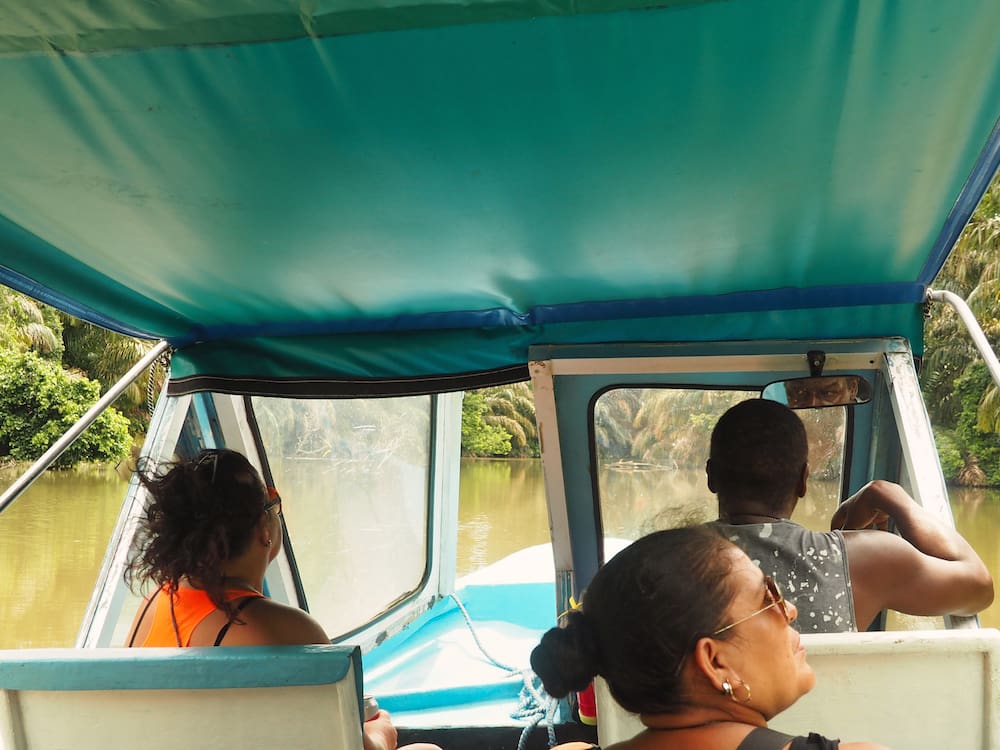 Boat trips into Tortuguero National Park
Indeed, the boat journey is just a taster for what's in store when you get to explore deeper into the watery arteries of Tortuguero National Park.
From the village, you have a number of options available to you and plenty of tour operators from which to choose.
The tours range from motorised boats to electric-powered boats to oar-driven canoes and kayaks. All of which leave early in the morning (around 6 am) when the wildlife is at its most active and the heat of the day is yet to take its toll. Lasting three to four hours they all include expert guides who have an uncanny knack for spotting an incredibly camouflaged animal from the water.
One of Tortuguero's many canals
By far the largest section of wildlife to be seen are birds. Not surprising really given that the park is home to over 300 migrant and bird species.
Of course, approaching one that's perched on a water-side branch is best done in silence. Which is one of the benefits of taking a tour in a canoe or kayak. But it also requires everyone involved taking a collective deep breath.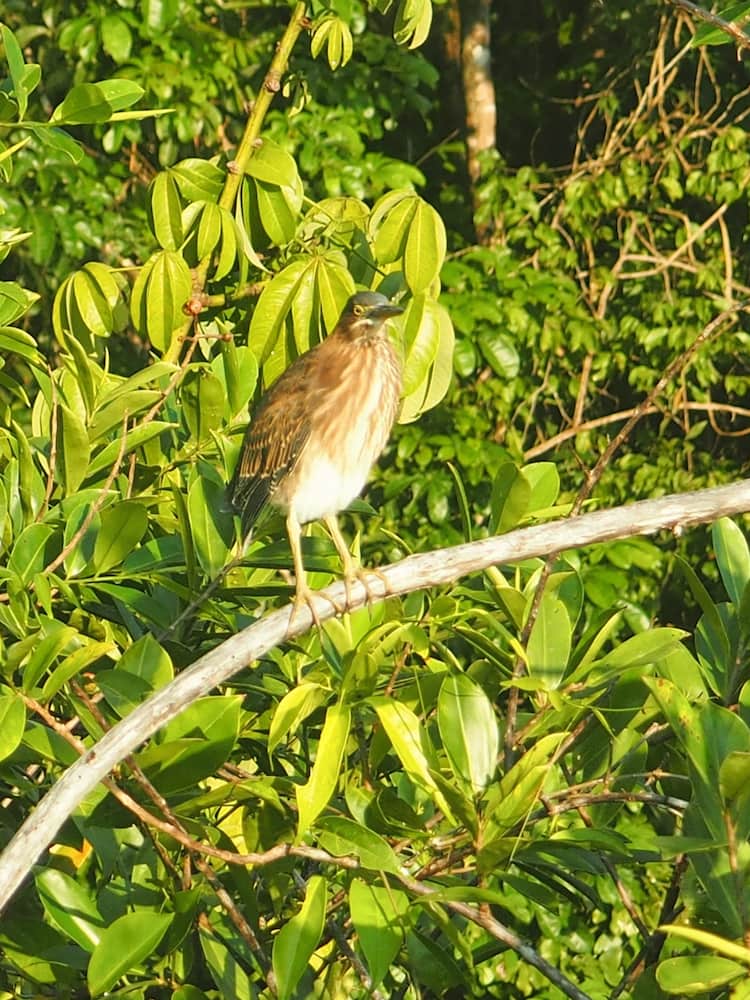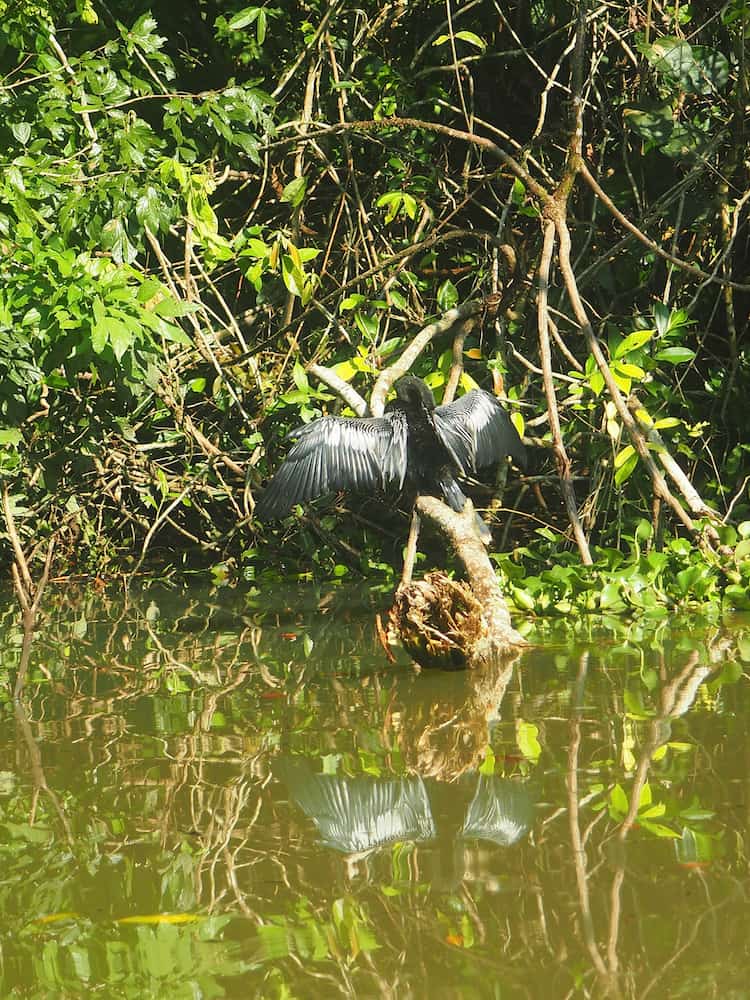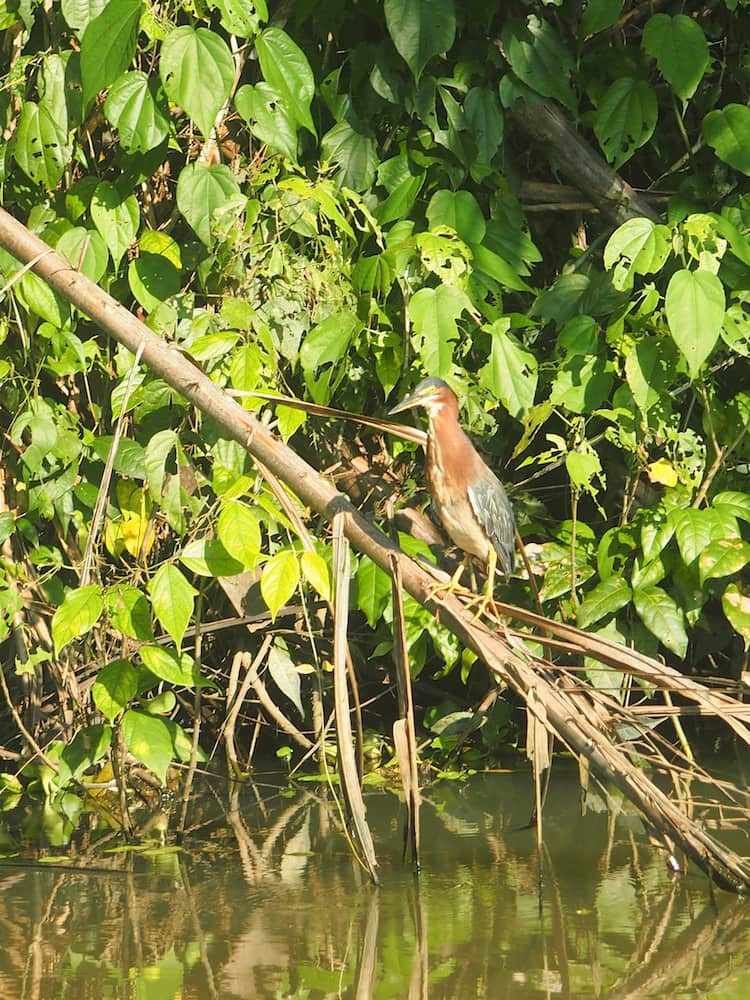 But once the boats turn inland through the narrower canals, other creatures come into view. Especially the caimans.
Smaller cousins of the crocodiles, they're much less aggressive and therefore kayak-friendly! However, the sight of one brushing alongside our boat was still enough to send a shiver down the spine of this particular writer.
Elsewhere we saw howler monkeys, spider monkeys, white-faced capuchins, iguanas, green basilisks and river turtles. In fact, enough variety to satisfy anybody wishing for a true wildlife experience.
But what made the experience much more special for us were the accompanying sights and sounds of the rainforest as we silently manoeuvred our way through the ever-narrowing canals of the national park. Sounds such as toucans croaking from their treetop perches, howler monkeys growling from afar.
We couldn't help but feel that we were intruding on a world that sits perilously close to unwanted human impact. But at the same time, we were just grateful to be able to take a peek inside.
And, at three-and-a-half hours, it was a $20 peek inside that was also incredible value for money.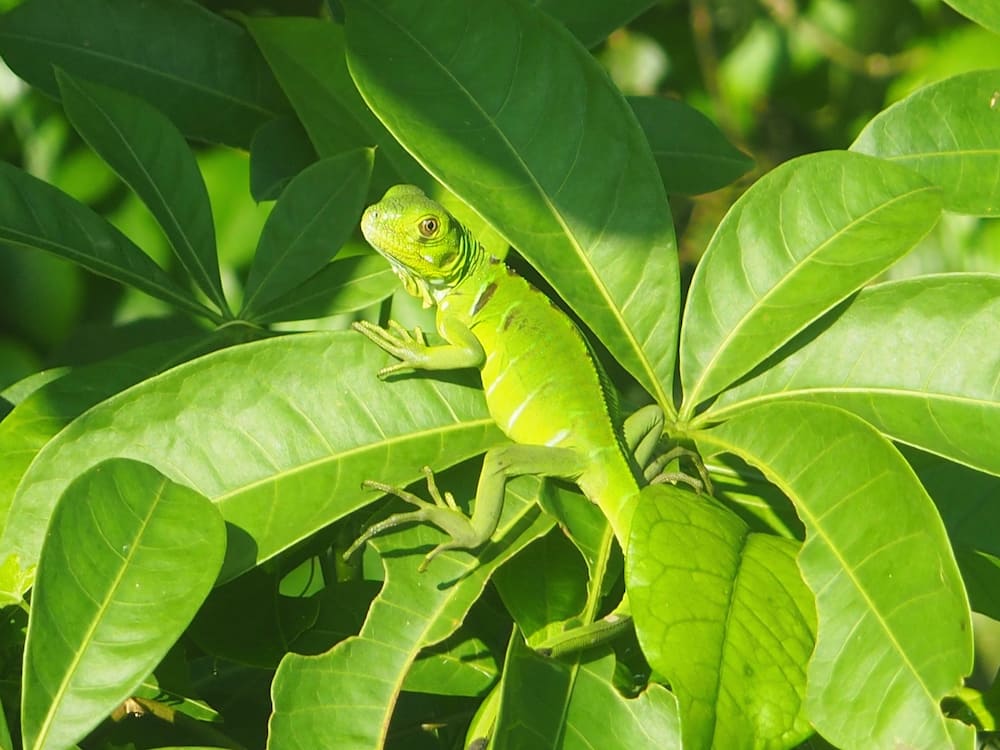 And the really good news is that, once you've taken the tour with a guide – and you should if you want to avoid missing an awful lot – you can go back under your own steam in a rented kayak.
That's not to say that you need to restrict yourself to the national park alone. We took a morning trip down-river towards the sea, turning around at Tortuguero Hill and returning to the village on the opposite side of the river. Lots more birds. No other boats for company.
And we took a second kayak trip adjacent to the national park, back along the river that leads to Finca La Pavona.
We can recommend Tortuguero Adventures for your kayak hire. At $20 for 4-5 hours they have quality kayaks and are a pleasure to deal with. And, to be honest, we regretted not booking Isaac for a guided kayak tour through the national park. People we spoke to who had done just that raved about it.
The spectacle of thousands of sea turtles arriving on Tortuguero's black sand beach was the original reason for attracting tourists to this remote area of Costa Rica. And, during the nesting season, it remains the number one reason for many people to visit.
Although there are four species of turtle that nest here, the primary two are leatherback (nesting season February to June) and the endangered green turtles (July to mid-October). In fact, Tortuguero is the largest nesting site for green turtles in the Western Hemisphere. And, thankfully a far cry from when, not so long ago, nearly every female that landed on the beach was captured and exported for the turtle soup market.
Night tours to see the turtles nest and babies hatch can be booked in the village and are carefully controlled. The whole thing may feel somewhat intrusive for some. But there's no doubt that tourism has helped to improve green turtle numbers from their perilously low number just a few decades ago.
We didn't choose to take the tour, largely because of the horrendous evening storms that arrived during our stay in Tortuguero. But also because it was the very end of the nesting season and so our chances of seeing the turtles were fairly slim anyway.
However, an early-morning stroll along the beach betrayed the marks and eggshells left behind by recent arrivals.
Other things to do in Tortuguero
Although the national park is perhaps best appreciated from the water there are also easy trails you can hike along which run adjacent to the beach. And with the potential to see snakes, tarantulas, poison dart frogs, iguanas, sloths and monkeys there's no need to rush. Indeed, we stood transfixed as a family of howler monkeys slowly passed by us and continued to make themselves heard as they moved out of sight.
Guided night walks are available, although not through the national park. These mostly take place close to the access point for the turtle tours and we were advised that, as a result, much of the wildlife stays well out of view. A better alternative would be to book a night walk through a private reserve close to the national park (these seem to be packaged as "Extreme Night Walks" and typically cost around $40).
Elsewhere there are opportunities for bird watching and sport fishing.
Be aware that there's an entrance fee of $15 per day to get into the national park. So, if you're planning on doing a boat trip and a hike you might want to consider doing it on the same day.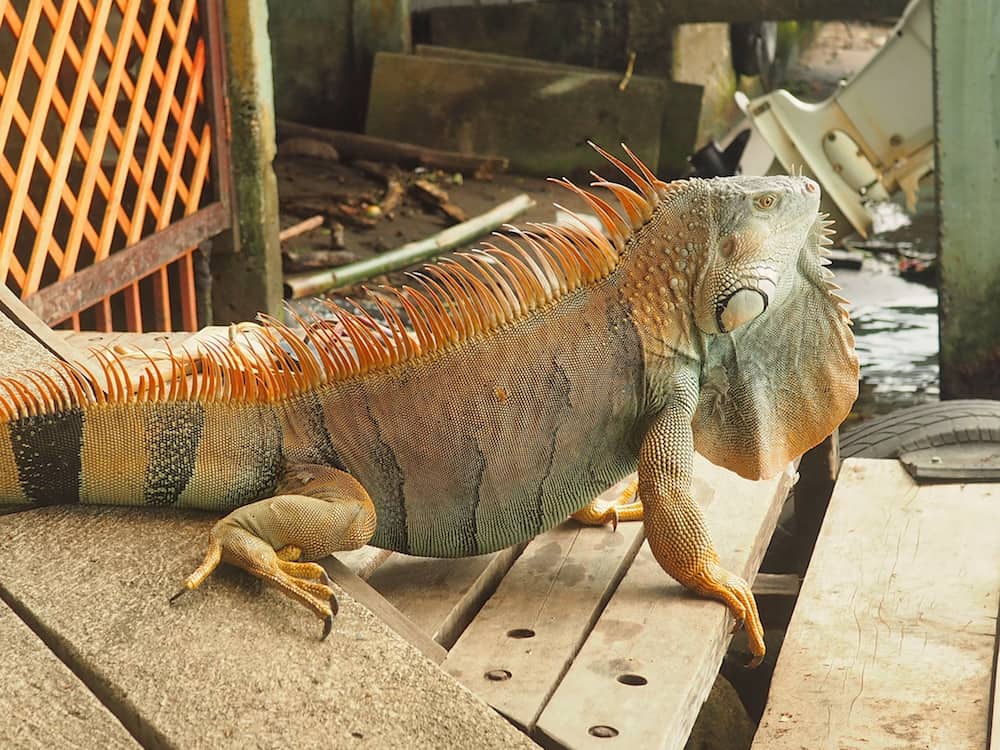 The village and where to eat and sleep
The village of Tortuguero is situated on a long and narrow spit of sand that literally separates the sea from the river. And it's small enough to wander around in just half-an-hour. But, to be fair, most people who visit just use it as a base for the range of tours on offer.
Apart from budget, there are three things to consider when choosing your accommodation – namely, do you want to stay in a hostel or guest house overlooking the river, the beach or out of town in one of the more upscale lodges along the river?
We chose Casa Marbella in the village for its riverside setting and free use of kayaks. But, to be honest, having experienced the karaoke until 2 am from a nearby bar and then the first boats of the day roaring past at 5 am, we were desperate for some sleep after our three nights there. However, if you intend on using the kayaks it can be a good value option.
A better choice would have been the accommodation at Tortuguero Adventures, close to the National Park ticket office.
Although, with the benefit of hindsight, we perhaps would have gone for one of the beach-facing guesthouses. Just for a good night's sleep!
There's not a huge range of eating options in the village but the best food we found was at the family-run Mi Niño. Great Caribbean and Central American food served with a smile.
Burrito Especiale, Mi Nino
Obviously, if you're interested in seeing the turtles then you'll want to visit during one of the two distinct nesting seasons – which effectively means February to October.
But don't bother trying to find the best time for good weather as the rainfall levels are almost biblical!
Indeed, your best bet is to just pack something waterproof, expect to get wet and enjoy everything that the park has to offer!
What did you think? Have you been to Tortuguero?  Or perhaps you're thinking of visiting there in the near future? Either way, we'd love to hear from you so please add your comments below.
To help us maintain our site we work with a number of partners who we've personally used and can recommend to our readers. If you decide to purchase any products through the following links, we'll receive a small commission at no extra cost to you. Thank you for your support!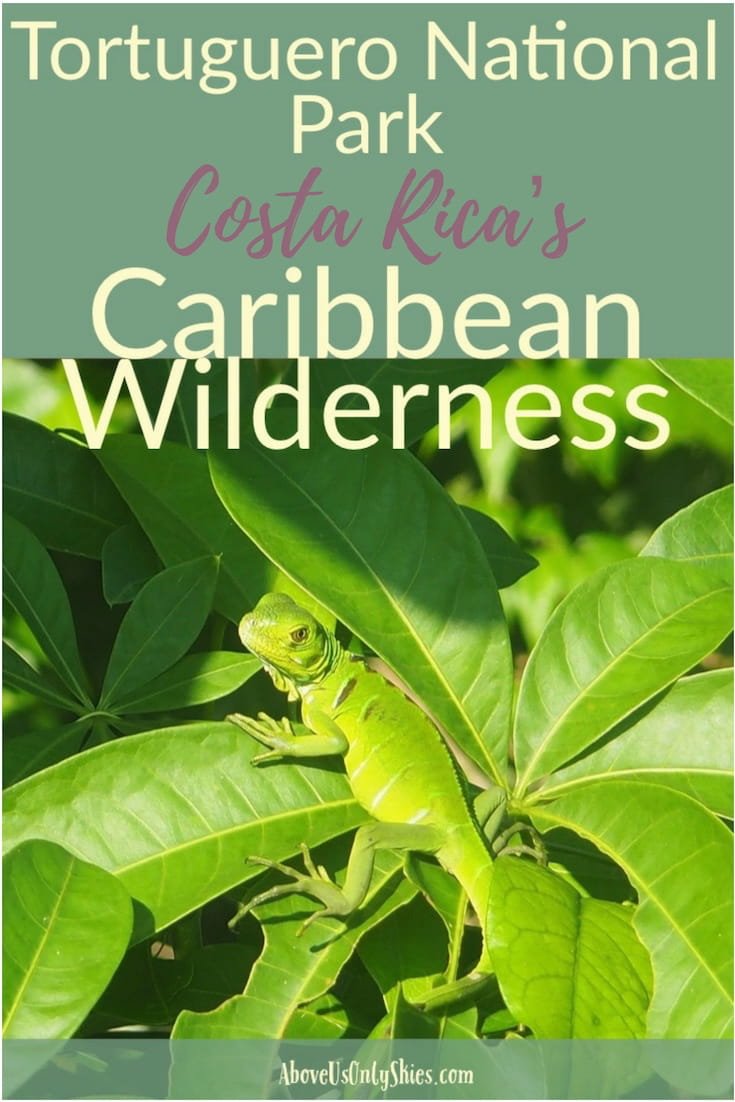 Hi, we're Ian and Nicky, an English couple on a voyage of discovery around the world, and this blog is designed to reflect what we see, think and do. Actually, we'd like to think it also provides information, entertainment and inspiration for other "mature" travellers, too. So please feel free to pour yourself a glass of something suitably chilled and take a look around.