Travelling to Nepal was a late decision for us. The country is still trying to come to terms with the physical and mental damage caused by last year's devastating series of earthquakes and tremors. And it needs foreign tourists to return, we'd heard. So, spurred on by our outdoor adventures in New Zealand we decided to spend three weeks in the Himalayan enclave, trekking in the Annapurna mountain range to Khopra Danda and exploring the rural and historic sites around the Kathmandu Valley.
Indeed, eight days and seven nights trekking around some of the highest peaks on Earth seemed like just what we needed after the dust and mayhem of Rajasthan and Delhi. There were plenty of routes to choose from, too. The famous Everest Base Camp trek was probably a step too far, this time, so we decided to head west of Kathmandu to Pokhara and explore part of the Annapurna Range. Most trekkers here choose either the Annapurna Base Camp (8-10 days) or Annapurna Circuit (19-21 days) route, but we went for the relatively new and less-touristy Khopra Danda trek, which can be done in 8-10 days.
Our pre-trek preparation saw us visit a supermarket in Pokhara to stock up on some of the essentials – including peanut biscuits, spicy masala mix and the obligatory Toblerone. I was even prepared to leave a pair of socks and underwear behind to fit the latter into my bag.
And so, here's how we tackled what was probably the most physically demanding eight days of our lives…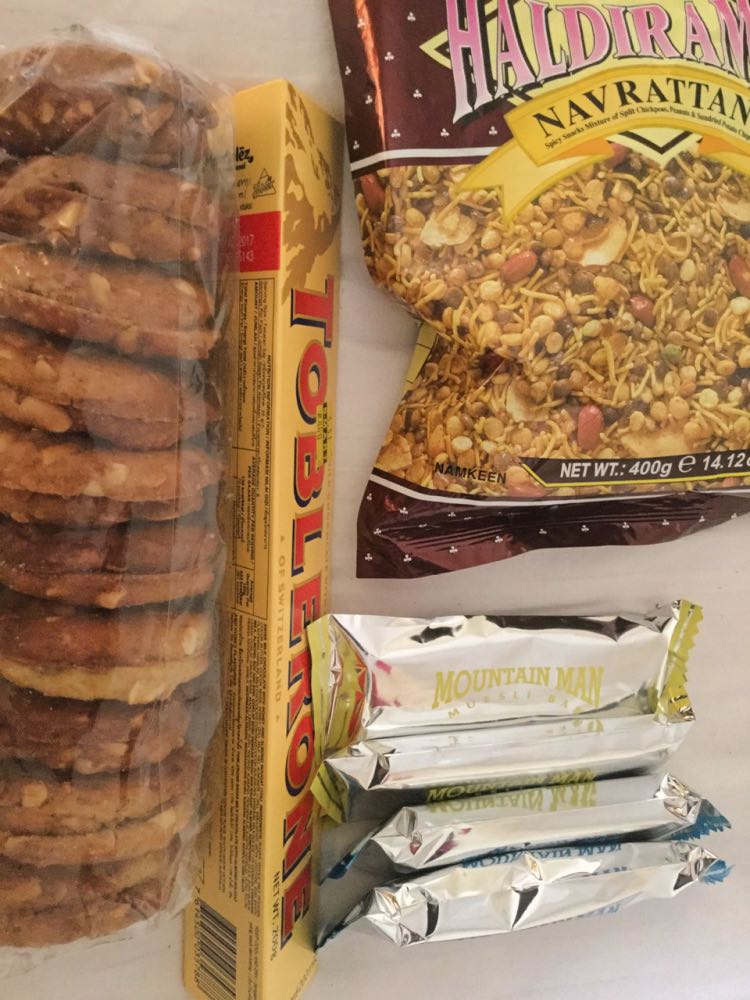 Our Khopra Danda essentials
Contents
This page contains affiliate links. To help us maintain our site we work with a number of partners who we've personally used and can recommend to our readers. If you decide to purchase any products through the links on this page, we'll receive a small commission at no extra cost to you.
Altitude: 1011 to 2012 metres / Length: 19km / Time: 6h 30m
They say the best time to trek in these parts is during October/November when the air is clear and the views of the mountains are at their best. However, the end of April, when we started our trek, is not so good as the air is polluted by an almost constant haze. Which is what we found as we began our ascent from Nayapul to the beautiful village of Ghandruk.
The track initially followed the route of the river, climbing gradually and crisscrossing a dusty road, before it began to steepen through small villages and rice paddy fields. We were quite surprised to find that there was even some passing bus and jeep traffic, which had the effect of kicking up occasional clouds of dust in front of us.
Despite the haze, the sun was still hot, which made the relentless uphill trek a difficult one, particularly as it was our first day. But when we did manage to get off the dusty road we felt we were really in rural Nepal after all, where the only traffic noise was the sound of bells around the necks of mules as they stoically tramped up the pathways with their cargo of cement, stones and other building materials.
In all, it took us over six hours to reach Ghandruk, by which time we'd discovered there were actually more muscles in our legs than we'd first thought. The "Welcome" sign greeted us with the reassuring message that we'd entered an "open defication (sic) free zone", which as you can imagine came as a huge source of relief – if you excuse the pun.
Ghandruk was everything we'd imagined a rural, mountainside Nepalese village to look like. Beautifully maintained stone houses and paved streets overlooking farmland, and populated by friendly, hard-working people who clearly took pride in their surroundings. Indeed, the place was meticulously clean – something that was a welcome change from what we'd experienced in neighbouring India.
Our guest house – Hotel Ashish Aama – was just as nice. And although the double room we had was basic, it had its own rustic charm and was a steal for 200 rupees (£1.30 / $2) per night. In fact, add in our dinner and breakfast and our total bill came to the ridiculous sum of just 2110 rupees (£13.70 / $19.80).
It was the sort of place we could have easily spent another night or two in, and to be honest we didn't find anywhere else to stay on our trek which matched it. For us, it will probably define what we loved about Nepal – and in particular the friendly, welcoming Gurung people who live there.
Altitude: 2012 to 2710 metres / Length: 8km / Time: 5 hours
The following day, having already climbed 1000 metres, we prepared to ascend a further 700 – this time through thickly-forested woodland, which at least meant we weren't exposed to the scorching sun.
It was also the part of the trek where I began to hate man-made steps. I don't mind climbing up naturally steep hillsides but the seemingly never-ending staircases of stone were starting to take their toll on my knees.
Nicky was finding it particularly tough at this point, too. The relentless uphill trekking, the dehydration and the debilitating effect of her asthma were combining to turn the journey into something of an arduous one. Emotions were beginning to run high and there were still two more days to go before we were due to reach the highest point.
Respite came in the form of Tadapani's grandly monikered Hotel Magnificent – which it certainly wasn't. But, for a place to rest for the night, looking out over haze-shrouded mountains, it was perfectly fine.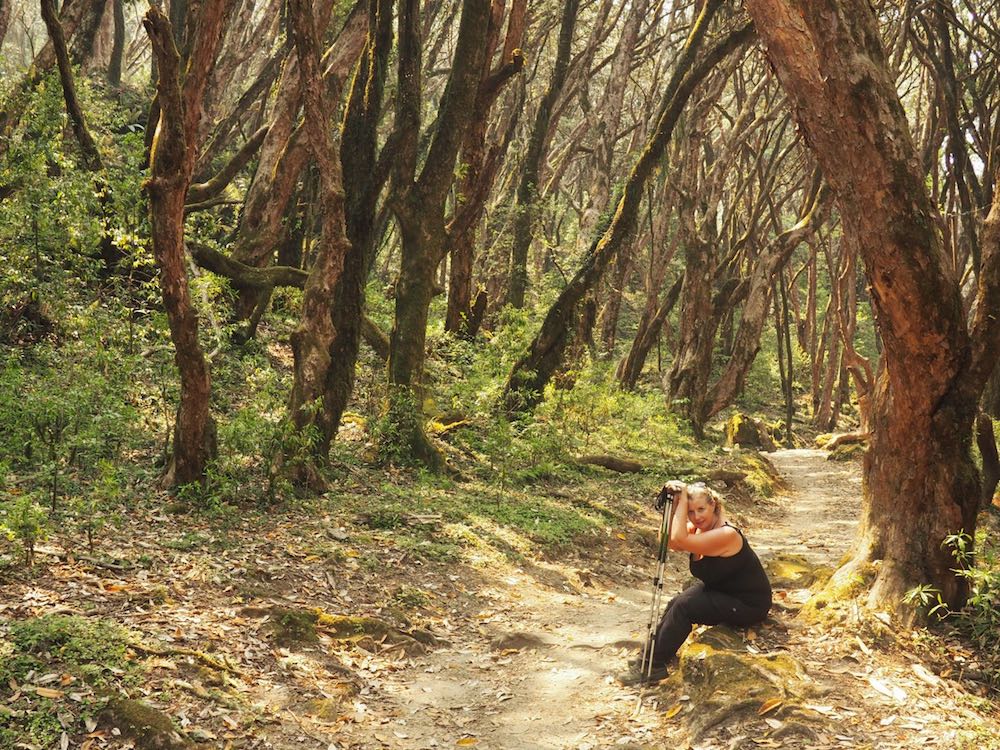 "Are we nearly there yet?"
Altitude: 2710 to 3460 metres / Length: 11km / Time: 6 hours
Day 3 and another 700-odd metres to climb. The haze was still all around us and into the melting pot arrived my first case of Delhi-Belly. Or whatever the Nepalese equivalent is. Thankfully there were none of your Ghandruk-friendly signs around here so I was able to be "at one with nature" at several points during the morning.
Our struggles continued until we stopped at a hillside restaurant for lunch, which for us acted as a kind of watershed moment for the whole trek. Suddenly, we were above the trees of the forest and the valley opened up into an explosive bloom of rhododendrons – firstly red, then violets, whites and yellows. It was as if we'd found our way out of the wardrobe and stumbled into some magical kingdom. In fact, if we'd seen a herd of white unicorns prancing between the trees they wouldn't have looked out of place.
Suffice to say, after two-and-a-half days of frankly slow progress, our spirits were now very definitely on the rise.
Spring is when the rhododendrons of Nepal make their annual appearance, but further down the valley, the blooms take place during February and March. Higher up, where the air is cooler and the onset of Spring is later, April is the month when it occurs. Which is what we were now seeing.
Disappointingly, we still couldn't see the Himalayan peaks but the brightness of the rhododendrons piercing through the haze was a sight to behold and remains one of the highlights of the trek for us.
At just under 3500 metres, we experienced our first night of real cold at Dobato. And it meant the return of our silk sleeping bag liner, last used in the Australian Outback almost 12 months before.
The trek to Khopra Danda the next day was to be a long and hard one – but exhilarating, too. The skies were a lot clearer, the sun wasn't as hot and we felt as if we'd finally arrived in the Himalayas.
The route to Khopra Danda normally involves a further overnight at the hamlet of Chistibang, but Aman (our guide) reckoned we'd be better off doing it in one day, as the track to Christibang involved descending 400 meters, meaning that we'd only have to climb back up it the following morning. Sounded good to us.
More rhododendrons followed, along with great views of Mount Dhaulagiri, the seventh highest peak in the world. The track itself was very much up and down, as we would only be ascending a further 200 metres over the full eight hours of the journey.
We even got to see a small family of yaks as they wandered by.
In addition to the rhododendrons, there were plenty of other wildflowers in bloom, including the carnivorous Cobra Lily and Primrose.
Certain sections of the track were extremely steep and we also found ourselves traversing across a steep hillside that had theoretically been closed following two previous landslides. But our renewed sense of adventure put paid to any notions of turning back.
And then, after another gruelling, but highly enjoyable day, we arrived at Khopra Danda Community Lodge for our daily dinner of Daal Bhat and an early night! Our only worry now was would the weather be kind and provide us with another sunny, clear day to fully appreciate the spectacular views on offer?
Khopra Danda to Khayer Lake
Altitude: 3660 to 4800 metres / Length: 26km return / Time: 8 hours
The answer to our question was…yes. To a degree.
From the top, we could see the Annapurnas very clearly in front of us, but most of the mighty Dhaulagiri Massif to our left was again covered with haze. No matter, Nicky was determined to spend the day resting in the sun and taking in the mountain air.
My day involved a further 1100 metre ascent to remote Khayer Lake with Aman, leaving the lodge at 06:50. But what a trek it was! To be honest the weather turned out to be beautiful and the views of the Annapurnas got progressively better and clearer the closer we got to them.
Along the way, there were numerous Tibetan Buddhist and Hindu temples and shrines, together with skeletal goat and yak shelters.
For the most part, the track was fairly straightforward and meandered through territory where the only sound was my own breath or the distant rumble of a glacial waterfall. Meanwhile, the white, snowy peaks of the highest mountains contrasted starkly with the dark, rocky landscape beneath and the bright blue sky beyond.
But, of course, these are the Himalayas and it wouldn't have been a normal day without a steep incline at some point. And for the final hour and a half, a steep incline is what I got. And yet more steps. At this altitude, too much exertion can cause you problems and I was struggling to catch my breath at certain points. But, having passed the imaginary "point of no return" there was no way I wasn't going to make it to the end. And it was a good excuse to polish off the bar of Toblerone that was burning a hole in my day-pack.
Just before the final ascent to the lake, the scenery opened up once more to reveal a panorama of Annapurna South and its neighbouring peaks. Just an incredible sight at what was the highest altitude I'd ever been to – 4800 metres, or nearly 16,000 feet – which meant I'd climbed 3800 metres (12,500 feet) in just four days.
The lake itself was somewhat plain in comparison – its main importance being that it's revered by the Nepalese as sacred. Indeed Aman spent most of his time there in prayer.
It turned out that the early start was an inspired decision as the haze and clouds started rolling in once we'd left the lake to return to the lodge. Three and half hours later, thoroughly shattered by four days of intense trekking, I re-joined Nicky and ordered my first beer in ages. What I didn't realise was that at this altitude the effect of alcohol on an already tired body is a little more extreme than normal. Which became evident as I tried to babble my way through a conversation with Nicky and other travellers who'd joined her.
On a side note, one of those present – Annie from England – said she'd recognised me from somewhere but couldn't put her finger on where. Turns out she reads Above Us Only Skies and recognised me from the photo on the home page. How random is that?! The first time someone who reads our blog recognises us in person and it's over two miles high in the middle of nowhere. A genuinely reassuring feeling, though. Thanks, Annie!!
With all this constant exercise it was obviously important that we had the right fuel inside us to keep our energy levels up, So, plenty of protein mixed in with those slow-releasing carbohydrates then. Chance would be a fine thing!
It was pretty much bread, vegetables and lentils all the way, with the occasional sprinkling of eggs and Yak cheese. Which for two meat eaters like ourselves was a challenge in itself. To be fair some of the food was pretty good.
The Gurung Bread (aka Tibetan bread), for instance, was a staple I really enjoyed – served shallow-fried and hot. Although usually made from wheat, the regional version I had at Ghandruk included millet and corn, served with a delicious lentil curry.
The national dish of Daal Bhat (lentil soup/curry served with rice, vegetables, pickle and a papadom) was another staple that varied in quality. The main advantage of ordering this dish was that you got as many refills as you wanted. Although how many daily lentils, vegetables and pickles you can comfortably eat alongside a day's trekking is highly debatable.
Momos are a Tibetan-influenced dish of ravioli-style dumplings filled with either meat or vegetables (or both), served with a spicy sauce. A bit of a lunchtime favourite for us.
And then there was the one piece of local food we were really desperate to try – Yak cheese. For some reason, we expected it to be white and soft, just like goat's cheese. It actually turned out to be more like Dutch Gouda, both in taste and texture. Great with the Gurung Bread for lunch, too!
Altitude: 3660 to 2310 metres / Length: 25km / Time: 7h 30m
Having been blessed with some decent weather at Khopra Danda it was time to begin our descent back towards Nayapul. Great timing as it turned out as a storm containing both snow and hail hit the mountain behind us as we descended. In fact, it was quite a feeling to see the snow-covered hillside materialising in front of our eyes given it had actually been our route to Khopra just two days before.
We weren't totally out of the woods though as lower down the valley we were met by a large electrical storm. Just another challenge for us to overcome!
The air was full of the smell of fermenting Cobra Lily leaves, which are pickled by the locals as something of a delicacy in the area. And there was still plenty to see, including a couple of large herds of yaks, which were fascinating to observe at close quarters. Loved the cheese, girls.
Chitre to Tikhedunga / Nayapul
Altitude: 2310 to 1101 metres / Length: 35km / Time: 8 hours (over two days)
The final sections of our descent were completed over the next two days in pre-monsoon conditions – warm and muggy in the morning followed by storms in the afternoon. It included a 3500 step sequence down to the village of Tikhedunga – which, in wet conditions was no mean feat. Mind you, judging by some of the faces of those people making their way up the steps we didn't have too much cause to complain.
The final day involved a much more leisurely three-hour walk past villages, farmland and waterfalls until we arrived back at Nayapul and our awaiting taxi to Pokhara.
It's fair to say that this had been the most physically and mentally challenging thing we'd experienced on our Big Trip. There were times when it was simply tough going, particularly for Nicky during those first two-and-a-half days. But there were also times when it was up there with some of the most exhilarating things we've done. Let's face it, the pay-off of seeing the Himalayas up close has to be worth the effort it takes to get there.
Would we consider doing it again? You bet! I think the experience of this first high-altitude trek has taught us a lot about how we can cope with what's required and we'll be better prepared next time.
Particularly if we want to see those fabulous mountains again.
And, of course, sample more of that Yak cheese.
What did you think? Have you trekked to Khopra Danda? Or elsewhere in the Annapurna Range for that matter? Either way, we'd love to hear from you so please add your comments below.
MORE ON HIKING AND TREKKING
To help us maintain our site we work with a number of partners who we've personally used and can recommend to our readers. If you decide to purchase any products through the following links, we'll receive a small commission at no extra cost to you. Thank you for your support!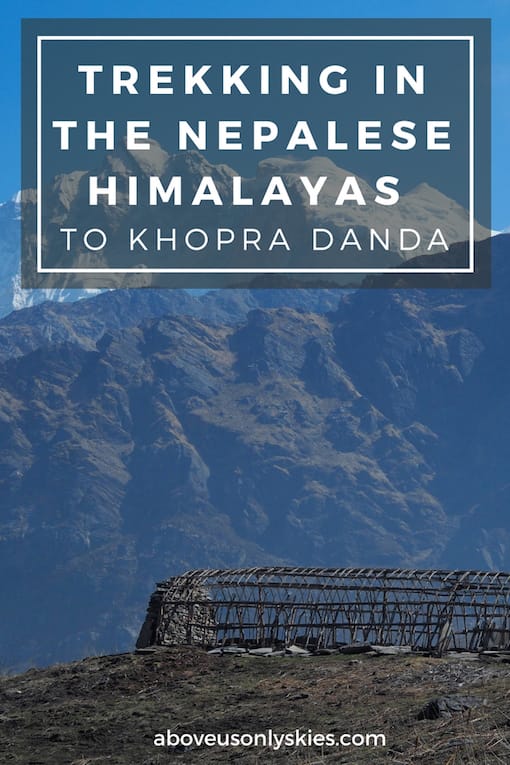 Hi, we're Ian and Nicky, an English couple on a voyage of discovery around the world, and this blog is designed to reflect what we see, think and do. Actually, we'd like to think it also provides information, entertainment and inspiration for other "mature" travellers, too. So please feel free to pour yourself a glass of something suitably chilled and take a look around.