DISCOVER VALPARAISO AND ITS AMAZING STREET ART
DISCOVER VALPARAISO AND ITS AMAZING STREET ART
If Santiago is Chile's sophisticated, cosmopolitan son, Valparaiso is the capital's grungy, in-your-face half-brother.
Just 120 kilometres from Santiago, on the country's Pacific coast, the city is a gloriously jumbled mess of decaying mansions, lung-busting hillside streets and corrugated metal facades decorated with some of South America's finest street art.
It's a city of paradoxes, where graffiti (or street art) is technically illegal, but where artists are actively encouraged to transform decaying buildings and facades with their ubiquitous spray cans.
Which is perhaps not surprising given the number of tourists who now flock to the city. Not just to wander the streets and gaze upon the sometimes staggering works of art, but also to admire the colourful buildings. And, of course, to then spend their tourist dollars in the city's flourishing hotels, shops, restaurants and bars.
Indeed, if you're planning to visit Santiago, we'd suggest you add at least a couple of nights to explore the cobbled streets of this wonderfully atmospheric city.
Contents
This page contains affiliate links. To help us maintain our site we work with a number of partners who we've personally used and can recommend to our readers. If you decide to purchase any products through the links on this page, we'll receive a small commission at no extra cost to you.
Valparaiso – a brief history
As with many South American ports, its roots and growth were borne out of the transportation of gold and other commodities to colonial Spain. After which it became the continent's major Pacific port and a magnet for European immigrants.
But its dilapidated buildings betray its descent from a booming 19th-Century trade and commerce hub into a fading 20th-Century relic following the twin "catastrophies" of an earthquake in 1906 and the opening of the Panama Canal.
So where once commercial ships would visit after sailing around the notorious Cape Horn, they now took the easier and safer route through the Canal.
Inevitably, as a city in decline, its buildings fell into neglect, crime rates soared and many of its wealthier residents moved out. But the turn of the 21st-Century brought with it a major change in fortune. Valparaiso was named Chile's cultural capital and, in 2003, it received UNESCO World Heritage status.
The city re-invented itself as a centre for education with a number of large universities and vocational colleges.
Artists and cultural entrepreneurs moved in, transforming the once grimy streets into bohemian enclaves.
And, as a result, tourism has boomed and the port is now a major destination on cruise ship itineraries.
The best way to discover Valparaiso and its street art (and to get your bearings) is to take one of the walking tours available in town.
We chose the two-hour "tip-based" Graffreeti (geddit?) tour offered by valpostreetart.com – and we can absolutely recommend it.
Our guide, Sebastian, certainly knew his stuff.
We learned about how street art originated in the United States and how it took a foothold in Valparaiso.
How certain maverick artists became local celebrities and were commissioned by landlords and residents to paint on their decaying buildings.
We learned about how the code of conduct between street artists has helped to create a wide variety of styles throughout the city.
And we were shown the differences in street art styles, together with how the artists created some of the amazing effects on display.
Of course, you won't see everything on a two-hour tour. But we can guarantee that you'll be inspired to just wander the streets and take a look around for yourself. And at least have a better understanding of who some of the artists are and have an appreciation for their mastery of their work.
So, as a teaser, here's just a small sample of what you can see on doors, steps, corrugated metal facades, stone walls and pretty much anything else that doubles as an empty canvas.
The street art of Valparaiso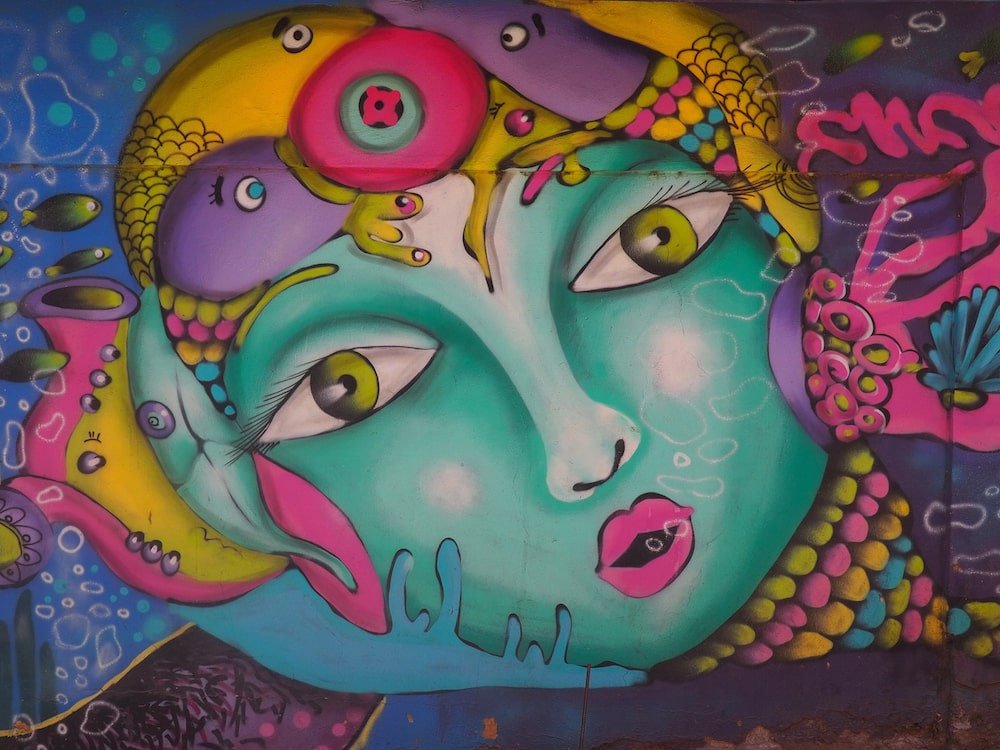 Other things to see and do in Valparaiso
Of course, Valparaiso has a wealth of striking and colourful buildings that aren't covered with psychedelic paintings and word art. And you can easily appreciate them as you walk around.
Although, unless you're a seasoned hill walker you'll probably want to take advantage of at least one of the city's 15 Victorian-era ascensores (or funiculars) which ferry residents up, down and in-between the city's steep streets. In fact, they're an attraction in their own right and more often than not lead to some great vantage points.
Our particular favourite was the Ascensor Reina Victoria, not least because it ferried us from the city's finest brewpub, Altamira, up to Cerro Alegre where our accommodation was based. 
Elsewhere, you could combine a visit to Cementerio 1, Valparaiso's grand Catholic cemetery for the great, the good and the not-so-good, while taking in some of the best views of the city. 
And, in case you're wondering if there's a Cementerio 2, it's actually a much more sobre affair next door. And it includes the "dissident cemetery" which is the final resting place for Protestants who settled in Valparaiso from Europe.
Ascensor Reina Victoria, as seen from Cementerio 1
A couple of other things you shouldn't miss while in town are the simple delights of eating empanadas and sipping pisco sour.
Undoubtedly the best place for empanadas is Delicia Express with its ultra-fine pastries filled with 80 varieties of cheese, vegetable, meat and seafood. I can highly recommend the cheese and razor clam. Sublime.
And if you're looking for a truly memorable pisco sour (South American brandy mixed with lemon juice and sugar) head to SaborColor Restaurant at Cerro Alegre. Quite simply the best piscos we've tasted on our entire South American trip. Especially the one I had flavoured with black pepper. 
Menu board outside Delicia Express
Inside a cheese and razor clam empanada
Pisco sour with black pepper at SaborColor
You're almost spoiled for choice when it comes to accommodation. But we can wholeheartedly recommend the Airbnb apartment we stayed in.
Situated right in Valparaiso's best area (Cerro Alegre), it features high ceilings, solid wood floors and a communal terrace that looks out over the ocean. In fact, the terrace is so lovely, we bought some takeaway sushi and enjoyed dinner with the best table view in Valparaiso for two of our three nights there.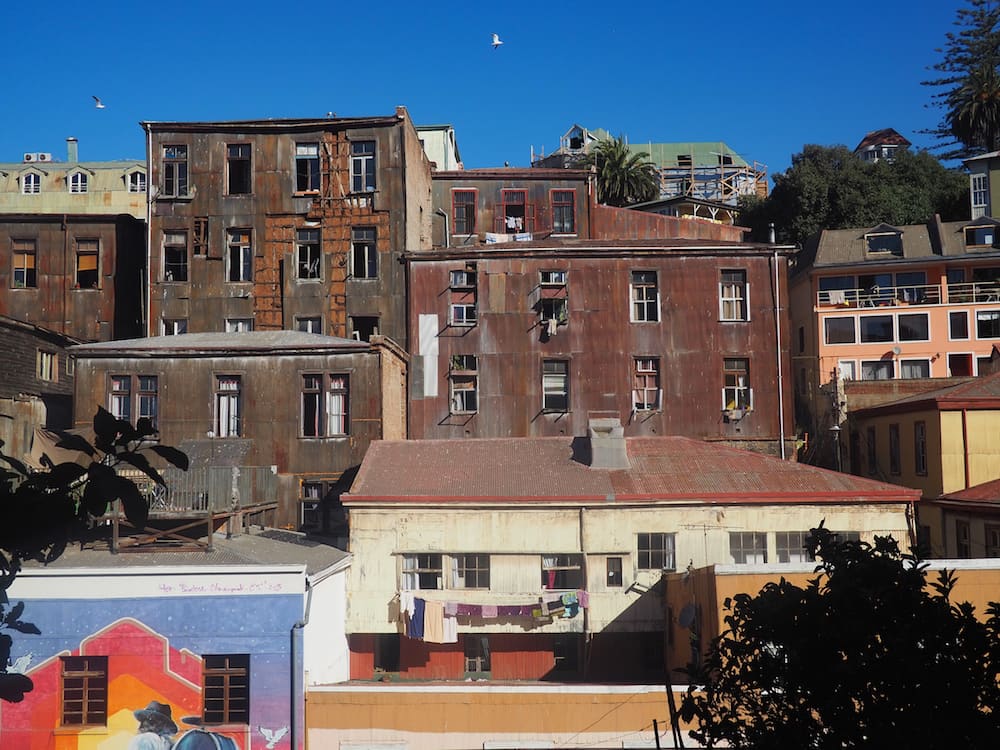 Sign up for Airbnb here
and get £25 off your first booking
Final thoughts and how to get there
From Santiago's main bus terminal, it's an easy one-and-a-half hour journey.
That being the case, it's doable on a day trip from the capital. But if you really want to experience Valparaiso's colourful, yet chaotic charm, you should allow yourself at least one night there.
And we're betting you'll end up staying for two.
Although, apparently not everyone who lives there will be happy to see you…
What did you think? Have you seen Valparaiso and its street art?  Or perhaps you're thinking of visiting there in the near future? Either way, we'd love to hear from you so please add your comments below.
Download our GPS-guided travel app to explore the places featured in this post.
To help us maintain our site we work with a number of partners who we've personally used and can recommend to our readers. If you decide to purchase any products through the following links, we'll receive a small commission at no extra cost to you. Thank you for your support!
Hi, we're Ian and Nicky, an English couple on a voyage of discovery around the world, and this blog is designed to reflect what we see, think and do. Actually, we'd like to think it also provides information, entertainment and inspiration for other "mature" travellers, too. So please feel free to pour yourself a glass of something suitably chilled and take a look around.