HOW TO EXPLORE THE BEST OF VILLA DE LEYVA
HOW TO EXPLORE THE BEST OF VILLA DE LEYVA
One of Colombia's 17 Heritage Towns, Villa de Leyva is a bona fide step back in time.
With its cobblestoned streets, whitewashed buildings and red roofs it's a perfectly preserved example of a Spanish colonial era town.
But there's more to it than just that.
Where domestic tourists now congregate for weekend breaks, mighty dinosaurs once roamed, their remains having recently been discovered and placed on public display.
And before the conquistadors rolled into town, the area was populated by the Muisca people, one of the original four advanced civilisations of the Americas (alongside the Mayans, the Incas and the Aztecs).
A four-hour bus ride from Bogota, it can be reached on a day trip. But we reckon you'd need at least two nights there to fully appreciate its undoubted charms.
This page contains affiliate links. To help us maintain our site we work with a number of partners who we've personally used and can recommend to our readers. If you decide to purchase any products through the links on this page, we'll receive a small commission at no extra cost to you.
Situated 75 miles (120 kilometres) northeast of Bogotá and 23 miles (37 kilometres) west of Tunja, Villa de Leyva enjoys an elevated position in a high altitude valley of the Boyacá department.
Having fallen to the Spanish conquistadors in 1572 and rebuilt in the colonial era style, it remained virtually untouched for centuries. Including its huge main square (Plaza Mayor), which is the biggest in Colombia and said to be the largest fully cobbled square in South America.
Declared a National Monument in 1954, its buildings have since received protection status. Which can perhaps best be appreciated by sitting in Plaza Mayor first thing in the morning, a cup of local coffee in hand.
The low-lying whitewashed buildings that surround the square contrast with the semi-desert hills that rise behind them. And dominating the scene is the Iglesia de Nuestra Senora del Rosario (Church of our Lady of the Rosary). Otherwise, the remaining buildings are mainly cafés, restaurants and bars.
Unsurprisingly, the domestic tourist market has caught on and the town now gets overwhelmed at weekends and holidays, mostly with visitors from Bogotá. But, during the week, Plaza Mayor is largely a wide open space.
Due to its close proximity to Colombia's capital and its aesthetic charms, Villa de Leyva is now becoming popular as a second home destination for Bogota's more well-heeled residents.
And, of course, ex-pats from North America and Europe.
Iglesia de Nuestra Senora del Rosario
The best thing to do in town is to just wander around and lose yourself in the cobbled streets – especially those leading directly off the main square.
You'll be spoiled for choice for lunch and dinner options. To be honest, we can't recommend any specifically as we went down the food-on-the-go route. Or to be more specific, empanadas, pastries and ice cream washed down with craft beer. Although that might have had something to do with the fact we were there over New Year and the place was chock-full.
Nevertheless, we can heartily recommend the croissants and coffee at Pasteleria Francesca, the bread at Astral Artesanal Bakery and the beer at Bogota Beer Company's La Bodega.
But if you really want to mingle with the locals at night, grab a beer and empanada before sitting down with everybody else on one of the steps surrounding Plaza Mayor.
There are two attractions slightly out of town that are worth combining for a half or full day trip.
Firstly, just a twenty-five minute walk (or a five-minute taxi ride) from Plaza Mayor is this quirky tourist attraction. Not exactly aligned with the cultural attractions to be found elsewhere, but worthwhile seeing nevertheless.
Built entirely from terracotta by the architect Octavio Mendoza, Casa Terracota is the world's largest piece of pottery and is as much a work of art as a fully functioning home.
Take an hour or so to wander through the bizarre rooms of the house and surrounding garden. Then perhaps think about how you might want to redecorate the bathroom when you get home.
Door sign at Casa Terracota
The result of presumably some leftover clay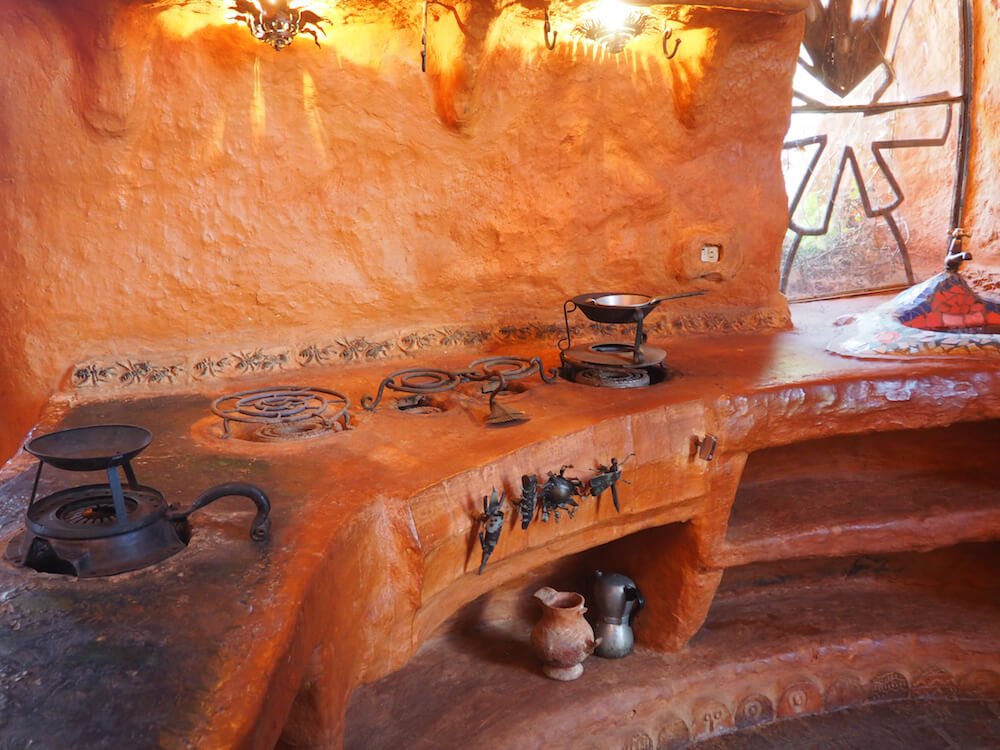 Continuing out of town by bus or taxi you'll arrive at this small museum which houses fossils, skeletons and bones of some of the dinosaurs that used to call this area home. And pretty impressive they are too. Inexpensive tours in English can be arranged at the museum entrance.
Amazingly, the existence of these dinosaurs provide proof that the area was once under water (it's now more than 2,000 metres above sea level).
Not something you'd want to meet in a dark alley
Museo el Fósil
But the best example can be seen across the road at the Museo el Fósil.
In 1977, a near-complete Kronosaurus (or "dino-crocodile" to you and me) was discovered and, rather than move it for display purposes, a museum was actually built around it.
Even if you're not a dinosaur fan, you'd have to be pretty cold hearted to not be at least mildly in awe of this beast from a bygone age.
Fossil wall inside the museum
For a full day trip, Iguague National Park features a parámo landscape with high-altitude hiking and a sacred lake that the Nuisca people believed was the cradle of all humanity.
Colombian wine might not be something that's on your radar. But the Ain Karim winery – six miles outside town – is a wine producer of international repute. And so an afternoon of wine tasting in beautiful surroundings isn't the worst thing you could do either.
After which you might be in the mood to go and visit El Infiernito, an archaeological site that the Muisca apparently used as a solar observatory or astral calendar. Although to the untrained eye – and after a few wine tastings – it might just seem like a field lined with a bunch of large penises carved from pink sandstone.
Which is what it is. All 109 of them.
Indeed "El Infiernito" literally translates as "Little Hell", so offended were the conquistadors.
No photos this time. But you can surely use your imagination.
You've basically got two options by bus.
From Bogota to Villa de Leyva, there are direct services with Reina or Valle de Tenza costing 25,000 COP (aproximately £6 / $8) at the time of writing. Times can vary so it's best to check when you're there but you'd be best getting an early morning one (between 06:00 and 07:30) as the journey will take between three and four hours.
Alternatively, you can get a Libertadores bus to Tunja (two hours) for 20,000 COP and catch a minibus to Villa de Leyva (1 hour). You'd also need to connect in Tunja if you are coming south from Bucaramanga.
Accommodation tends to be more expensive than in other Colombian heritage towns. We chose to stay in a comfortable and quiet Airbnb room just a five minute walk from the Plaza Major, which was perfect for our needs.
Payador House – our Airbnb room in Villa de Leyva
Sign up for Airbnb here
and get £25 off your first booking
Final thoughts on Villa de Leyva
It's a beautiful town and well worth spending at least two nights in. But, if you do decide to visit over a weekend or holiday period be prepared for hordes of pram-pushing domestic tourists and full restaurants.
Yet, despite the crowds, we loved our experience there over New Year. Including the fabulous firework display in Plaza Mayor.
One concern we did have was the amount of car traffic that was allowed to clog up the cobbled streets. Indeed, there was so much that a lot of the cobblestones appeared to nave been smoothed out by the sheer weight in numbers.
Not a great sight considering the town's National Monument protected status.
What did you think? Have you been to Villa de Leyva? Do you have any recommendations to add? Or perhaps you're thinking of visiting there in the near future? Either way, we'd love to hear from you so please add your comments below.
MORE ON COLOMBIAN HERITAGE TOWNS
To help us maintain our site we work with a number of partners who we've personally used and can recommend to our readers. If you decide to purchase any products through the following links, we'll receive a small commission at no extra cost to you. Thank you for your support!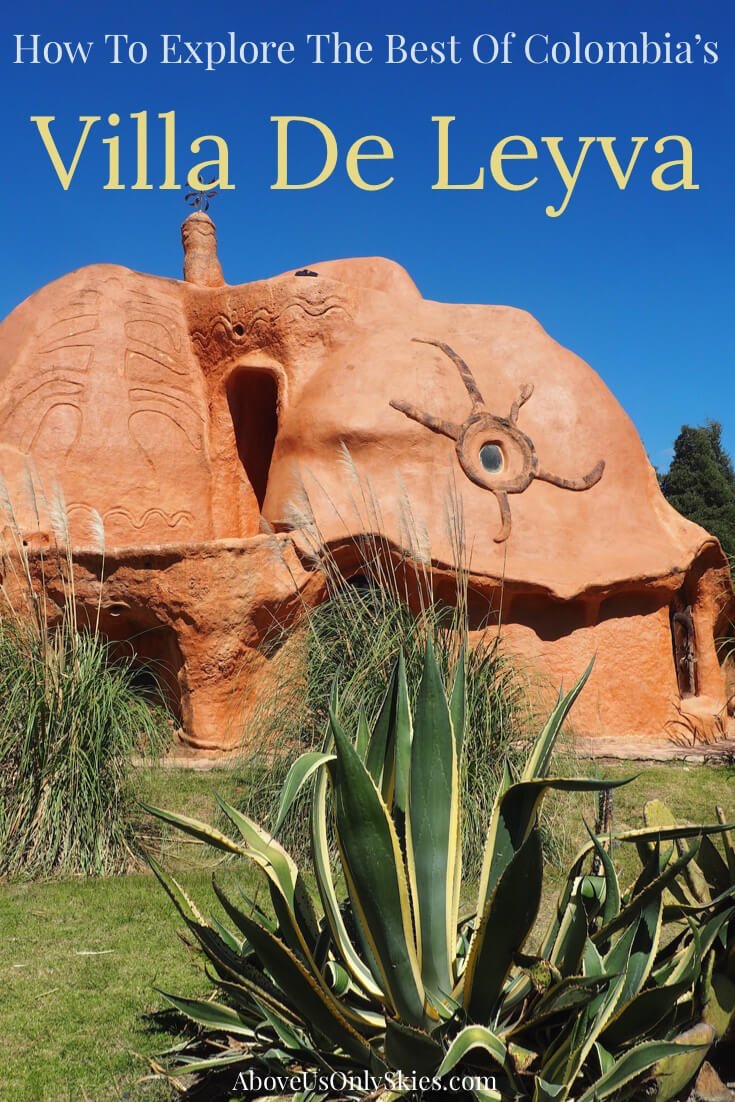 Hi, we're Ian and Nicky, an English couple on a voyage of discovery around the world, and this blog is designed to reflect what we see, think and do. Actually, we'd like to think it also provides information, entertainment and inspiration for other "mature" travellers, too. So please feel free to pour yourself a glass of something suitably chilled and take a look around.