THE SASSI OF MATERA – FOUR REASONS TO VISIT RIGHT NOW
THE SASSI OF MATERA – FOUR REASONS TO VISIT RIGHT NOW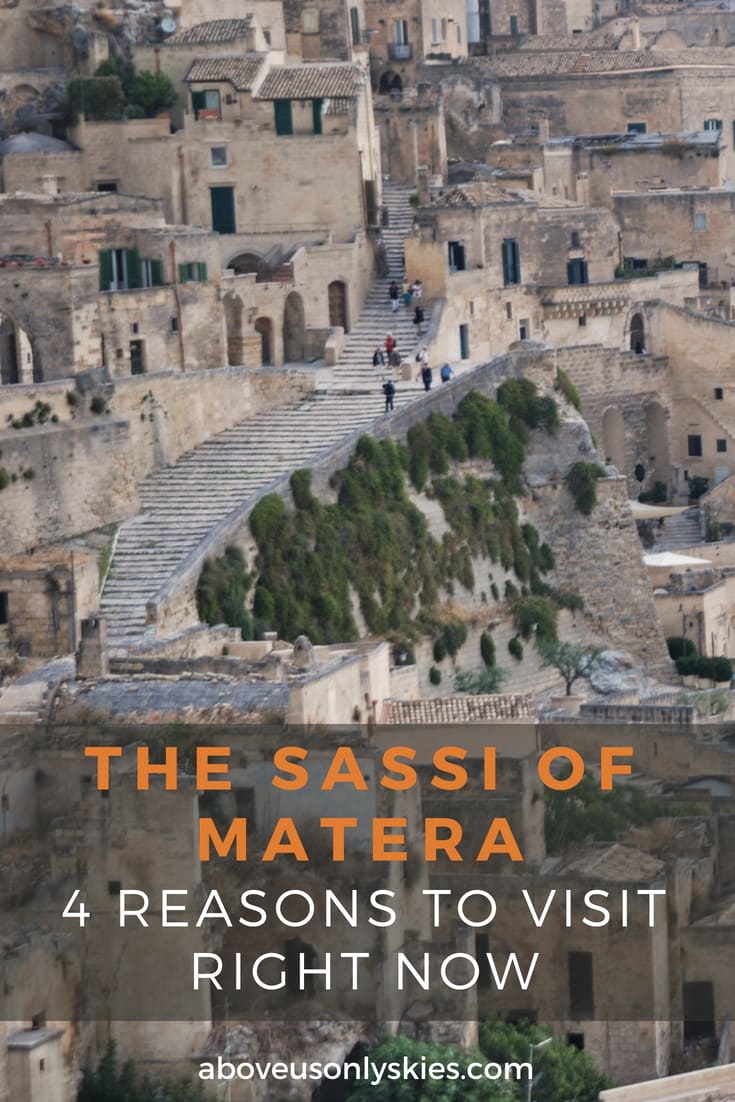 Back in 2013, before we first visited the ancient city of Matera, in Italy's Basilicata region, we'd never heard of it or its incredible history. In fact, I only chanced upon it while looking online for somewhere to stay for our upcoming trip to southern Italy. Entranced by its 9,000-year-old rags-to-riches backstory, including its nadir some sixty years ago when it was referred to as "the shame of Italy", I knew we had to include it on our trip.
That we did and have longed to go back ever since is a testament to the magical quality of the place. Indeed, if you're planning on visiting Italy this year you absolutely must try to find a couple of days to include Matera in your schedule. Here's why…
Photo by Ghost Presenter from Pexels
This page contains affiliate links. To help us maintain our site we work with a number of partners who we've personally used and can recommend to our readers. If you decide to purchase any products through the links on this page, we'll receive a small commission at no extra cost to you.
It has a unique history that will blow your mind
Recognised as the third-oldest city IN THE WORLD, Matera's history dates back to 7,000 years BC. Built on the slope of a rocky ravine, some of the earliest human settlements in what is now Italy developed inside its natural caves. The troglodyte (cave dwelling) community continued to live in them, along with their livestock, for generations.
Eventually, the "Sassi di Matera" – a mish-mash of cave dwellings connected by intertwining alleys – took shape. Where people literally lived on top of one another on the slopes of the ravine. Where cemeteries were even built atop church roofs. And where conditions got so bad during the early 20th Century that malaria, dysentery and a whole host of other diseases caused appalling infant mortality rates.
Indeed, because of its isolated location, the city was relatively unknown even inside Italy until 1945. All that changed with the publication of Italian author Carlo Levi's book, Christ Stopped At Eboli, in which he described a pagan, lawless society living in absolute squalor. The public outcry that followed led the Italian government to forcefully relocate the Sassi's population to a new, nearby housing development.
As a result, "the shame of Italy' was replaced with a ghost town of empty cave dwellings. And so it remained until the late 1980s when a programme of re-generation made its first tentative steps towards the gentrification of today. Not least with the help of its status as a UNESCO World Heritage Site (1993) and its location providing the backdrop for Mel Gibson's film, The Passion Of The Christ. Nowadays, around 3,000 people have returned to live and work in the Sassi (compared to the 17,000 people who were previously crammed in), along with shops, restaurants and hotels.
Meanwhile, the government has provided inhabitants with rent-free 30-year leases in return for their commitment to undertake renovations on their properties.
Photo by turkish414 from Pixabay
Its incredible Sassi can be explored by foot in a day
Of course, tourism now plays its part in helping the city to regenerate itself. And as a destination, it's both beautiful and fascinating. You can walk through the Sassi and its surroundings entirely under your own steam, or for a more immersive experience, with a local guide. Or, of course, you can do both.
Whatever you choose, you'll find yourself wandering through Sasso Barisano's labyrinth of winding alleys and over the tops of houses whose roofs double as streets. You'll pass other houses and Rupestrian churches carved out of the rock. And, in the uninhabited caves of Sassa Caveoso, you'll get a sense of what it really must have been like to have lived cheek by jowl in the most primitive conditions.
And, all the while, you'll discover so many viewpoints of the Sassi that you might just need an extra battery for your camera. We took a two-hour private tour with Antonio, who runs Matera Tourist Guide with his girlfriend, and he really helped to bring the story of Matera and its people alive – from describing and showing us how the cave-dwellers managed such everyday challenges as water drainage, heating and living with their livestock to how a church built from a cave was converted to produce and store wine!
You can stay in an atmospheric cave hotel
Of course, once you've walked your legs off during the day you'll want to find somewhere comfortable to stay for the night. Happily, Matera's regeneration has seen a growth of accommodation that takes advantage of the city's spectacular and historic surroundings.
From simple Airbnb accommodation to luxury hotels, many are essentially converted cave houses and make for an atmospheric experience. We were lucky enough to stay overnight at the fabulous Sextantio le Grotte della Civita hotel, with its eighteen luxuriously renovated cave rooms. Running alongside the cliff face, it's an architectural triumph.
In fact, it would be quite easy to miss it altogether, so seamlessly does it blend in with its natural surroundings, overlooking the beautiful "Gravina" (ravine). Having booked one of their "superior" rooms we received a free upgrade upon arrival to a "cave suite" (room number 14). It was quite simply a stunning space with bare limestone walls and a king-sized bed as its centrepiece, illuminated by a wealth of candles dotted throughout. It also had underfloor heating and wifi, too!
Cave Suite 14, Sextantio Le Grotte della Civita
The hotel looks out over the ravine
It will be Europe's Capital Of Culture in 2019
Along with Plovdiv in Bulgaria, Matera will become the European Capital Of Culture for 2019. Which means two things. Firstly, it marks the city's complete recovery from a once notorious slum to international recognition as a major tourist destination.
The year-long celebration will be aided with a large injection of European cash and is sure to attract a wealth of artists, gastronomes, theatre buffs, honeymooners et al. Which, of course, is great news for the local inhabitants, hoteliers, restaurant and shop owners.
But what it also means is that if you want to experience it as I've described you might just want to drop everything and go now. As my dear mum used to say, "You can be as sure as eggs is eggs" that visitor numbers will explode, even from their current level of 600,000 per year.
At the moment, the amount of development appears to be well-controlled. However, our guide Antonio, who is a native of the town, expressed to us his worry about where the development will ultimately stop. And, having arrived in Matera from Puglia and witnessed what has happened to Alberobello, another UNESCO World Heritage Site, I understand where he is coming from.
So do yourself a favour. If the prospect of immersing yourself in a beautifully atmospheric and historically significant Italian city excites you then don't hesitate to go. Because you can rest assured that the rest of the world will be finding out about it very soon.
Photo by Carlo Testa on Unsplash
Related links
What did you think? Have you been to Matera? If so, do you have any suggestions to add? Or maybe you're thinking of planning a trip soon? Either way, we'd love to hear from you so please add your comments below. *Header Photo by Luca Micheli on Unsplash
To help us maintain our site we work with a number of partners who we've personally used and can recommend to our readers. If you decide to purchase any products through the following links, we'll receive a small commission at no extra cost to you. Thank you for your support!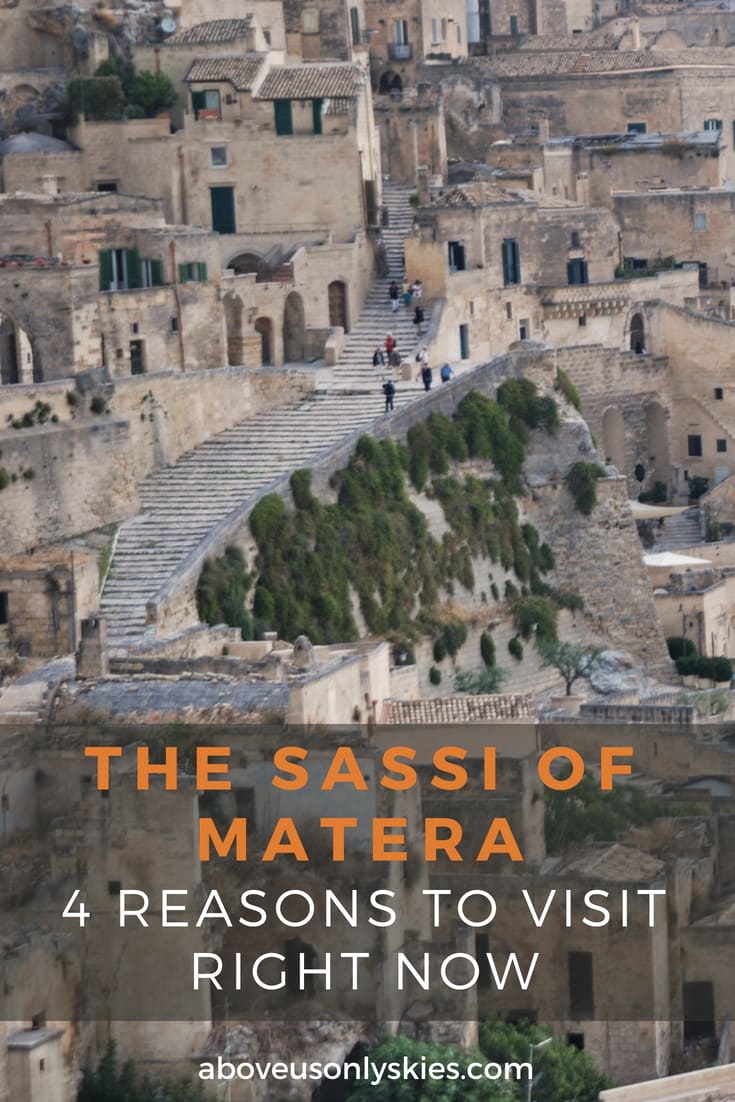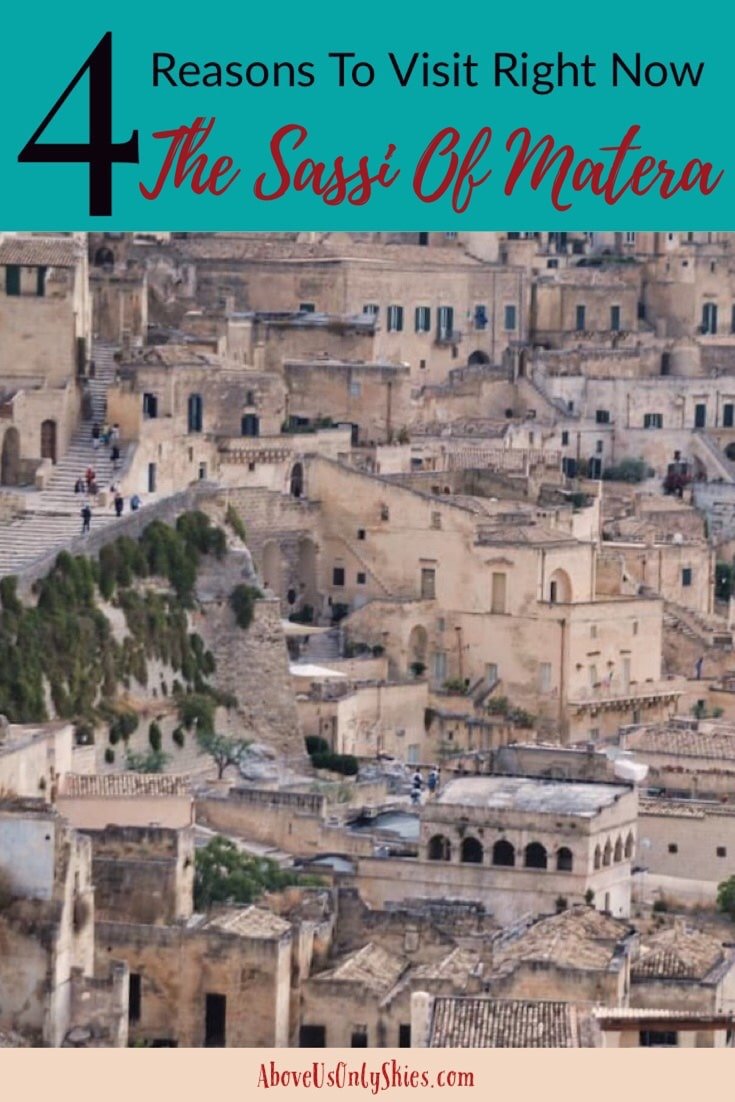 Hi, we're Ian and Nicky, an English couple on a voyage of discovery around the world, and this blog is designed to reflect what we see, think and do. Actually, we'd like to think it also provides information, entertainment and inspiration for other "mature" travellers, too. So please feel free to pour yourself a glass of something suitably chilled and take a look around.