28 STUNNING WILDLIFE PHOTOS FROM 5 YEARS OF TRAVEL
28 STUNNING WILDLIFE PHOTOS FROM 5 YEARS OF TRAVEL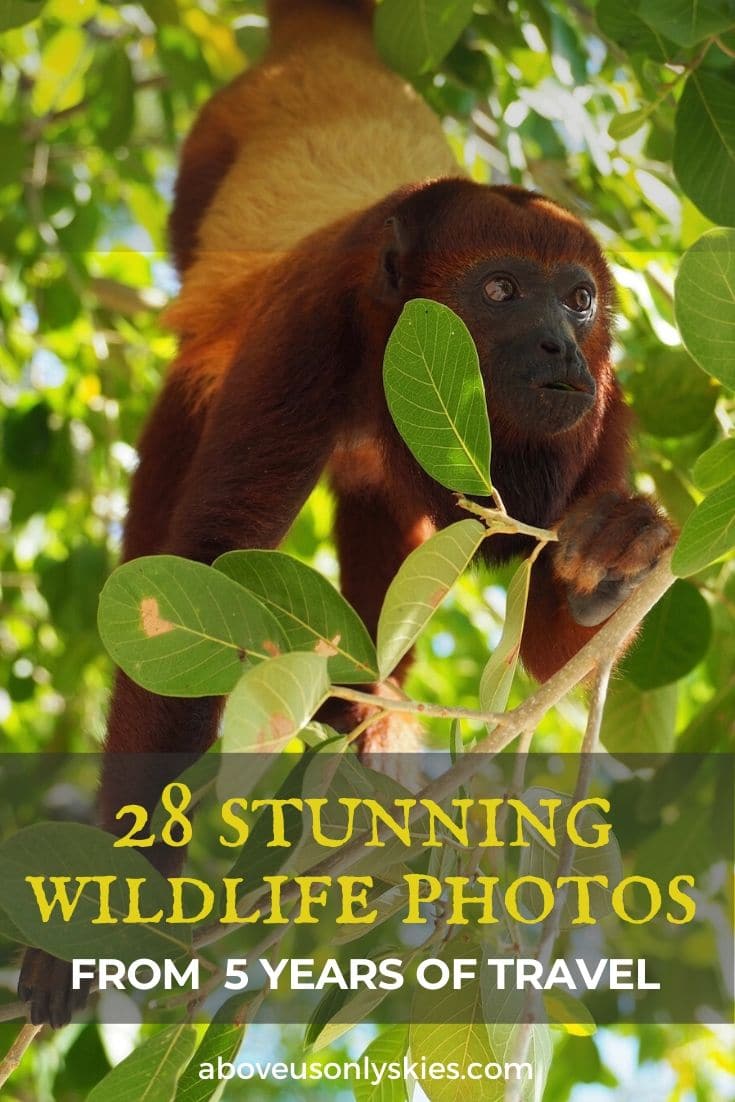 Experiencing close encounters with some of the planet's amazing wildlife remains one of our top reasons to travel. Although they don't always happen as we might have expected. Or wanted!
For instance, our encounter with a pack of dingoes during our first night camping in a tiny swag tent in the Australian Outback. And the deadly snakes that silently crossed our paths while hiking in Thailand and Panama.
Nevertheless, to celebrate our five years of travel, we've assembled a collection of 28 photos from our archives to reflect the wide variety of wildlife we've had the pleasure of observing at close quarters.
Each has its own story to tell. And we're thrilled to be able to share them with you.
We first encountered crocodiles basking along the shoreline during a boat trip along the Bloomfield River in Australia's Daintree Rainforest. And we were re-acquainted with their toothy grins during our visit to
Tortuguero National Park
in Costa Rica. But our closest encounter was with this fine specimen from a bridge near to the
Garganta del Diablo
in the extraordinary
Iguazú National Park
, Argentina.
Everyone's favourite apes, the
orangutans of Sumatra
are amongst the most endangered on the planet. This particular lady greeted us with an outstretched arm as we hiked our way through the jungle near Bukit Lawang. Probably to ware us off from coming too close. For which the reason became abundantly clear when we spotted her follically-challenged baby as it reared its head from beneath her torso.
By sharp contrast, you'd have to be a major rodent fan to want to spend an hour or two in the company of 25,000 squealing black rats. Nevertheless, that's what we chose to do when we visited Karni Mata (aka
The Rat Temple
) during our
road trip around Rajasthan
. Given full reign to run amok throughout the temple, they're literally everywhere. Which makes leaving your shoes outside and wandering around in your bare feet seem literally a step too far!
Of course, it's impossible to escape the tales of suffering and mistreatment that millions of animals are subjected to every day. And the story of this jaguar we came across at a
sanctuary in Panama
is one that struck a chord with us. Taken from the jungles of Darién National Park as a cub, he was kept as a pet by a "wealthy businessman". But, having outgrown his initial cuteness, he then spent 13 years in a cage barely big enough for him to move around, before being rescued by Panamanian authorities.
Having spent plenty of sleepless nights in Asia because of frog choruses piercing the still air of the jungle, it was a welcome change to come face to face with these colourful creatures in Costa Rica and Panama. Despite some of them being deceptively poisonous, Ian jumped at the chance to get down-on-his-knees for a close-up photograph of this little chap.
If rats weren't bad enough, Ian's acute arachnophobia has been a mental barrier for him to venture into some of the world's more "challenging" environments. So a jungle hike through a spider-infested cave in Thailand's Khao Sok National Park was an anxiety attack waiting to happen. In truth, he was shamed into doing it by a 10-year-old German boy in our party who was positively looking forward to it. National pride restored, he managed to compose himself long enough to capture this photo of one of the smaller residents. Moving along…
One of four camelids native to South America (the others being llamas, alpacas and vicuñas), guanacos are a familiar sight in Patagonia. Indeed, their bright sandy-coloured coats make for a striking contrast against the wild landscape. Which, we're sure, makes it that much easier for pumas to hunt them down. We photographed this group in Chile's
Torres del Paine National Park
.
The highest-dwelling mammals in the world, yaks have been used as domesticated animals in the Himalayas for thousands of years. Prized as a provider of meat, milk and fibre, they're also an essential working animal for the high altitude farmers. And their droppings are even used as fuel. During our Himalayan adventures in
Kashmir
and
Nepal
, we were eternally grateful for their protein-filled cheese. Although getting hold of some in the remoter regions took some persistent bartering!
Number One on our bucket list of wildlife experiences was to
swim with a whale shark
, the planet's largest fish. And that chance came along when we visited Ningaloo Reef in Western Australia. Tightly controlled so that only 12 swimmers – maintaining a distance of at least 3 metres – could be in the water at any one time, the experience was every bit as exhilarating as we'd hoped. Honestly, that first glimpse of the whale shark's huge mouth as it approached us in the water was the sort of jaw-dropping moment we thank our lucky stars we've been able to savour during the past five years.
As guanacos are to the plains of Patagonia, pink flamingoes are to the high altitude lakes of Chile and Bolivia. But not just any old pink flamingo. During our
four-day road trip around Bolivia's incredible southwest
, we came across Andean Flamingoes (yellow legs), Chilean Flamingoes (blue legs, with red knees) and the endangered James's Flamingoes (red legs). Which, armed with your new-found flamingo-based knowledge, will help you to easily identify the small gathering of pink feathers at this Bolivian lake.
There are lizards. There are BIG lizards. And then there are lizards the size of small cars. As we discovered at our lodgings in Tortuguero National Park, Costa Rica. This fine specimen of an iguana nonchalantly wandered into our dining area as if he owned the place. Which, effectively, he did.
We've been lucky enough to dive and snorkel with a wide variety of exotic sea life. Including plenty of turtles. But, no matter how many we've seen, it's still a thrill when another one glides past. Or, as in this case, darts out from a hiding place before heading for the surface and a welcome gulp of fresh air.
Ok, so we wouldn't usually go out of our way to ogle at a large bug as it rests motionless on a tree trunk. As far as we're concerned they're better heard rather than seen. But, occasionally, when you discover one that's as striking as this beauty in Cahuita National Park, Costa Rica, it's hard to resist.
Sometimes, the best experiences happen by pure chance. We were snorkelling just off Ningaloo Reef in Western Australia, ahead of our rendezvous with a couple of whale sharks later that day. Nicky had swum back to our boat with the onboard photographer to change out of her wetsuit. Once back in the water, she heard our boat's captain shouting something about a large shape in the water that was about to pass by. Sure enough, we dipped our heads into the water to see a huge humpback whale, along with its calf, approaching within a few metres of us. After the squeals of delight had subsided, the photographer had the presence of mind to snap a few shots. And then, with a kick of her mammoth tail, the mother whale was gone, leaving Nicky several metres further away from the impact. Awestruck. Gobsmacked. Happy.
An early contender for Cutest Living Thing On The Planet, the sloth is animal poetry in slow motion. Unfortunately, like the kitten version of big cats, their cuteness leads to them being attractive pets for the unscrupulous. And, like the jaguar we featured earlier, these two-toed sloths were rescued as infants and placed in the care of a sanctuary in Panama.
Speaking of unscrupulous activities, Asia's elephants have had their fair share of abuse. Not least in the interests of tourism. Although, paradoxically, the lack of tourism caused by the coronavirus pandemic has put the future of many of the continent's captive elephants in doubt. We can only look for solutions to the likes of Lek Chailert and her Elephant Nature Park in northern Thailand. With a strict no-tourist-rides philosophy, her park is a genuine retreat and rehabilitation centre for elephants that have suffered unimaginable abuse. Indeed, the three elderly ladies pictured were either blind or partially blind, wilfully caused by their handlers.
Perhaps the most fearsome of all the big lizards, the Komodo Dragons of Indonesia look like they belong in a Jurassic Park film set. Of course, they're not really dragons. More like giant monitor lizards. But their iconic name, size and reputation for scaring the bejeezus out of unsuspecting tourists makes them a species to be reckoned with. We photographed this fine-looking fella while visiting Rinca Island in
Komodo National Park
.
Anyone who
hears the sound made by a group of howler monkeys
for the first time will tell you that it's usually followed by the onset of mild panic. Not surprising given that their howls are considered to be the loudest noise made by any land animal. But, we'll admit, like the nightly howls of those dingoes in Western Australia, they almost became a comfort to us once we got used to them! We mostly encountered them in the jungles of Panama and Costa Rica. But we managed to catch this one hanging from a lowly branch on a tree in
Mompox, Colombia
.
Described by our Bolivian driver as "sexy llamas", vicuñas are indeed fine looking animals. One of the four camelids of South America they tend to hang out further north than guanacos. The Incas worshipped them for the fine quality of their fleeces, which were (and still are) substantially finer than cashmere. Almost hunted to extinction for their meat, their numbers have reduced from several million a few hundred years ago to just a few thousand. Not surprisingly, the price of a v-neck jumper made from vicuña wool will set you back a small fortune. We photographed this one at Laguna Chalviri in southwest Bolivia.
An under-appreciated member of the animal kingdom, the humble butterfly was ever-present during our travels around Central and South America. Especially at Iguazú Falls in Argentina, where swarms of them would flutter around and land on us by the dozen. If we managed to remain still long enough.
Certainly, llamas are no longer confined to the high altitude wilderness of the Andes Mountains. Long domesticated and just "at home" in farms throughout North America and Europe, there's still something about seeing them, within spitting distance, in their original habitat. This group of four was part of a herd we came across at Laguna Colorada in southwest Bolivia.
No, that's not a rabbit. A vizcacha is actually a rodent that's native to South America and likes to hang out in rocky mountainous terrain. Such as this one close to Laguna Negra in southwest Bolivia. Getting the photograph involved a stealth-like climb over rocks until we reached a plateau overlooking the lake. At which point the rodent-cum-rabbit decided he wouldn't play ball any more and skipped away before we could muster more than one shot.
For many Hindus, the cow is a sacred animal. So the sight of a cow meandering through a busy street in India is nothing unusual. Nor is the sight of traffic screeching to a halt to allow said cow a safe passage. However, this one seemed to be taking its privileged status a little too far as it munched away on some hidden tidbit inside a home in Jaisalmer!
Like turtles and penguins, the sight of a seal is always something that brings a smile to our faces. We've seen them all over the world. Although they're not always glad to see us in return. Probably something to do with our fixation on watching and photographing them when all they want to do is wallow in the sun and occasionally jump in the sea to catch fish. Cape Palliser, on
New Zealand's North Island
, was probably our favourite spot to see them. Which is where we, and this shy pup, observed respectful social distancing.
You can add dolphins to that smile-inducing list of sea-faring critters, too. And none more so than on New Zealand's South Island. At French Pass, we were treated to a pod of 30 bottle-nosed dolphins swimming across the bay. While at Curio Bay, a group of rare Hector's dolphins frolicked about in front of us. But for the sheer thrill of watching these intelligent creatures race alongside our boat,
the resident pod in Milford Sound
gave us a Royal Command Performance.
Guanacos, vicuñas and the like represented the sort of wildlife we wanted to see while we were travelling through the Andes. But it was the prospect of seeing the Andean Condor that really set our imaginations alight. The largest flying bird in the world, seeing one at close quarters is a humbling experience. So, when a group of FIFTEEN swooped above our heads at the Cruz del Condor viewpoint on the edge of Peru's
Colca Canyon
, we allowed ourselves a profanity-laced gasp of air. Indeed, there are probably many things in the world that can be described as "majestic". But few that are as truly majestic as this.
And so, we switch from the majestic condor to the humble sardine. A fairly ordinary-looking fish best observed on a Portuguese barbeque just before it's served to you with lemon, rosemary, olive oil and garlic. But, given the opportunity to dive amongst a shoal of approaching ONE MILLION sardines off the coast of Moalboal in the Philippines, we were excited, to say the least. And, indeed, cruising in our wet suits through the swirling tornado clouds of fishy mayhem was an exhilarating experience. Even though Ian's resultant ear infection finished his diving days for good.
Finally, the sturdy goat has been a feature of our travels ever since we first stepped foot in rural Spain. Not a species that many people would put on their must-see list, we'd admit. But we'd suggest that the sight of a herd of goats commandeering the road in front of a city dweller's shiny BMW is a culture clash made in Heaven. Or, as in the case of the Nepalese goats we discovered making the temples of Bhaktapur their home – a perfect marriage between nature and history.
What did you think? What have been your wildlife highlights whilst travelling? Or are any of the animals featured here on your bucket list? Either way, we'd love to hear from you so please add your comments below.
To help us maintain our site we work with a number of partners who we've personally used and can recommend to our readers. If you decide to purchase any products through the following links, we'll receive a small commission at no extra cost to you. Thank you for your support!
Travel insurance
with World Nomads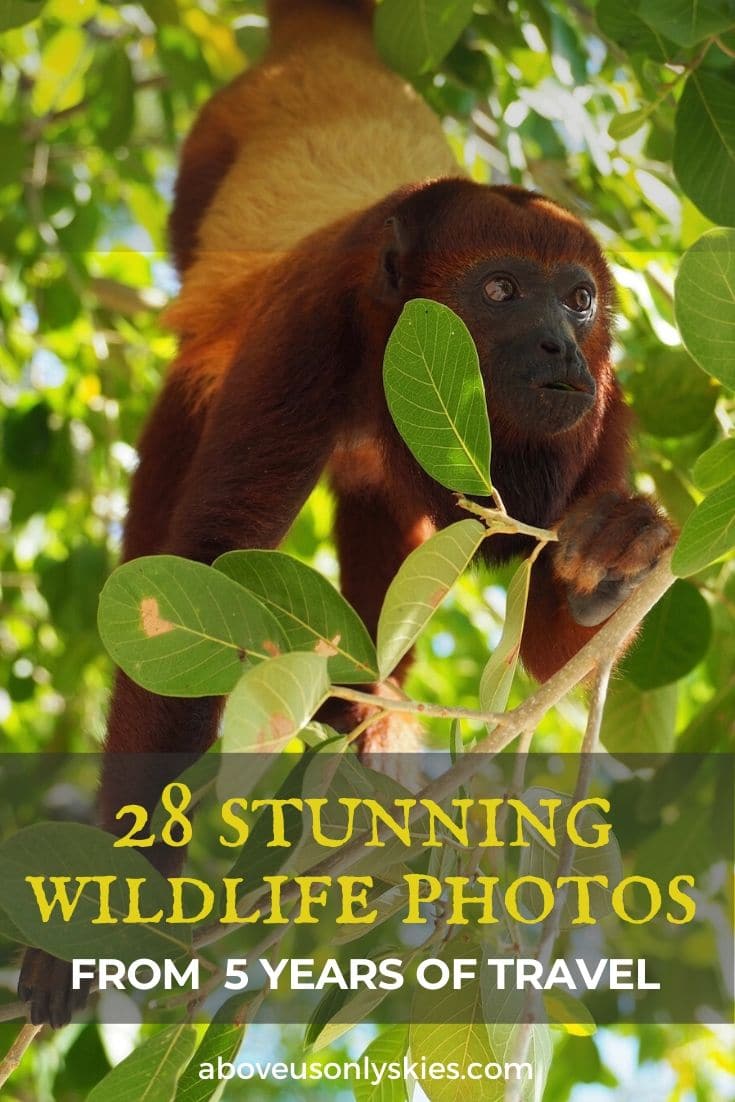 Hi, we're Ian and Nicky, an English couple on a voyage of discovery around the world, and this blog is designed to reflect what we see, think and do. Actually, we'd like to think it also provides information, entertainment and inspiration for other "mature" travellers, too. So please feel free to pour yourself a glass of something suitably chilled and take a look around.